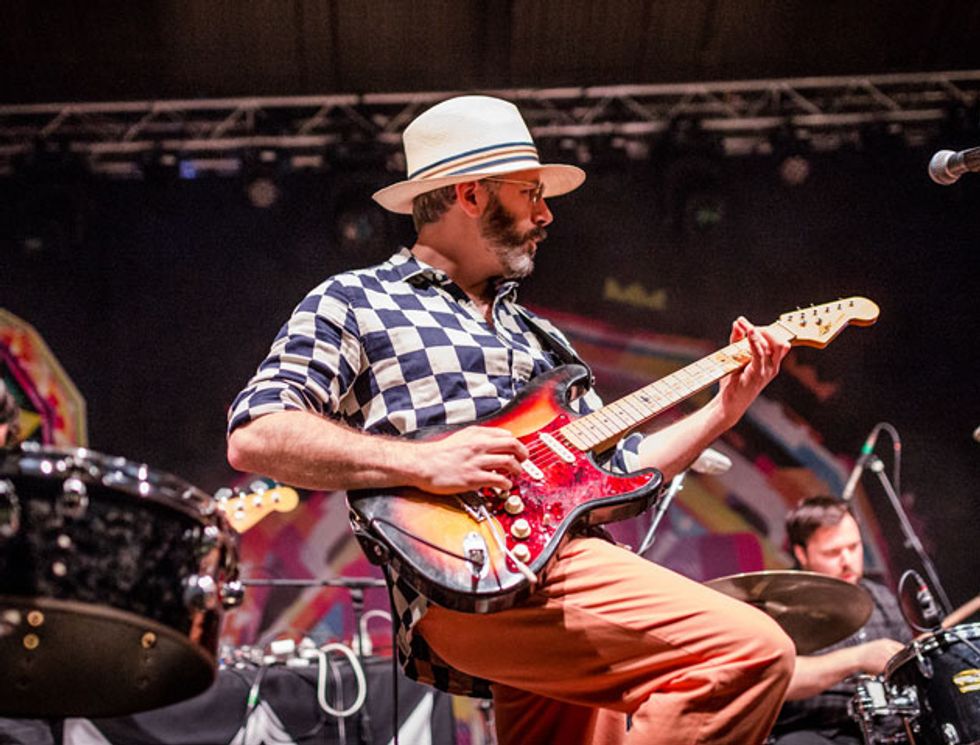 Although he's best known for playing drums with dance outfits like Hot Chip and Scritti Politti, Rob Smoughton's first love is guitar. He says Black Peaches "is the kind of band I've always wanted to be in." Photo by James White
One could be forgiven for assuming the Black Peaches are an export of the Southern U.S. after a listen to the band's debut, Get Down You Dirty Rascals. While there's no cheesy faux drawl to singer/songwriter/guitarist Rob Smoughton's vocal delivery, he and his five bandmates—Londoners all—have obviously done their homework when it comes to the distinctly below-the-Mason-Dixon-Line sonic patois that permeates the album, further exaggerated by the warm, compressed, and excellent '70s-style production aesthetic in which it basks.
Get Down You Dirty Rascals is a dynamic journey through dance-worthy boogie-rock grooves that recall the hottest moments of a Little Feat set; swampy, voodoo-possessed psychedelic incantations that harken to the atmospheric wonders of Night Tripper-era Dr. John; and Latin-infused rhythmic melees with a shot of jazz—all delivered with a tandem guitar attack that is often athletic, but always smooth. And while the musicians in Black Peaches wear their influences proudly, their sound remains organic and original.
Smoughton has other gigs. He's best known for holding down drum duties for electro-pop heavyweights Hot Chip, and he's also a longtime hired gun for British new wave stalwarts Scritti Politti. But Black Peaches' sonic shaman is an accomplished guitarist in his own right. He has developed a symbiotic relationship with the band's co-guitarist and pedal-steel pilot, Adam Chetwood, who acts as his foil and sparring partner within Black Peaches' playfully retro/nuevo mélange.
"One of the guitarists I really love is Clarence White [of the Byrds]. I'm influenced by his way of trying to get pedal steel sounds out of a regular electric guitar."—Rob Smoughton

Premier Guitar spoke with Smoughton and Chetwood to discuss the recording of Get Down You Dirty Rascals (which was chiefly tracked live), their shared influences, and, of course, the gear essential to making the album.
Rob, Black Peaches' music is a major departure from most of your resume.
Rob Smoughton: Yeah, definitely! What I've been involved with more over the past few years has been other people's music, really, and this is me getting to make something that I've always wanted to do and be in the kind of band I've always wanted to be in. It doesn't really feel so much like forging new ground as finding my way to where I should've always been.
How did you get into the American Southern roots music from the '70s that the band references?
I lived in Canada for a little while, and there I met some people from the States—from Mississippi, specifically. And they led me to North Mississippi blues music. As a teenager, country-influenced rock music was kind of my big thing, like Buffalo Springfield and the West Coast stuff. When I started playing music professionally, people always needed a drummer and I like disco music and could handle it. So I wound up working with Hot Chip and playing more funk-oriented stuff, but I've been into country music, rock music, and jazz since my teens. I just never found much of an outlet for it.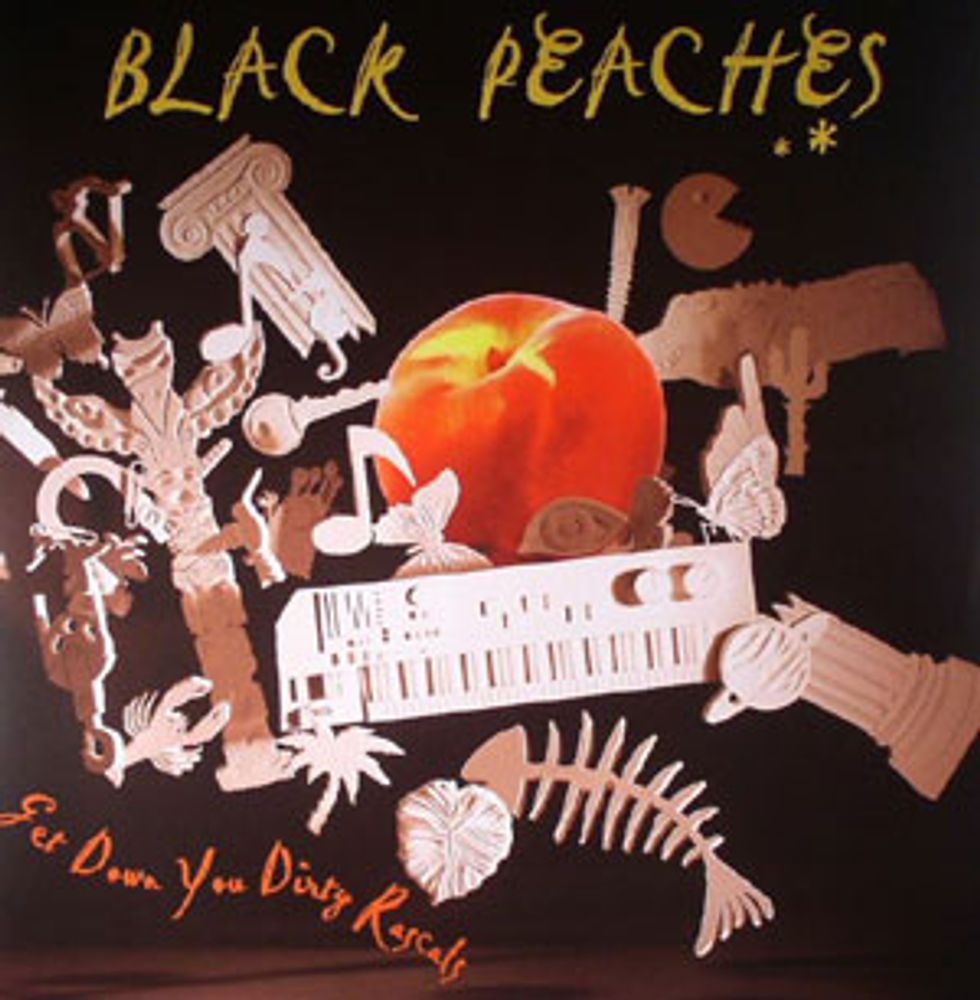 Adam, how did you get into this style of music and playing pedal steel? I know that it's difficult to get involved with that instrument in Europe.
Adam Chetwood: I've always loved anything that fuses virtuosic country players and virtuosic jazz players, so when Rob showed me the early demos of these tunes, I thought they had that flair and we clicked straight away. I got what he was going for immediately, and I immediately celebrated being involved!
As far as getting involved with pedal steel is concerned, I met a guy named Gerry Hogan, who is a British steel player with Albert Lee. Gerry has a shop in a small town called Newbury, and he sells them. I went down there and bought one, and that's where it began.
Smoughton: We had the pedal steel on a couple of other tunes that unfortunately didn't make it onto the final album. The only track with pedal steel featured that made it is "Double Top," because we were keen to make it a single album.
Chetwood: Though there's a few slide bits from you on the record, Rob.
Smoughton: One of the guitarists I really love is Clarence White [of the Byrds]. I'm influenced by his way of trying to get pedal steel sounds out of a regular electric guitar.
The chicken pickin' on "Double Top" is fantastic. Which one of you played that part, and what gear did you use to cop the tone?
Smoughton: That's me playing the leads, and I used Adam's sunburst Telecaster Custom to record it. I play a lot of chicken pickin' in open G tuning, which kind of shows the influence Little Feat had on me.
Chetwood: That guitar is a true vintage one from 1977.
YouTube It
"Suivez-Moi" from Black Peaches' debut, Get Down You Dirty Rascals, displays leader Rob Smoughton's way with a groove—a talent he also brings to his gigs with Hot Chip and Scritti Politti. Dig the Latin-tinged percussive intro before the song breaks into an eclectic jazzy jam driven by an acoustic rhythm guitar.
That song has some very interesting, ghostly guitar textures over the jam section. How did you make those sounds?
Chetwood: That's the pedal steel through a Roland Space Echo. There are two tracks of pedal steel going simultaneously, and we sent them through the desk into the Roland Space Echo, which is feeding back on itself, which creates that ghostly, dreamy soundscape. That part works well more because of the textures you can get out of those particular pieces of equipment together than the parts themselves, though I think there are some beautiful little snapshots of melody in there that echo around and add a lot to that section of the song.