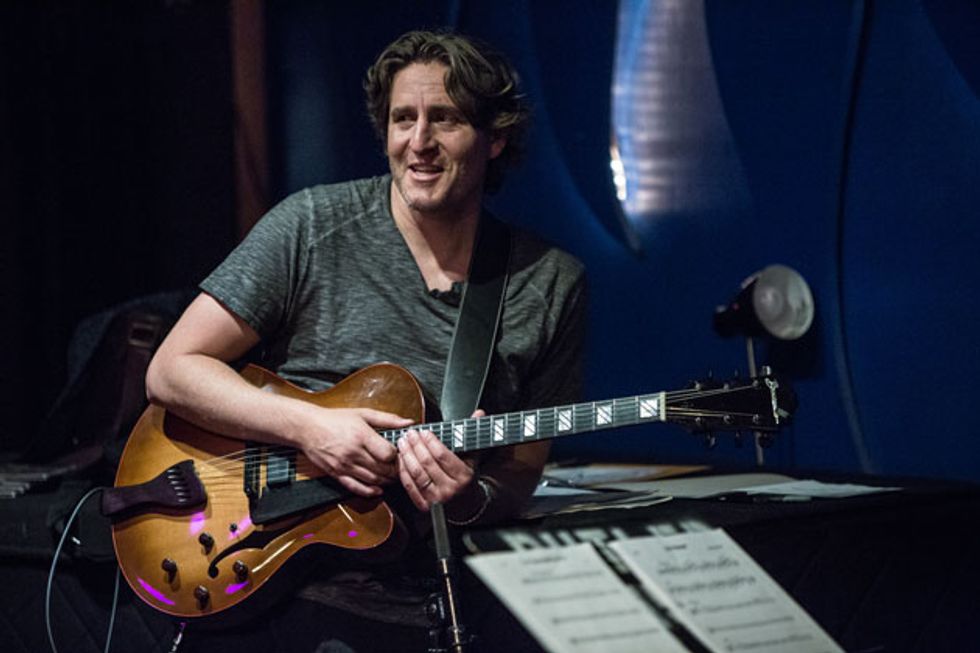 Corey Christiansen's main guitar is his signature Buscarino, which he teamed with a reissue Gibson SG, a National Tricone Cutaway resonator, and a Martin SPDC-16R for his new album. Photo by Mark Sheldon
Talk about the recording process.
We did two takes on every tune—played them down live. On the tune "Factory Girl," I wanted to put down another guitar line. On "One's Promised," I added an acoustic rhythm guitar track, and on the last tune I played some slide resonator on the intro and outro. Other than that we played everything in real time, from beginning to end. The way we set up—for the most part, all in the same room—helped the end result, because we could really feel the energy of the band that way.
Many jazz records get done very quickly, with just one specific tone: that warm, clean guitar sound. This record is not about that. There are a lot of different textures going on. The studio has great vintage drum kits and every guitar and amplifier you could imagine. The album wasn't necessarily produced like a rock record, with tons of overdubs, but it was nice to have all those options at our disposal.
What gear did you use?
The main guitar is my signature model Buscarino, which is a semi-hollow that I've been playing as my go-to for at least 10 years. I also played a Gibson Custom Shop '61 SG reissue, which is a little different, made out of korina. It's just killer. I have a Martin steel-string that I used for an overdub on the second track, and on one tune I also used a National Tricone Cutaway. It's newish, I think I got it in 2005, and it's just a ridiculous guitar for playing slide, with that certain tonal quality and overtones.
The amp I'm playing through is a Dumble Overdrive Special. It's actually a clone, but it's the most incredible amp I've ever seen or heard. You wouldn't be able to tell that it's not a real Dumble. I'm not sure who built this thing, but it's a really spectacular amp—all of the Dumble tone and responsiveness, without the Dumble sticker price. [Laughs.]
"I got addicted to the feminine side of the stories, which in a lot of ways was even more of a struggle than the masculine side."

Was there anything in the studio that you used?
There was one track that I actually used an early 1960s [Fender] Deluxe that the studio happened to have. It was the cleanest brownface I've ever seen. It looked like a reissue, it was so pristine, but then you look at the back of the amp and it's got the lamp cable that would try to kill you. [Laughs.]
You've got a broader sonic palette than the typical jazz guitarist. On "Cluck Ol' Hen," for instance, you get a killer overdriven sound heard more often in modern blues. What are you using for effects on the album in general?
There I use a Strymon BigSky and TimeLine, as well as Jack Deville's [Mr. Black] Dark Echo, sometimes, as an analog delay. I've got a little bit of tremolo from one of the Moog Minifooger pedals. For overdrive, I use a Jetter GS 124 and Gold 45/100, and I've also got one of those Bob Bradshaw-designed wah pedals.
What's your tonal philosophy?
More than anything, I don't want my pedals to sound like they're obviously on. That transparent thing is what I'm really looking for. I devoted a year to developing my sound, and that was kind of a fun process. Ultimately I ended up with the most ridiculous amp and went through a whole slew of pedals to land where I am. I've finally refined my sound to match what I'd been hearing in my head since I was 20, and this is the first album where I feel like I got there.
Congratulations! That must feel good.
It's a great feeling. The only problem is it's not like I can put a Dumble ODS on my rider when on the road [laughs], and I don't have the drawing power where I can take an amp with me on a plane. But, of course, a lot of the sound is in the fingers.
Corey Christiansen's Gear
Guitars
Buscarino Corey Christiansen model
Gibson Custom korina 1961 SG reissue
Martin SPDC-16R
National Tricone Cutaway

Amps
Dumble Overdrive Special clone
1964 Fender Deluxe (brownface)

Effects
Jetter Gold 45/100
Jetter GS 124
Moog MF Trem Minifooger analog tremolo
Mr. Black Dark Echo
MXR MC404 CAE Dual Inductor Wah
Strymon BigSky Reverberator
Strymon TimeLine

Strings and Picks
D'Addario NYXL 1251s (.012–.051 with unwound .020 on the 3rd string) on the Buscarino
D'Addario NYXL 1149s (.011–.049) on the SG
D'Addario Flat Tops Bronze EFT17s (.013–.056) on the Martin and National
Assorted D'Andrea Pro Plecs (which Christiansen buffs and slightly reshapes on the sides and tip)

As an educator, how do you teach students to find their sounds?
A lot of students ask how I get sounds, and I explain that you have to develop a concept in your head and then start experimenting with gear to match what you've been dreaming about. A certain guitar, amp, or pedal doesn't fix a problem. You have to know what the problem is and then you work with those tools to get that sound. Getting back to my project, it was a pretty good year of refined listening. It's hard to do that—being your own sound coach.
How did you develop your style from a conceptual perspective?
I'm not much of an original so much as a really good thief. I never want to completely emulate anyone else, but I try to listen and steal little things from here and there. I get inspiration from different guitarists and other instrumentalists, and my approach to the instrument is based on the things I like, kind of Frankenstein'd together.
The influence of Bill Frisell is apparent on tunes like "Shenandoah"—not just in the choice of Americana-informed repertoire, but in your sense of space and phrasing.
Absolutely. What amazes me is that there are all the most obvious aspects of Bill's sound, such a nice and warm but clear and defined tone, enhanced by a little delay and some reverb. That's what people normally notice first in his electric sound. But I spent at least a couple of months listening every day to his East/West album and the thing that impresses me the most about his playing is the way he comps for himself at a different dynamic level rather than where he plays his line. There's a real art to being able to control a few different volume settings with your hands over the course of a few bars. So many guitar players play at one volume level all the time, but Bill has this incredible dynamic range that I don't hear a lot of people talk about.
Who are some of your other benchmarks?
Grant Green is a huge inspiration to me, as are Wes Montgomery and Jim Hall. Those would be the three old-school guys I probably get the most from. Another is Johnny Smith, who was a friend of my dad's. When I was a kid, he would come hang with our family for a week or so every other summer. I was 12 years old, and we had Johnny Smith at the house, playing guitar and cooking steaks. Because of that personal connection, I checked out his music in depth. And, of course, there's John Scofield and Pat Metheny, plus I've spent a lot of time with Hendrix and Jeff Beck, and also the jazz horn greats: Coltrane, Miles Davis, and one of my favorite musicians of all time: Joe Henderson.
What makes Henderson so important to you?
Rather than collecting some of his lines or knowing some of his tunes, he's inspiring on another level. In the era in which he came up, a lot of guys were using a lot of bebop language, but Joe was playing so uniquely. He's certainly got a bag, as do all jazz musicians, but to me he sounds so free, and his playing is less stock than most players. I take that from him, plus there's something about his big sound on the tenor saxophone that just draws me in.
YouTube It
With his signature Buscarino semi-hollowbody guitar and a trio including bassist Kevin Smith and drummer Kobie Watkins, Corey Christiansen unspools his unique take on the folk song "John Hardy," which appears on his new album, Factory Girl. Christiansen's precise control of dynamics directs the flow of the performance.
Getting back to Factory Girl, as the title suggests, you explore the music from a feminine perspective.
When I did the Prairie album, I started researching all of these cowboy tunes. I played a lot of this type of music growing up and I always paid more attention to the melodies than to the lyrics. But as I began working on that project, I started getting into the lyrics and realizing that all the tunes are pretty dark: songs about cowboys struggling or getting shot or killed. At one point I was like, "Man, cowboys only wrote songs when they were sitting in jail waiting to be hung!" [Laughs.]
For the next record, I wanted to find tunes that tell the feminine side of story. I came into the title track, and it was fantastic, a perfect setup for the whole record. That particular song—not the Rolling Stones tune of the same name—originated in the 1820s in a Boston factory. It's basically a woman singing about wooing a foreman so she doesn't have to work in a factory anymore. It came out of an urban area and headed West into the plains.
I got addicted to the feminine side of the stories, which in a lot of ways was even more of a struggle than the masculine side. They were unable to own land [Author's note: Unmarried women were first allowed to own land in Oregon in 1850.] and were also like property. And so I started writing tunes with that in mind. Then there a couple tunes that fall outside of the narrative—"John Hardy" and "Joe Clark"— which don't tell as much about the feminine side as the others, but which still worked in the context of this project, which is really a celebration of our great American music.