Thanks to John Lee Hooker, Billy Gibbons, and other heavyweights, the swinging style of barrelhouse pianists has become a cornerstone of rock and blues guitar. Here's a look at the most essential boogie-woogie patterns and how to use them.
Although we associate "boogie" with a famous West Coast amplifier, the term originates from a style of music that became very popular during the swing era of the '30s and '40s. The sound and style of boogie-woogie can be traced back to the barrelhouse piano music from the late 19th century that was performed in saloons, taverns, and ballrooms across the U.S. There are numerous pioneers that helped to forge this style of playing, including pianists such as Albert Ammons, Pete Johnson, and Meade Lux Lewis, not to mention a number of Texas swing guitarists, such as Eldon Shamblin, Junior Barnard, and Muriel "Zeke" Campbell.
These influential musicians passed the torch to countless rock and country legends in the '50s and '60s, with Fats Domino, Merle Haggard, Jerry Lee Lewis, Buck Owens, and Little Richard further exposing this sound to the masses. As you move through the years and listen to additional music, you'll discover plenty of players adopting these sounds, including such heavyweights as John Lee Hooker, Jimmy Page, Stevie Ray Vaughan, Billy Gibbons, and Eddie Van Halen.
The road to guitar boogie starts with the single-note riff shown in Ex.1. As you'll see and hear, this is a very familiar riff to play on guitar over an E7 chord. Be sure to fret with your first and third finger as you play through this example, and feel free to experiment with all downstrokes and alternate picking.
Ex. 2 shifts this idea to the key of A by moving to the next set of strings and using the same fingering and overall contour of notes. As you become more comfortable shifting to another set of strings, it will be easier to cycle this idea through a 12-bar blues.
Once you have a feel for playing this riff over E7 and A7 individually, it's time to combine the two (Ex. 3).
In Ex. 4, we expand this classic boogie riff by adding the b7 to create an even bluesier sound.
It's not uncommon for a blues progression to include a "quick change," where you move to the IV chord in the second measure. In Ex. 5, we use this variation to demonstrate a boogie riff over the first four measures of a 12-bar blues.
The next example (Ex. 6) features a slight variation that explores combining the 3 and b3. (Over an E7, that's G# and G, respectively.) As you'll hear, this combination of notes creates a familiar sound featured in countless blues and rock songs.
Ex. 7 is similar to the "scratch-n-sniff" rhythm playing heard coming from Texas blues legend Stevie Ray Vaughan. You can distinctly hear this style of percussive and muted riffing in his classic track "Pride and Joy."
Now let's see how you can move these boogie riffs and ideas from open position to other keys and areas on the fretboard. Ex. 8 will give you a chance to explore moving between a common A7–D7 chord progression.
The next example is similar to the main riff from the Allman Brothers classic "One Way Out." As you'll find while playing through Ex. 9, this riff is an advanced variation of Ex. 8, but the combination of legato, sliding, and vibrato techniques gives it an interesting and developed sound.
Ex. 10 illustrates a complete V–IV­–I progression in the key of A7 and offers a basic glimpse of how you can weave these ideas into new phrases and riffs. This example also includes a nice chromatic turnaround at the end that will lead your fingers back to the beginning.
As this lesson comes to a close, be sure to move these ideas into other keys and look for ways to create your own boogie riffs. You can generate countless variations from these ideas, so be patient and take your time. Before you know it, your fingers and riffs will be boogieing all over the fretboard.
A dependable road warrior gets a nice boost.
Clip 1 - Peavey Classic Channel 1: Volume 4, Reverb 3, Bass 4, Midrange 9; Treble 8. Guitar is Fender '80s Esquire reissue with dual humbuckers in middle setting (both pickups engaged), volume and tone full up. Boost engaged at 15 seconds.

Clip 2 - Peavey Classic Channel 1 w/effects: Same as above, with effects added. In sequence: clean signal, J. Rockett Archer, MXR Phase 90, DigiTech PDS 1000 delay, Supernatural Ambient Verb set on shimmer.

Clip 3 - Peavey Classic Channel 2: Same settings for amp and guitar as above except Channel 2 Pre 5, Post 5. Boost engaged at 18 seconds.

Clip 4 - Peavey Classic Channel 2 with heavy overdrive and slide: Same settings for amp and guitar as above, except Pre on 12 and Boost engaged throughout.
My first encounter with a Peavey Classic tweed style combo was in the '90s, when North Mississippi hill country blues deacon R.L. Burnside invited me onstage for the first time. R.L. decided to preach "Mannish Boy," so he offered me his amp and stepped to the front with his Jack and Coke in hand, to stand at the mic. When I hit a test chord, the floor of the stage shook. I turned to see that R.L. had every dial on the amp maxed. I rolled back my tone and volume pots and hit another chord. I was impressed by the Peavey Classic's power, color, and presence—even at R.L.'s juke-thentic settings.
Over the years, I've maintained a favorable impression of Peavey's Classic series iterations. They're dependable working players' amps: affordable, big-voiced, with enough clarity and punch to break through a live mix with or without the help of microphones.
Giddy up! The all-tube Classic 30 is the newest steed in this line of workhorses. Thirty watts are generated via the heat of seven tubes—three 12AX7s and four EL84s—that are protected by a steel cage. Two of the 12AX7s push the preamp and the third compliments the EL84s in the power section. The amp has two channels—in the Peavey Classic tradition—and an op amp driven spring reverb, which is situated at the bottom of the cabinet beneath a Celestion Midnight 60-watt speaker. A footswitch for channel switching and boost is included, though it can't be used for the reverb, which is also foot-switchable and requires a second footswitch.
The control panel is top-mounted and features a single volume control for the normal channel and pre and post controls for the second channel. There's a button between the normal and pre sections that switches between channels, which are remarkably different, but more on that later. There's also a reverb level control and an EQ section with bass, mid, and treble knobs. Each chicken head knob goes up to 12 (which is two louder—and better—than 10, of course)! The EQ section serves both channels.
Between the mid and treble controls you'll find another button marked "boost." This is the Classic 30's cool new wrinkle. The boost kicks up the gain and opens up the top end in a warm and colorful way. Like the EQ dials it can be used with both channels. There are also I/O jacks for the sparkly clean effects loop (although I prefer to stack my pedals in front of the amp's signal), on/off and standby toggles, plus a pilot light so you know when you're in business. While all this adds up to a lot of practical features, they are familiar and intuitive enough that I felt comfortable bringing the amp to a two-night gig on Memphis' Beale Street the day after it arrived.
At Home On the Midrange In performance, the amp did exactly what it's designed to do: it ruled a small, packed, noisy, reflection prone room without the help of a PA. I like dirt, so the first night I experimented with the crunchy channel—the one with the pre and post controls.
Ratings
Pros:
Good sounds. Plenty loud. Easy to use. Sweet reverb. A lotta amp for little bucks.
Cons:
Finicky tone geeks might want more color and detail.
Tones:


Ease of Use:


Build/Design:


Value:


Street:
$699
Peavey Classic 30
peavey.com


It took just a few minutes to dial in a strong stage tone, with lots of rich, toppy midrange. With the EQ dials set straight up at 6 to start, the amp ran a little bass heavy. Moving the bass to 4, mids to 9, and treble to 8 delivered a warm, powerful tone straddling roots and rock—placing my guitars in the sonic strata just on top of the bass and drums. The growl and volume I like—enough to make the strings sing and sustain with minimal effort—came from setting the pre at 3 and the post at 6. The pre dial was extremely responsive. Cranking it up at home revealed the Classic 30's potential for heavy rock, with lots of stinging overdrive. On the gig, cranking the post to increase volume preserved the tone while providing more "loud"—just the way it should. For the record, it's easy to keep volumes equal while switching between channels.
Echo of the Past This reverb sounds sweet. And though an op amp rather than a tube drives the circuit, it sounds similar to the tank on my '66 transition-era Twin. It adds ambience at low levels and lingers deliciously when cranked, making it a natural for surf licks. The control is smooth and effective—adding or subtracting reverb without any sudden surges. It's so nice that I was a little bummed that the natural reverb from the brick and glass construction of the club required me to deactivate it for the gig.
In addition to the warm, bold, mid-centric tones, the Classic 30's second channel proved fabulously adaptable to different guitars, pickups and effects. From Gibson and Seymour Duncan humbuckers to a mid-'60 Epiphone dog-ear P-90, and a pedalboard equipped with compressor, overdrive, phase shifter, vibrato, and delay, the second channel still had the headroom to convey nuance and color without getting buzzy or muddy. At home it was equally content with my stock pickup Stratocaster.
To my ears the normal channel is the brighter of the two. It's also very clean and present. It's an excellent platform for pedals. Using a J. Rockett Archer overdrive lent just enough hair to the amp's natural presence and responsiveness. But snapping the Archer off and engaging the boost button I brought the Classic 30's normal channel to life, adding a big-shouldered purr and nice harmonic colors: organic, crisp, and tough.
The Verdict The latest Classic 30 is a ruggedly built and adaptable creature—dependable and sweet sounding on stage and, I'd surmise, the studio as well. It may not have all the harmonic detail, shimmering breakup, or open-sounding voice of a high-quality boutique amp. But it more than holds its own. I'd be happy to see one of these in a club or festival backline any time. And for the street price of $699, it's a winner—with enough versatility and sonic goodness for any playing situation.
Watch the Review Demo:

Here are a few easy ways to warm up a bright vintage Marshall head.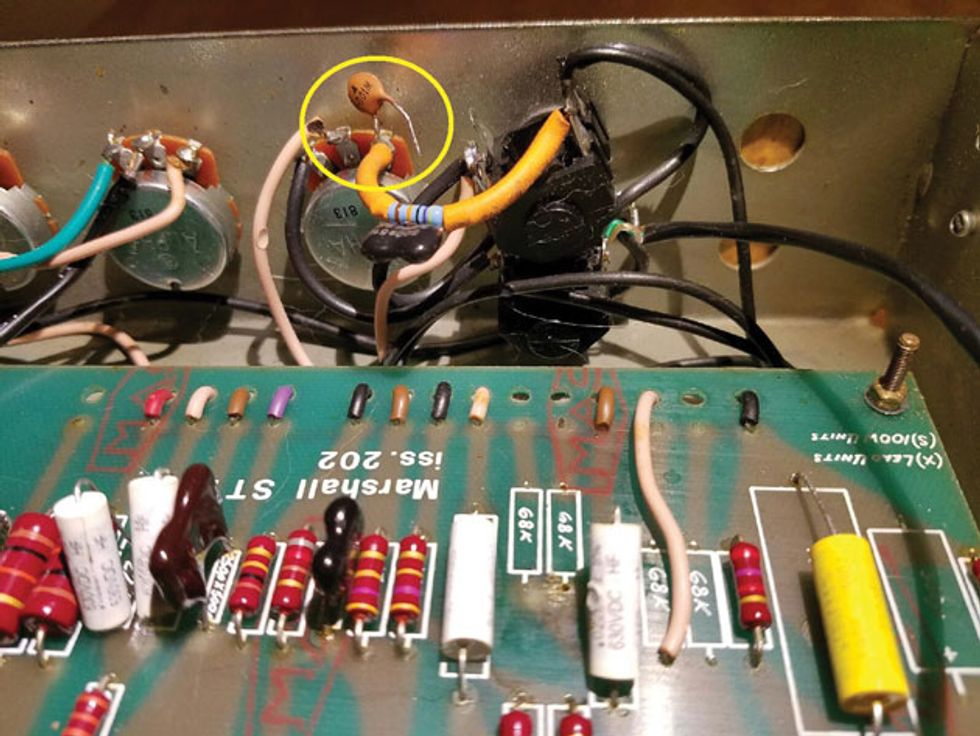 Fig. 1
Short story: I have a 1978 Marshall 50 Master Volume head that I bought in 1978. Yep, I bought it new. The amp sounds great with my old 1970 Les Paul Custom loaded with a Gibson 500T.
A few years ago I switched to Strats with Floyds, and now I want to get back to my favorite all-time pickup—a Duncan Custom. Problem: While the Duncan Custom always sounded great with the shorter Gibson scale in a LP and responds perfectly to the Marshall's gain and breakup, that same pickup is crazy bright in a Strat with a Floyd. Even with the treble, middle, and presence at zero, the amp is still too bright to use. Yes, I could switch pickups or use the guitar's tone pot, but I want to be able to work my amp's controls with the Duncan Custom. Is there a relatively easy mod to take the amp's treble down a notch?
Jimmy Saviano
Hi Jimmy,
Marshalls and Les Pauls, Marshalls and Strats—these pairings make iconic sounds for sure! But as with most things in the gear world, it takes the right combination of elements for the best results. While I can and will give you some small modification suggestions for your amp, I think you first need to make sure that you're comparing apples to apples, as much as possible, of course, when it comes to comparing the two guitars.
WARNING:
All tube amplifiers contain lethal voltages. The most dangerous voltages are stored in electrolytic capacitors, even after the amp has been unplugged from the wall. Before you touch anything inside the amp chassis, it's imperative that these capacitors are discharged. If you are unsure of this procedure, consult your local amp tech.
Here's what I mean: The pickup is far from the only thing that determines a guitar's electric sound. Have you thought about the rest of the electronics? Your Gibson could quite possibly have 300k volume pots, and they may be a great match for the Custom pickup in that guitar. But if you take the same pickup and install it in a guitar that may have 500k pots, the results will definitely be different. Then there's the value of the tone pot, how it's wired to the volume control, what the value of the tone cap is, and even the possibility of the Strat having a "no load" pot. Any one of these variables can make a difference. And if they're all added together … wow! Then there's the guitar's wood. And the pickup mounting method (pickup ring verses cavity mount). All these things can make a huge difference when they become additive. Many things to think about, if you haven't already. Be that as it may, let's see if we can tame your amp a bit, as some of these can be notoriously bright anyway.
The pickup is far from the only thing that determines a guitar's electric sound.
Head 'em off at the high pass. First, let's start with one of the quickest tricks that many players do to these and similar amps. There is a high-pass cap (C103) connected to the preamp control between the wiper and clockwise terminals (Fig. 1). The value of this cap can be traditionally high in these amps, as the schematic calls for a 1 nF (.001 µF) cap. This value will pass a great deal of high end and is generally the first thing players and techs remove from these amps when they're simply too bright. This, in essence, is the same cap that would be switched in and out by the bright switch on most older Fender amps. The difference is that most Fenders will use a much smaller value cap to pass less highs. If you remove this cap and there is now not enough high end, you could certainly experiment with multiple smaller values. I would start with a 47 pF and work up to a 100 pF, a 220 pF, or even a 470 pF to see what suits you best. Of course, if you play with the preamp volume on 10, this is all moot, since the capacitor is electrically out of the circuit at that point. A nice feature here might be to have this cap switchable using a push-pull pot for the preamp control. This way you could tailor the amp depending on your guitar choice.

Fig. 2
If the amp is still too bright, the next place I would go would be the high-pass cap (C102) across the 470k resistor that feeds the signal to the preamp control (Fig. 2). This is typically a 470 pF cap and can simply be lifted from one side of this resistor. If you then like the amp, you can either completely remove the cap or install a push-pull pot for the master volume control and make this capacitor switchable as well. It's always good to have choices.
Less gain, more pain? The above two modifications deal with components that are typically not board mounted. In these early amps, they are usually connected directly to the input jack or preamp volume pot, making for easy access and modification.

Fig. 3
There is one more component that you may want to consider experimenting with. It is the cathode bypass cap (C2) in the first gain stage (Fig. 3). The value of this cap is typically 0.68 µF and is connected across the 2.7k cathode resistor of V1. This helps the tube amplify more of the higher frequencies, but removing this, however, removes some gain and tends to leave the amp a bit lifeless.
My suggestion would be to parallel this with a larger cap. This won't decrease the high-frequency amplification, but rather raise the full-frequency amplification. It will give you the relative effect of less treble, while increasing the gain a bit overall. I would start with maybe a 4.7 µF 25V DC cap and see how you like it. You can use a pair of alligator leads here. Just be sure that the positive (+) side of the capacitor is toward the tube. You can go up in value from there to, say, a 10 µF, 25 µF, 50 µF, even a 100 µF to see if any of these are to your liking. If so, simply solder it across the 0.68 µF cap, being aware of the polarity.
Well, there you have it. One or more of those modifications should get your amp to where you have a useable combination again. Glad I could help with the Taming of the Shrill.