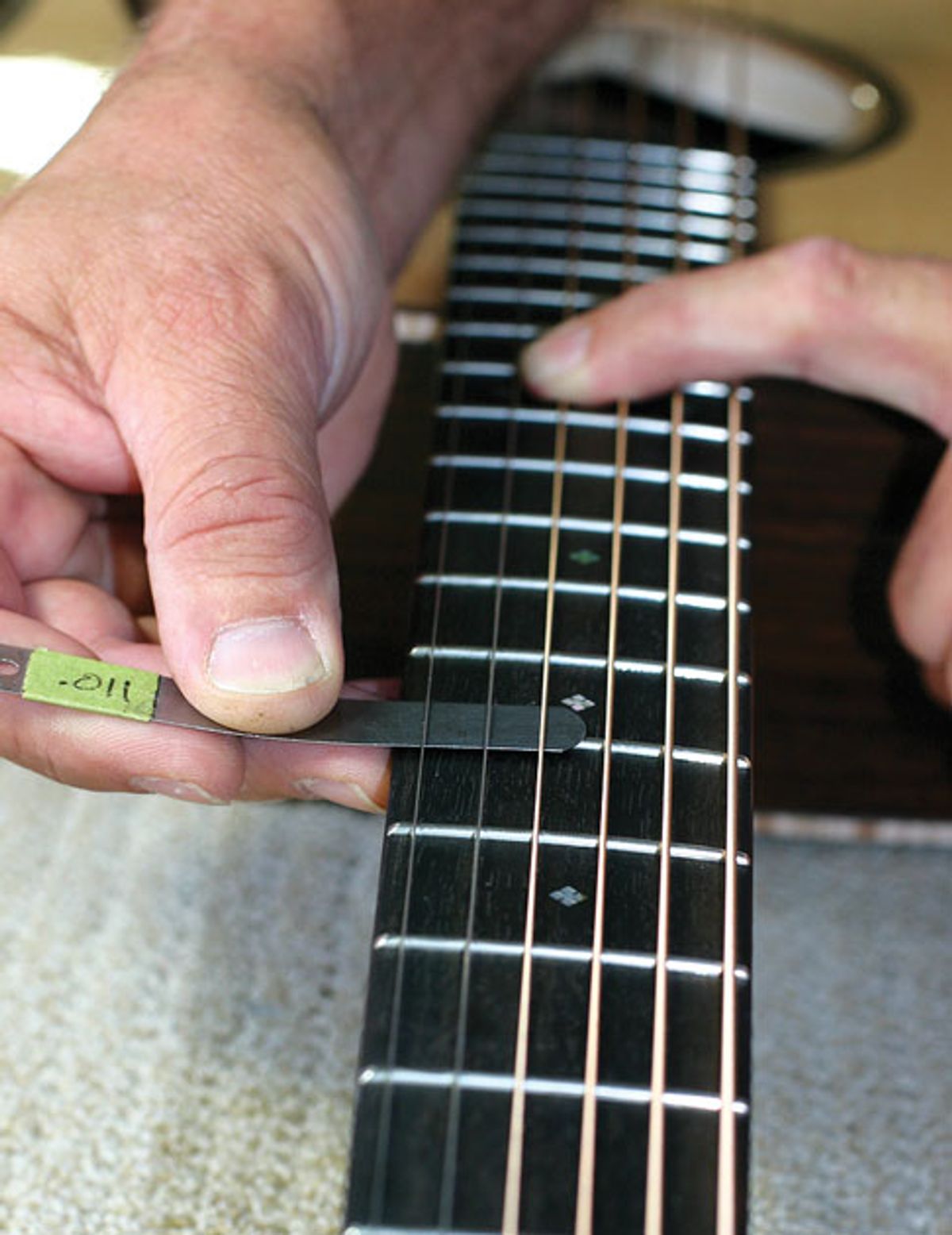 Even if you don't do setups yourself, knowing how to take key measurements of your guitar's action will help you get the feel and playability you're looking for.
Almost daily, I'll answer a question from a customer regarding the setup and playability of his or her guitar. Though most people can tell when an instrument is not playing the way they would like it to, a lot of folks can't put their finger on why that is. This month, I'll touch on how to measure your action and relief, and some basics on how to change them at home. If you aren't comfortable with doing this work yourself—and a lot of people aren't—it's beneficial to know how to take the pertinent measurements to better inform the person who will ultimately work on your guitar. You will better know what your preferences are and if the guitar has, in fact, changed from where it was last set.
Relief. When we are setting up a new guitar at our shop, neck relief is the first measurement taken and the first adjustment we make. To measure the relief, the first step is placing a capo at the 1st fret to eliminate the nut from consideration. Next, we hold down the 3rd string at the 12th fret and check the gap at the 6th fret with a feeler gauge. (If you don't have a feeler-gauge set, they are cheap and can be found at your local auto parts store.) The amount of relief you'll want to see varies some by taste, but you will always want to have some relief in there. I use a .011" feeler for this, though some people use a thinner one. Now that you have measured, you can use your truss-rod tool to put in or take out relief (lefty loosy, righty tighty). Putting more relief in will raise the action and taking relief out will lower the action. Tip: Always stop short of completely flat and you will not run the risk of stripping out the truss rod nut.
Saddle height. When our customers want to change their action, most of the time it's because the guitar has gotten harder to play. And most of the time, the correct adjustment would be made to the truss rod before moving on to the saddle height. To check the height at the saddle, take a steel ruler that measures in 64ths of an inch and measure the distance from the top of the 12th fret to the bottom of the 1st and 6th strings. We set our guitars to 6/64" on the 6th string and 4/64" on the 1st string—a good all-around starting place for action height—but we'll vary this by 25 percent or so in either direction if we know the player involved or for consideration of other factors like scale length.
If you are the adventurous type, doing your own action adjustments can be fun and money saving.

If your action is too high and you want to take the saddle down a bit, there is a simple formula for determining how much material to remove from the bottom of the saddle. Note: If you are dealing with a guitar with a through-saddle (where the saddle slot is cut all the way through the bridge wings and exposes the saddle ends), then you will have to lower the saddle from the top or it could become too short on the ends. Assuming you don't have a through saddle, simply remove twice the amount of material from the bottom of the saddle that you want to lower the action by. For example, if your action at the 12th fret measures 7/64" and you want to lower it to 6/64", you should remove 1/32" from the bottom of the saddle (1/32" being twice as much as 1/64"). You can sand the material off using 120-grit sandpaper attached to a flat surface, making sure to keep the bottom surface both flat and perpendicular to the side of the saddle.
Nut height. The winding on a guitar string can act like a file and slowly lower the strings at the nut over the course of time. So if you're experiencing an open-string buzz, your strings might be too low at the nut. Since I do this every day, I set the nut action by feel, but it can be measured. To do this, put a capo on at the 4th fret and use your feeler gauges to measure underneath all six strings at the 1st fret. A rough measurement here would be from .008" under the 1st string up to .013" under the 6th string, with each of the six strings being .001" higher than the one preceding it. Any change to the nut, however, might best be left to your local repair person since it's trickier and requires a special set of nut files to lower the action here. It's also quite possible you might need to have a new nut installed.
If you are the adventurous type, doing your own action adjustments can be fun and money saving. If you are not, at least teach yourself how to take your own measurements. You will know a lot more about what to ask for when consulting with a repair person.
Looking for more great gear for the guitar player in your life (yourself included!)? Check out this year's Holiday Gear Finds!
This full-amp-stack-in-a-box pedal brings a new flavor to the Guitar Legend Tone Series of pedals, Missing Link Audio's flagship product line.
Adding to the company's line of premium-quality effects pedals, Missing Link Audio has unleashed the new AC/Overdrive pedal. This full-amp-stack-in-a-box pedal – the only Angus & Malcom all-in-one stompbox on the market – brings a new flavor to the Guitar Legend Tone Series of pedals, Missing Link Audio's flagship product line.
The AC/OD layout has three knobs to control Volume, Gain and Tone. That user-friendly format is perfect for quickly getting your ideal tone, and it also offers a ton of versatility. MLA's new AC/OD absolutely nails the Angus tone from the days of "High Voltage" to "Back in Black". You can also easily dial inMalcom with the turn of a knob. The pedal covers a broad range of sonic terrain, from boost to hot overdrive to complete tube-like saturation. The pedal is designed to leave on all the time and is very touch responsive. You can get everything from fat rhythm tones to a perfect lead tone just by using your guitar's volume knob and your right-hand attack.
Features 
Three knobs to control Volume, Gain and Tone
Die-cast aluminum cases for gig-worthy durability
Limited lifetime warranty
True bypass on/off switch
9-volt DC input
Made in the USA
MLA Pedals AC/OD - Music & Demo by A. Barrero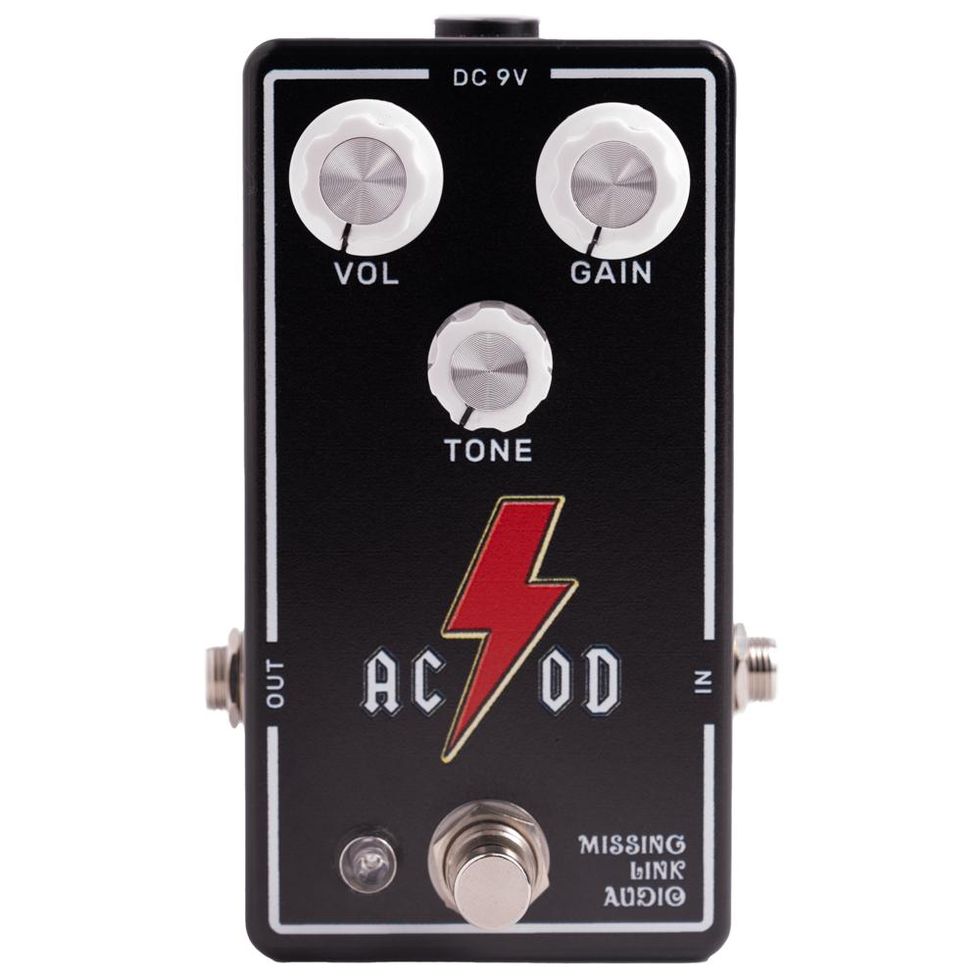 www.mlapedals.com.
Sporting custom artwork etched onto the covers, the Railhammer Billy Corgan Z-One Humcutters are designed to offer a fat midrange and a smooth top end.
Billy Corgan was looking for something for heavier Smashing Pumpkins songs, so Joe Naylor designed the Railhammer Billy Corgan Z-One pickup. Sporting custom artwork etched onto the covers, the Railhammer Billy Corgan Z-One Humcutters have a fat midrange and a smooth top end. This pickup combines the drive and sustain of a humbucker with the percussive attack and string clarity of a P90. Get beefy P90 tone plus amp-pummeling output with the Railhammer Billy Corgan Z-One.
Patented Railhammer Pickups take passive guitar pickups to a new level with rails under the wound strings lead to tighter lows, and poles under the plain strings offer fatter heights. With increased clarity, the passive pickup's tone is never sterile.
Railhammer Billy Corgan Signature Z-One Pickup Demo
Designed for utmost comfort and performance, the Vertigo Ultra Bass is Mono's answer to those who seek the ultimate gigging experience.
Complete with a range of game-changing design features, such as the patent-pending attachable FREERIDE Wheel System, premium water-resistant and reflective materials, shockproof shell structure and improved ergonomic features, the Vertigo Ultra Bass takes gear protection to the next level.
The Vertigo Ultra Bass features:
Patent-pending FREERIDE Wheel System that allows for wheels to be attached on the case in no time, giving you the option to travel with it seamlessly
Upgraded materials, including a water-resistant 1680D Ballistic Nylon outer shell, plush inner lining and new reflective trim for maximum backstage and night visibility
Enhanced protection with a shockproof shell structure and heavy-duty water-resistant YKK zippers for protection from the elements
Improved ergonomics and functionality including added back support and load-lifting detachable shoulder straps with side release buckles
Flexible storage options with added space for touring essentials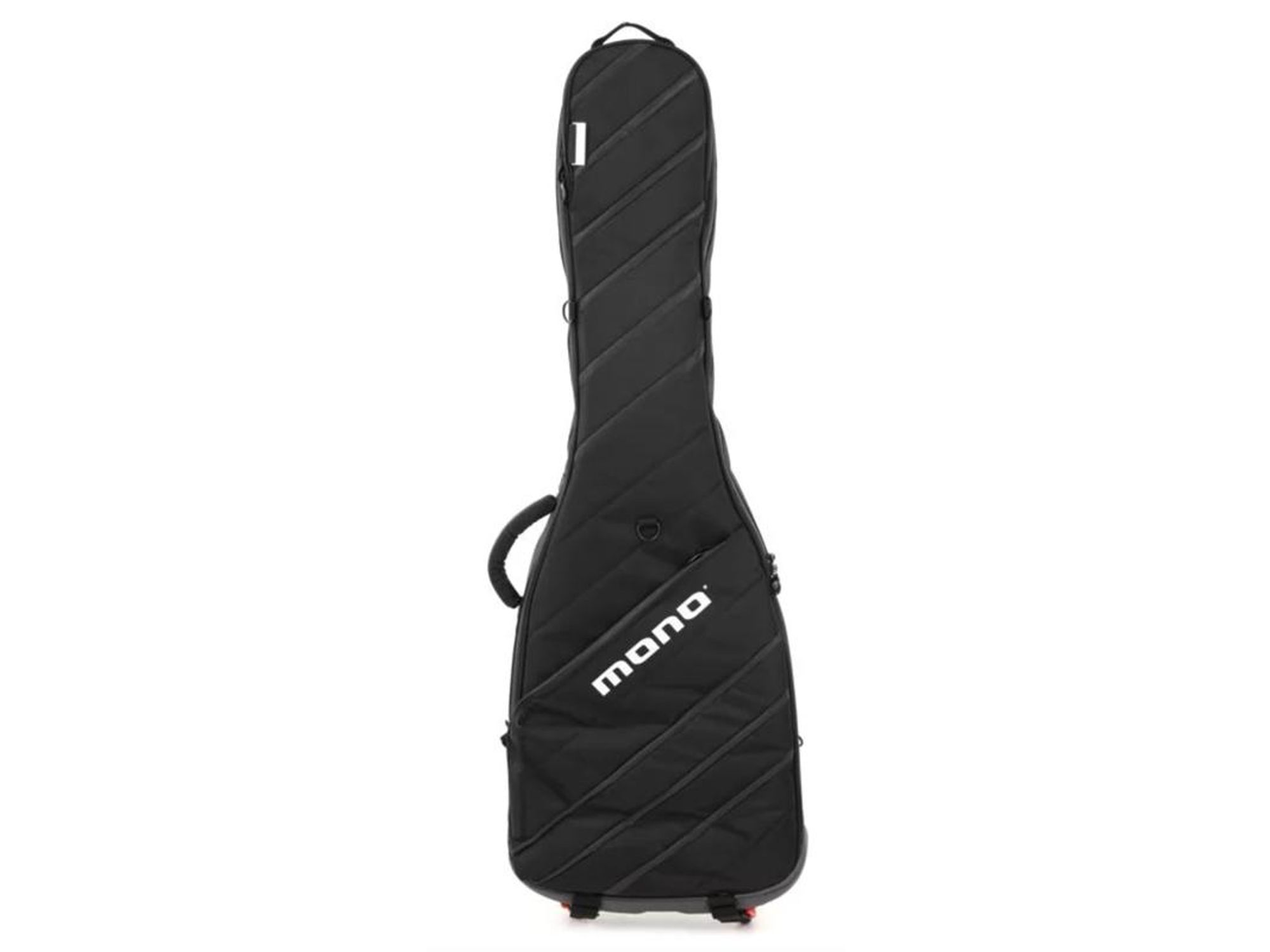 For more information, please visit monocreators.com.
Mono