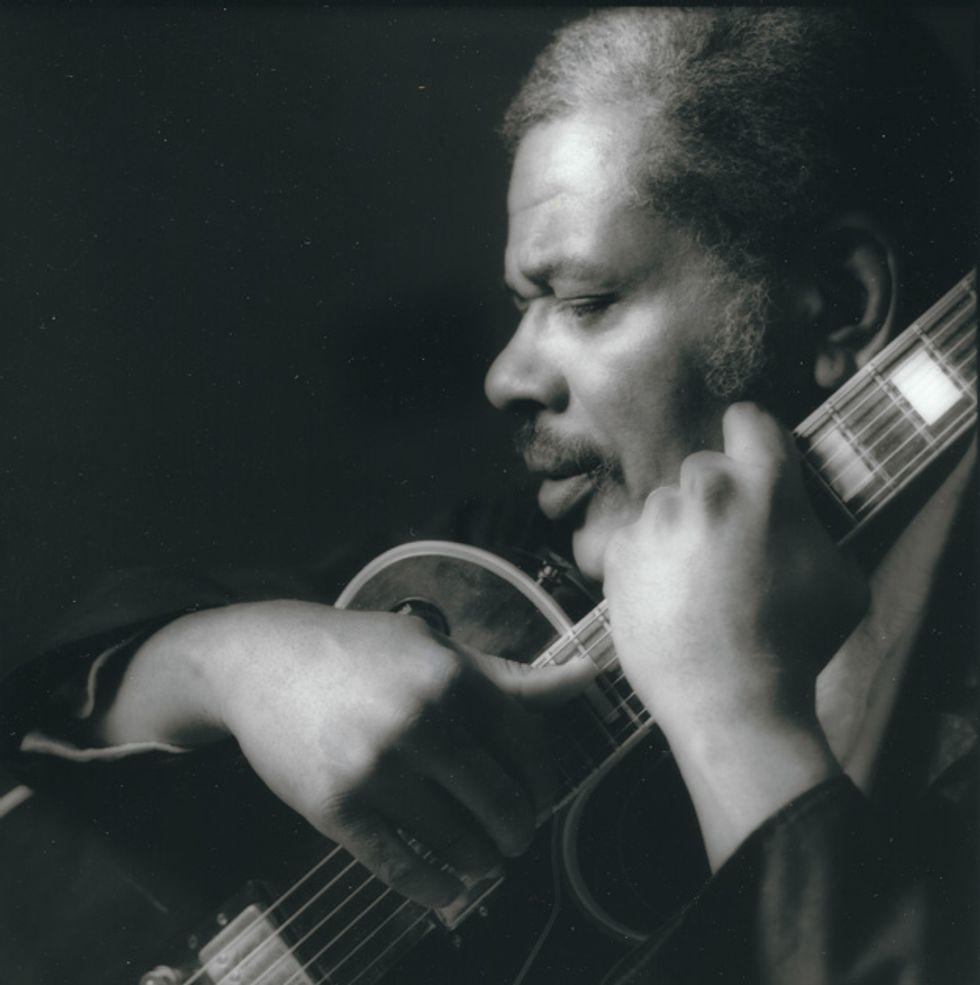 Sharrock created a unique language on the guitar, inspired by the horns of John Coltrane and Pharoah Sanders,
bringing free jazz into the 6-string lexicon. Photo by John Soares
Sonny Sharrock, whose guitar playing harnessed the explosiveness and beauty of a summer thunderstorm, recorded Seize the Rainbow in 1987. By then, he'd been doing just that for more than two decades, using his guitar as a prism to reflect his glorious, Technicolor vision of music and life. Along the way, he helped invent free-jazz guitar.

The flautist and bandleader Herbie Mann, who employed Sharrock and his then-wife Linda in the late '60s, referred to the unfettered guitarist as "my Coltrane." And, indeed, Sharrock's own awakening as a musician happened as a teenager when he heard John Coltrane's performances on the immortal Miles Davis album, Kind of Blue. Although it took until 1966, when he was 26 and playing with Coltrane's sax-wielding friend Pharoah Sanders, for the light bulb that illuminated his approach to ignite.

"I remember the very day I learned to play 'out,'" Sharrock told me when we first met in 1988. "Pharoah had this technique of overblowing the horn. It sounded like very fast tonguing, like a buzz saw. I tried to copy it by trilling on the guitar and found that I could get a huge sound, but more human, like a voice. Then I tried to stretch it by pulling strings and bending notes, and that was the beginning."
The end came too soon. After decades of struggle—even leaving performing and recording to work as a chauffeur and a music therapist for mentally challenged children—Sharrock died just as the world's doors were fully opening for him and his music. Three years after releasing 1991's majestic Ask the Ages, a graceful, expansive, and clamorous return to the '60s free-blowing aesthetic that had inspired his beginnings—an album that ended up on major jazz and rock critics' top 10 lists and propelled Sharrock toward stardom—he was on the verge of signing his first major-label deal. To prepare for that milestone, he was exercising at his home in Ossining, New York—the small city in the shadow of the notorious maximum-security prison called Sing Sing—and dropped dead from a heart attack. He was 53.
Sharrock left behind an amazing legacy of recordings. As a sideman, he'd played on Miles Davis' A Tribute to Jack Johnson paired with John McLaughlin, and he made seven albums with Mann, including the influential Memphis Underground. He also played on Sanders' 1966 classic Tauhid, Wayne Shorter's innovative Super Nova, Don Cherry's Eternal Rhythm, and discs by Ginger Baker, Roy Ayers, soul/avant jazz-fusion band Brute Force, and new-wave avant-funk outfit Material, among many others.
"People used to get mad at me because I'd get hired for a gig and I'd say, 'I ain't gonna play chords. That's guitar. I'm a horn player. I just play a fucked-up horn.' "—Sonny Sharrock

Before his '80s re-emergence, Sharrock had recorded two albums as a leader—his 1969 debut Black Woman and 1970's Monkey-Pockie-Boo—and cut 1975's Paradise co-billed with Linda Sharrock. When he returned to full service, he did it with passion, making seven albums from 1986 to 1993, ranging from the all-solo instrumental Guitar to the blithe, melody possessed Highlife to the soundtrack for the cartoon Space Ghost Coast to Coast. He was also a member of Last Exit, perhaps the wildest bunch of free-improvising gunslingers to ever take a stage, along with bassist/auteur Bill Laswell, drummer Ronald Shannon Jackson, and reedman Peter Brötzmann. They'd never played together until Laswell summoned them to a festival in Köln to perform and simultaneously record an album in February 1986. In Last Exit, Sharrock delivered some of his most furious, unpredictable solos—often employing the solid Stevens bar he used for slide to conjure the kinds of sounds one would expect to emit from the gates of hell. (And the Pearly Gates, too, because Sharrock had a gift for creating angelic melodies.)
By the Horns
The great American improvising guitarist Henry Kaiser bought his first guitar and slide the day he heard Sharrock on Sanders' Tauhid. Kaiser went on to play with Sharrock (and scores of others), and recently released the tribute album, Echoes for Sonny, with fellow Sharrock cohort and guitarist Robert Musso. He summarizes the late genius thusly: "Sonny was the kind of guitarist who comes along once in a generation—if that—as special as Hendrix, Django, and B.B. King. A magical person. No one has made a more original statement on the instrument. Sonny had as much heart as B.B. or Carlos Santana. He stood in the middle of what was happening in black jazz in the '60s, socially and politically, and in the beginning of free jazz. Without Sonny Sharrock, there is no Vernon Reid, no Sonic Youth … so many things people have embraced musically.
"And his slide playing is unprecedented," Kaiser continues. "It's technical and non-technical at the same time, so it was accessible to me the moment I heard it. Just how original was he? Well, if you look to B.B. King, first there was T-Bone Walker. For Jimi Hendrix, you've got the influence of Curtis Mayfield and Muddy Waters. For Sonny, there ain't nuthin'. He's the first guitarist with his footprint on the moon."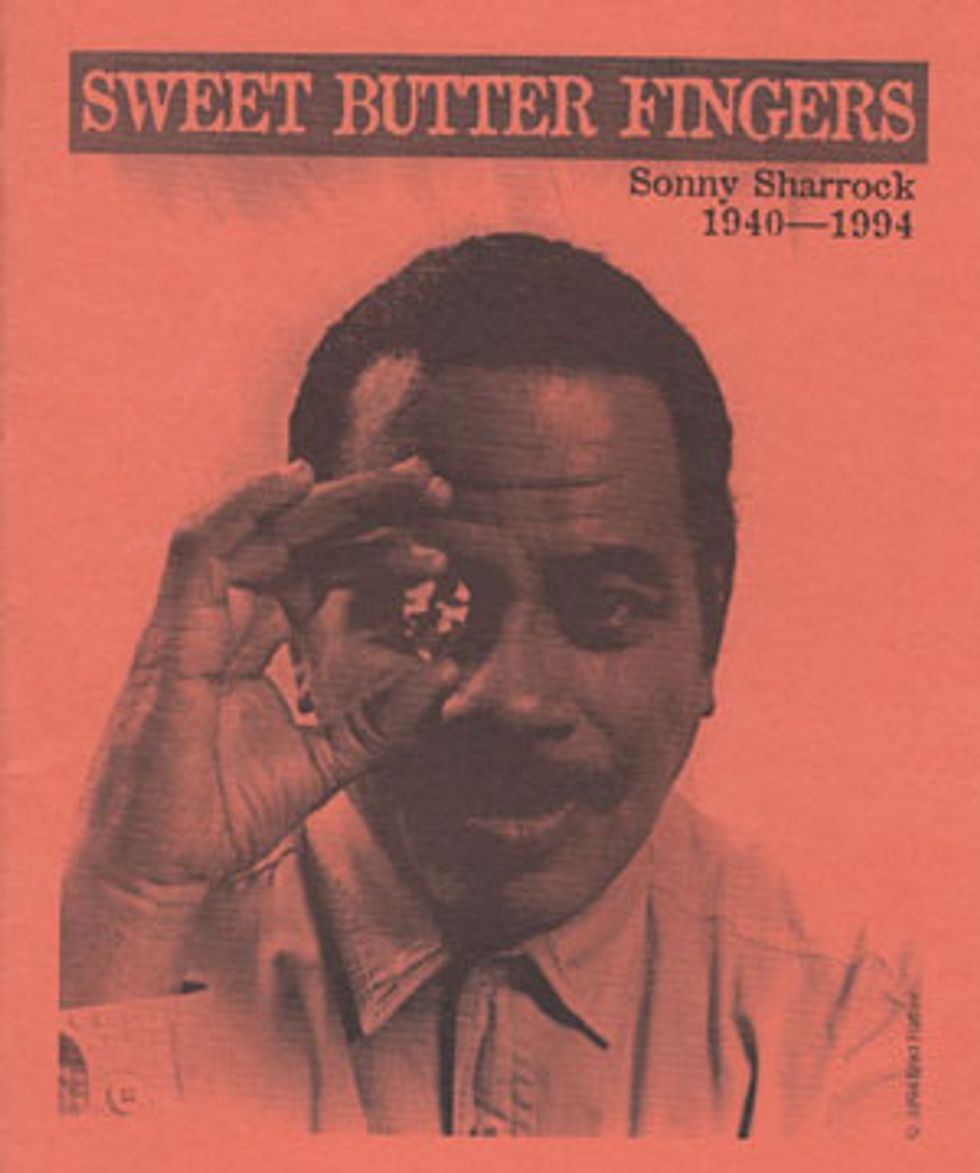 Factoid: After Sharrock's death in 1994, the Black Rock Coalition held a memorial concert in his honor in New York City's Central Park. This booklet was produced for the event.
Sharrock's Earthly arrival was on August 27, 1940, in Ossining, where he spent much of his life. "Dad's full name was Warren Harding Sharrock, Jr., after my grandfather, but he never liked that name," says his daughter, Jasmyn Sharrock. The stories of the 29th president's affiliation with the Ku Klux Klan were a thorn, and Sharrock quickly adopted what his family called him as his handle.

His first musical obsession was vocal groups, like the Moonglows and Orioles. "The greatest thing I'd seen until then was Red Ryder and Little Beaver on their horses," Sharrock recalled, "but these groups were the hippest. They had matching suits, did coordinated steps, and they sounded incredible." At 14, his baritone singing earned him a spot with an integrated group of neighborhood kids who called themselves the Echoes. "The other guys were a lot older, but I'd just pencil in my moustache and go right on into the club."

A few years later, in 1959, he was listening to Symphony Syd, the hot jazz DJ on New York City's WJZ, and heard Kind of Blue. "I saw Miles' band that summer and I was gone from that moment on," Sharrock recalled. He began a lifelong obsession with horns and drums. "But I couldn't afford either, and I had asthma, so I knew I couldn't play the saxophone." His consolation prize was his first guitar, which he purchased in 1960, and he split Ossining for Boston and the Berklee College of Music in '61.

"There were 26 guitarists enrolled, and I was ranked 25th," he recounted. "Then the 26th guy left and I was at the bottom." He didn't stay much longer. Armed with the basics of music theory, Sharrock moved to California in 1962 and lived in a trailer with several other struggling musicians while trying to pick up gigs and sessions. But not before suffering one more indignity.

"I got into a band and we worked for just one night at a coffeehouse in Cambridge," he said. "Sam Rivers and Tony Williams were in town and decided to sit in, and they destroyed us." He laughed and shook his head. "They played 'Milestones' at a tempo I'd never realized existed!"
Ultimately, he found his musical home in mid-'60s New York City. "When I got there, I ran into Sun Ra on 125th Street and I asked to study with him. He said, 'Come by.' So I went to his place and Pat Patrick, Marshall Allen, and all these heavies from his band were there, and Sun Ra showed me two movies. That was the extent of the lesson. Real weird! But while I was there, they got a call from [Nigerian drummer and bandleader] Olatunji about a gig. I heard Pat say, 'Yeah, I've got a guitar player here.' I thought, 'He can't be talking about me.' That's how I ended up working with those guys. They were very nice to me, because I didn't know what the hell I was doing."
So Sharrock's bona fide apprenticeship on the bandstand and in the studio began, including the important work with Sanders that set him exploring dissonance, distortion, slurred licks, and skittering, screaming slide, as well as melodic excursions inspired by horn players, classical music, and blues. His tone grew darker, richer, and bigger, and would continue to do so throughout his career as he upgraded gear and further defined himself. He also began using distortion pedals, so he could compete with the sound of an overblown tenor sax.