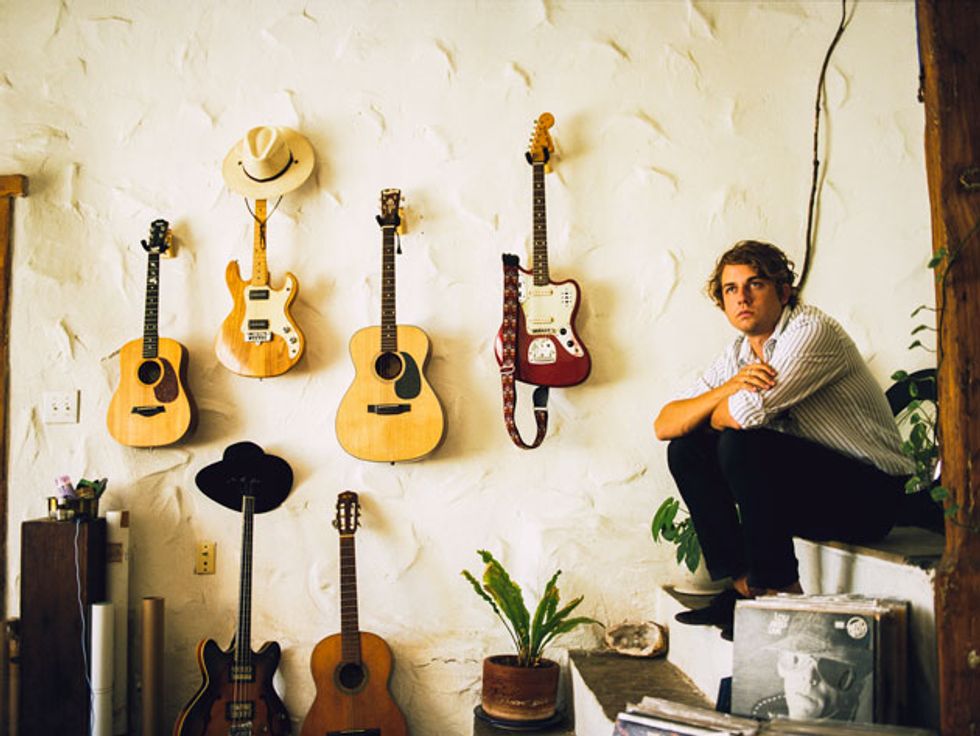 With his beloved Fender Jaguar named Dorothy hanging next to his Blueridge Dreadnought, Kevin Morby sits above a copy of Lou Reed Live, but his instincts hew closer to the foundational figures of Americana, like Bob Dylan and the Band. Photo by Dusdin Condren
There is no substitute for great songwriting. Regardless of what trends have taken the day, it doesn't matter how you dress up a song if it doesn't have strong bones, and this alone makes Kevin Morby not only refreshing, but a rarity in 2016. He's a singer/songwriter whose songs truly require little in the way of decoration to move the listener deeply.
Perhaps best known as a former member of Brooklyn-based psych-rock collective Woods, or from his days as the frontman of indie-rockers the Babies, Morby stepped out on his own in 2013. His work has rightfully drawn its share of comparisons to the heroes of archetype, including Bob Dylan and Levon Helm and the Band. However, Morby's music represents more than fresh fruit hanging from the tree of Dylan-worship. With
Singing Saw
, his third full-length album, the Kansas expat has solidified his reputation as one of the most intriguing and singular voices to come from the current crop of folk-oriented songwriters.
Singing Saw
finds Morby's writing and singing presented in stark, haunting arrangements and captured beautifully by producer and multi-instrumentalist Sam Cohen of Yellowbirds at the Isokon studio in Woodstock, New York. Flourishes of unexpected guitar fiber abound, and unique touches—like the ethereal tones of an
actual
singing saw—provide the album with just the right amount of filigree to keep things interesting, while allowing Morby's inspired songcraft and voice to do the heavy lifting. For fans of Americana, whatever that label has come to mean in 2016,
Singing Saw
has the makings of a classic.
Self-professed gear minimalists, Morby and Cohen didn't sweat the equipment used to produce and capture the beautifully written songs of Singing Saw too much. However, the resulting sonics certainly belie the pair's "nothing's precious" attitude. We spoke with Morby and Cohen about some of the unconventional recording techniques employed in tracking Singing Saw and the uncanny sounds that resulted, the wonders that hide in the wood of unfancy guitars, and avoiding the clichés of hero worship while still letting important influences shine through.
"I never really think about the politics of writing when I write. If I like it, I like it; and if I like it, I'll stand by it." —Kevin Morby

Tell me about your guitar, "Dorothy." Sounds like it's a particularly sentimental instrument?
Dorothy is my red Fender Jaguar, and it was a really big deal for me when I got it. I went on a tour with my old band, the Babies, and we each made around $1,000 at the end of that tour, which was the most I'd ever made in that band at that point. I immediately went to a guitar shop and bought that guitar with all of that money! I was probably 21, and it was important to me that I put that money back into music and buy something nice for myself instead of using it for two months rent or something more practical. I want to do what I do for a long time, and that was a symbolic thing for me. It's funny, because that was, like, six or so years ago, and since then I've bought so many other guitars, and I always wind up selling them again because I only ever want to use Dorothy. Dorothy's a reissue and she was new when I bought her. I haven't modified her at all aside from putting in a Graph Tech bridge to help keep things tight and where they belong, because Jaguar bridges can be finicky.

What is it you like about Dorothy so much?
She plays really well, I love the shorter scale ... and I really just love how she looks. It's actually really funny that I named her Dorothy, because I named the guitar after my grandmother and I honestly didn't even think about the fact that it's a ruby red guitar and I'm from Kansas. That connection actually didn't even dawn on me until after we shot the music video for the song "Dorothy." But the truth is, there is just some sort of special thing with it being the first piece of really nice musical equipment that I ever bought for myself, and it was purchased with money I made from making music. I can't quite put my finger on it besides that, but, like I said, I've bought nice Rickenbackers and other Fenders since owning Dorothy, and I'll try to play them live and I just can't do it. There's something missing without her.
The way you use silence in your arrangements really works well with the songs on Singing Saw. Do you have a guiding philosophy when it comes to how you use sparseness?
I give a lot of credit to Sam Cohen for helping me see my vision through with a lot of the arrangement stuff. He did a lot of good work and was very much able to take my ideas and help me spin them tastefully into what they became on the record. But it's generally a case-by-case scenario.
What led you to bring in a saw player?
I started to write a song and the words "singing saw" just sort of fell out of my mouth for no good reason. A lot of the album was written at my home in Mount Washington in the Los Angeles area, and a singing saw is very alluring in that, while it's very beautiful sounding, it also has a very eerie quality, and that was exactly the sort of record I set out to make. The landscape of where I live is very similar in that it's also very eerie, but it's extremely beautiful, and I felt that it fit really well in tying it all together.

I hear a lot of Dylan in what you do and I'm curious where he comes in as an influence. I think you've done an excellent job in keeping that influence without directly biting into Dylanisms.
Well, I've always been a huge Dylan fan, and I obviously don't mind that comparison at all. I'm fortunate to have been compared to a handful of my heroes in my career. I try to take those influences and pay homage to my idols in a way that's very much my own and tasteful, and I think if you approach it with respect, it's totally a cool thing to do. But there are people that can only imitate their heroes, and I'm not into that.

I know you were involved with a live tribute to the Band and The Last Waltz. How was that?
It was called The Complete Last Waltz and it's the brainchild of a promoter from San Francisco named Ramie Egan. He puts it on every couple of years. It's a live recreation of The Last Waltz with notable artists. I got invited to do it in 2014, and it was the day before Thanksgiving. Ramie contacted me, like, a week before and invited me, and he said he was a fan and thought I'd go well with the group he'd assembled, which was a little out of my own scene: guys like Nels Cline from Wilco, Cass McCombs, and some of the guys from Dr. Dog. But I agreed and I was a little apprehensive as I didn't know a lot of the folks involved, and it turned out to be an incredible experience. This record would not have happened at all the way it did had I not agreed to do that performance, because Sam Cohen was the bandleader and that was our introduction!