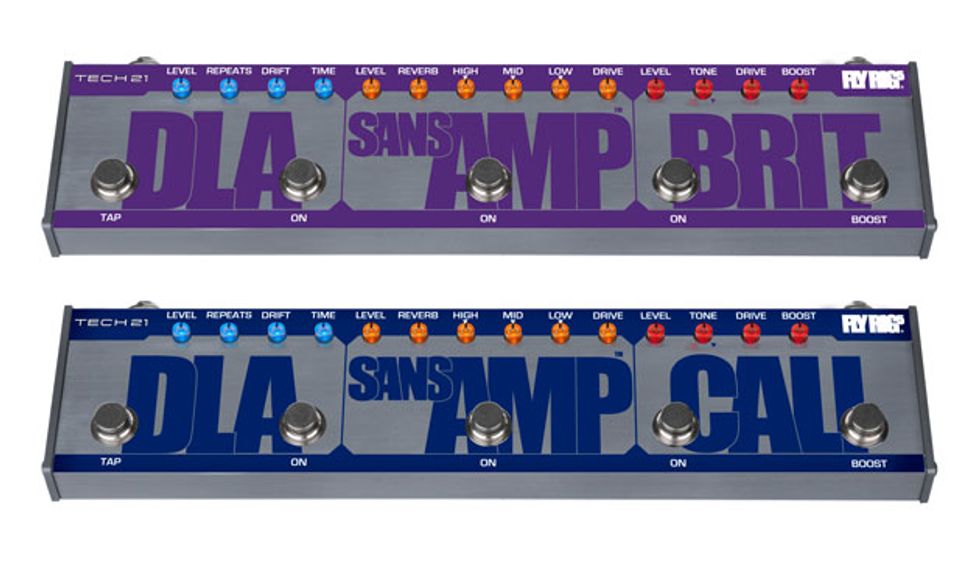 Clifton, NJ (October 28, 2016) -- Tech 21's popular Fly Rig Series has two new additions: Brit Fly Rig 5 and the Cali Fly Rig 5. The Brit's distortion section is based upon Tech 21's British SansAmp Character Series pedal, which was inspired by the celebrated, crunchy vintage amps from across the pond. The Cali's distortion section is based upon their Cali/US Metal SansAmp Character Series pedals, which were inspired by amps in the mid '70s from the then-boutique shop over on the West Coast.
While those hulking stacks are known to sound best at ear-bleed levels, the Brit and Cali sections can painlessly transform your sound at the kick of a switch. You can completely change the personality of a clean amp tone or use it as an instant mod with a dirty amp tone. Engaging the boost function is like having an extra 12AX7 preamp gain stage. Activated via its own footswitch, you can kick in up to 21dB of preamp boost. The range allows you to go from a state of mild overdrive to insane gain. Boost also operates independently to punch up any of the other functions.
The other features are the same as the original Fly Rig 5. At its heart, is the all-analog SansAmp, which makes it possible to go direct to a PA or mixer. Effects include a reverb voiced to create the rich ambiance of a vintage spring reverb, and a delay with tap tempo and adjustable tape drift-style modula- tion for authentic textures.
Less than 12 inches long and weighing just over 18 oz., this sleek, compact unit embodies an entire rig you can just pop into a guitar case. Anticipated availability is mid-November.
For more information:
Tech 21