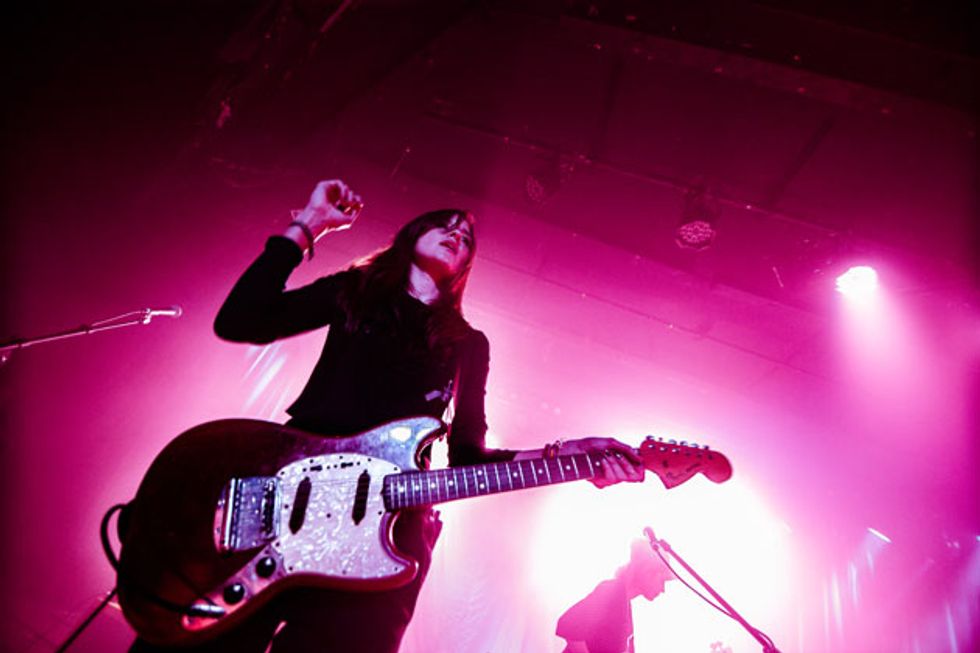 The lighting matches Theresa Wayman's 1966 Dakota Red Fender Mustang during Warpaint's set opening for Band of Horses at the Fox Theater in Pomona, California, on December 9, 2016.
Photo by Debi Del Grande
What are the basic building blocks of your tone?
Kokal: For a long time I would just use the Roland JC-120. And for most of the albums, except for the last two, I used a '62 Strat. I didn't use that on the road, but it was a big part of my recorded sound. I also had a Vox AC30. I would use the Electro-Harmonix Polychorus and the Boss VB-2 vibrato pedal. Those two pedals created a tension I really liked. I like a clean tone. I don't like to sound distorted because I feel that in the band I serve almost as a pathway between the bass and the guitar. Sometimes I feel I'm almost doubling the bass. What I find interesting to do is repetitive melodic lines more than chords or rhythms. That is kind of changing, but usually I write a top line and that fits in with the bass line, and Theresa would usually go off on top of that. I like to have a really clean tone so you can hear the line, but it doesn't take up too much air. That's why I've always gravitated toward choruses: I always felt that chorus didn't interfere. It was something that could smoothly fit in the relationship between the three guitars without creating a chaos. I wanted a really slick clean sound and there's something about chorus that can transform a traditional guitar sound into almost something in between a synth and a guitar. And nowadays, I play through a Jazz Chorus.
Do you use the chorus on the amp?
Kokal: I don't use that chorus. I also always have a reverb. For a lot of years, I would just have a combination of the reverb, the vibe, and the Polychorus. I didn't mess with delays and I didn't have overdrive. But as we've grown, now I have two delays and I actually always have an overdrive on. I started to feel that, when translating my guitar parts live, they weren't coming across loud enough. I also play pretty delicate, so that was my way of lifting the sound for live. I have an Ibanez Tube Screamer. I basically have it on at 5 all the time and I keep it on to just give it a little bit of grit.
"I want to be in a Steely Dan cover band. Stella wants to as well—it's her dream—so it might happen." —Theresa Wayman

Wayman: I play a '66 Mustang and the sound of those are pretty bright—it's pretty poke-y, it's not very round, which is actually not what I'm going for. So, I have to do a lot to try to thicken and widen the sound. I've been going pretty far with chorus and that's changing every single night, I think I've developed it quite a bit since [last summer]. I have a gain booster that helps to intensify the sound and I have a JHS Distortion pedal, the Sweet Tea. I have a reverb and I try not to make the tail end of that too long, but I like to have a lot of reverb. I keep the tone pretty bright on that. I realized a trick on that—I turn the tone knob down pretty far on my guitar and I turn it up on the reverb. It actually creates a nice sound, as opposed to having the tone up on the guitar. It brightens it through the reverb, which is cool.
When recording, how much is live and how much is layered later?
Kokal: The new album was a lot more overdubs than we usually have done. A lot of the album was writing in the studio. It was fun, actually, and it was really different. Our first EP was songs that we'd been working on in one form or another on-and-off for four years. So, to have an album which was like, "What's your instinct to play?" And to trust that instinct, for all of us that was liberating. We learned how to be a band writing a few songs at a time—we were just starting from scratch, trying to find out what our sound was, and how we interacted together. Nowadays, because we all have our chops a little bit more, it was fun to get in the studio and riff a little guitar, improvise things, come up with things, have happy accidents, record, and move on.
YouTube It
Warpaint performs songs off their new album, Heads Up, at Seattle's KEXP in October 2016, kicking off the mini-concert with the release's opener, "Whiteout."