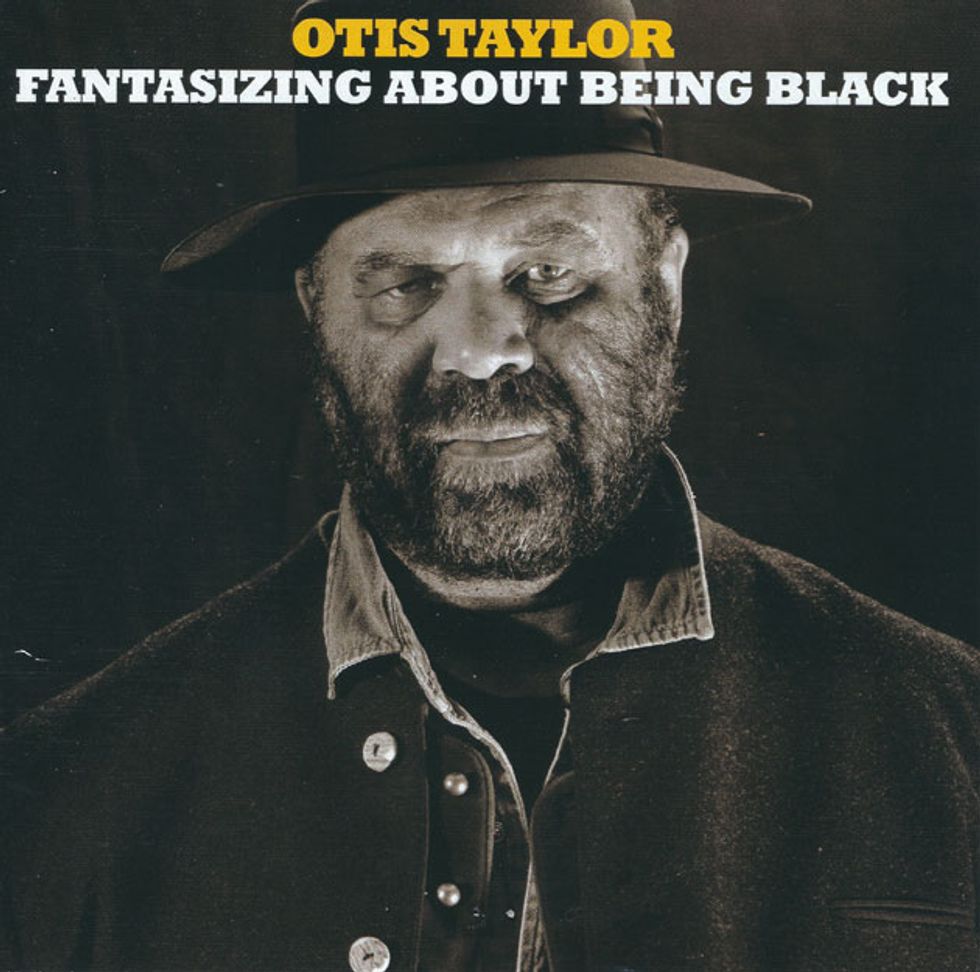 Taylor intended to make his 15th album an acoustic recording until he found an electric sound "so great I had a flashback of Howlin' Wolf—funky, simple, and powerful."
You write very precise, spare lyrics that tell emotionally detailed stories. How did you get onto that?
Folk music, man! When I was a kid I learned all these dark cloak-and-dagger English traditional folk songs, and today they tell me I'm too depressing for the blues. What? Aren't those white people more depressing, with "Pretty Polly" and all? [Sings:] "Oh, he stabbed her in the heart and her warm blood did flow." I mean, c'mon. That's where I get that darkness, but also those songs taught me how to get to the point. Dylan used to play that shit a long time ago. I just stayed with it. I have a feeling for doing it. I don't know why. I am a fan of country and western lyrics. For me to care, you've got to bring a story. I think the old-school country songwriters probably got that from the same old-timey shit I did. That kind of storytelling is really a working-class thing—people connect with it. And the blues is like that, too.
Where do you fit into the spectrum? Do you play blues or psychedelia or folk music?
It's trance blues. The problem with blues is they want to make it like polka music: This is it and it can't be anything else. There's a battle in jazz over that, too. To me, the most powerful, living blues going on is hip-hop. It's trance music, it's powerful … it's blues! But they don't call it blues.
You often write about social justice and race.
I'm black!
I noticed.
Because I'm dyslexic I have a strange kind of memory. It's more visual. When I talk to guys, especially in England, they can tell you who played on what track on what date on what Vocalion 78. I fuckin' don't know that shit. If I knew it, I'd forget it anyway. I forget old blues lyrics except for my favorites. So I don't know much about the blues, but I'm good at being black. So since I'm black, I must be playing blues music.
You've also written about Native Americans; you've written some beautiful love songs. But this album in particular focuses entirely on racial identity.
I think it's important right now. I live in Boulder, and you go to the grocery store and hear people say how depressed they are. I'm in a world of artists and they care about what's going on.
You often write from a personal perspective—about your mom going to jail, about a long-ago relative being lynched.
Well, I like to write interesting stories and I come from an interesting family. "Three Stripes on a Cadillac" [from 2002's Respect the Dead] was about a car race in Mexico where they accidentally killed a little girl and had to get the guy responsible out of town. My friend was on the team. So I had to write about that. Or "House of the Crosses" [on 2003's Truth Is Not Fiction]—I wrote that in Russia when I went on a tour of the House of the Crosses, which is a real prison. There's some real dark shit. When I get dark it's so dark that some people can't get past it.
I'm not here to depress people. Although I can get really dark on albums, I go medium live. Like, "My Soul's in Louisiana" is about a person getting lynched, but they don't know that because they don't listen to the words. They just hear the pretty, catchy tune, so I can get away with it. "Ten Million Slaves" is about the Middle Passage, where 20 million people died on the ships from Africa over 200 years. It's really a dark song. But I don't know if people are really listening to the lyrics.
"It's all in the right hand. If you watch a great lead guitar player, like Stevie Ray Vaughan, Hendrix—they're also killer rhythm guitar players."

You've worked with a series of great guitar players on your albums: Gary Moore, Warren Haynes, Mato Nanji, Daniel Sproul of Rose Hill Drive, and now, Dobro master Jerry Douglas.
I've had a lot of "no's," too, like Joe Bonamassa, who never got back. And I've had great guys in my own band, like Shawn Starski and Jon Paul Johnson. Gary Moore actually came backstage and introduced himself after a gig and ended up playing on three of my albums. I didn't know who he was. It was just after I started playing music again, so I hadn't been paying attention. He had these long dreads and looked kinda rough. He told me how much he liked what I did and gave me his number, and then slipped out the back door, so the fire alarm went off. Then everybody in the dressing room was like, "That's Gary Moore!" So when I called him, I said, "Hey, I fuckin' hear you're famous. Want to play on my record?" I toured with him six times. He probably championed me the most.
For Jerry Douglas, I'd met him once in Aspen, and I was trying to get Stanley Jordan to play on the album, but we couldn't get ahold of him. But at Airshow Mastering in Boulder, [house engineer] David Glasser goes, "I was doing a project with Jerry and told him you were doing an album, and he said he'd love to play on it."
Why do you gravitate toward strong guitar players?
I gravitate toward good musicians. Larry is great on drums and Todd [Edmunds] is a good bass player. Ron Miles is great on cornet. Anne Harris is an excellent violinist. [Those musicians constitute Taylor's current band.] Cassie is a great bass player. But people notice the guitar guys.
Let's talk about your signature Santa Cruz acoustic guitars.
A guy named Willie Carter, who is black, worked for Santa Cruz, and he saw me at the NAMM Show and was a big fan, and he knew that OME banjo did an Otis Taylor model, so he said, "What kind of guitar do you want?" That's like asking what kind of Porsche do you want—just give me the fucking Porsche!
I talked to Harry Tuft at the Folklore Center, and he suggested getting Madagascar rosewood, because that's African. So I called and said, "I don't like a lot of frets, because that's fancy stuff. I want a Madagascar rosewood H model that's real thick and just two frets into the body." And it's a beautiful looking and sounding guitar. It's like that old saying in country music: "There's no money after the 5th fret." The next version went to Indian rosewood and then to mahogany for the Chicago model. The mahogany has a bluesier sound.
You've also got signature banjos: an OME acoustic and a Blue Star electric.
I was at Folk Alliance in Toronto and had a little booth. Pete Seeger walked by and heard me play, and then asked me out for dinner. And we went by the Elderly Instruments booth, and Pete saw an electric banjo and said, "Oh, I think you'd like this." So I played it and I bought one. But then I was afraid I would lose it, so I called Bruce Herron at Blue Star and asked him to make one for me. And that's my signature model.
The OME acoustic has an open back. I also play a Blue Star mandolin and a Blue Star lap slide guitar. The slide guitar has a killer sound. The banjo has Tele-style pickups. The first ones they made for me had lipstick pickups. He made me a baritone mandolin, too, but I haven't played it yet.
You used the Blue Star Banjo Blaster with three chrome-coated single-coils on "Ten Million Slaves?"
ButI leave it on one pickup all the time. I push it away from the front of the neck [to the bridge pickup setting] and I mess around with some knobs.I like the deeper sound. All my pickups, I go back with them.
What did getting songs in the film Public Enemies mean to you in practical terms?
Financially it was a big deal and status-wise being in a Michael Mann film is a big deal. It brought a lot of kids who saw the movie to my gigs—Johnny Depp freaks got turned on to me.
When I play a gig, I can barely get 100 people, but I've been in The New York Times and L.A. Times crossword puzzles. I made the top 10 in The New York Times critics' poll once, and I'm a Sundance fellow—and I still don't feel like anybody knows who I am. But I can go anyplace in the world and about 100 people will show up. That's a good start! [Laughs.]
YouTube It
In a live performance of "Ten Million Slaves," Otis Taylor imparts a brief lesson about the origins of the banjo to an audience at Poland's Rawa Blues Festival and displays his signature use of delay on his Blue Star Otis Taylor Hot Rod Model T Banjoblaster. His guitar foil is Shawn Starski and Anne Harris plays violin.