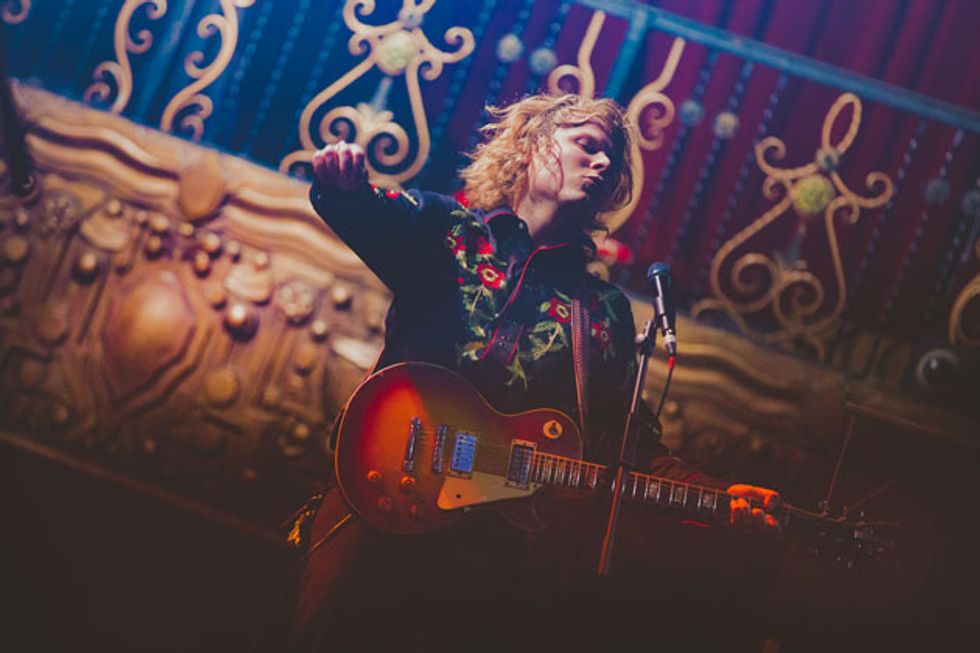 He used to play a Fender Mustang, but in recent years Segall has been cradling a 1969 Gibson Les Paul with a cherry sunburst finish, run into a silverface Fender Quad Reverb.
Photo by Debi Del Grande
What would you attribute that positive vibe to?
Kelly: Just making music together and having a good time. It also doesn't hurt that the chemistry between everyone in the band is really cool.

Ty, can you talk more specifically about what it's like to play with Emmett and how your styles mesh?
Segall: Emmett is the most versatile guitar player ever. He can literally play anything. I'm pretty much the one-trick pony, but Emmett is like the secret weapon. He's a master at playing with you, and I feel like I'm a better guitarist when we're working together.

It's cool and not competitive at all. It's almost like we're trying to push ourselves to get to this other place together. I've played with people where you're both racing each other to the finish line or some shit like that, and that's totally wack. But it's super fun to play with Emmett. He's doing radical shit and he takes you with him.
"I'm not a very crazy lead player. I don't know many chords or scales, but I do know how to play rhythmically." —Ty Segall

What was the recording process for the album?
Segall: We recorded it in four-and-a-half days and tracked it mostly live, adding just a little overdubbing—though some of the songs have like five, six vocal tracks on them just because I love putting down as many vocals as possible. Albini will overdub as much you want, but he's usually pretty great at being like, "You know, I don't think it needs anything else. I think you guys got it." Then I'm like, "Well, there's one little piano thing I was hoping to do," and he's like, "Okay." It's a nice compromise. I'm not one to go overboard with overdubbing. I'm more of the Albini philosophy of keeping it minimal and tight.
Kelly: The recording process was pretty straightforward in a kind of old-school sense. We went to Chicago with our gear and set it up, and Steve Albini engineered it. He's amazing. He worked out how to figure out the sound we wanted for the guitars, bass, and drums. We all knew what we wanted to do, and we got it done quickly. We wanted the album to sound very spontaneous, and I think we nailed it.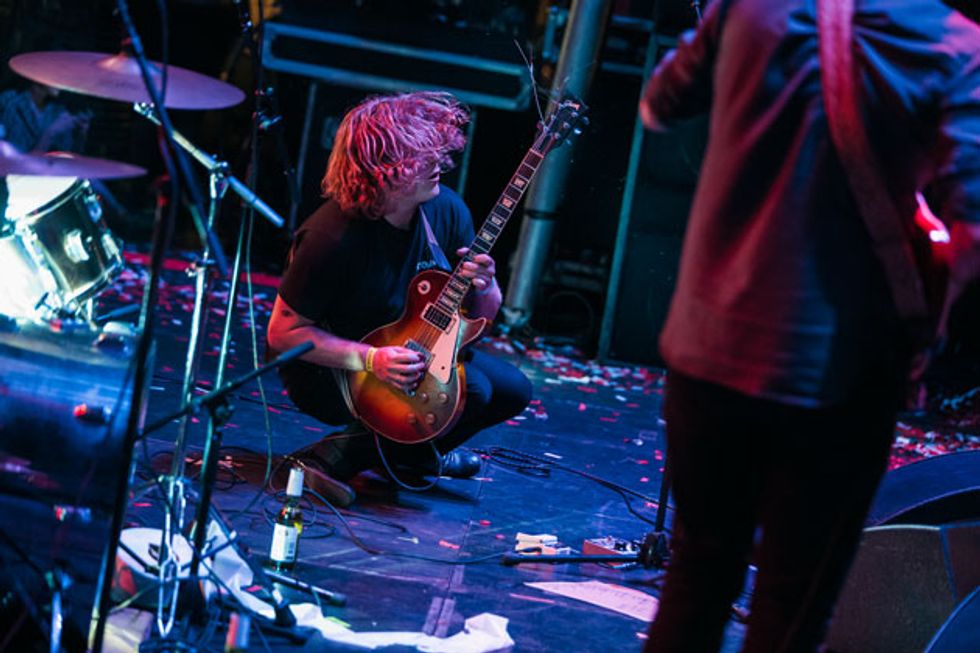 Ty Segall has recorded eight earlier studio albums, but the new Ty Segall is the first he's recorded live in the studio with a full band. "I don't know why I hadn't done that sooner," he says. Photo by Debi Del Grande
Was this the first time you've worked with Albini?
Segall: Yes. I don't know why I haven't worked with him before. It was like taking a master class.

What did you learn working with him?
Kelly: It's kind of illuminating to work in an environment like Steve's, because he doesn't try to get you to sound the way he thinks you should. He just wants to capture the way that you sound. Of course, I'm biased, but it's a great record and it's amazing to sit back and listen to how gorgeous all the tones are on it. I've recorded in many different settings, but I guess what I take away from this is that the sounds are as important as the songs and the guitar parts.

Segall: There are specific miking things I took away from it, like throwing a nice mini ribbon mic far away from the amp. But besides the technical aspect of how Albini mikes things, I think we're pretty much on the same level with how we like to make records: The right feel of a take is far greater than playing it perfectly. That's where the magic is.
YouTube It
In this performance at L.A.s' Teragram Ballroom, Ty Segall wields his Les Paul Standard at hurricane force starting at 1:20, with a churning, feedback-spiked solo that updates the howling tones of Big Brother and the Holding Company's live recordings.