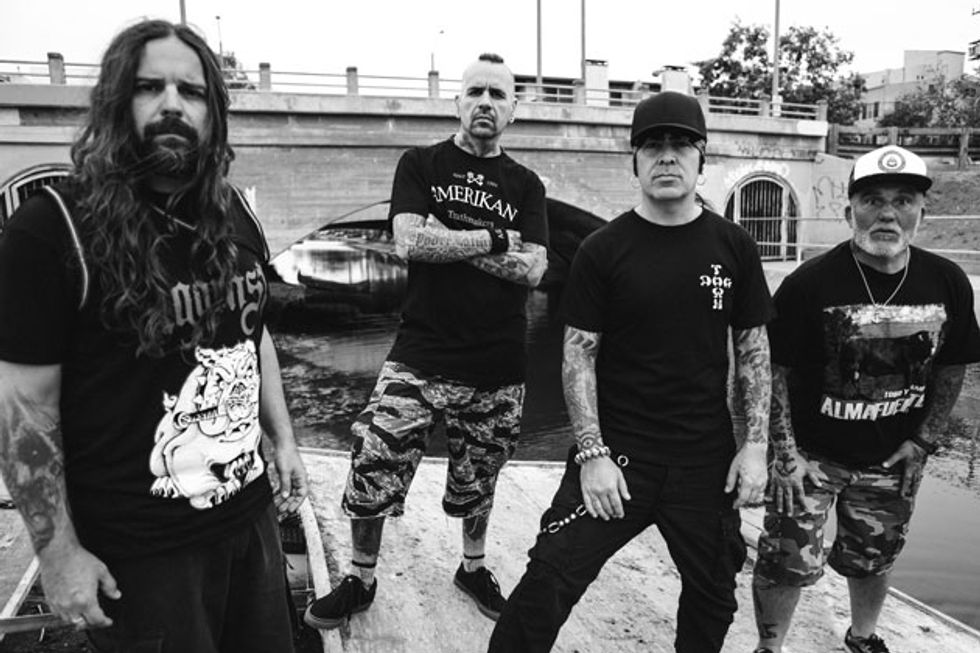 Although they have diverse backgrounds and different-sounding primary bands, De La Tierra's members—left to right, Andreas Kisser, Andrés Giménez, Alex González, and Sr. Flavio—are all about bridging styles and influences.
De La Tierra may be the most famous heavy metal band you've never heard of—comprised of members of some of South America's more popular rock groups, including A.N.I.M.A.L., Sepultura, Los Fabulosos Cadillacs, and Maná. And though each player's primary band sounds drastically different, on their sophomore offering, simply titled II, these musicians are united in the common goal of creating heavy and aggressive music. That, and lyrics sung in Spanish and Portuguese, with more than a little Latin musical influence in the mix, has shaped De La Tierra into an international force to be reckoned with.
The seeds of the band were planted in 2008 when Maná drummer Alex González and A.N.I.M.A.L. vocalist Andrés Giménez first discussed coming together for the simple joy of playing heavy music. That quickly snowballed into creating a new band with Sepultura axeman Andreas Kisser and Los Fabulosos Cadillacs bassist Sr. Flavio. Although De La Tierra is comprised of high-profile musicians, they're quick to point out that they weren't pieced together with a lot of money on the table. "We're not a supergroup or anything," Kisser says. "We're basically a garage band."
The lion's share of the writing is done by Giménez and Kisser. Both guitarists' metal backgrounds have a huge influence on the overall sound. But even González, with his pop-rock day job, and Sr. Flavio, whose main band tilts toward ska, have a love for heavier styles, making them a perfect rhythm section behind Kisser and Giménez's churning riffs. All together, their sound is of an unashamed metal band that keeps eyes and ears open for new influences, instruments, and sounds—especially when those influences originate from their native homelands in Latin America.
De La Tierra's 2014 self-titled debut album was a window into a band whose members were getting to know each other and discovering their sound and capabilities. After extensive South American touring, bonding as musicians and friends, and adding even more sonic elements, the band is at full stride on II, a Ross Robinson-produced slab of down-tuned metal that proves there is no pretense within this group.
Speaking with Premier Guitar from his home in São Paulo, Brazil, Andreas Kisser got in-depth about the band and its passion for employing the cultural and musical influences of its members' homelands. "When we were first touring outside of Brazil with Sepultura, it was like the analogy of an astronaut seeing the Earth for the first time from the moon," he says. "We realized how unique it is and that it can be really heavy. De La Tierra is the same." It's that outlook and their mission to continue growing that defines De La Tierra. And remember, label them whatever you will, but don't call them a supergroup.
"I don't use distortion pedals. I put the guitar straight to the amp. You feel the wood and feel more of the pickup."

With each member coming from such diverse rock 'n' roll backgrounds, what has it been like forming and growing De La Tierra?
We never really played together before we recorded the first album, but the chemistry we had at rehearsals in Buenos Aires was amazing. We arranged 10 songs in 10 days. We were talking the same [musical] language and going the same direction. Then we did a lot of touring, including a tour with Metallica in South America. So now we have that shared experience and we know each other better. It feels like a band now. You can feel the difference between the first album and the second. It feels like we're more alive and more connected.
Was playing metal always the goal, or just the natural outcome of each of your influences?
The aim was always to play heavy music with melody, guitar leads, groove, and everything. But I think it's cool to respect others' different styles and incorporate these Latin influences we have naturally. And I think the name De La Tierra is important to get that kind of freedom. When we were looking for a name, the first suggestions were too connected to the metal apocalyptic world, with skulls and stuff. It was almost cheesy. So De La Tierra was chosen to show that we are from a certain part of the world. De La Tierra means "from the land," so we had a lot of freedom to do anything inside of heavy music.
What's it like playing clubs and starting again with a fresh project?
It's great. I think we needed that, because when we announced De La Tierra, people started calling it a supergroup and stuff like that. And we said, "No. We're a new band." The careers we have with our own bands don't matter. Yeah, we have more experience and we're more mature and more professional. But we have no manager or reality show that put us together. We just wanted to be together to play music. And that's very important. It's crucial that we have the real intention to be together and not to only satisfy a certain thing. So it's great that we go back and play small clubs. It's a whole education process to make a band real.
Your debut was self-produced by the band. For II you chose to work with Ross Robinson, who's produced Korn, Slipknot, and At the Drive-In. Why him?
On the first one we didn't feel comfortable with bringing someone from the outside, because we weren't sure what would happen. We needed to know each other better and know our limitations to know what limitations we could break. But we used different studios and we recorded kinda separate. So it was important for this one to be more connected and to have someone from outside, like Ross Robinson, who is an amazing producer and a great friend.
Ross was very excited to work with us. He brought new energy to the band. I've made two albums with him in Sepultura: Roots and The Mediator Between Head and Hands Must Be the Heart. Every time you work with Ross, you grow up. Not only as a musician, but as a person, because he's a very organic guy. He's very spiritual. We talk a lot about the meaning of lyrics—why we do this and that. And through that process we connected to each other. It made us stronger. It was amazing. We're a much better band now because of everything that we did with him in the studio.
What did he add that wasn't on the first album?
He brought things to the vocals, to the effects, and helped change the arrangements in ways that took the songs to a totally different direction compared to the demos that we had. And we were ready for that—to have someone that could challenge us. We needed that kind of coaching and challenge to shape the band up and break our limits. Every producer—that's the mission. They are part of the band in the studio. Ross was the fifth member of the band. He had total freedom to say whatever he felt like and make suggestions.
Ross is famous for his methods for getting a raw and pure sound. How did you guys achieve that?
When we tracked the drums, we were in the same very small room together, sweating our asses off. And we could be closed in that place from two to four hours. When Alex was ready to record, we were all there to play with him, keeping that vibe and that energy. And then we went and did the guitars and the bass and stuff. But for the main intention and energy of the song, we were there together in the room with Alex. And that's very important. So even when we're doing overdubs, when I'm in the studio recording guitar, it feels like I'm in the same room with everybody. It's very intense. Ross knows how to keep that intensity on the recording.
The album goes from the heavy-hitting "Señales" to the dub-style sounds on "Dois Portais." What led you to explore such a wide variety of styles and sounds?
We always keep our minds and ears open, and we have the privilege of traveling the world. We go to different countries and meet new people and hear new music. You find new instruments you've never seen before, and we keep our possibilities open. That's the spirit.
Art is risky, you know? If it's not risky, you're basically copying yourself or someone else. Art happens under the risk territory. It's not something you can write out on paper. You have to try things with your instruments. If it works, great. If it doesn't work, great as well!
Sepultura has been a single-guitar band since rhythm guitarist and vocalist Max Cavalera left in 1996. In De La Tierra, Andrés shares guitar duties with you. How are you enjoying the two-guitar approach again?
It's really cool, because Andrés, like Max as well, and I play very different. And that makes the music interesting. But you must have a connection. Kerry King and Jeff Hanneman, Iron Maiden, and Judas Priest—those guys were basically married to each other. It sounds like one guitar player. And me and Max had 10 to 12 years to learn how to play with each other. He played on only four strings and I did more of the leads, so we kind of found our place.
With Andrés, it was very difficult at first, because we'd never played together. We were trying to find the best way to become comfortable with each other. We did a great job on the first album. We found a way to respect each other and, at the same time, enhance each other's playing. And after all the touring it was much easier. We knew each other much better and it was fun. I wouldn't say I miss it in Sepultura, because we're doing something else. But me and Andrés still have a lot to learn from each other. It's only going to get better.