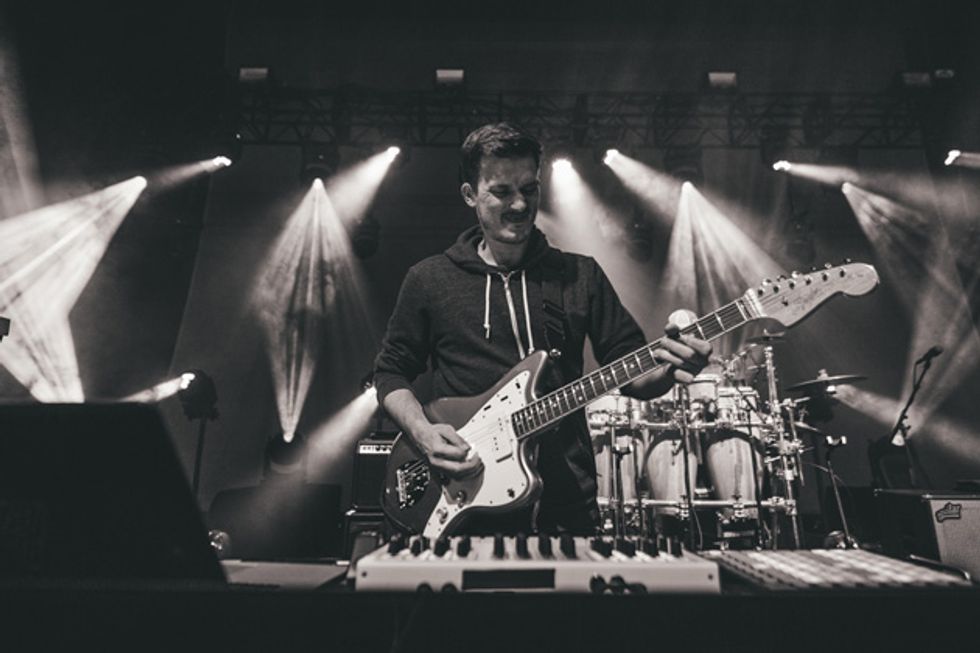 Hunter Brown's No. 1 guitar is a 2012 Fender Jazzmaster '65 vintage reissue that he outfitted with a Rothstein Dual Dial-A-Tap coil-switching system, a Mastery Bridge, and Curtis Novak humbuckers.
Photo courtesy of STS9
How did you master the ability to play with a click without being confined by it?
Brown: We look at it as like a hi-hat. I meet a lot of musicians who are so against that—who think it would be just impossible. And I understand that completely. At the beginning, it did seem restrictive. But it's like when you practice with a metronome and you finally get it where you're hovering around the time and can push it and pull it where you want. You're really playing with it, not playing to it. Now it's something we have a lot of fun with. We're not trying to force our instruments to this thing—we're trying to find a balance with both. Zack is amazing at keeping that time more musical. He and Alana just do an amazing job at keeping us to that click.
Rocklin: My practice regimen has always been to play to a metronome. It's the only way to get your time really solid even when you're not playing with a click. And there are times in STS9 when there is no click. It goes in and out. As a listener, even at a show, you shouldn't know when that's happening.

I got this from my teacher, Rodney Whitaker, who's one of my biggest influences and inspirations. He would always think of the click as being on 2 and 4. So the strong beat you're feeling is 2 and 4. Not that I don't practice straight 8ths with the click—because as a bass player you want to be able to do that as well—but what really flipped my time around and made my groove really come together is when I started practicing everything with the click on 2 and 4.
How do you do that without just gravitating to the click as the "1"?
Rocklin: You have to account for it. So, if you're at 60 bpm, you have to allow for the fact that the clicks are only on 2 and 4. Every student I've ever had, that's the first thing we do. I'm gonna put the click on the 2 and the 4: Can you play your major scales to that? If you can't, that's where we're starting. I think that's where the truth is [laughs].
"There's this electronica thing going on and there's the band and you don't feel that repetitive nature with them—it's a very unique thing." —Alana Rocklin

How do STS9's songs and arrangements some together?
Rocklin: It's just like a lot of bands: We all write in a room together, but songs can start in different ways. For example, with "New Dawn, New Day," which was the first song we wrote together, Hunter had a Nina Simone vocal sample he always wanted to do something with. He got it to where he liked it, and we started writing chords, and then we all jammed on it to come up with the arrangement, the parts, the bass line, and everything else. "Out of This World" has gone though many incarnations. When I joined the band, they had many of the basic ideas for that song, so it was really a matter of me writing a bass line to it. I would keep writing [my part] and they we would jam on it as a group and then we recorded the song.
On this album, we recorded a lot of vocalists. We wrote the lyrics and had them sing, and sometimes would mess with [the vocal], move it around, make an "instrument" from it. It varies from tune to tune, but at some point, it has to come into "the band moment," where we're all just writing to it. I think that's what ties it all together.
Some of the guitar parts are very straight up, but others seem to be built through your use of echo and other effects. Do your write parts and then design sounds for them? Or are you using effects as a catalyst for ideas?
Brown: It depends. If I'm playing my acoustic at home, I like to start writing from that natural guitar sound and work on ideas from there. But when I'm playing my electric, the ideas absolutely come from the sound itself. I'll dial in a sound on my pedalboard or I'll just be experimenting and hit on something. And then, literally, things just happen. On the interlude on the album, "Light Years," the guitar part that starts it came from finding this patch on a couple of different pedals. It just kinda told me what it wanted to do—there was really no creativity involved [laughs]. You're like, "Oh that's a great sound," and you hit one note and it just takes you where it wants to go.
Hunter Brown's Gear
Guitars
2012 American Vintage '65 Fender Jazzmaster (with Curtis Novak Wide Range Humbuckers, Rothstein Dual Dial-A-Tap pickup system, Mastery bridge)
1978 Fender Stratocaster (with Lace Sensor pickups and Blackmore mod)
1992 Gibson ES-335 Dot Neck
Santa Cruz Model D acoustic

Amps
1969 Fender Twin Reverb (modded)
1969 Fender Dual Showman (modded)
Fuchs ODS 100
Fractal Axe-Fx II
Fuchs 1x12 open back with Eminence Patriot Red White and Blues
Fuchs 1x12 closed back with Celestion Classic Lead 80
Custom 2x12 closed back with Celestion Classic Lead 80s

Effects
Pete Cornish LD-3 line driver/mute/tuner feed
Spontaneous Audio Son of Kong EQ/gain/DI
Origin Effects Cali76 compressor
One Control Crocodile Tail Loop Switcher
Dunlop Cry Baby Classic Wah Wah
Wampler Dual Fusion
Fulltone Full-Drive2 Mosfet
Eventide H9
Strymon Mobius modulation pedal
Strymon TimeLine delay
Strymon blueSky Reverberator

Strings and Picks
Ernie Ball Slinky RPS-10 (.010–.046)
DR High-Beam (.010–.046)
D'Addario EXL110 (.010–.046)
Dunlop Tortex .88 mm

How did each of your playing styles—and approaches to tone—evolve?
Brown: I grew up on hip-hop into jazz into psychedelic and electronic music. There's a single voice that brings all those things together and I think that's what we're trying to do as a band … or not trying to do, I guess. That's where we're at.
As for my guitar influences, there are so many. John McLaughlin, who used to play with Miles Davis and Mahavishnu Orchestra, has been a guiding light for so long. For this album, especially, I went back to Paul Jackson Jr. and David Williams and all the old Michael Jackson, Stevie Wonder, Marvin Gaye kind of stuff. And Chic—Nile
Rodgers, I'm a huge fan. Wah Wah Watson, who used to play with Herbie Hancock and Headhunters—all those old Headhunter records are definitely huge influences. More recently, Kurt Rosenwinkel. I'm a huge fan of his. John Scofield has always been up there. But I grew up in Georgia, so all the James Brown stuff is just ingrained in us; it comes out in everything we do.

Rocklin: I started playing when I was 8, started playing upright when I was 10, so the upright bass is a big part of my sound and how I approach the instrument. I think that carries over into my electric bass sound.
And, of course, all the years I've had as a
freelance bassist playing with different people and in different contexts, whether it's jazz, Americana, rock, or country. It really gives you a lot of experience towards getting to a sound that you hear in your head. So with STS9, I knew going in what I was going for.
Both the guitar and bass parts run the gamut from traditional to effects-laden to almost synth-like. Did you rely on computers for those effects?
Brown: I try to achieve all my guitar sounds through my amp and pedalboard. That was a challenge, but was also fun because there's so much you can do today with the pedals and programming. On the intro to the album, "Supercluster," I'm using a POG harmonizer and then a DigiTech Whammy, and I've got those set so that every note I play is a chord, and it's all going through my pedalboard. I'm using all stompboxes. I've got the Crocodile switcher, Origin Cali76 compressor—which is like a take on the old UA 1176s, then the Fulltone Full-Drive, Wampler Dual Fusion, then some of the Strymon stuff—the Timeline, blueSky, and Mobius, then an Eventide H9, and a wah. First in the chain, I'm using a Pete Cornish input buffer, which is a sweet little piece.
But also, it's about the mics and the recording gear. I read up a lot on the old Michael Jackson records. That was the first stuff that really crushed me as a kid. I wanted to know how all that was recorded by Bruce Swedien and Quincy Jones—about all the mics and the gear they used. I use a Royer R-121 and Shure SM7 and sometimes a Sennheiser MD 421 on my cab. That's going through a Retro compressor, a Burl Mothership [analog to digital converter], an Empirical Labs Fatso compressor, and a Dangerous Music BAX EQ. That signal chain's amazing, but everything else is just coming through my pedalboard.
Hunter, what is your main guitar?
Brown: My main guitar is a 2012 Fender Jazzmaster '65 vintage reissue. And I've got a Rothstein Dual Dial-A-Tap coil-switching system in it, a Mastery Bridge, and Curtis Novak humbuckers. I took the Jazzmaster body that I wanted and tore it apart and put something new together. I love it. It's my No. 1 right now. Especially with the Rothstein Dial-A-Tap, it's great having access to both the humbuckers and the single-coil sound with that Fender warm round vibe. I also have a Stratocaster with Lace Sensor pickups and a Blackmore mod that I use a lot, a Gibson ES-335, and a Santa Cruz acoustic that's my main acoustic at home.