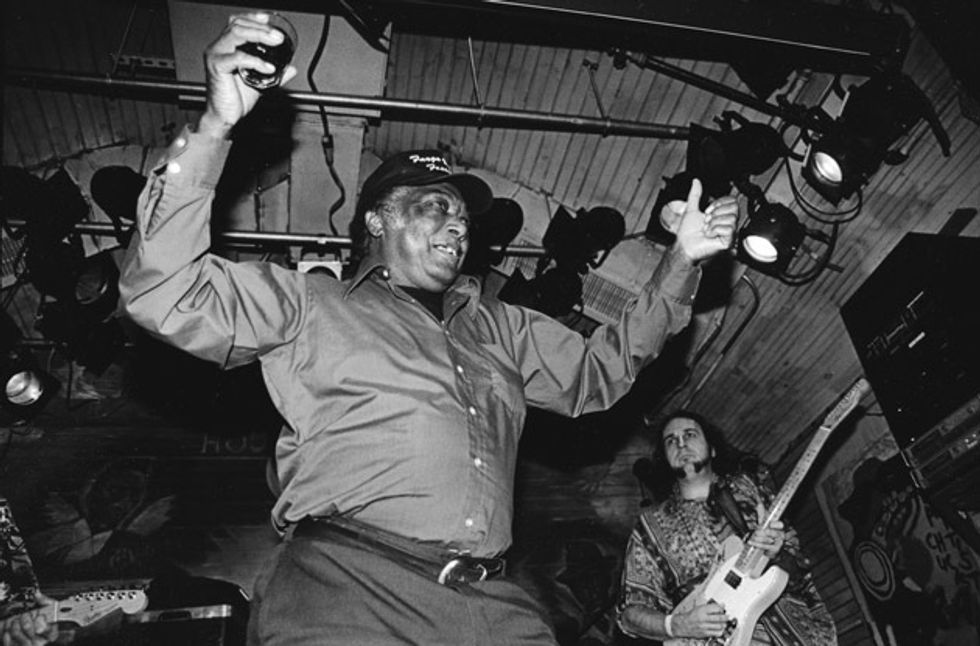 "Not drinking any more … or less." During this May 1999 show at the Cambridge, Massachusetts, House of Blues, Burnside put down his guitar to preach his hero Muddy Waters' "Mannish Boy" and shimmy across this stage. Photo by Margo Cooper
Before settling on farm work, Burnside did a stint as a bounty hunter, traveling between Memphis, Chicago, and Texas, but stopped after a near miss from a shotgun blast. "Some of those guys don't plan to go back," he observed. "It's a dangerous job." He also ran a still for a time, with a partner. When their deal went bad, Burnside killed him with a bullet to the head. "I figure it was him or me or my family," Burnside said. He explained that he was sentenced to a stretch in Parchman, but got out after serving just six months when his employer insisted he was indispensible for bringing in the harvest.
Burnside's next crack at recording came in 1979 after David Evans, an ethnomusicologist, was hired by the University of Memphis and established the school's High Water Recording Company with a grant from the National Endowment for the Arts. Evans, who's also an accomplished musician, used the label to cut singles and albums with several of the artists he'd heard in the North Mississippi and Memphis areas. But his project with Burnside, in particular, 1980's Sound Machine Groove, was a labor of love. Under the influence of the soul and funk Burnside had heard on the radio and on recordings, including those from Stax in Memphis, just 50 miles away from his home, he had formed his first electric band: the Sound Machine. It included his sons Joseph and Daniel, trading guitar and bass, and his drumming son-in-law Calvin Jackson. The group blended those influences with the Mississippi hill country sound, creating short spells of rough-hewn hypnosis fueled by Burnside's riff mantras and chanted vocals, and pushed by the primal shuffle of Jackson's drums. Check out "Bad Luck City" on the album or on YouTube for a definitive performance.
Evans fell for that music. "I thought it was more up-to-date, with the younger musicians and an interesting synthesis of his traditional solo country blues with a kind of R&B sound. I thought this was extending the blues into the modern era, and it was something worth documenting and something worth encouraging. I tried to promote that band and got them all sorts of gigs.
"Unfortunately—I say unfortunately—R.L. already had this established reputation as an acoustic artist. I was sort of fighting against that reputation. In the 1980s there just wasn't music business interest in country blues. People, and in particular blues record labels, were pronouncing it dead." So the band got little traction, and Burnside stayed with farming to provide for his expanding family.
Evans describes Burnside as "very open and willing to put himself into the hands of others who could take him on gigs. He wasn't a suspicious guy—at least he didn't let on if he was, although I think he was aware that there were a lot of shysters out there. I found him to be very intelligent, too. It was a little bit surprising that he lived in such a 'low-down' way on a farm way out in the country. But he kept his family together. He had 13 children. That's a big expense, keeping a family of that size going."
Burnside's trusting nature led him into the final chapter of his recording history when he was approached by Peter Lee and Matthew Johnson, two grads from the University of Mississippi in nearby Oxford, who wanted to launch a record label named Fat Possum.
"We wanted to start the label to record R.L., Junior Kimbrough, and [Roosevelt] "Booba" Barnes," says Johnson, naming three of the spectacular electric bluesmen who were among the genre's raw-boned rulers in early-'90s Mississippi. Barnes slipped off to Chicago before recording for Fat Possum, which spent the '90s struggling but today is an indie-rock powerhouse, a source of rare roots reissues, and owner of the Al Green Hi Records catalog.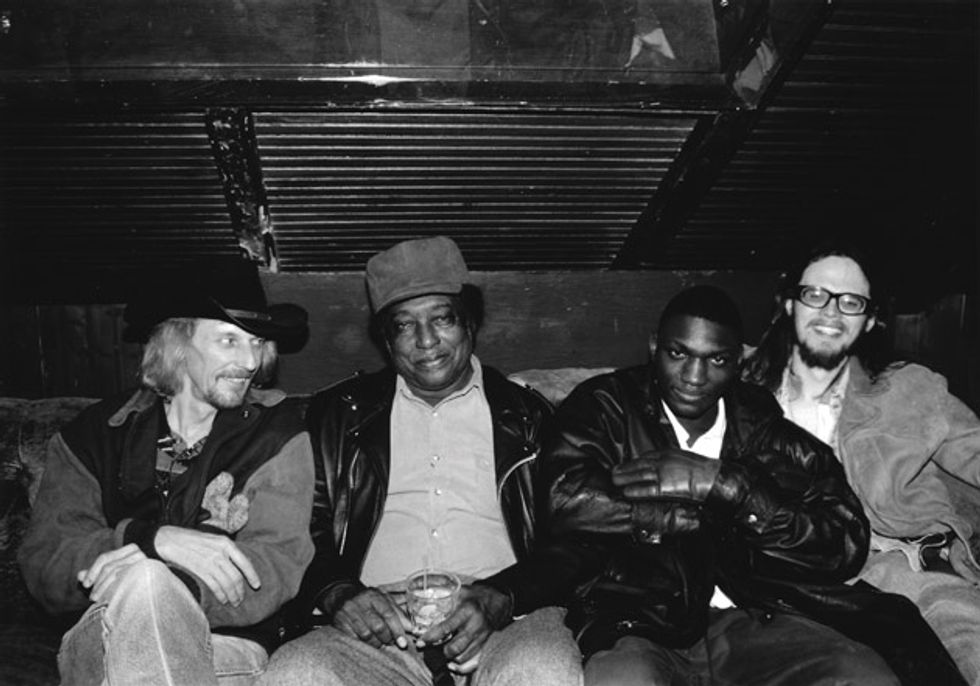 Burnside's band during this 1997 stop at the original House of Blues in Cambridge, Massachusetts, included (left to right), Kenny Brown, the boss, Cedric Burnside, and guest Luther Dickinson. Photo by Laurie Hoffma
Burnside's Fat Possum debut, Too Bad Jim, was recorded in 1993 and featured a photo of then-67-year-old Burnside with his dog, Buck, who was killed in a drive-by shooting, on the cover. Inside was a musical revelation: 10 songs packed with meaty hypnotic riffs, sometimes edging toward psychedelia in their potent repetition, and steamrolling slide guitar, jolted by a rhythm section that slammed with equal abandon. It was raw—at times in danger of falling apart, but in ways that were menacing and beautiful. And, again, Burnside's voice rode his musical bucking bronco, but this time with more edge and age. Within the creases of his singing was the sound of a life lived hard and completely. The album essayed the style of a deep witness, but not everyone found it pleasing. Burnside's sound was a world apart from the recordings most blues fans heard by the likes of B.B. King, Buddy Guy, Koko Taylor, or even Johnny Winter and Stevie Ray Vaughan. It was messier, nastier, unvarnished. Imagine what it was like for rock fans to hear Black Sabbath for the first time in 1970. That's what it was like for many traditional blues fans hearing Burnside on his first widely distributed album.
"It wasn't like we rediscovered him," Johnson says. "The cooler kids around Oxford knew about Junior's place. [The juke joint run by Kimbrough where Burnside often played.] The hard part was just getting it off the ground—what was the potential? I thought he might be able to become a big deal. It was clear he wasn't the guy who wanted to play folklorist bullshit. He wasn't the acoustic guy. I was like, 'This guy is just as raw as anyone else and he's not getting the credit he deserves.'"
Fat Possum started booking Burnside on festivals and in rock clubs, and began securing him a string of agents who worked mostly outside of blues. He was retired from farming and free to travel. And in 1996 he had a breakthrough when one of his fans, blues-influenced punk-garage auteur Jon Spencer, cut an album, A Ass Pocket of Whiskey, with Burnside and took his trio on tour as an opening act. By then Burnside was backed by what became his best-known band, with his grandson Cedric on drums and a lanky blond guitarist named Kenny Brown on second 6-string. Like many rural Southern juke joint bands, they did not have a bass player, but rocked hard regardless. And in their travels, they introduced this sound across the U.S. and in Canada, Europe, and Japan.
"It was clear that he wasn't the guy who wanted to play folklorist bullshit. He wasn't the acoustic guy." —Matthew Johnson

A Ass Pocket of Whiskey was pivotal in Burnside's late-life career, introducing him to a college-rock fan base and allowing him to straddle the blues and rock markets for the rest of his touring years. Noisy and raucous as a gaggle of sotted gremlins locked in a studio with guitars, Marshalls, and fuzz boxes, the album was hated by most blues purists, but remains largely adored by indie-rock inspired listeners and fans of ragged, dirty roots music. So much so that Burnside became a foundational figure in the Deep Blues scene, an underground offshoot with punk rock in its veins that has spawned its own festivals and a tight-knit community of bands.
He also developed a strong relationship with Johnson, who became the sole owner of Fat Possum when Lee left the country. As his career flourished, Burnside's annual earnings grew into six figures and he and Johnson shared a playful, teasing sense of humor. Burnside's calls to the label's offices often began with, "Is the crooks in?"
His music began appearing in films and television—most notably in The Sopranos—and Burnside appeared on Late Night with Conan O'Brien with his band. His final string of recordings also ricocheted between tradition and radical ventures—sometimes on the same album—as Fat Possum continued to push the envelope in a campaign to bring Burnside to more listeners. While 1998's Come on In was a collection of remixes done by producer Tom Rothrock, 2000's Wish I Was in Heaven Sitting Down balanced straight-up blues with remixes and textural music. The last unpolished recording of Burnside with his grandson and Brown was Burnside on Burnside, a January 2001 concert taped at Portland, Oregon's Crystal Ballroom. It was nominated for a Grammy and became his highest charting album, clocking in at No. 4 on Billboard's blues chart.
But later that year, Burnside's fortunes shifted, as they inevitably do. A heart attack forced him to stop touring and left him greatly diminished. After a second heart attack the next year, he was visibly weakened and his voice fell to a whisper, as his last recorded public appearance with his acolytes the North Mississippi All Stars, captured on 2004's Hill Country Revue: Live at Bonnaroo, attests.
Burnside died in St. Francis Hospital in Memphis on September 1, 2005. He was 78. A year later the spirit of his music reverberated through the film Black Snake Moan, in which Samuel Jackson plays a blues singer and guitarist at least partially inspired by Burnside, and Kenny Brown and Cedric Burnside appear as the core of Jackson's band.
Today, Burnside—who was fond of telling his audiences that he was "proud" they came to see him and embraced his music—remains a revered musical hero with a devoted cult following. His bandmates Kenny and Cedric (who has evolved into an exceptional drummer, guitarist, and songwriter) continue to keep Burnside's sound reverberating and his legacy alive. He was the gateway to professional careers for both musicians, enlisting Brown as his guitar foil in the mid 1970s and letting his grandson man the drum kit in juke joints starting when he was only 7. R.L.'s son Garry Burnside and his grandson Kent are also busy performers, steeped in the North Mississippi sound.
Cedric, who is now 38, speaks of R.L. with love and reverence. "It was a beautiful thing, growing up with my Big Daddy," he says. "I'm definitely glad to be part of the Burnside family and to have the history that I witnessed, coming up as a kid. He was the father and grandfather that everybody would have loved and wanted. He treated me as a son, and not as his grandson. He took me under his wing and took me out on the road with him when I was 13, when he could have got anybody. So just for that, I'm blessed and thankful. I never heard anybody say any bad things about him. As a musician as well as a person, he was beautiful within himself."
YouTube It
Dig the double juggernaut of R.L. Burnside and Kenny Brown on slide, with Cedric Burnside nailing down the groove, from a 1998 French TV broadcast. Burnside often called his take on this Muddy Waters/Robert Johnson-associated classic "Fireman Ring the Bell," exercising a bit of artistic license.