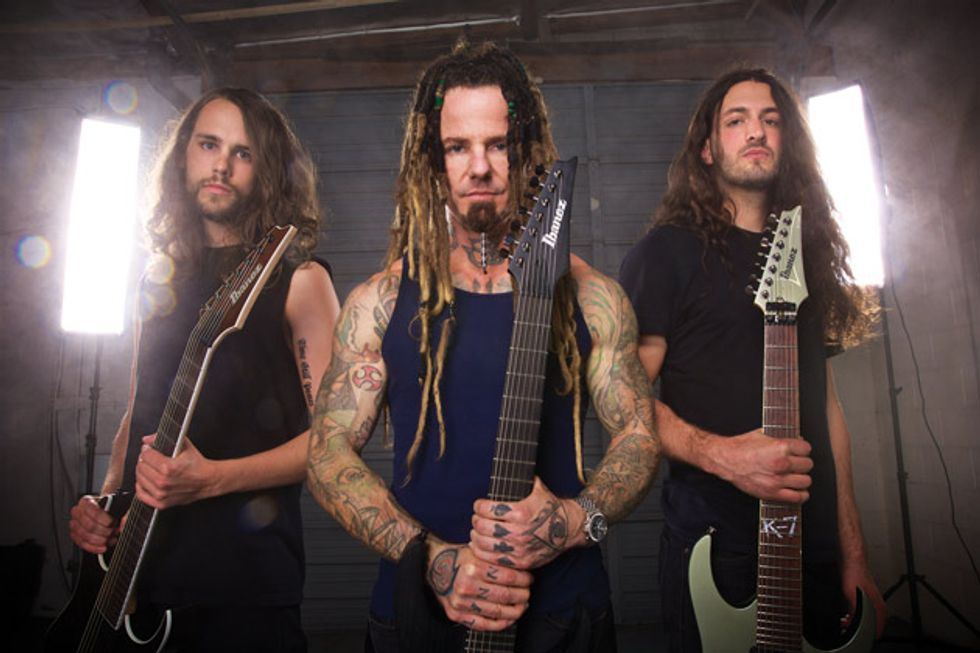 You want heavy? How about three low-tuned 7-string Ibanez guitars played by (from left to right) Skyler Howren, Logan Mader, and Max Karon? Photo by Richard Marz
Logan Mader made a huge noise with the exceedingly heavy sound of Machine Head. The two albums he contributed to, the 1994 debut Burn My Eyes and 1997's The More Things Change…, established the band as a major force to be reckoned with in the '90s metal scene. After parting ways with Machine Head, Mader went on to tour with Max Cavalera's Soulfly, supporting that band's debut album. But in 1999, after success with two of the heavier groups of the '90s, Mader stepped out of Soulfly and the touring world all together, rarely surfacing except for a brief stint in the Whitfield Crane-fronted Medication.
While it may have appeared to fans that Mader had disappeared completely, he was busier than ever. He dove headfirst into a prolific music production career that has found him working with such luminary metal bands as Five Finger Death Punch, Fear Factory, and Gojira.
His production work led to a collaboration with Australian-born vocalist Lauren Hart. The two began working on what was to be Hart's debut album when they discovered they had a strong connection and were both heavily vested in the music they were creating. For Mader, the wheels of forming a new band were officially in motion. "That was it," he relates. "I had to do it. I loved the music we were making."
That band is Once Human. Mader and Hart added bassist Damien Rainaud, drummer Dillon Trollope, and second guitarist Skyler Howren to their ranks, and released their ruthless 2015 debut, The Life I Remember.
Once Human delivered a hard-edged sound that performed a virtuosic balancing act between death- and groove-metal. The sheer range and vocal power that emanated from Hart's petite frame had more in common with Nordic black metal vocalists than it did with other female death-metal powerhouses. It was this sound that gained the new band opening slots on Fear Factory's world tour. And it was this tour where Once Human first crossed paths with their soon-to-be third guitarist, Max Karon, beginning a new chapter.
With Karon now onboard, a new sound began to emerge that would heavily inform the band's sophomore release. "I brought more of a modern, Meshuggah-influenced side of things," said Karon. "And I really like Pat Metheny, which is totally out of left field." It's these influences that worked their way into Mader and Hart's songs, injecting their fierce aggression with a fresh dynamic that pushed everyone in the group to new heights.
Once Human settled on the fitting title of Evolution for the resulting album, and are setting out to prove that this band, with three guitarists, is one of the most exciting and extreme creations in modern metal.
"Max influenced me a lot, actually. Like now we're playing 7-strings with the G-C-G-C-F-A-D tuning, which opened a spectrum of riffability for us." —Logan Mader

A big story in metal right now is "The Return of Logan Mader." Logan, tell me about your road back to recording and performing as part of a band.
Logan Mader: After developing my producing career to the point where I was pretty well established, I did start to miss playing live in a band. It took meeting Lauren. The music that we started doing really brought me back. Originally, I was just going to produce and develop the project, and something told me, "I should probably do this." I'm glad I did. But I still produce and I still mix, and I love doing that. I don't plan on stopping.
Max, you're new to the band. Tell me how you got involved with Once Human.
Max Karon: I met them while I was a guitar tech for Fear Factory. I just hung out with them, we became friendly, and they heard my stuff. I started sending them demos, and one thing led to another.
How did the sound of Evolution come together?
Mader: It was organic. Lauren came in with her influences. She leans towards European black metal—like Dimmu Borgir, old Opeth, and Devin Townsend. Well, he's not black metal. And I was more kind of groove metal. So with the combination of our two styles, we worked to make something that's unique. And then, bringing Max in on the second record, he's a big part of how we've evolved so much. Max is amazing. His musical mind is alien.
Karon: I think a lot of their first album was very straightforward metal. What I brought was more of a progressive sound. I hate to say this, but I bring a little bit of a signature sound. It's really heavily influenced by everything I listen to.
Are there any spots on the album you would point to as examples of your sound?
Karon: There's a song called "Drain" that is in a strange time signature. And there are some parts within other songs that syncopate to 4/4 and aren't as straightforward. And a lot of my lead playing's note choices have been influenced by [Meshuggah guitarist] Fredrik Thordendal's solo album. I brought a lot of the spacy-sounding leads into the picture.
Mader: Max influenced me a lot, actually. Like now we're playing 7-strings with the G–C–G–C–F–A–D tuning, which opened a spectrum of riffability for us. And the caliber of the riffs that he was writing, and the intricacies, and the fact that they were so unique really pushed me to make my riffs on par with that.
What led to that alternate tuning?
Karon: I was doing some writing in dropped C. Then I tuned the two high strings down from A and D to G and C respectively. So, that made open C. And then I started working on I of Tongues [A new band with former Devildriver drummer John Boecklin.] demos, and it became G–G–C–F–G–C.
Mader: When Lauren started getting the tracks, she was intimidated because it was so good. It was like, "Fuck. I've got to really deliver on the lyric, and the vocal performances." She really put her heart and her head into it and wrote some thought provoking, meaningful, powerful lyrics. She's evolved as a vocalist as well. Her vocal tones are much deeper and guttural, and more powerful now. We all raised our standards, and stepped up our game. A lot of evolution there, you know?
Despite all the technical aspects of your music, the songs never lose their groove or integrity. It's never heavy for the sake of heavy, or technical for the sake of technical.
Mader: Yeah, that's definitely a conscious effort. Lauren and I really spent the most time on arrangements. And Max would deliver a lot of riffs and stream-of-consciousness-type pieces. And then, of course, it was all about the song and making sure that song felt right all the way through.
Karon: For me, it was exactly a result of all of us being in a room and agreeing on what sounded good. There was an objective: It was to make something straightforward, easy enough to catch on the first time, while heavy and complex enough to be interesting, but not needlessly complex.
Logan, you had your hands in some pretty influential music in the '90s and early 2000s. And Once Human's previous album, The Life I Remember, contained a more straightforward metal sound. But when I listen to Evolution, there are a lot of very modern sounds.
Mader: Well, the guitar tones actually came from Max. They were an Axe-Fx. I think it was a Fryette amp simulation that he had as one of his presets. When I heard it, I really loved that tone. It sounded like everything that a really aggressive, modern, heavy guitar tone should be.
The album is extremely clear for how much is going on. Logan, you normally mix, engineer, and master, but you chose to go with Jens Bogren for mastering Evolution.
Mader: I made sure to get a bigger low-end going on this record and to really utilize the spectrum. I'm quite proud of the mix. But I wanted to work with Jens Bogren because he's got a lot of analog gear and a proprietary mastering suite in his studio. I really love what he did. He added some analog life and punch to it.