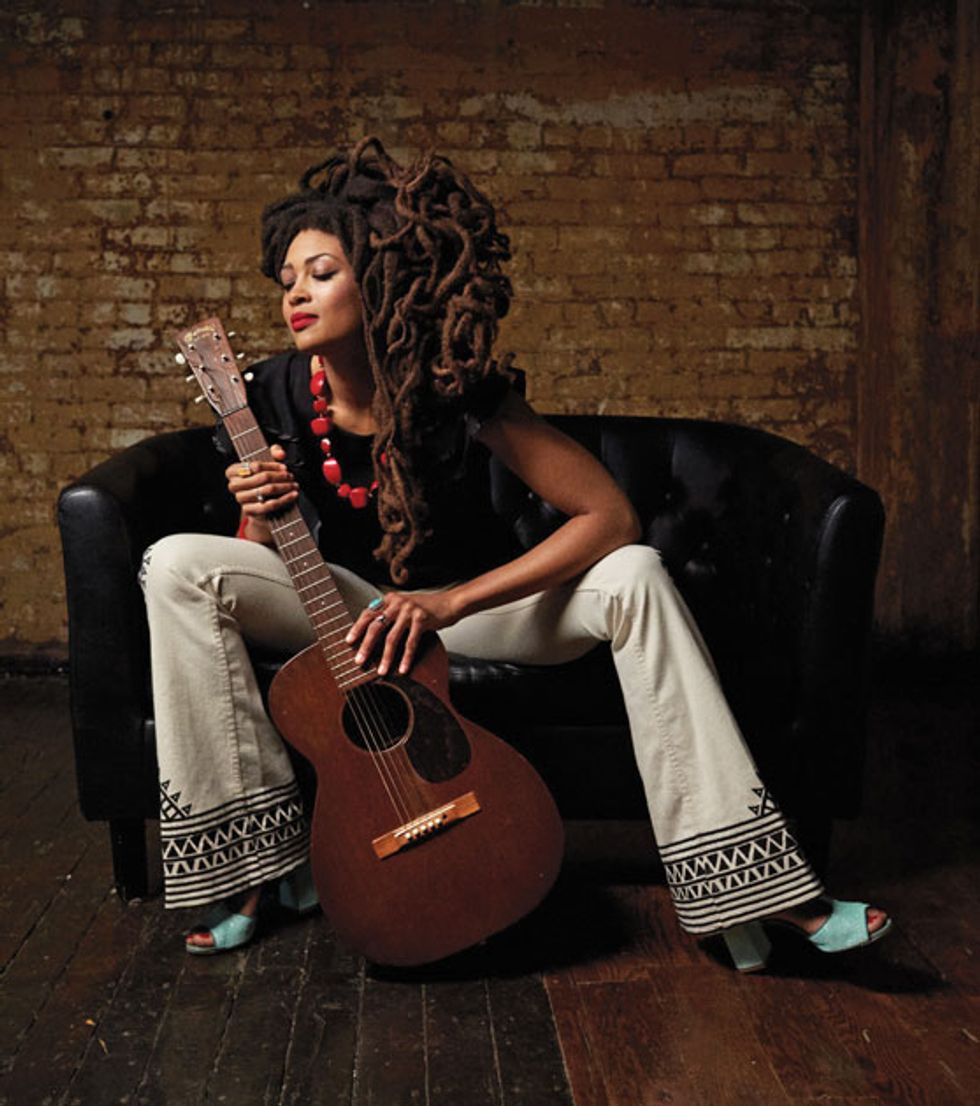 Valerie June plays electric guitar, banjo, and ukulele, but her Martin 000-15 is her main companion on the
current tour for The Order of Time.
The aura surrounding songstress Valerie June feels almost otherworldly. There's the goddess hair, the genuine light that comes from her kind eyes and beaming smile, and the music she makes has an unmistakable, singular sound that's hard to place. And at the same time, the good-vibes Humboldt, Tennessee, native, who once dubbed her musical thing as "organic moonshine roots," blends ethereal, gospel-influences and down-home, guttural country-blues with formidable swagger. As the final track on her new album aptly testifies, she's "Got Soul."
And when she says, "I hear voices," she means it. Since she can remember, songs have just come to her, arriving in her mind's eye seemingly out of nowhere. "I'm just washing dishes, and I'll hear a voice and start singing along like if you were listening to the radio and started humming along [laughs]," June says. "And then I'm like, 'Oh my god, I'm writing a song. Okay!' Then I start to write it down, or if I can't write it down, then I just keep singing what I'm hearing on repeat until I get to a place where I can write it down. That's pretty much how it happens for me."
Growing up singing in church, she learned how to express herself through a voice that didn't always fit in. For this songwriter, everything comes from the hip and the heart: the emotion is palpable in her words, and her idiosyncratic vocal yowls. With the voices behind the wheel, eventually she wanted to accompany her gift on stringed instruments.

June is a late-bloomer when it comes to guitar. Citing Mississippi John Hurt as a main influence, she taught herself the basics at 23 and kept building upon that foundation as a way to support the songs she heard in her head. Now armed with her "babies"—an assortment of banjos, her Martin, and her new favorite, a 1960 Guild M-75 Aristocrat—she's developed a rhythmic, primal, fingerpicking style that's resonated with blues fans.
"I hope that whenever I play for other people, that somehow their spirit can go there too, that it might be like a door or a portal that opens so they can go and enjoy that place I was when I created it."

June says that working with Dan Auerbach on her first full-band production, 2013's Pushin' Against a Stone, taught the self-described technical rookie more about working with other musicians than anything else. This time around, everything seemed to coalesce when she started collaborating with Matt Marinelli [see sidebar: "Studio Libero"], who ended up producing her new album, The Order of Time.

"Matt found musicians he felt would understand these particular songs and be able to get in the room and bring some magic," June says. "It was like, whoa—'we can go anywhere with this. But where do I want to go with this?' Then after that, they would interject ideas as well, so it became a collaboration at a certain point."
Themes of space, chaos, and, eventually, the aligning of life's events float in and out of the dozen songs, both literally and aurally. A track dear to June's heart is "Shakedown," which features guest vocals from her late father, Emerson Hockett, who passed last November, and two of her brothers, Jason and Patrick Hockett. It's a vibrant hoedown featuring African rhythms and call-and-response between the family members.

The record's lush, atmospheric instrumentation is especially notable to those familiar with June's stage appearances, and should be applauded for accentuating, and not obscuring, an artist whose foundation was built upon bare-bones banjo and guitar. Many of the tunes are textured with carefully placed pedal steel, tasteful and minimal guitar solos, and more lively choices like horns, organ, and fiddle.
"That might've been the hardest thing to do on the record—trying to figure out how to do just enough embellishment to where it has an impact, but not too much where it starts eating up all the space," Marinelli says.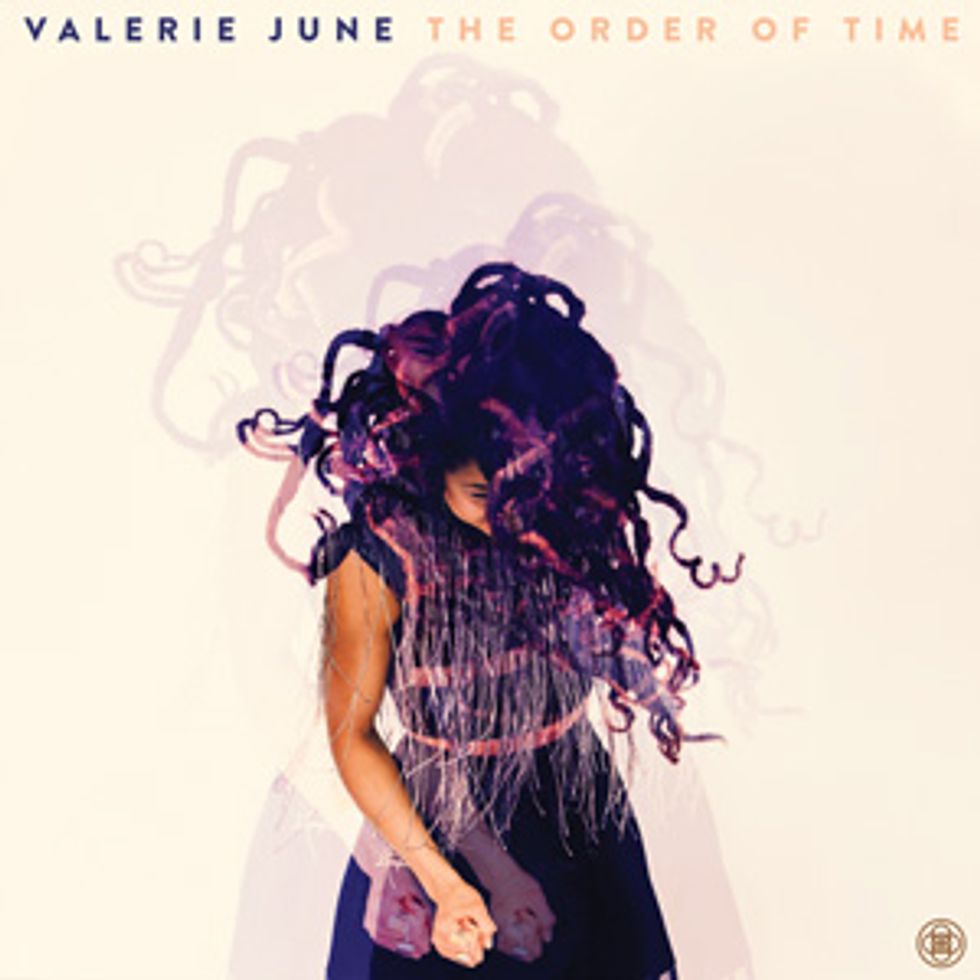 June wrote most of the songs on The Order of Time over the course of 10 to 12 years, but the album started to develop organically when June and producer Matt Marinelli played many of the tunes as a duo in Brooklyn.
On a sunny February day, from her home in Brooklyn before heading out to do errands, the charismatic June discussed her West Tennessee upbringing, how she learned to accompany that inner muse, and how tickled she was when her beloved father compared her to Jack White.

Can you take us back to the moment you first knew that music was what you were supposed to be doing?
When I was a little girl I used to write songs about trees and frogs and rainbows and stuff like that. I knew that's what I wanted to do when I grew up, but I didn't think it was possible for me, because I was just, like, this girl from a small town, so who cares about me, you know? I just didn't know how I was going to get from my small town out into the world to playing, singing, doing that thing. All the steps were pretty unclear, but I knew that I loved singing and writing songs.
What was your first instrument?
The first instrument, besides my voice, was the guitar. I got an acoustic guitar when I was 15. My grandfather gave it to me but I didn't learn how to play it then. I just had it around and let it get dusty, while I was out cheerleading and chasing football players [laughs]. It happens: People have dusty instruments around the house.
When I got into my early 20s, my band broke up. I was just singing and writing songs for the band, I wasn't playing. So, when the band broke up I had to learn to play an instrument because I didn't want to be in the middle of the room trying to sing and that's all I can do. I felt I was out of business so I started teaching myself basic guitar.
The first time I saw you perform, opening for Sharon Jones, you were a one-woman force out there playing your banjo and guitar and singing. How did you go about finding your voice as a musician?
I believe that finding your voice is an ever-present experience. You have to be constantly walking into your voice. Because voices change, and my voice as a little girl is so different than my voice now, and my voice before I went on tour for three years playing night after night is very different than my voice now.

I listen to voices that I love—I love Joni Mitchell's voice and how her voice just changed over the years, you know? I love Stevie Nicks' voice. And you can't tell me that that woman's voice doesn't sound different on the early stuff she did. The "Landslide" voice is the older voice, but the early stuff is a voice that has a brightness and it's so different. I love the way voices change and the way time affects voices. To me, I can feel it in my voice in a day. I wake up in the morning and my voice is deep and low and I sound like a man, and I'm like, "I can sing blues now!" [Laughs.] And then later in the day it's higher, and I can put on Alison Krauss and sing along with her. The voice just changes, and it's every day that you're discovering, "Where is my voice today?"