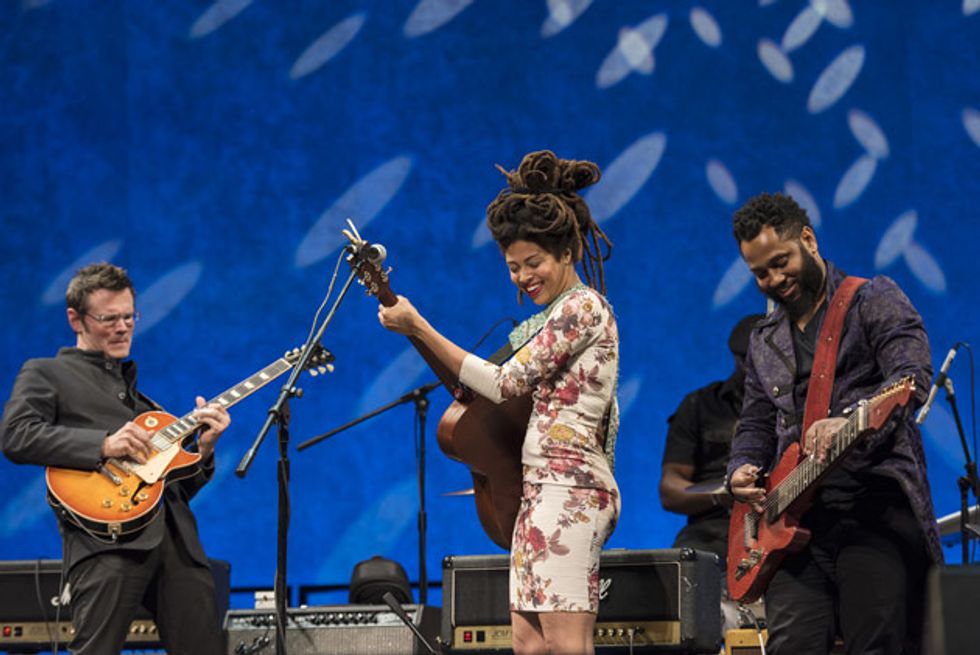 June shares the stage with Memphis pal Luther Dickinson and A.J. Ghent during a Sister Rosetta Tharpe Tribute at
the 2016 New York Guitar Festival. Photo by Jack Vartoogian
A few songs, like "Shakedown" and "Man Done Wrong," have an African rhythm and feel. Did you have that vibe in mind or did it naturally come out?
I feel like those songs were coming from that same place where I listen back and I'm like, "I hear Africa in this. I hear Delta in this. I hear world in this. I hear roots in this." After you've released the song and you've got it down, you can go back and be like, "Okay, what do I hear? What does it remind me of? How did it get here?" At that point, I started to examine it and was excited about this direction from which these songs come.
I feel like a lot of the songs, because they're going together, they come from certain places. "Front Door" and "Twined & Twisted" and another song I wrote that you've never heard because I've never recorded it—they all came from another place that's iridescent and magical. And then "Somebody Love" and "With You" came from a more "fuchsia" place—a more loving, dreamy, place.
These are places where I go in my mind and spirit whenever I'm creating. It's really fun for me to go to these places and I wish I had control over it, because I just love to be there all the time but I can't. I can't control when it's gonna happen. I just have to be grateful when I'm able to go, and be grateful I'm able to bring something back. And I hope that whenever I play it for other people, that somehow their spirit can go there, too—that it might be like a door or a portal that opens so they can go and enjoy that place I was when I created it.
"How cool would it be to be 80, sitting around, and able to play a Hendrix tune? That would be kinda great."

Is the guitar you're playing in the "Shakedown" video the same guitar you used in the studio?
Yes. It's a 1960 Guild Aristocrat. I love it so much! I had access to a few other guitars and I can't remember all the names, but Matt's a vintage guitar collector and he brought a lot.
I remember you had a red hollowbody electric on tour with Sharon.
Yeah, it was a Hagstrom Viking and Luther Dickinson gave it to me. I was going on the road and he was like, "You need an electric guitar if you're going to play the Pushin' Against a Stone record." And I was like, "Oh, okay I don't have one." He was like, "Here, just take this one."
Do you still have that guitar?
I do, but I'm going to give it to my school. I have a school of children that I work with in Milwaukee, through the Turnaround Arts program that Michelle Obama started. And since I got my Guild that I'm madly in love with, I went back to Luther and said, "Do you want your guitar back?" And he was like, "Nope, give it to somebody you know is gonna use it." And so, my school is full of all these amazing children who don't have much art in their school. They don't get anything creative, as far as getting involved in arts, from theater to music to creating art in general. So I'm going to give them my guitar, and they're going to come to my soundcheck when I go to Milwaukee and play. I just have a lot of little events, because I don't have very much time, but wherever I can, I'm trying to get them into the arts and open them up so they can be excited about all the great things they can do.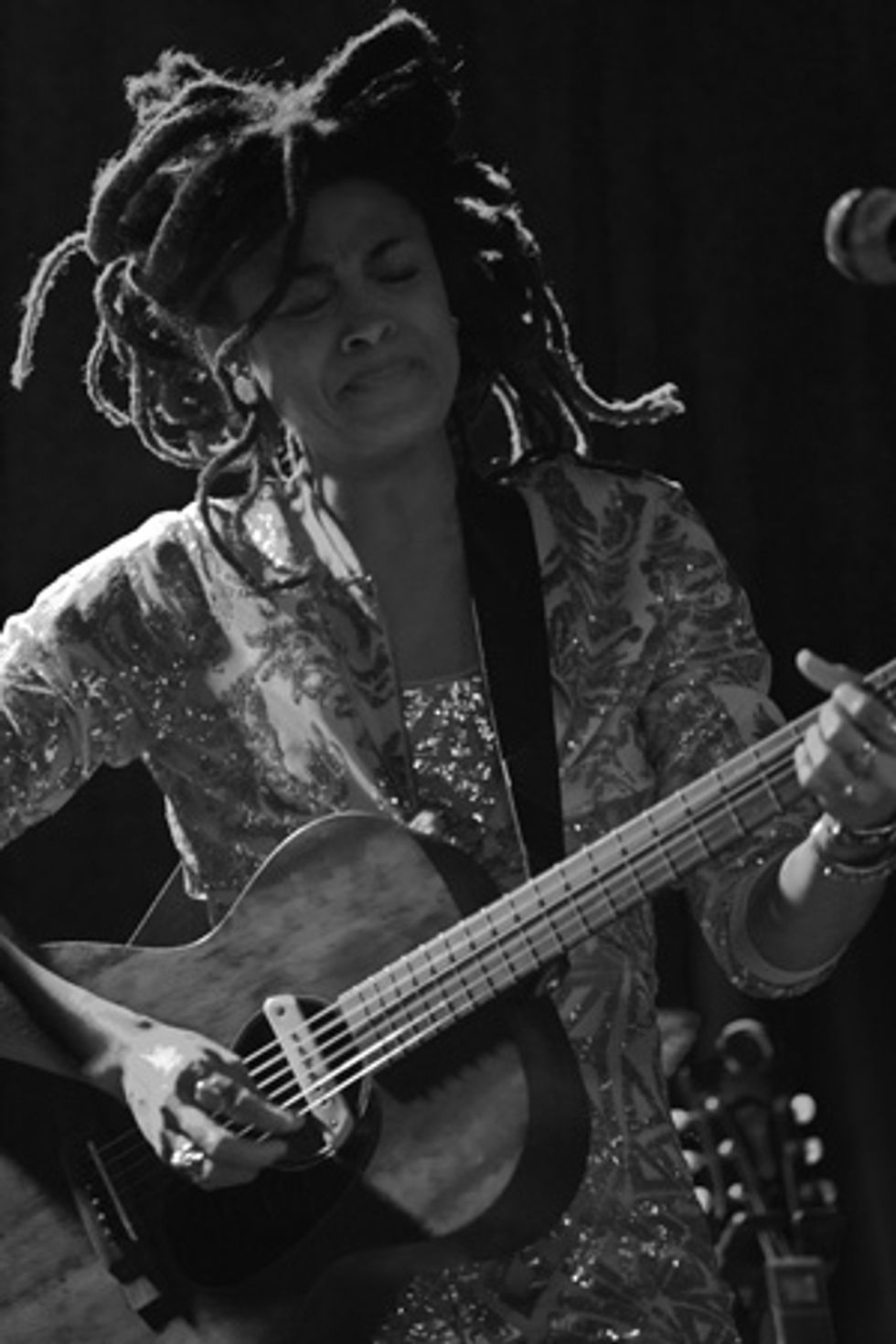 June was emotional while paying tribute to her late father during a sold-out homestate performance of her new single, "Astral Plane," at Nashville's 3rd and Lindsley club on February 16, 2017. Photo by Chris Kies
Besides your Guild and Martin 000-15, what other instruments are you traveling with?
I take my 5-string Gold Tone banjo on the road, and a 4-string baby ukulele banjo. At home I play an awesome 1930s Gibson banjo, and then Ry Cooder gave me one and it's a Vega, and it's really great and from the 1930s as well. But I don't like to take those on the road because they're just amazing. They're really old and delicate.
Do you still name your instruments?
I do, but I haven't figured out a name for the Guild and the Gibson [banjo] yet. I got the Gibson for my birthday last year, and I got the Guild a little bit before that so I think it takes a while sometimes to get a name out of 'em.
If your music had an odor, what would yours smell like?
Black pepper [laughs]. It's a little bit sweet and spicy. Every song's different though, so it's hard to think about it all as one thing. It would be more like a casserole, than like an individual ingredient. Or soup! The full recipe of something.
What do you think makes a great song?
I think the story. It's gotta be an amazing story. If it's not, then it's hard for me to say it's a great song. Some songs have nice hooks, and that's cool, I enjoy that, but I can't say I would call it a great song.
What was on your mind while making your new album?
I wrote the songs over the course of 10-12 years, so a lot of things would've been on my mind. But in making the album, and the actual time I spent in the studio recording the songs, I think that's where my brain started to go more technical. Is this sounding like what it sounded like in my head when I wrote it 10 years ago?
But the part I love the most is the songwriting and the story, and discovering what is happening with the song.

What's your favorite part about what you do? Why do you keep making music?
I keep getting songs, so that's why I keep doing it. I keep hearing songs, and keep writing 'em. So whenever I don't hear 'em anymore … I probably won't do it.
YouTube It
Valerie June goes back to basics with just her Martin 000-15, her fingers, and her voice in this live performance of "Just in Time" from her new album, The Order of Time.