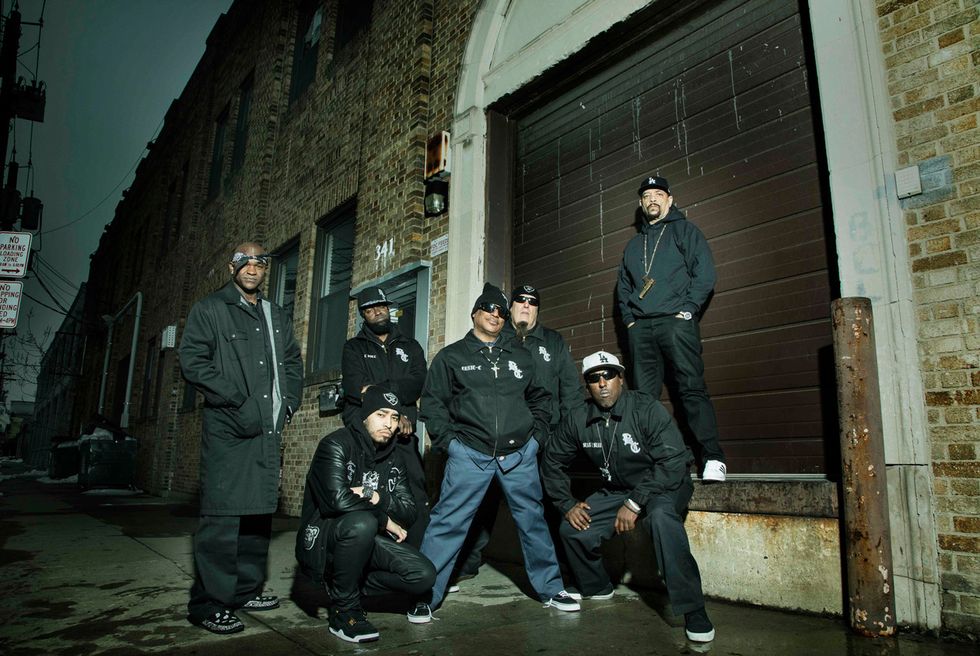 Body Count emerged in 1990 as a five-piece, two-guitar juggernaut fusion of hip-hop, heavy metal, and rebellion. Twenty-seven years later, the band has grown to a septet, but kept its sonic and lyrical sights on target.
It's been 25 years since rapper Ice-T's band Body Count released "Cop Killer." This topical protest song—probably more controversial than any single before it—drew fierce criticism from law-enforcement agencies and politicians, including then-President George H. W. Bush. Things got so intense that, after receiving death threats, the band scrapped the song from its eponymous 1992 debut.
With that song and the album, Ice-T and his crew had arrived at an interesting intersection of hip-hop and rock, combining thrash and metal guitars with spoken and sung lyrics—and more than a little rage. In an ironic twist, in 2000 Ice-T began playing a police officer, Detective Fin Tutuola, on NBC's Law & Order: Special Victims Unit. But through half a dozen albums and the deaths of three of Body Count's founding members, the band's formula remains largely intact—anger and all.
The 2016 U.S. general election gave Body Count plenty of fodder for this year's Bloodlust, the follow-up to 2014's Manslaughter. Beneath Ice-T's sharp and profanity-laden musings on the state of things, original guitarist Ernie C (Ernie Cunnigan) and his more recent co-guitarist, Juan Garcia, lay down plenty of gnarly riffs and shredding solos. There are also high-profile cameos by metal masters such as Megadeth's Dave Mustaine, Lamb of God leader Randy Blythe, and Sepultura co-founder and guitarist Max Cavalera.
Just before the album dropped, PG talked with Cunnigan and Garcia about how they came to work with Ice-T, about Body Count's working methods, and, of course, about their axes.
You're not exactly typical metal guitarists. What brought you to this music?
Ernie Cunnigan: Well, I'm a progeny of '60s and '70s music. My early childhood was in Detroit, and I started out listening to the Isley Brothers and things like that, and then Led Zeppelin and so forth. The first time I ever got exposed to a guitar player was Dennis Coffey. He had the Detroit Guitar Band, and they had a hit called "Scorpio" back in the '70s. [Editor's note: Coffey was also a member of the famed Funk Brothers—the Motown record label's house band.] When I came to L.A. as a teenager, I bought a Teisco Del Rey and I've been playing ever since. I ended up playing rock 'n' roll just by default—R&B did not have enough guitar pyrotechnics in it for me. I wanted to play solos, so I ended up playing rock 'n' roll.
Juan Garcia: I grew up here in the Los Angeles area, in a town called Alhambra, which is near Pasadena and not too far from Hollywood—where all the clubs were. Back in the day, I used to play at clubs like the Troubadour. One of my first professional bands was called Abattoir. We released an album called Vicious Attack [1985]. It came out on a label from Jamaica, New York, called Combat Records. It's the same label that signed Megadeth, and they also distributed Exodus, Nuclear Assault, and those kinds of thrash bands back in the day. I left Abattoir and launched a band called Agent Steel, also on Combat records. We released two albums, Skeptics Apocalypse [1985] and Unstoppable Force [1987], and then got coined "Iron Maiden on Speed."
When did you first meet Ice-T?
Cunnigan: In the '70s, early, when I was just a teenager, and we've been friends ever since. The original band … you know, three members have passed over the years, but we all knew each other from high school, so that's how the band started. I always say I've known him so long I don't remember meeting him. He was part of one clique of people, I was part of one clique of people, and we all just mixed together. I just remember always being around each other. We were just mashed together and we became friends.
Garcia: I was friends with [the late] D-Roc, the guitar player who used to wear the hockey mask in the band, and Ernie as well. I was playing in a band called Evil Dead at the time, and we used to rehearse over in North Hollywood, so I kind of became friends with them before I met Ice. Ice was already busy doing other stuff. I was a fan of the band when the first album dropped, so we kind of became mutual friends, and that was way back in the early '90s.
Ernie, what's it like to work with a guy like Ice, who's so high profile and has had such diverse projects?
Cunnigan: You know, it's interesting. I write with Ice. I've produced other bands and things like that, but he's my number-one writing partner. I always say he makes my playing digestible. If you get a guitar player writing a record, it might be all over the place—you know, just notes all over the place—but Ice listens to the bigger picture. He breaks it down to terms everyone can relate to, so that's been good for me. There are songs that we've written that I wouldn't have written by myself, because I'd think I'd need more notes in them, and he's like, "Just keep it simple." Sometimes you need someone to slow you down a bit.
Juan, what's it like to be in a band you were a huge fan of before you joined?
Garcia: I had been playing metal for a while, since 1980, so it wasn't much of a transition to join the band. It's a solid group of guys who all get along really well, and that's something I always wanted—to be a part of a band that had no drama. Sometimes being in a band is difficult because you have all these different personalities. Playing with these guys—seasoned musicians, a very professional band—it's a relief and it just makes life a lot easier to deal with. It's been such an awesome experience.
"I like the Schecters just because they seem designed for the kind of metal we play. They're real simple and they're durable. They're nice enough to take out and they look good, but they're not like taking your '59 Les Paul on the road." —Ernie C
What's your division of labor when it comes to guitar parts?
Garcia: Ernie is a founding member of the band, so the way I approach it is he usually comes in with some ideas, and I have my ideas, and we kind of just bounce them back and forth. If my stuff fits to what he has going on, then it works. There are a lot of other contributing musicians, too. Ice brings a lot of ideas, and Vincent Price, the bass player, and even our drummer, Will Dorsey. Working with Ernie is real smooth. We just kick around ideas and jam to determine who plays what. Our styles are a little different, but at the same time they're similar, because it's all heavy metal in Body Count.
How are your styles different?
Garcia: I'm more influenced by guitar players like Michael Schenker and Adrian Smith and Dave Murray, and the Judas Priest guys, so I usually have things more worked out. Ernie is more freeform—but his stuff is very melodic as well. He has a really cool solo on a song from the new album called "God, Please Believe Me." I would also say that Ernie shreds more than me. I don't consider myself a shredding guitar player. I'm more of a rhythm lead player. I've always been in a band with two guitar players, and I like it that way.
What was the writing process for Bloodlust like?
Cunnigan: Well, it's real simple. The band stays together in one house. We rent a rehearsal studio, get there at 10 in the morning, and just riff all day long. We write parts down, record them roughly, and we listen to them at night and go back the next morning to fine-tune things. Then we give everything in the raw to Will Putney. He's been our producer for the last few records, and he's done a great job. He's a guitar player, so he understands the music really well, knows which riffs will work and which riffs won't. I produce records myself, so I understand the importance of just focusing on playing the guitar and having someone else help shape the album.
Garcia: We also used some outside writers—like Billy Graziadei from Biohazard and Monte Pittman, who's a guitarist for Madonna and who also used to play with Prong. It was really cool, because people would submit some ideas, and we would work off them and turn them into Body Count ideas. Some of the riffs were perfect the way they were, and we kind of added our own stuff around them. These contributions made the record really special.
Doc Coyle from God Forbid contributed some riffs. Max Cavalera [Sepultura, De La Tierra] co-wrote a song called "All Love Is Lost" with us, and there's a song called "Walk with Me," which features Randy Blythe from Lamb of God on two verses.