Photo courtesy of Maryland Music Awards
Our beloved Amp Man signs off after 13 years of answering readers' questions from under the hood.
A big hello to all you Ask Amp Man readers worldwide, and welcome to yet another installment of your favorite column. But this is not just another of my monthly columns. No, this will actually be my last column. I know, hard to believe, right? You open or download your magazine every month and there's the Ask Amp Man column. It's been there ever since you can remember!
Well, you are indeed correct about that. Premier Guitar was launched in February 2007, and the Ask Amp Man column has been there since the inaugural issue. What you may not know is that I've been writing this column even longer than Premier Guitar has existed. Prior to the launch of the magazine under the name Premier Guitar, it was known as Musicians Hotline and it, too, had a column where you could ask an amp expert questions.
I hope I've been able to bring at least a few of you a little bit of joy, or a sense of accomplishment—or, at the very least,
increased knowledge.
The original column—at least as original as I know it—was called "Ask Mikey" and was written by Mike Soldano of Soldano Custom Amplification. At some point, Mike became too busy to author the column, so the magazine needed to find a knowledgeable replacement in the tube-amp world. They wound up calling another one of the top boutique amp companies, Budda, and spoke with my partner Scot Sier. Since the questions were of a technical nature, Scot asked me if I would like to write the column. Upon accepting the challenge, the column in Musicians Hotline became Ask Budda. Once Hotline became Premier Guitar, the name of the column also changed to Ask Amp Man, and the tradition of answering readers' questions continued.
First, let me say that it's been an honor to have authored this column for so many years and to have been associated with Premier Guitar. The publication is well respected by its readers, as are the authors and columnists within. I know, because I'm told this all the time. I have been in the business of repairing and modifying, as well as designing and building, guitar amps for about 35 years now, and am probably as well known for writing this column as I am for the amp business.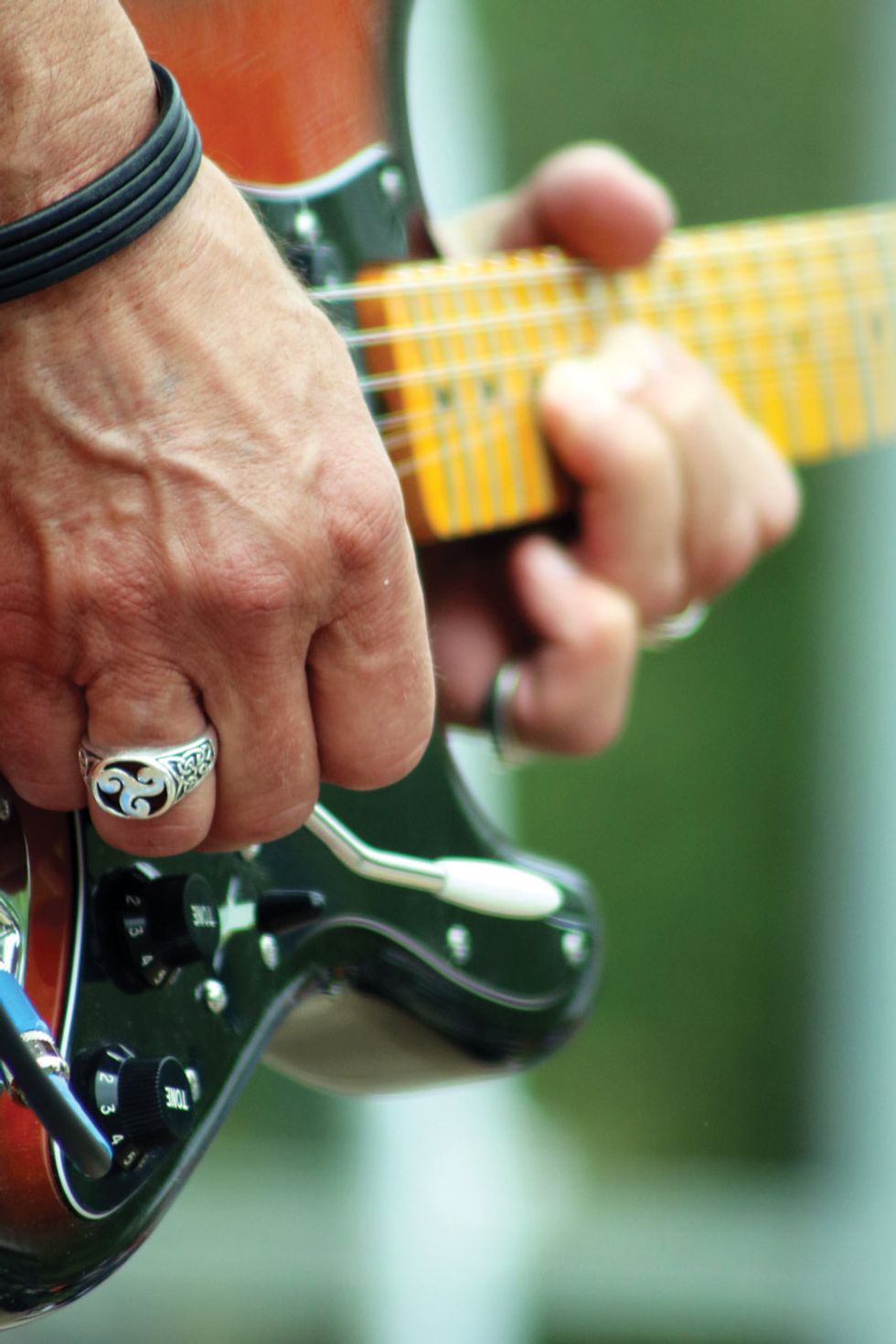 The hands that have been inside of countless amps have also been on the necks of many, many guitars. Here, Jeff Bober lays into a favorite Strat. Photo by Robert Jordan
I was recently reminded of an instance when I was attending one of the big guitar manufacturers' "experience" parties. There was a gentleman performing onstage with the likes of Davy Knowles and David Grissom, and I really enjoyed his performance. (No disrespect to those other two players. Ha-ha!) I spoke to him after his set, later in the evening, and told him I really enjoyed his playing and his tone. At the time, I guess I looked similar to the frontman of a very successful band (dyed blond, coiffed hair with a bit of a beard and moustache), so he engaged in conversation with me. After a minute or two he noticed the name on my badge and said something to the effect of: "Man, I was just being nice to you because I thought you were Chad. You're the guy who writes the Ask Amp Man column! Now I'm really happy to meet you." That's not the first or the last time I've been acknowledged and thanked for being the author of this column—and I am very appreciative of that.
I've always looked at the column as a way to help people: be it someone who lives nowhere near anyone with the ability to diagnose or repair an amp, or someone with a desire to improve an amplifier and make it better suited to his or her needs. Although some have said it would be a great platform for self- or brand promotion, I never thought that appropriate for the column, so I tried never to use it in such a manner. It was always fun to read the questions and think about the possible causes of a problem or symptom, or a way I could help owners tweak or modify an amp to achieve a better result for them. It was also interesting to find someone whose need or application was outside the box, which prompts one to look at things with a different perspective. This is all part of the learning process, which makes everyone better at what they do. Of course, there are times where you just have to say, "No, you can't do that!" Ha-ha!
I also really enjoyed bringing you, as of late, interesting amps that have crossed my bench. For all the years I've been in this business, I still occasionally come across something I haven't seen before or seen only a few of because there simply aren't many of them around.

Putting his own amps, and a Gibson Les Paul, to use, Jeff rocks on the big stage with Johnny Chill, a side project of John Palumbo of Crack the Sky. Photo by Ellen Wiley
And then there are amps that were manufactured by relatively small companies—well known in their day, but after not being manufactured for decades and initially built in small numbers, they slowly fall off the radar. I have done columns on amps such as West and Sundown, where, after the columns were published, the likes of Dave West or Dennis Kager have contacted me and thanked me for writing a column on their amps. Something as simple as that brings one such joy, and for that I'm grateful.
I hope I've been able to bring at least a few of you a little bit of joy, or a sense of accomplishment—or, at the very least, increased knowledge. That said, there's only so much one can write in a column for more than 13 years without repeating one's self, so I've decided to bring it to an end. I'll still be designing, building, and repairing amps (which I really love to do), and if the folks at Premier Guitar are so inclined, maybe bringing you a feature story now and then. Or maybe something entirely different. Who knows! And if you'd like to hear what others in this wonderful world of music are up to, you know you can also hear me, as well as my co-host Mick Marcellino, on our weekly Amps & Axes podcast.
To bring this to a close, I'd like to leave you all with just a little bit of my philosophy: Live in the moment and be practical. We are all (at least most of us) guitarists. And that can come with the search for the ultimate tone, but don't let it get to the point of obsession. We live in an imperfect world—there is no perfection! If you keep lusting after every new guitar, amplifier, cable, capacitor, tube, speaker, pedal, pick, or battery, you will never be satisfied. If you have the opportunity to try or experience any or all of those … great. But it's not going to make or break you. Some of the best music in the world has been made on the most basic collection of materials, so do the best with what you have and improve or upgrade when it's practical. After all, music is supposed to be fun and good for the soul, so don't ruin that with obsessions. Life is too short. Take time to smell the roses. Or coffee. Coffee is good, too! Learn, have fun, respect other musicians, and, just as Frank Zappa said, "Play yer guitar!"
All the best, Jeff.
Get creative with faux-analog delay tones.
Many modern players are smitten with the quirky, warts-and-all character of pre-digital delays. Partly, that's nostalgia. It's fun to clone Scotty Moore's rockabilly slap or David Gilmour's spatial grandeur.

But there's more to it than looking backwards, I think. While pre-digital delays were designed to mimic the effect of playing in reverberant spaces, the results rarely sound realistic in the way that, say, digital hall reverb algorithms can sound like actual rooms. Much of their charm lies in their "not found in nature" artificiality. This sonic character can convey many emotions: warmth or iciness, spaciousness or claustrophobia, relaxation or tension, and more.
Much of the charm of early delay tones lies in their "not found in nature" artificiality. This sonic character can convey many emotions: warmth or iciness, spaciousness or claustrophobia, relaxation
or tension, and much more.
This column and my next one are about crafting faux-analog delays, especially unconventional ones. I've used SoundToys' EchoBoy plugin throughout. But while EchoBoy is powerful and versatile, you can try these techniques with many delay plug-ins or with relatively sophisticated delay stompboxes that feature tone controls in addition to the usual time, feedback, and mix knobs.

Analog Artifice. Let's start by faking analog sounds. Old tape, oilcan, and bucket brigade delays aren't very good at reproducing higher frequencies, and the treble content diminishes with each echo. Check out Ex. 1, with its relatively hi-fi delay tone.
Ex. 2 is the same recording, but with much treble removed. I've also added distortion using EchoBoy's saturation control. (Don't worry if your delay doesn't have a distortion setting. Next month we'll see how to add distortion to delay using separate delay and overdrive plug-ins.) Image 1 shows the settings.
You can hear the same properties in Scotty Moore's definitive rockabilly slap on Elvis Presley's classic "Mystery Train."
Ex. 3 uses a small tweed amp model and a similar delay setting to approximate the dark, somewhat distorted sound of Moore's Echosonic, an amp with built-in tape echo. For a similar sound, cut lots of delay treble, turn the feedback control to zero (just one echo), and add a touch of distortion if possible. Try delay times between 100 and 150 milliseconds, depending on the song's tempo.


That rockabilly slap is a great sound, but for better or worse, a familiar one. So let's explore some cool alternatives.

Echoes of Africa. Tape delay was a popular sound for African guitarists from the late 1960s through the '70s. It adds a lovely liquid fluidity to the pretty arpeggios and double stops of Central African pop guitar playing. Here's a fine example, "Malala," by the great Congolese guitarist Nicolas Kasanda (better known as Docteur Nico), one of the creators of the guitar-driven rumba-rock style later known as soukous.

It's a brighter tape sound, with a longer delay time and two or three echoes rather than single slap. Here it sounds like le Docteur is playing through an amp. But many guitarists from Africa—a continent rich in music, but poor in gear—recorded directly into the mixing board, adding tape delay to their squeaky-clean tones. In Ex. 4 I bypassed the amp model for a similar effect. Image 2 shows my EchoBoy settings, with a delay time of 285 milliseconds, some high and low cut (but not as dark as the rockabilly sound), and lots of simulated tape saturation.

It sounds a little chaotic soloed like this. But somewhat counter-intuitively, the rhythm seems more coherent when you add bass, drums, and dry-toned backing guitars, as in the Dr. Nico example. This musical style often features three or four guitars, and the echo on the lead guitar helps it stand out as the solo instrument.

Image 2
Authoritative Echo. Here's a slapback variation I call "the Great Dictator," because it makes me think of some autocrat addressing a stadium full of followers, with a hard, steely echo bouncing off of reflective concrete surfaces. For this sound I keep the treble strong, cut some bass, add modest distortion, set a delay time of about 250 ms, and select a low feedback setting—maybe two or three echoes. [Ex. 5.]


Again, it can seem rhythmically chaotic. But if you dial back the wet level, you get a spacious sound that stands out against backing instruments, as in Ex. 6.


Now let's introduce a new idea: subtlety! A not-so-secret trick among pop producers is to add a single short echo to lead vocals, in addition to reverb and other effects. The echo can be nearly subliminal, yet it helps a lead vocal (or a guitar!) stand out in a mix. The lead guitar that enters at 00:07 in Ex. 7 is as present as a poke in the nose, even though the track has generous amounts of spring reverb.


Ex. 8 adds a touch of echo on the lead part, paradoxically helping the sound blend into the mix and command centerstage.
This time I didn't add the delay effect directly to the guitar's channel strip, but placed it on an aux bus. Routing the sound this way opens up many more sonic possibilities—ones we'll explore next month!
This mini-but-monstrous bass fuzz and its manipulative assistant make for one dynamic duo.
Say hallo to my leettle fren! I couldn't not say it—sorry—but more on Igor in a moment. The Dr. Freakenstein Dwarf Bass is a mini-format bass fuzz that dares to be different—I mean really dares to be different. The simple control set looks straight out of a '60s sci-fi show and consists of a thumbwheel for volume and an oversized knob for governing the pitch of the harmonic overtones. At the front end of the pedal lives the LFO push-button that, when activated, sweeps the overtone up and down in a spaced-out, whoosh-y manner. The mix button to its right takes the pedal from all-out fuzz to about a 3:1 fuzz-to-clean-signal ratio when engaged. Igor is the dual-sensitive (just flip it over) mini-expression pad that manipulates the overtone or sparks a quicker modulation speed when the LFO is engaged.

The Dwarf Bass serves up fire-breathing grit, so look elsewhere if you're in need of kinder, gentler fuzz. With the overtone dial at 1 o'clock, LFO button out, and the mix button engaged, I created sweet chaos with the help of Igor that likely scared the shit out of anyone within 100 feet of my house. I literally made sounds akin to a robotic troll squelching in terror (or pleasure) atop a smoking, consistent fuzz tone that inspired riffs galore apt for grindcore to alt-metal EDM. While a light dusting of fuzz isn't available, it's an impressively musical (albeit extreme) fuzz nonetheless. Take a spin yourself and you, too, may get hooked going down the wild-ride rabbit hole of this little box—and its little friend.
Test gear: Orange O Bass, Gallien-Krueger 800RB head, Orange OBC212 cab, Focusrite Scarlett 2i4
Recorded direct into Focusrite Scarlett 2i4 interface into GarageBand.
Clip 1 - Overtone dial at 1 o'clock, LFO button out, fuzz/clean mix button engaged
Ratings
Pros:
Igor. Compact and rugged. Fantastically raucous and weird bass-fuzz tones on tap. Internal passive/active switch. Built-in noise gate.
Cons:
Can't really call it a versatile fuzz. Igor can be difficult to manipulate with precise control, especially on varying surfaces. Note: Neither "con" bothered me in the slightest.
Street:
$145
Rainger FX Dr. Freakenstein Dwarf Bass
raingerfx.com
Tones:


Ease of Use:


Build/Design:


Value: