Sonny Landreth Album Premiere: 'Recorded Live in Lafayette'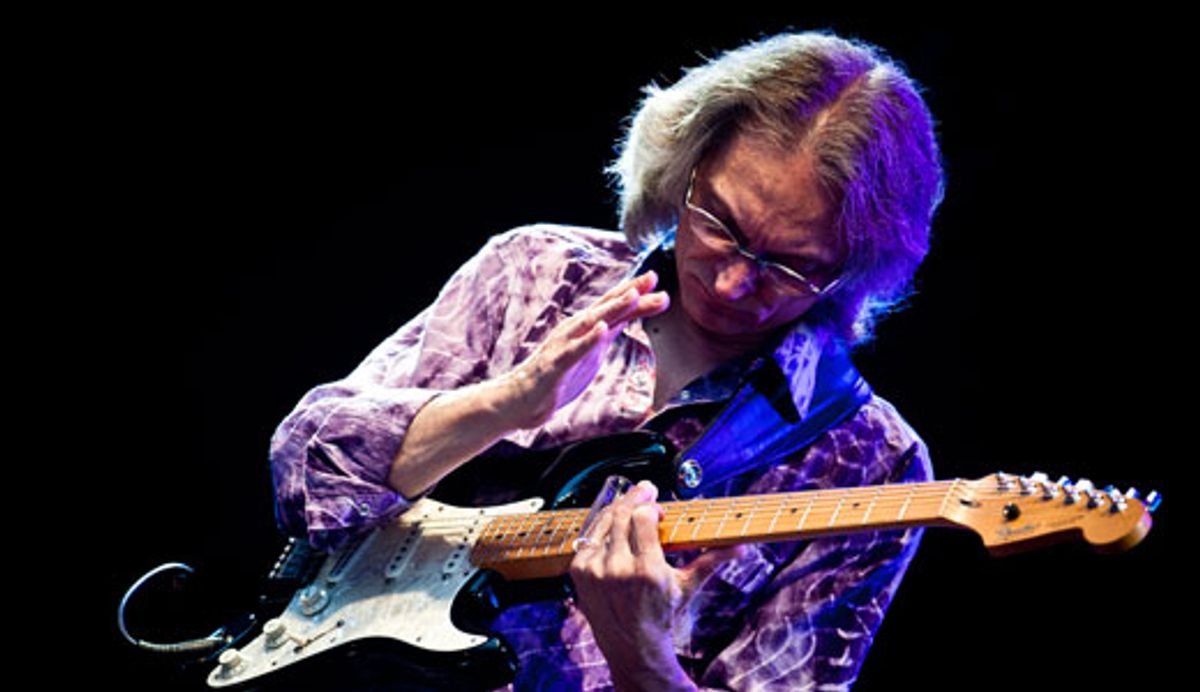 Photo by Marco van Rooijen.
We go behind the scenes on the slide master's epic live set that features both his working electric trio and a stripped-down acoustic group.
Whenever an artist plays a hometown show, there's a little more juice in the air. Sonny Landreth's soon-to-be-released Recorded Live in Lafayette was tracked at the Acadiana Center for the Arts, not far from the bars and clubs where the pioneering slide guitarist cut his teeth, and you can feel the crowd's energy reflected in the music. Recorded over the course of three nights, the double live album features Landreth's working trio of bassist David Ranson and drummer Brian Brignac, as well as keyboardist Steve Conn and guitarist Sam Broussard.
"I've been thinking about doing this for a while," says Landreth, "but honestly I was having trouble deciding what type of live album to do. Each night we kept adding songs, so we thought one acoustic disc and one electric disc would be the way to go."
For most of the acoustic set, Landreth played the striking guitar that appears on the album cover. "It's a Larry Pogreba 'hubcap' resonator," he explains. The guitar was a gift from Mark Knopfler, who played a similar model on "Creole Angel" from Landreth's South of I-10 album. "For these songs, it appealed to me because it was bright and had some air to the sound, and it compressed in a way I really like."
Landreth has been releasing albums for more than 30 years, so he has a huge body of material to cull from. Recorded Live in Lafayette offers a definitive overview of both his amazing slide guitar and his inspired songwriting. Here—in his own words—are the stories behind the songs on this epic double album.
"Blues Attack" (Open G: D–G–D–G–B–D) Most of the songs in the acoustic set are played in open-G tuning. That was a result of considering that the vocal range, for once, married beautifully with logistics, so I didn't have to shift a bunch of guitars around. Resos are not the most … well, they are pretty finicky. It doesn't take a whole lot to knock them out of tune. The original version of "Blues Attack" was acoustic, so it lent itself well to that. We did an electric version of this tune for South of I-10, but it was a bonus track for Japan.
"Hell at Home" (Open G: D–G–D–G–B–D) Originally, this tune was recorded in the key of A [on 2003's The Road We're On], so everything was tuned up a whole-step. Even at that time I was going back and forth between G and A. I would typically go with the higher key if my voice could hang and if it would help project over the other instruments. The version we've been doing live was electric for that very reason. Here, because it was a bit more stripped down, we moved it to G. The thing about changing keys—as long as you don't go too far—is that you can change the melodic line some. I like doing that because it gives a little twist to the song and you can lean on certain inflections.
"Key to the Highway" (Open G: D–G–D–G–B–D) It's a staple and I thought, "Well, we did it on the last album [2015's Bound by the Blues], but that was electric, so what the hell?" I thought it turned out to be one of the better ones on this set. That's another example of a song that has country-blues origins but was electrified. I think that's why it translates to acoustic so well. I did two things I didn't want to do. I didn't want to repeat any songs from Grant Street [Landreth's 2005 live album] and I didn't necessarily want to do any songs from Bound by the Blues. But I broke both rules. [Laughs.]
"Creole Angel" (Open G: D–G–D–G–B–D) I thought this would work really well on acoustic because it's in the lower end of my limited vocal range. [Laughs.] It's pretty hard to sing that song over the band. We got away from it for a long time because of that. In this setting, it worked out great. When we cut the track originally, Mark Knopfler played the rhythm part. He had this really cool windshield wiper or clawhammer-style thing that he does to get that chug rhythm going on a National. That's really the core of that song.
"A World Away" (Open Gm: D–G–D–G–Bb–D) I really had to contemplate to see if this song would work in an acoustic setting. I love the sound of that tuning and it's kinda the best of both worlds. If you go from the higher tunings like open A and open E down to open D and open G, the nature of a slacker tuning is a real cool vibe. There's this elasticity that I love and it's great for blues. When you move it to the minor, you got the slack-key thing working for you and it has this atmospheric, moody thing going on.
"The High Side" (Open D: D–A–D–F#–A–D) This was another rule-breaker. I'll be honest, I love this approach better than the electric version. I think it's because of the lyrics. There's so much backstory to each of the verses, that it speaks better. On the studio album, we basically played it the same, but with some percussion instead of a kit.
"Bound by the Blues" (Open Am – Open Gm with capo at 2nd fret) I used the hubcap guitar on this one. On the original version, I played it in the same key, but without the capo. I just tuned up to A minor. Here, there's more tension on the strings and it affects the harmonics in a different way. When you use the slack version with the capo … I'm not a big fan. I think the capo is amazing, I love them, but I tend to take the path of least resistance and steer away from them. Recording with them is one thing, but dealing with them onstage is another. But man, it sounded good on that guitar. It definitely added to the atmosphere of that piece.
"The U.S.S. Zydecoldsmobile" (Open G: D–G–D–G–B–D) We only played this tune once and it was on the third night. The suggestion for the tune popped up during soundcheck and it worked great with the accordion—that's the vibe. All the details come out more in acoustic settings because there's so much less information taking up the space. Each of the instruments, I believe, project better and therefore speak better. It's completely different from the electric version and a great example that if you believe in the song, you can take it in different directions.
"Back to Bayou Teche" (Open G: D–G–D–G–B–D) This is usually the encore in our trio set. One night my engineer, Tony Daigle, was noticing my voice taking a beating and suggested playing this song first. Here, I didn't pound the listener with the usual extended outro. Normally, we break it down and I just take off. No telling what's going to happen. There's a difference between a self-absorbed thing and achieving flow, where it's creativity for the sake of creativity. I didn't want to overdo that.
"True Blue" (Open Cm – Open Am: E–A–E–A–C–E with a capo on the 3rd fret) I really like the high sound of this tuning—I'm sure you've heard Jimmie Vaughan do that. The harmonics really fly in this tuning. There's something that happens by being able to play those positions and still get the detail in the top end. You can still play those open-position chords and let those fretted notes ring. You still have the slack key effect, but by moving it up it has even more of a steel drum sound with the chorus. It's really fun to play with the decay of each note. We hadn't done this song in a long time and we never really took it and expanded it like you hear it here. The delay is a Visual Sound Dual Delay.
"The Milky Way Home" (Open A: E–A–E–A–C#–E) This has always been a bit of a powerhouse for us. I've kept it in since we first recorded it on From the Reach, and Eric Johnson played a solo on the track. Of course, that's the ultimate. Whenever we're in the area, he'll come around and sit in and play those incredible solos. We didn't have a great live version of this song, so I wanted to remedy that.
"Brave New Girl" (Open E: E–B–E–G#–B–E) If I had a favorite instrumental piece I've ever done, this would be it. Sam Broussard and I worked together on the string arrangements for the studio version. He's the brainchild behind all of that and came up with this gorgeous arrangement that expanded on all those complex changes even more. It's been fun to play this as a trio, minus the orchestra, and find the best way to make those changes and range of emotions work. Since we've been playing it, I'm not sure exactly how it started, but we would segue into "Überesso."
"Überesso" (Open E: E–B–E–G#–B–E) These tunes have been joined at the hip and they work great in the set. It illustrates one end of the spectrum with nuanced slide guitar, and then builds up to the much more kinetic side of things. I usually recommend to people who are starting out on slide to tune to open E and listen to Duane Allman. Then you could drop the whole thing down to D and listen to Elmore James. Plus, if you can, get a separate guitar and set it up for slide. Then you're committing to it and taking that step to becoming more relaxed with it.
"Soul Salvation" (Open A: E–A–E–A–C#–E) I think this was the only tune we tried in both the electric and acoustic sets. The inspiration for this song came from my mom. We were lucky enough to borrow the API console that U2 had just used. Larry Droppa from API had only one request: The Edge had signed the channel that he used when they finished up. The last thing I wanted to do was pull that piece of tape off! There's a definite magical element of that console that really made this tune shine.
"Walkin' Blues" (Open A: E–A–E–A–C#–E) Another rule-breaker. This was a good groove that everyone could just jam on. We'd already done the trio version, so this was a good chance to work in some other instruments. Steve played such a great solo on this. He'd move from B-3 to accordion to piano—and sometimes both. You should always have a good stomp on an album. I'm still having fun playing this song.
"The One and Only Truth" (Open G: D–G–D–G–B–D) I hadn't recorded this one before. Steve wrote and sang this song. He and I met in 1974 in Estes Park, Colorado, even though we are both from Louisiana. We've been best friends and played tons of gigs together since then. He was the musical director of eTown in Boulder, so he's played with everyone. This song has always been the encore when we do duo gigs, and it's a great way to wind things up. I wanted to feature him and shed some light on these cats. He was inspired to write this song by his mother. It was great to have this and "Soul Salvation" on this album for both of us—and for them.