Yonder Mountain String Band: "Eat In Go Deaf (Eat Out Go Broke)" Song Premiere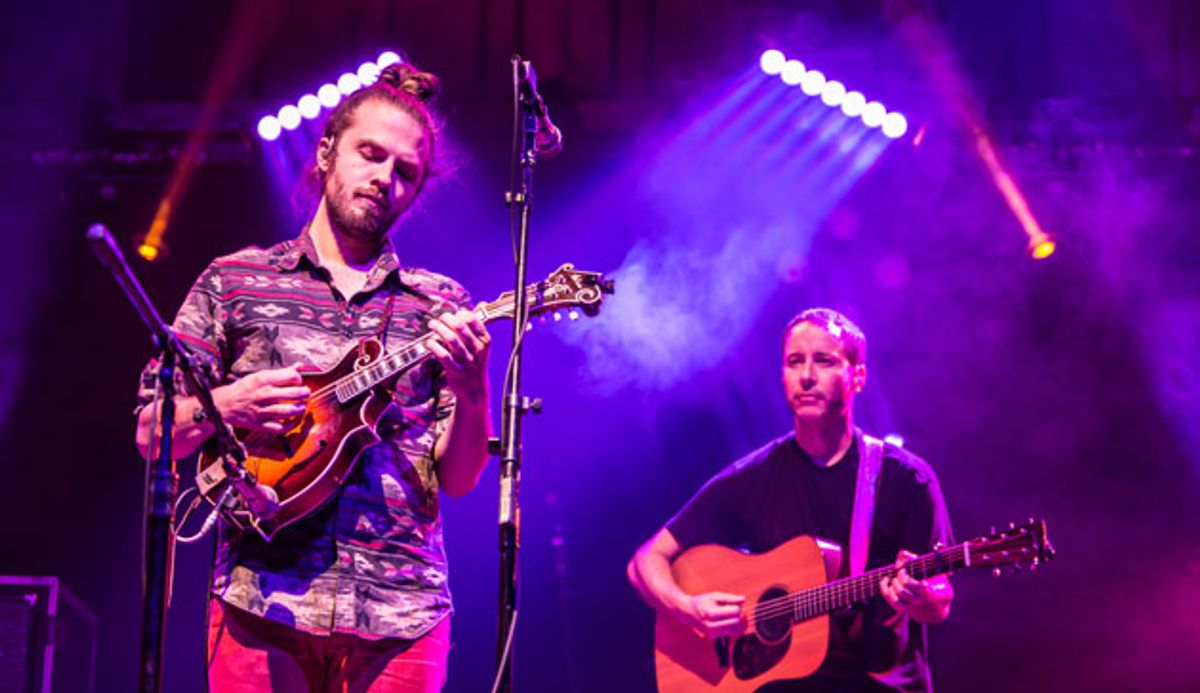 One of the country's most popular newgrass bands debuts a scorching instrumental from their latest album, Love. Ain't Love.
Mandolinist Jacob Jolliff's burning instrumental off Yonder Mountain String Band's latest album, Love. Ain't Love, might owe some stylistic credit to past bluegrass masters like Bill Monroe and Sam Bush, but he has a friend with not-so-hot cooking skills to thank for the title. "I had a roommate who was a disaster in the kitchen," remembers Jolliff. "He set the smoke alarm off multiple times during the course of cooking a meal, and said to me, 'Man, I just don't know what to do. It's like eat in, go deaf, eat out, go broke.'"
What the tune may lack in culinary tips, it more than makes up in sheer bluegrass shred. Jolliff's machine-gun riffing that kicks off the tune is inspired and forceful. The tune's changes go by so quick that guitarist Adam Aijala relies on substance over pyrotechnics when it comes to soloing. "Jake's melodies are incredibly intricate and at this tempo it was a bit challenging to come up with something within those parameters," says Aijala. "A common approach when soloing over an instrumental tune is to state the melody in a roundabout way while adding your own style and ideas."
Aijala used the same guitar that he relies on for Yonder's incendiary live shows: a 2004 Collings D1 that was miked with a matched pair of Neumann KM 184 mics he acquired about 12 years ago. Love. Ain't Love is an expansive statement full of down-home bluegrass stompers ("On Your Dime"), soulful acoustic pop ("Alison"), and even some reggae influences ("Groovin' Away"). At 20 years deep into their career, Yonder is as youthful, tuneful, and energetic as ever. They've survived lineup changes and the rigors of the road to come out the other side as one of the top newgrass ensembles around. As always, they are constantly touring and you can find current dates on their website.