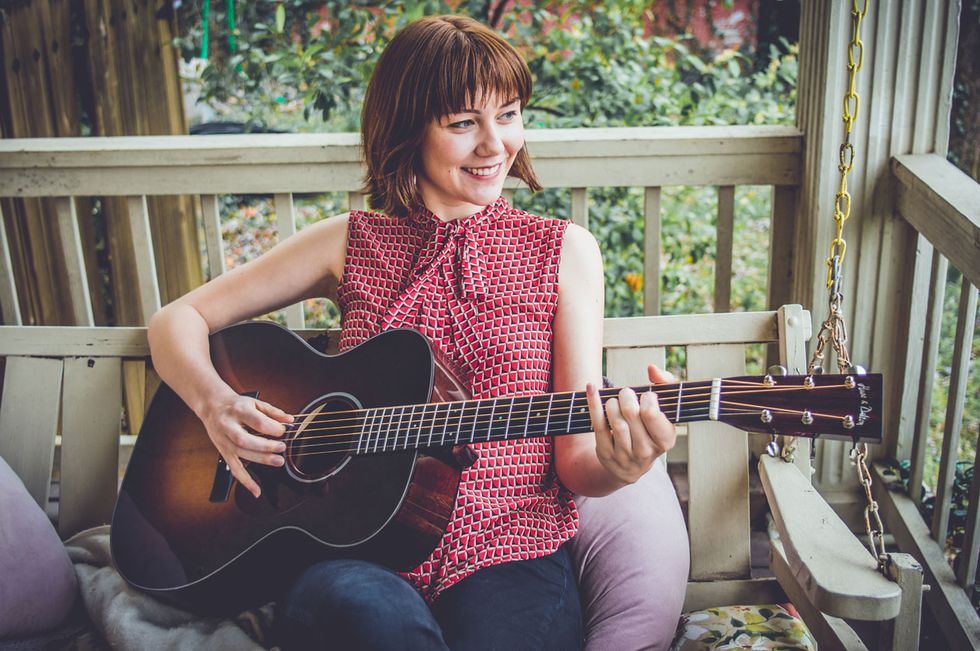 Following her debut recording at age 13, Molly Tuttle has amassed a fan base primarily in bluegrass, but her education and other musical interests also inform her virtuosic American-roots-based playing style. Photo by Kaitlyn Raitz
There is renewed interest in roots music among young musicians, with artists like the Punch Brothers, the Milk Carton Kids, and Sarah Jarosz drawing liberally from bluegrass, country, and folk influences. Among the most brilliant guitarists in this new generation is Molly Tuttle, who seems as effortlessly conversant when flatpicking as when playing in the clawhammer style, and who is equally gifted as a singer-songwriter.
At 24, Tuttle has already found her own voice on the guitar, and this was perhaps inevitable. Tuttle picked up the guitar at age 8, wanting to emulate her multi-instrumentalist father, Jack Tuttle, a fixture then and now on the Northern California acoustic music scene. She devoured bluegrass and Western swing standards with her brothers, Sullivan and Michael Tuttle, and the siblings, under the direction of the elder Tuttle, performed and recorded as the Tuttles.
Tuttle was only 13 when she released her first album, The Old Apple Tree, a collection of duets with her father on which she plays guitar and banjo, as well as sings. And she was not much older that that when she and her dad won a contest to perform on NPR's A Prairie Home Companion.
After solidifying her command of the guitar—and of music in general—at Boston's Berklee College of Music, Tuttle began racking up some prestigious accolades: first place in the annual songwriting competition at MerleFest and an up-and-coming instrumentalist award from the International Bluegrass Music Association (IBMA). This year, she's nominated for three more IBMA awards: emerging artist, female vocalist, and guitar player of the year.
Tuttle is now based in Nashville and performs in a variety of situations: with the Goodbye Girls, an old-timey band that came together at Berklee; as the leader of her own band; and solo. She's just released Rise, an EP that offers her fresh take on the bluegrass tradition and is also her first recording of all-original songs as a bandleader.
You grew up in the bluegrass community in the San Francisco Bay Area. What was that like?
It was awesome. My dad was a music teacher. Growing up he would take me to camps and festivals. I just got to know the bluegrass scene really well in the Bay Area. Everyone was so supportive. I think that's kind of common in bluegrass music all over the country, with the older generations bringing up the younger generations and having them onstage—just being really supportive and always looking after them. It was a great community and scene to grow up in.
"When I stumble on something that sounds original, instead of tossing it out, I always think, 'What can I do with that?' My style comes from not being afraid to take some risks."
Your father, Jack Tuttle, still teaches at Gryphon Stringed Instruments, which is kind of a mecca for acoustic guitarists, in Palo Alto. It must have been fun to visit the shop as a child.
Yeah. I loved going in there and looking at guitars. When I was first starting, I really wanted a Martin guitar. I saved up for one for a long time, and when I was 12 I finally went to Gryphon and got one.
That's great. Which kind of Martin?
I got an HD-28. It's like a standard D-28, basically, but with herringbone trim.
What was it like being in a family band when you were a teenager?
It was fun. We would play out on weekends sometimes. Probably in our busiest year, we did three or four festivals over the summer. So, we didn't play a lot, but it was always a great experience. And that's kind of how I learned to work in a band and come up with arrangements with other people and craft a show together, instead of just jamming with friends.
How did your family's dynamic play into the band?
When I first started, it was kind of my dad leading the band and coming up with the arrangements. As I got older and started developing my own musical tastes and musical voice, I would help with that more. I would have different ideas and opinions about what we should do. The dynamic definitely changed as I got older and I took more initiative.
We made an album when I was about 16 [Introducing the Tuttles With A.J. Lee]. I helped arrange it and mix everything. It was a good learning experience to be introduced to some basic software and to the recording process in general, which my dad previously did all on his own.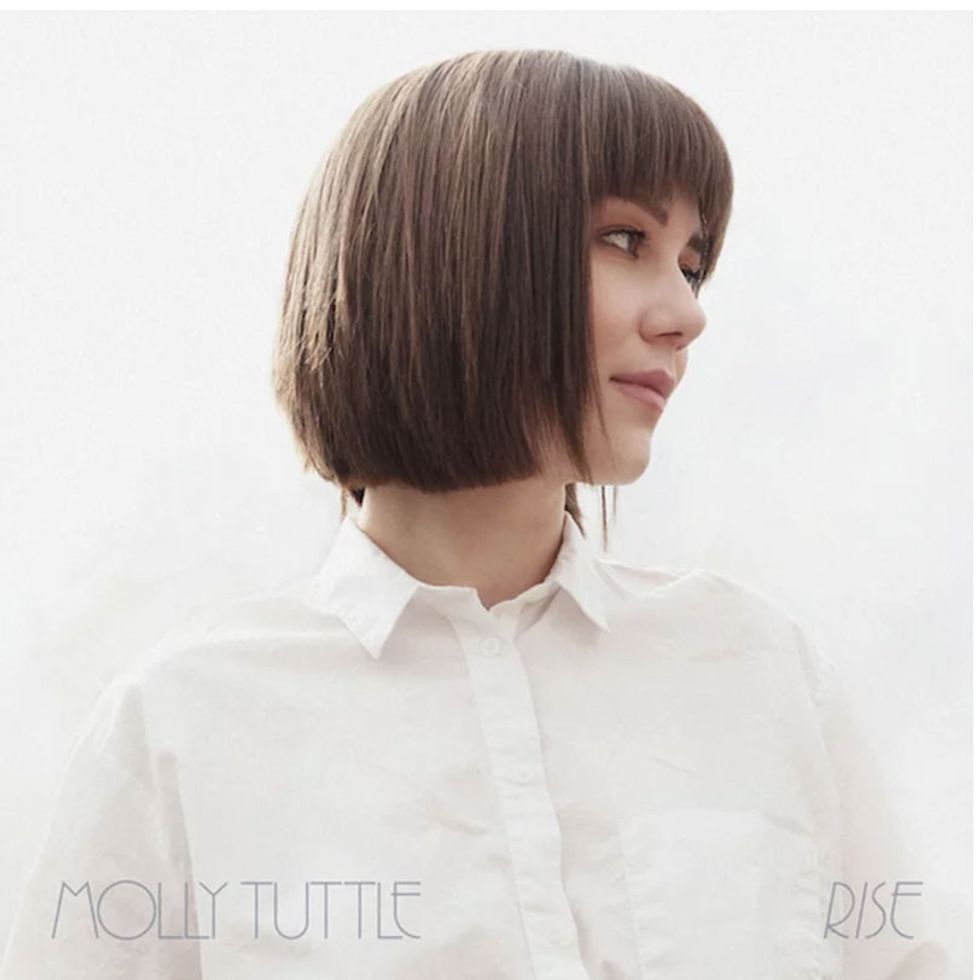 TIDBIT: Produced by Kai Welch in Nashville, Tuttle's seven-song debut as a leader showcases her guitar chops and voice in a way that expands the framework of her repertoire and the bluegrass tradition.
I understand you played banjo in the family band.
Yeah, I did. I would switch between guitar and banjo, because one of my brothers [Sullivan Tuttle] plays guitar. I always favored the guitar myself, but it was nice to play the banjo as well. Now that I don't really play as much with my family, my banjo has gotten neglected and I kind of miss it.
How do you think playing the banjo has impacted your guitar playing?
It's hard to say. I kind of understand the banjo and how it works overall, so I think that definitely plays into my crosspicking on the guitar. I use a lot of crosspicking, or just adding in extra picked notes [on adjacent strings] to play things that many guitar players would do a little more linearly. It just adds a different feel and texture.
You studied at Berklee and presumably learned a lot from outside of bluegrass while there. How do you think that changed your approach to the guitar and to music in general?
It definitely drastically changed it. I think just being exposed to different genres, and also learning theory and listening to more jazz than I ever had, really transformed how I thought about improvising and playing guitar. I didn't know any music theory before going there—not even the notes on the guitar. Learning that, and how a scale is built, not to mention all the different modes … that kind of just blew open a whole new way of talking about music with people and also just understanding what I was playing.