Billy Strings and Molly Tuttle in Conversation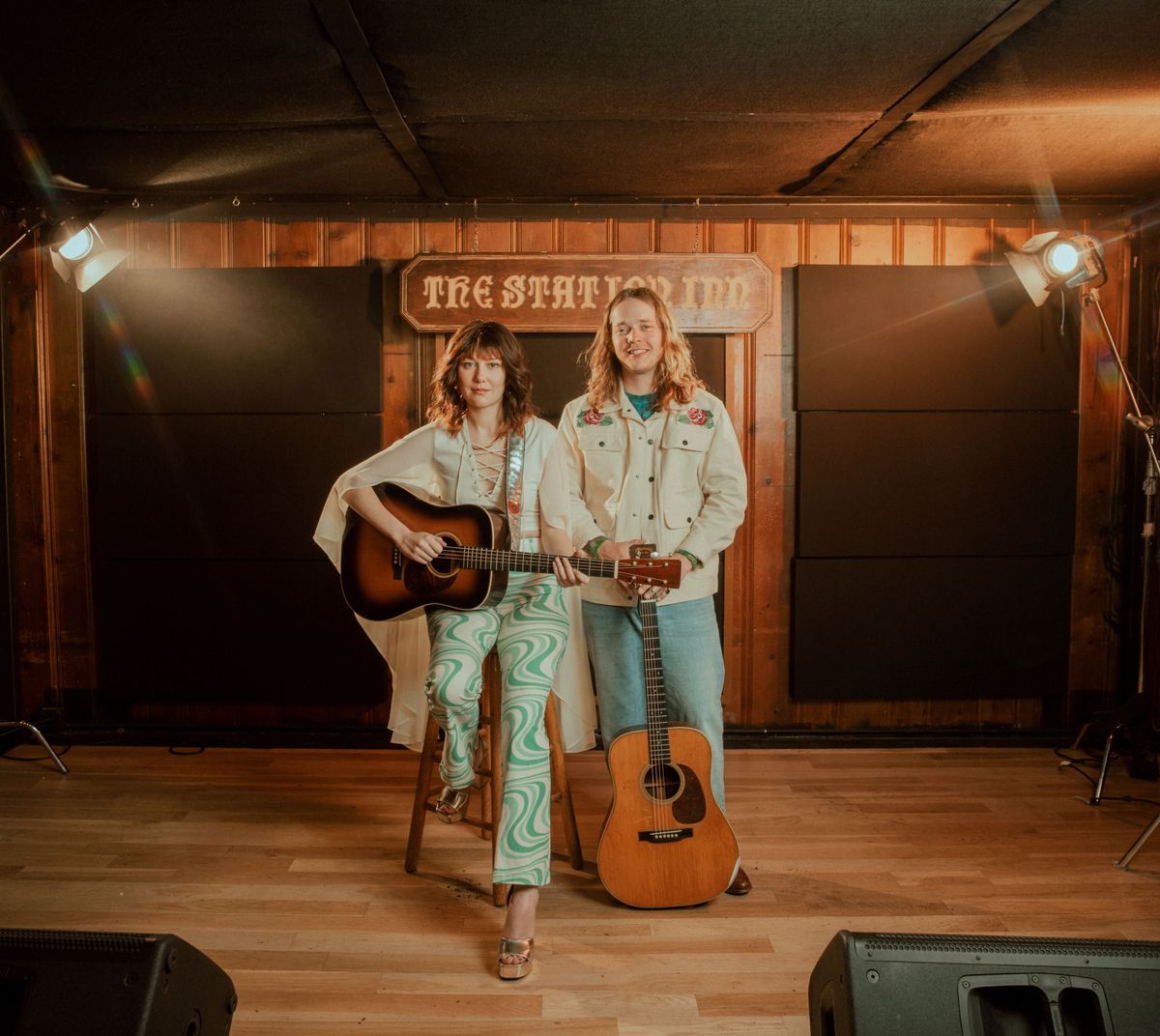 Photo by Alysse Gafkjen
Looking back on their latest releases, the two bluegrass phenoms and friends sit down with one another to talk musical heritage, stage fright, gear, and more.
In any music scene, it's natural that talented contemporaries will find each other and form fast, harmonious fraternity. It's no surprise, then, that Nashville-based bluegrass virtuosos Billy Strings and Molly Tuttle became close friends and collaborators as early as 2017—when they were both just 24—and, as is now somewhat common knowledge, were one-time roommates. Tuttle was first featured on Strings' full-length release, Turmoil & Tinfoil , and a few years later, Strings guested on Tuttle's Grammy-winning 2022 album, Crooked Tree , on the track "Dooley's Farm," while performing together often in the interim.
---
The pair have a lot in common, and we thought it would be a great idea to put them together to interview one another. "Billy and I, we both grew up playing with our dads," Tuttle shares at the very beginning of the conversation. Tuttle made her first professional appearance as a recording artist at 13, when she and her father, Jack Tuttle, released The Old Apple Tree . Since her 2019 solo debut, When You're Ready , Tuttle has evolved through both warm and peppery country tones and her original, adventurous approach to bluegrass , circling back to the genre's traditional homey twang on Crooked Tree . A new album , City of Gold , is due July 21—and, inspired by her constant touring over the last few years, will offer 13 new tracks that capture the electric energy of the band's live shows.
More recently, Strings felt a sudden sense of urgency to record with his father, Terry Barber, and in November 2022, he put out Me/And/Dad , on which the two play 14 classic bluegrass tunes. As Tuttle comments with fondness below, Strings has a distinctive Doc Watson-esque attack, something that gets flavored by a death metal edge—heard in the every-so-often spectral chord and touch of grimness—thanks to his background in that scene. He recorded his latest single, "California Sober," with Willie Nelson, and can be heard in duet with Tommy Emmanuel on the Australian guitarist's new single, "Doc's Guitar/Black Mountain Rag."
Dooley's Farm (feat. Billy Strings)
While Strings grew up in Michigan and Tuttle the San Francisco Bay Area, much of their upbringing happened in parallel. Both musicians experienced turning-point moments in their teenage years, where they discovered that not only did their peers accept them for their bluegrass aptitude but celebrated them. For Strings, it happened when he excited his "hipster" friends with a performance of "Black Mountain Rag" at a house party, and for Tuttle, around the time Mumford & Sons was gaining popularity, her classmates discovered her banjo talents—and she became the "banjo girl."
"Bluegrass is the music that can make me laugh or cry, that I really feel in my soul, and so my electric guitar started collecting dust."—Billy Strings
Now deep into their discographies, the 30-year-old phenoms took a pause before (and amidst) tour dates to reconnect and discuss the many experiences they've shared in modern Americana music. The following conversation offers a view into that world, as well as unique insights into why the two get along so well as both musicians and people.
Molly Tuttle: Billy, you made that awesome new record with your dad. When you were growing up playing music with your dad, did you ever feel like there was a disconnect between the bluegrass side of what you did and other music you played with your peers, or listened to with your peers?
Billy Strings: Yeah, I remember it was probably around the time I was in middle school—I was a skateboarder, and I was playing video games and just hangin' out with friends. I was getting too cool to be hanging out with my dad's old friends playing bluegrass. I was like, "Man, I want to play music with people with common interests, not just sitting here talking about Gunsmoke or something."
But I joined metal bands and got that out of my system, and eventually, I came back around full circle and just had this realization that bluegrass is what I cut my teeth on and what I was spoon-fed as a boy, and it's really where my heart truly is. Bluegrass is the music that can make me laugh or cry, that I really feel in my soul, and so my electric guitar started collecting dust.
Tuttle: I really resonate with that, because I've gone through so many phases of trying to figure out who I am musically, and it took me longer to accept bluegrass as part of who I am. And it really is what makes me, me. But how do I tell my own story through bluegrass? 'Cause there are those two ends of the spectrum. I feel like I've gone the other way and been like, "Well, I'm not just a bluegrass musician, I play all this other stuff too." And then I've also felt like, I want to play bluegrass and make it authentic to the genre. It kind of came down to songwriting, to me—like, how do I tell my story through this music and show how it came to be such a big part of my life?
The two bluegrass virtuosos both grew up learning how to play from their fathers, one in California (Tuttle), the other in Michigan (Strings).
Photo by Alysse Gafkjen
Strings: What are some of your earliest memories of playing with your dad? Do you have any big moments as a child that you were like, "This is what I'm doing—I'm a guitar player"?
Tuttle: I remember as a kid, I played a lot with my dad and we would play around the area where I grew up, in the Bay Area—play different local shows. One big moment for me, when I was like 12 or 13, was getting to go to Hardly Strictly Bluegrass in San Francisco and seeing Earl Scruggs, Hazel Dickens…. Me and my dad somehow finagled backstage passes and got to go to this afterparty, and Hazel was there. It was just so cool. Gillian Welch was there, and Dave Rawlings. He was like, my guitar hero. I remember going into the greenroom to put my stuff down and seeing him just sitting there with a guitar, and that blew my mind. Just seeing people like that up close was like, "Whoa, I could actually do this, and this world feels like where I belong. I could see myself doing this for a long time." I realized I just wanted to play music as much as possible.
What was the Michigan music scene like for you growing up? Were there festivals or anything that was really important to you?
Strings: Well, I didn't go to many festivals. At least, when I was young and growing up and first learning how to play, it was more just like me and my dad, my uncle Brad Lasko, and a couple buddies sittin' around picking by the creek. But all these years later…. I watch other people on stage and I'm like, "How the fuck do they do that? How do they get up there and just play and sing?" I do that too, but I don't think I do it like other people do. I was at this festival in Texas [ South by Southwest ], and I was nervous watching other performers! I was nervous for them, like, "Oh my gosh, she's just up there singing and laying her heart out there! That is terrifying!"
Tuttle: [ Laughs. ]
Billy Strings' Gear
On String's latest single, "California Sober," he plays with the inimitable Willie Nelson.
Photo by Alysse Gafkjen
Guitars & Banjo
2017 Preston Thompson DBA Brazilian Rosewood Dreadnought, "Frankenstein"
2019 Preston Thompson DBA Brazilian Rosewood Dreadnought, "The Bride"
1944 Martin D-28
Rickard Open-Back Banjo
Effects
Grace Design BiX Preamp
Strymon Lex Rotary
Electro-Harmonix Micro Pog
Electro-Harmonix Freeze
Electro-Harmonix Pitch Fork
Electro-Harmonix Intelligent Harmony Machine
MXR Bass Envelope Filter
Red Panda Raster
Source Audio C4 Synth
Source Audio Nemesis Delay
Source Audio EQ2
Boss DC-2W Waza Craft Dimension C
Boss DD-8Boss SY-1
NativeAudio Pretty Bird Woman
Chase Bliss Wombtone MKII
Chase Bliss Mood
Chase Bliss CXM 1978
DigiTech Polara
Peterson StroboStomp HD Pedal Tuner
Ernie Ball 40th Anniversary Volume Pedal
Mission Engineering Expression Pedals
Strings & Picks
D'Addario Medium, XS Coated Phosphor Bronze (.013–.056)
Blue Chip TP48 Speed Bevel Right Hand
Strings: It's definitely a weird thing. I still just do not understand how we can get up on stage and do whatever it is that we do.
Tuttle: Do you get any sort of stage fright ever? For me it comes and goes. If you think about it too much.… Sometimes I'm like, what if I don't remember a single word to any of my songs? [ Laughs. ]
Strings: I just am always in a state of anxiety because of my career [ laughs ]. There's all this pressure. But I'm usually fine once I get out there. It's leading up to it. Even right now. I've been home for two or three weeks, and I'm leaving the day after tomorrow to go back on tour, and I'm scared that I don't remember how to do it! I don't know if I remember how to make a set list. I don't know if I remember if I can still perform a show. But once you get back out there, you just throw yourself into the ring and it's kind of like them guys that ride them bulls or something. You just kind of strap on, like, "Fuck it, here we go—8 seconds, hold on!"
Tuttle: [ Laughs. ] I feel like it's this third thing, like your subconscious takes over and then you remember how to do it. But if you start thinking about it in advance…. We took some time off over the winter break and I had the same feeling, like, "Whoa, how did I do that before?" It really is kind of an extreme thing that we do: traveling all over the place, playing in front of a lot of people.
Strings: But shit, what the hell else are we going to do? Heavy lifting?
PG: Molly, I know Crooked Tree came out about a year ago now. For your earlier recordings, you said that you were trying to experiment musically, whereas this one was more traditional. Is that right?
Tuttle: Yeah, I kind of went back to the bluegrass sound that I grew up with. My first full record, When You're Ready , I'd just gotten to Nashville. I was writing a bunch of songs where I didn't know what category they fit into genre-wise. I had so much fun making that record; I really got to experiment with a different style. But then I think something happened in the pandemic lockdown. I got so nostalgic for that music I grew up with, and I missed my family; I missed the community aspect of bluegrass. I love this kind of music; it is folk music, in a way, where it gets passed down from generation to generation. It's such an organic style of music that brings people together.
So, I started writing bluegrass songs for fun. I was like, "What I feel like I hear bluegrass missing these days, when I turn on the radio, is songs that sound original." So, I wanted to write songs that could be sung in a bluegrass band, but also told my point-of-view and my story. Once I started, it was hard to stop, and I realized, "I have a full album of songs now, I might as well go into the studio this summer and try to knock out a record."
Molly Tuttle's Gear
Tuttle has been performing professionally since the age of 13 but didn't blow her bluegrass cover in school until her later teens.
Photo by Alysse Gafkjen
Guitars
Prewar Guitar Company Brazilian Rosewood Dreadnought
Effects
Grace Design FELiX
Audio Sprockets ToneDexter Acoustic Instrument Preamp
Strings & Picks
D'Addario Medium Coated Phosphor Bronze


Dunlop JD Jazztone 207
Strings: And you won a Grammy for it. And I was so happy, because I was just like, she deserves this so much. Obviously, this always gets brought up, but we used to live in the same house—we used to be roommates. And I would always hear Molly practicing and shit, and I'd be like, "Fuck, man, I suck!" [ Laughs. ]
Tuttle: [ Laughs. ] I get that feeling when I hear you play, because I feel like we have such different styles. I'm like, "I could never do what Billy is doing." The way you attack the guitar—I hear Doc Watson, but then there's also your metal influence as well. I'm just in awe of your playing.
Strings: I'm just fakin' it. I'm just wingin' it the whole time, constantly. But are you still usin' the same pick? Those little black things? What are those?
"Sometimes it may not look like I'm tensing up from someone watching me playing, but inside, I am kind of tense. But I think it is almost meditative, where you have to let go and let yourself play."—Molly Tuttle
Tuttle: Dunlop Jazztone picks. I feel like I should switch. They're not fancy picks, and sometimes I'll try out other picks and people will be like, "That sounds really good." [ Laughs. ] I'm just so used to them; I've used the same picks since I was 10 years old. They're pretty heavy picks.
Strings: Well, that's your sound, where you're comfortable. I'm finding that that's what it's all about, for me anyways, is trying to make it comfortable to play. When I watch other people play, like you, or [ Bryan ] Sutton, it looks like almost kind of effortless in a way. There's not all this tension, there's not veins popping out [l aughs ]. I'm straining, but some people I see play and there's just wonderful technique.
Tuttle: I have that too. Sometimes it may not look like I'm tensing up from someone watching me playing, but inside, I am kind of tense. And that's when I feel like my playing doesn't come through as well. But I think it is almost meditative, where you have to let go and let yourself play.
When Strings and Tuttle lived together in Nashville, they both felt intimidated when overhearing the other practicing.
Photo by Alysse Gafkjen
Strings: What kind of strings do you use?
Tuttle: I use D'Addario medium gauge [ phosphor bronze ]. I use the coated ones because my hands are very acidic.
Strings: Me too! I use the same ones! Shout-out to D'Addario .013–.056 medium gauge phosphor bronze, right? Gotta have that medium gauge, gotta have that coated, 'cause we sweat like crazy. And they don't break! What guitar are you playing mostly on stage? Which one is the one that's doin' it for ya?
Tuttle: Right now, I'm using my Prewar Guitar Company. It's a Brazilian rosewood D-28 style. I feel like the action and setup stay pretty even on tour, and I love the tone of it. That's my current fave—what about you?
Strings: Still my [ Preston ] Thompson that I've been using forever. Brazilian, spruce-top dreadnought. I've been playing it for several years and that's the guitar that I play on stage. It's been through hell. It's been smashed and it's been put back together. But it always sounds the best plugged in. I use a K&K pickup and I run it through a [Grace Design BiX]. Also, I have a '45 Martin that I just put a pickup in. I just wanted to have an old one that I can play on stage. But every time, I go back to Old Faithful. I started calling that guitar "Frankenstein" originally because I put all those different pickups in it, and the switch, and it's got a microphone installed on the inside that goes to my in-ears. And I had them make me another one just like it, and that's "The Bride."
This isn't guitar nerdy stuff, but I have this song, "Away from the Mire." I wrote it when I got into a fight with my brother. Then, one night when I was on stage singin' it, I realized that I wrote that song for myself; I was the one that needed to hear it. Do you have a song like that?
Tuttle: Definitely. I think the first therapeutic song that I remember recording of mine was "Good Enough," that I recorded on my first ever EP. It's about accepting yourself. I think I was struggling at the time with anxiety, and just getting started in my career and not knowing where things were going. I was trying to help myself stay in the moment. And I feel like that's still a theme that I still write about. It means different things to me throughout my life.
"I think our duty is just to bring a little joy to people's day. And sometimes they can give it back to us by accepting our audible diaries that we pour into our songs."—Billy Strings
Strings: Well, just keep doing the work, because it's beautiful stuff and we all need it! I think our duty is just to bring a little joy to people's day. And sometimes they can give it back to us by accepting our audible diaries that we pour into our songs. We're lucky to be able to do what we do, and I'm stoked watching you and your band out there kicking ass. It's just fuckin' awesome.
Tuttle: Likewise! I just love how you're bringing this music to the masses, really educating people too about where it came from and your heroes and why it's so important to you.
Strings:
I guess we just gotta keep our sticks on the ice and keep truckin'. 'Cause I think we're both doing good, and if we just keep our heads down and keep playing guitar, I think we're going to be alright.
YouTube It
It doesn't take a trained eye to appreciate the wild shredding energy of Billy Strings and Molly Tuttle, seen in this live performance of Strings' "Billy in the Lowground."