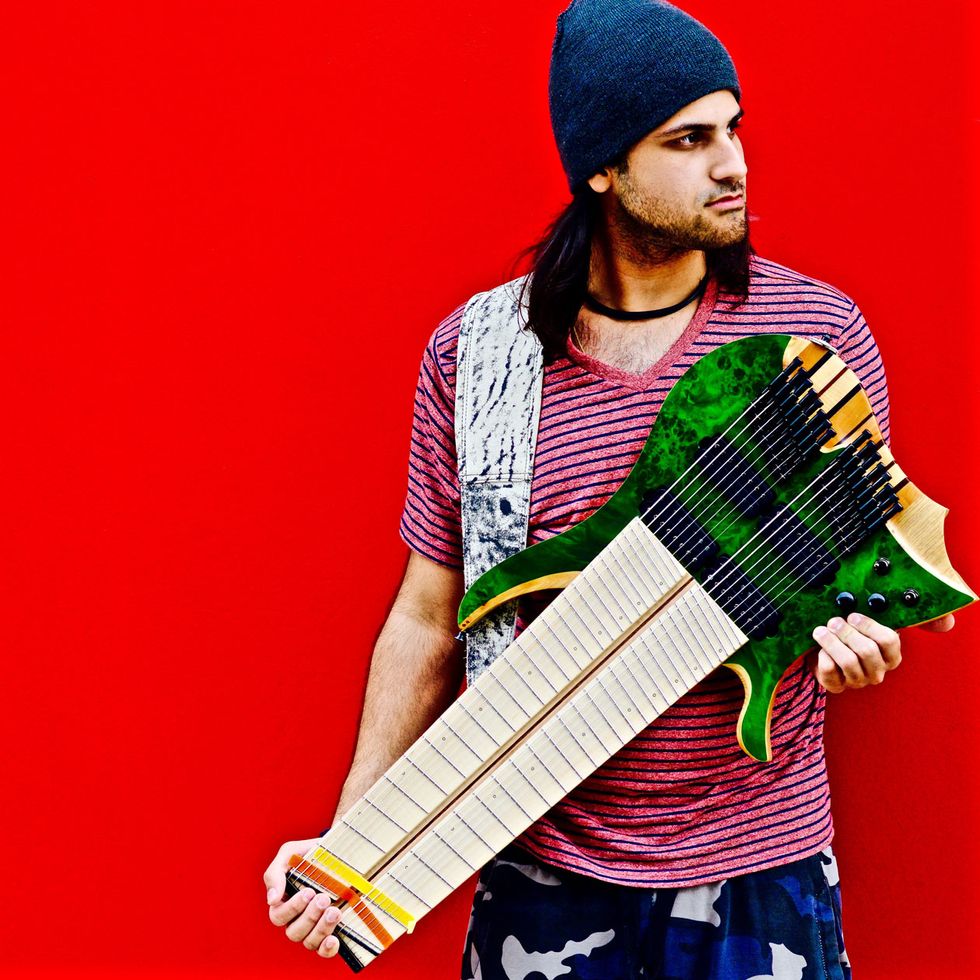 Berklee-educated Felix Martin can play anything from Charlie Parker to Dream Theater to Bach or Beethoven, but his preferred genre is progressive metal and rock. Photo by Mary Escalona
Who built your guitars and helped you with the concept?
I've got many guitars and they were built by a few luthiers, but the one who built the most is JP Laplante. He is a luthier in Canada. He helped me with the concept and to design it better, too. The lower horn was a big problem and then the weight—he helped me a lot in the beginning. Nowadays, I play a Skervesen—they are a Polish company—but I still play the guitars JP made me, too.
Were you in Venezuela when you built the first one or were you already at Berklee?
I was at Berklee. I was kind of building on it in Venezuela, because I had the idea already. I did a few experiments in Venezuela, but not officially. I was a teenager and I didn't have access to luthiers and all that.
Do you vary your pickup choices and do you keep both necks activated all the time?
I mostly use the middle position—which is weird for guitar players—on both fretboards. Sometimes I use the bridge pickup for distortion when playing lead lines. I don't play many lead lines nowadays, but when I play lead lines, like with a pick, I use the bridge. For some stuff, I use the neck, but 95 percent of the time it's the middle. And both fretboards are always on. I'm always using them.
Do your guitars have two outputs?
The guitars have two outputs, but I always use both outputs on mono. Right now, I'm using the Axe FX II.
"Mono" meaning both outputs go into the same amp and it's the same tone on both necks?
Yeah. I can do different stuff on both necks, but I prefer to play mono, as one guitar.
Your guitars have different string combinations, like seven and seven, or eight and six. what are you using now?
Eight and eight is my main setup right now. The other ones are cool, but eight and eight fits my style a little more. I can write more stuff and I have more freedom.
Are both necks tuned the same way?
Yeah, all the time. I just use regular tuning. The lowest string is Gb/F#. It's F#–B–E–A–D–G–B–E.
"Both fretboards are always on. I'm always using them."
I saw a picture of you with an 11-string. Do you use that?
That was just joking, man. If you see me with a different guitar, like an 11-string or a 9-string or some weird bass, I'm joking with that.
Have you ever experimented with a Chapman Stick?
Yeah, but they're not a guitar. I'm a guitarist. It's a whole different thing. It's not even a bass. I can't play a Chapman Stick. You would be surprised, because my technique is similar, but the Stick is just a total different thing. I like it. I'm friends with a lot of Chapman Stick players. I just can't play it.
Your Skervesen has fan frets. What do you like about them?
They're just a different instrument. I don't want to say it's better or worse; it's just the feeling of the instrument is different. Technically, you get a better sound on the lower strings because you get more tension because of the fan frets, but for me I see it more as a different tool for writing. I write different, because the instrument feels different. My next guitar probably won't have fan frets. Not because I don't like it—I just need different tools for writing.
What are you using to mute the strings?
I don't play open strings that much. To play tapping, without getting too much noise, I use Velcro.
In the studio, do you record everything live?
Everything live. I don't like to do double-tracking or layers of guitars. I like to play one thing and that's it. The new album is just like a live trio. I don't like to use backing tracks or strings in the background. I just like the sound of a trio.
Do you sit in the same room together when you record?
No, we record everything separated. That's the way we record it, but the album feels live because we aren't doing layers of guitars.
Do you plug your Axe FX II into the board or do you mike a set of speakers?
It depends, but mostly the Axe FX just going into the board.
Do you do the same thing live?
I plug the Axe FX into the PA all the time. I don't use amplifiers anymore. Someday, I want to start using amps again, but not any time soon. When you use an amplifier, you get a little distortion and the clean tone won't be as clean as a direct sound. I do a lot of clean tapping, so it sounds better if I go direct. It's cleaner for me.
Watch Felix Martin in action on his custom Skervesen 16-string doubleneck at NAMM 2017. Martin doesn't currently use pedals in his regular rig, but this live clip from the Jim Dunlop booth is a good example of his incredible tapping technique.