This pickup selector's position could indeed allow a player to switch from rhythm to lead at a moment's notice, but it could also allow a player to switch from rhythm to lead without notice. Whoops. NOTE: Please indicate small selector switch near bridge with a red circle or the like.
The Palm Switch
Title:
Lazer guitar.
Patent Number:
254,011
Filing date:
11/7/1977
Inventor:
Joel M. Cohen
Excerpt: "The Palm Switch is the only switch in the only position which allows the player to kick from rhythm to lead without moving his hand away from the strings… players are attracted to it because it's FAST FAST FAST!"
To be honest, this is only one feature included in the design patent for Cohen's "Lazer" guitar. Although the instrument itself is a striking, angular design—ahead of the heavy metal curve for 1977—it is the palm switch that occupies two full pages of description. Inspired by Jimi Hendrix's upside-down Strat, the pickup selector is placed insanely close to the top of the bridge pickup (Photo 1). You get the picture, right?
---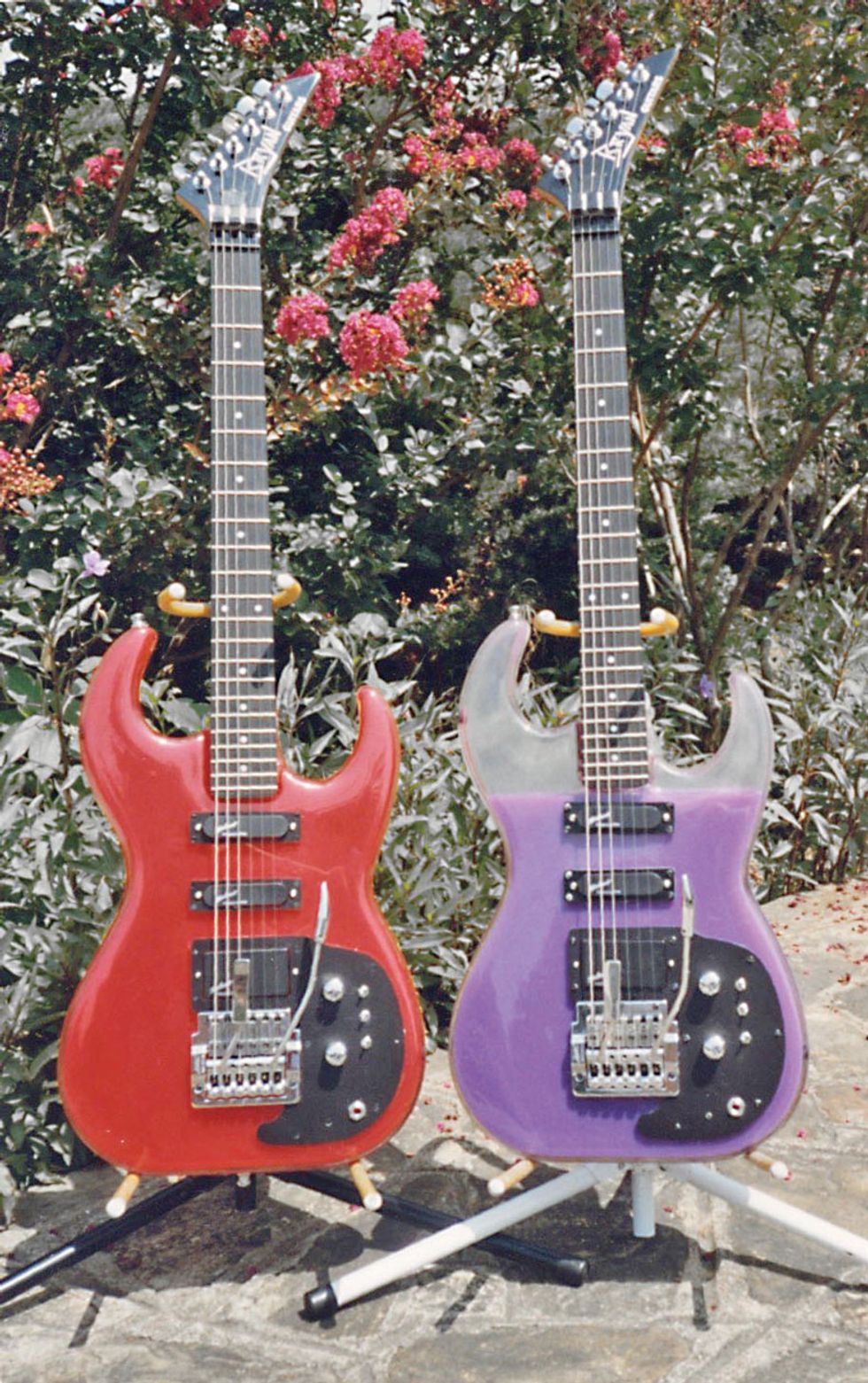 Sports fans are crafty at sneaking booze into a stadium. Likewise, this guitar could have served double-duty for toting a couple quarts of bourbon onto the NAMM-show floor.
Big Gulp Guitar
Title:
The Bryan Guitar (represented by Synergy Consultants).
Filing date:
1980s
Inventor:
Unknown, but I bet it's Bryan.
Not actually patented, the "The Bryan" guitar (Photo 2) deserves a mention because of its unique, hollow-Lexan body filled with deliciously colored liquid. This predates the "Wavecaster" used by John 5 and Kirk Hammett by 20 years. Too bad they didn't get that patent! Resembling a 1980s "super strat" with the requisite Kahler whammy and hockey stick headstock, the Bryan could change color by changing the "specially formulated non-toxic liquid." The solution was said to enhance the natural harmonics, producing "an extraordinary sound with unequalled performance." The white paper on this breakthrough of sonic delight mentions that the concept was patent pending, and offered to license the rights to manufacture on an "industry standard" basis, whatever that means. If only there was a straw.
Now that the NAMM show is a recent memory, I'm wondering what the brightest bulbs have shown their light upon. Could it be a guitar that can finally and accurately mimic both Fender and Gibson sounds? Would it be a solid-state amplifier dripping with enough luscious tone to render Joe Bonamassa's amp collection obsolete? Or is this the year that a pedal maker perfects the talent booster? I wasn't there, so I haven't got a clue, but I can look back over the years for some guidance. Not every one of these gems made it to a trade convention, but they do represent the kind of determination and freethinking I admire.