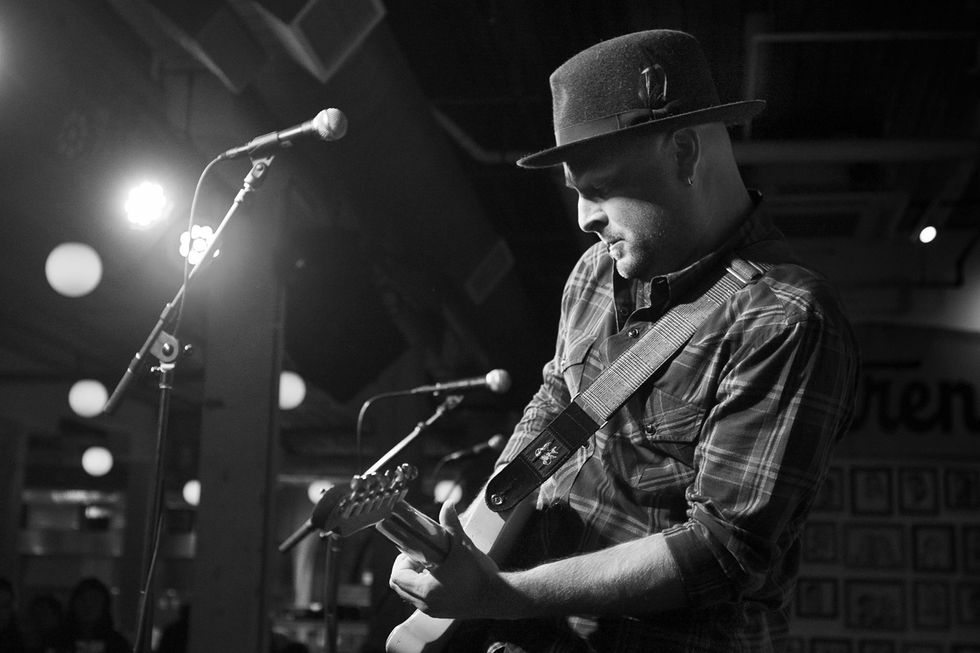 While he's a superb utility player backing up other musicians, Trapp's electric style really comes to the fore on his own gigs where his fusion of country, rock, bluegrass, jazz, and Latin sounds distills into an original voice. Here, he's at Nashville's Acme Seed & Feed. Photo by Steve Harman
Broadway or the Highway
For a hot country guitar picker in Nashville looking to get noticed, all roads lead to Robert's Western World and the Don Kelley Band. "My local music store in Nashville had been playing their CD," says Trapp. "I said, 'Who's that guy playing all those steel bends?' They said, 'That's Johnny Hiland. He plays with Don down at Robert's.' I went down to Broadway every night they were playing and stood in the doorway. Within a month or so I knew Don well enough to say, 'If Johnny can't make the gig, I'd love to sub for him.' But he wouldn't let me play until one night this guy who knew him said, 'You should let Guthrie sit in.' Don let me get up a few times and finally said, 'Johnny's leaving next year. If you want the gig you can have it.' I played that gig for four years, four nights a week, four hours a night.
"Don would tell me what pickup to use on which songs, and would say things like, 'If you're playing a country shuffle, play the first solo on the front pickup, and the second solo on the back pickup.' Playing those songs at those tempos and being the only soloist meant my chops were probably at their best for that style of music while I was in that band."
"Don would tell me what pickup to use on which songs, and would say things like, 'If you're playing a country shuffle, play the first solo on the front pickup and the second solo on the back pickup.'"
A year or so into his Robert's tenure, Trapp landed a gig with country star Patty Loveless. "All the stuff that I learned with Don translated to her gig," he says. Between Loveless and Kelley, Trapp no longer had to commute to the Gulf Coast to earn his rent. Through his 20s he toured with Loveless and resonator virtuoso Jerry Douglas. "The bluegrass I had been working on translated to the Jerry Douglas gig," he says.
Trapp's steady rise has been based on massive musicality, fed by prodigious technical skill that encompasses rapid bluegrass-style flatpicking mixed with the classic Nashville hybrid pick-and-fingers style. "All the alternate picking stuff from bluegrass helped with electric guitar," he says. "The hybrid picking didn't come in until I started playing electric. I got turned on to Danny Gatton and started learning from videos.
"I've practiced my ass off," says Trapp. "I never practiced with a metronome, but I learned by playing along to records, and then from performing live. Most young kids are not jamming at parties and festivals or playing club gigs for 10 or 15 years. They don't have the time, opportunity, or patience."

Guitars
Floyd Cassista T-style with Fender Mexico Tele pickups
Russ Pahl T-style with Pahl handwound pickups: S-type pickup in the neck and T-type in the bridge
Russ Pahl T-style with Pahl handwound pickups: Firebird-type in the neck and T-type in the bridge
Danocaster Double Cut
1969 Gibson ES-335
Gretsch G6118T-LTV 125th Anniversary
Collings 290
Jerry Jones Baritone SingleCut
LSL Topanga with P-90s
Floyd Cassista S-type with Lindy Fralin pickups
Two vintage Teiscos
National M2 resonator
Sim Daley Mandolin
Nylon string acoustic (maker unknown)
1933 Gibson L-00
1955 Gibson J-50
Collings 000
Early-1970s Fender Precision bass
Amps
1966 Fender Princeton Reverb with Eminence Private Jack
1966 Fender Deluxe Reverb with Eminence Alessandro GA-SC64
1966 Fender Vibrolux Reverb with Celestion G10s
1966 Fender Pro Reverb with Eminence Alessandro GA-SC64s
Bogner Goldfinger 54 Phi
Magic Amplification Brit MkII
Vox AC15 Hand-Wired
Effects
J. Rockett GTO
Vintage Nobels ODR-1
John Landgraff Dynamic Overdrive
XAct Tone Solutions Precision Multi-Drive
Custom fuzz by Barry O'Neal of XAct Tone Solutions
Xotic RC booster
Strymon Brigadier delay
Strymon El Capistan delay
Strymon Flint Tremolo & Reverb
Electro-Harmonix Deluxe Memory Man
Vox Wah
Gretsch Play Boy
T-Rex Tremster
Moog Moogerfooger MF-102 Ring Modulator
MXR Phase 90
Boss DD-7 Digital Delay
Boss TU-2 Tuner
Dunlop DVP1
Dunlop DVP3 Volume (X)
Strings and Picks
Fender-style medium picks (played using the round edge)
Glass slides (medium to heavy)
D'Addario (.010–.046)
D'Addario Baritone Light Gauge EXL158 (.013–.062)
D'Addario ECG25 Flatwound Light (.012–.052, for Teisco)
D'Addario EJ40 (.011–.047, for acoustic guitar)
D'Addario EJ74 (.011–.040, for mandolin)

In a town where many session players are required to record tracks over drum machines for an endless string of "artists" singing virtually identical lyrics about the girl, the beer, the truck, and the lake, Trapp has managed to make a living while avoiding those kinds of sessions. He contends it is not really a choice.
"You end up where you're supposed to be," he explains. "If I chased pop country music to make money, I would be unhappy because I would be playing music I don't like, and I wouldn't be good at it because I don't like it."
Guthrie U
Thankfully, Trapp is able to find alternate income streams in a number of successful, music-related, side projects. One is a teaching career that includes working with the giant online educational company ArtistWorks.
"I didn't get into education on purpose, but the more I played live, the more people wanted to take lessons," says Trapp. "I thought, 'If I can teach and make a little extra money, why not promote it a bit?' I put a couple of things up on social media and started teaching some private lessons. I found I enjoy it and it can be lucrative, so I started doing more.
"ArtistWorks approached me because I can teach the country-guitar curriculum, and they appreciated that I was active on social media and would be good about promoting it. They helped me develop a curriculum. I would send them some drafts and we'd go back and forth for a couple of months until we got it mapped out. We filmed about 300 lessons: beginner, intermediate, and advanced, with five cameras and high-quality audio. I've got about 550 or 600 students all over the world now. Once you subscribe to the lessons, you have the option of doing a video exchange. For example, somebody in Australia can send me a video of his or her progress, and I can respond with another video. I'm seeing a ton of progress with these students."
Trapp is involved with another educational venture, Segue 61, which is a kind of graduate school for people entering the music industry. It covers all the things you need to know after you have learned your craft. "A couple of guys approached me about getting involved in creating a post-graduate, boutique, mentor-driven, eight-month, certificate-based program here in Nashville," Trapp explains. "I provide them with mentors and teach classes. We bring in Nashville working professionals to teach publishing, branding, artist development, engineering, producing, songwriting, management, tour management, and law. Everybody has to take all the workshops. Even if you are a songwriter, you have to take everything else, so you can communicate in the professional music world."
A third project is a signature pedal deal with J. Rockett Audio Designs: the GTO (Guthrie Trapp overdrive). "They wanted to do a pedal with somebody in Nashville, but not necessarily a Keith Urban or Brad Paisley," he says. "We came up with an overdrive based on one of my favorite old pedals—the Nobels ODR-1, which is a Nashville staple. The original Nobels was like a Tube Screamer without all that midrange. It was a smooth overdrive that didn't change your tone. It just sounds like you're cranking up an amp. My version has a bit more gain, more tone control, and is better built than the Nobels."
Trapp's first solo album, 2016's Pick Peace, integrated all his influences into a mature, fully realized style over 10 instrumentals. His new Life After Dark seems more like the kind of album many session guitarists release first: a calling card that displays a mastery of many genres—blues, country, African, and jazz—on individual tracks. It also enlists the sort of cadre of guest stars guitarists often feature on their debut releases.
"For the first record, I didn't want people to think I was relying on their names to try to sell it," says Trapp. "I wanted vocal guests on this one, just because I love playing with singers. We had some of my favorites. Jimmy Hall is like a Southern Mick Jagger. Jeff Beck, who could have anybody in the world sing with him, uses Jimmy because he's a badass. I also wanted to have some of my instrumental heroes, like [mandolinist] Sam Bush, but I didn't want guitar guests. I never understood why a guitar player would make a record and then have 10 guest guitarists. Vince Gill sang on the record but didn't play guitar. He said, 'You've got that covered.'"