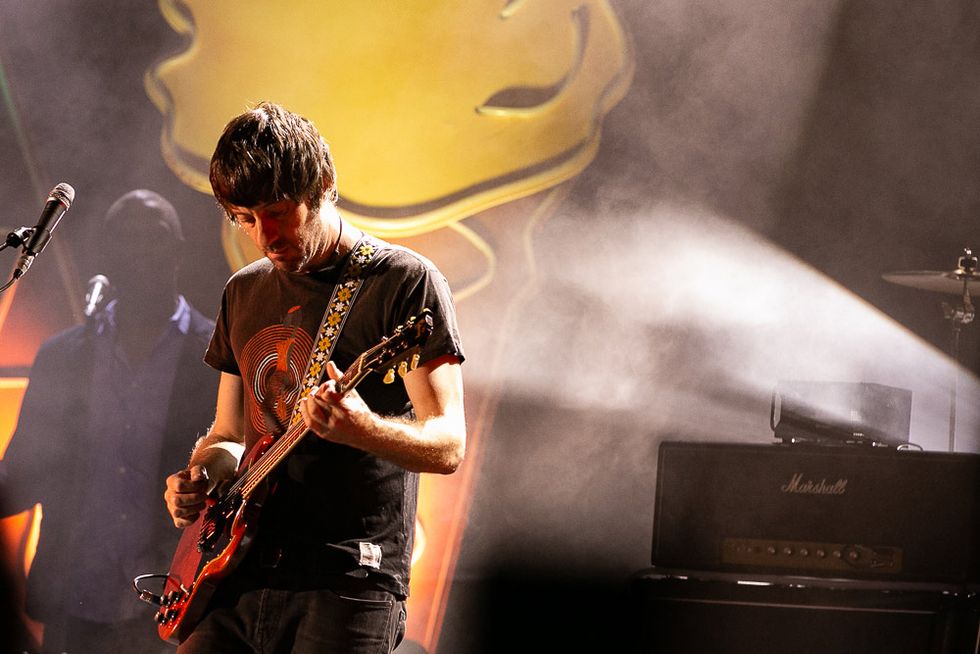 Coxon's '60s SG Special first turned up around 2004's Happiness in Magazines solo LP. After the Blur reunion it became Graham's vehicle for the viscous live versions of The Magic Whip's "Go Out" and the tender and wistful ballad, "My Terracotta Heart." Photo by Debi Del Grande
That honk you get from your SG in live versions of "Go Out" is a great sound. I hear the influence of the baritone and tenor sax players you dig in that tone.
I really like the idea of a note that moves through a whole chord sequence. There's one of those in there—that just pokes at you through the whole thing. I think there's some slapback echo and my SG, and some RAT distortion. There might be a tiny bit of reverb. But yeah, I do love a saxophone.
You're a big fan of a lot of post-bop and free jazz players, and quite a good saxophone player yourself. As a guitarist, do you instinctively or consciously work with the sound palette and freedom of the jazz musicians you admire?
Well, a lot of that freedom in the playing comes from art school. The guitar is my favorite paintbrush. But, yeah, I'm a sax player as well. Ornette Coleman, Jackie McLean, and John Coltrane—those are my people. I really love the period when the bebop stuff started to become free jazz. But it's a collection of things. I love Syd Barrett too, and that idea of big, bold brush strokes, which is really a very American Abstract Expressionist, New York school, Willem de Kooning-style approach to guitar.
Yo La Tengo and Pavement were also great encouragement to do whatever I wanted when I had the space. And weirdly enough, I never cared what anyone thought when I was doing that brash guitar stuff—which is really unlike me. But musically, I loved that sort of New York insanity. There was a great [English TV arts program] South Bank Show episode about the New York scene and Sonic Youth and John Zorn. I loved Sonic Youth, and I'd listen to Spy vs Spy, which was John Zorn's hardcore approach to Ornette Coleman. Then of course Pink Floyd's approach to loose psychedelic improvisation, too. I just concentrated on trying to get all that in one place.
That also led to places where I wouldn't try to do too much—just let the guitar talk through pedals. There's an amazing song on Yo La Tengo's I Can Hear the Heart Beating as One, "We're an American Band." I love the guitar solo at the end—it just takes off and gets more formless and drenched in distortion and reverb. It's a very free and a very American approach that was really inspiring. And there just wasn't much of that going on in England at the time.
On the flip side, while the popular perception of Graham Coxon is often tied to the anarchic aspect of your creativity, you also fit in the tradition of George Harrison or Johnny Marr—chord players who blur the roles between rhythm, lead, and songwriting—which really takes discipline.
It's kind of out of necessity, isn't it? So many guitar players I admire had to do all those jobs. Pete Townshend—my gosh, I haven't even mentioned him, he's such a huge influence—he had to do all those things in the Who. But yeah, just making little changes within the chord you're playing. I mean, I am a rhythm player really, but I can't just stand there strumming. I'd die from boredom. So I tend to move my fingers around and riff a lot within rhythm chords, using little hammer-ons and bends in the chord just to entertain myself. And I suppose that's really how you develop your own style and touch. It just comes from playing a lot and having to please yourself.
But things always had to reflect the drive of the song, as well. In Blur I had to channel Damon and interpret what he was getting at from a melody line, or the tempo, or his tone of voice—often before there were lyrics to latch onto. So as a song came together in the studio, I would have to generate ideas that supported those emotions pretty quickly and try different things over and over until Damon would get excited and go "yeah, yeah, yeah!"
That's been my role for such a long time and I really like that. It's exciting. I can't really sit there and shred and impress people with technical playing, but I can come up with things that back up the emotion of a song.
I recently listened to The Great Escape, which probably marks the high point of Damon's pure pop explorations with Blur. And oftentimes it seemed that the poppier things got, the more inventive your playing became. Did you relish the challenge of working against those pop structures?
Well, I knew I didn't want to just strum. So sometimes I'd try to come up with angular stuff, if it fit the mood of the song. I mean, the simplest example of that is "Girls & Boys" [sings rhythm guitar riff], which is me just being deliberately awkward because I knew it was going to be a very dancey tune.
"I am a rhythm player really, but I can't just stand there strumming. I'd die from boredom."
But really, I was just having fun! Trying to fit all the ways of playing an A chord in one bar [laughs]—things like that. And I was so inspired by that American stuff—watching people like Steve Malkmus play, he was so free when he played. There was a lot of humor and mischief behind it too. Maybe that's the one difference between my playing and some of the American stuff I admired. I can't put up with too much intensity before I have to make a bit of a joke. So I would throw in something daft or purposefully cliché. It's really my weird personality crammed together with all this music in my head that I can reference. It's all stuck there, and then you come across a chord, or something in the melody reminds you of something, and out comes that file from the cabinet. That's just how my brain works.
Blur went through some real ups and downs in the early days. The label nearly dropped you around Modern Life Is Rubbish. Those seemed like stressful times, but they were pretty mind-boggling in terms of Blur's stylistic growth. You guys got very hot and prolific right around then. How does business affect creativity in those situations? In a way, you're playing for your life.
I always sort of played for my life, really. But I was blissfully unaware of what trouble we were in. It was insane, 1992. We were ripped off and had been mismanaged and owed loads of money. We thought we were going to be thrown in jail. But we also thought the work we were doing was really good. So we went on those two insane tours of the States. That was a big shock to me. We had two months, out with my friends, with no one around to tell you what to do. Flipping heck! In two weeks I was crying—I didn't even know why. [Laughs.] I was such a state, because no one warns you and says, "If you carry on like that, you're going to have a nervous breakdown." I didn't have the voice of Keith Moon coming down from the heavens saying, "Graham, you must stop being such a maniac!"
So that was really just youthful energy and creativity driving all that output. Even the B-sides from that time are superb songs and sonically inventive.
Yeah, we were crazy, just creating and creating and creating. We'd work on the B-sides late at Maison Rouge studios all on our own without a producer. We'd stay up all night working on things like "Oily Water" and "Resigned," which made the album, and then things like "Bone Bag" and "Peach," and a bunch of other stuff that didn't make the record but are among my favorites. But [to Food Records label chief David Balfe] that was all weird shit, and we were getting yelled at to come up with a single. I just thought "Yeah, whatever." But Damon was really under pressure to come up with the goods. And he did. "For Tomorrow" and "Chemical World" really saved our bacon. Our American label didn't like Modern Life Is Rubbish, though ... [incredulously] they wanted us to re-record the whole thing with Butch Vig. Which might be interesting now, actually. [Laughs.]
At that point, you guys were also having a really good time. I've been told Blur was the life of the party on the Rollercoaster tour. [The now near-mythical Rollercoaster tour featured Blur, My Bloody Valentine, Dinosaur Jr., and The Jesus and Mary Chain.] I can't imagine that many people who saw those shows realized how legendary that lineup and the guitar players involved would become.
I know! It was flipping amazing. These were my favorite people—the people I was listening to anyway. And suddenly I was standing onstage while they were soundchecking. Not for long though, jeez—they were all flipping loud. It seemed like Dinosaur Jr. wouldn't really play a song for soundcheck; they would just make as much noise as possible. But I absolutely loved J's playing and loved Murph's drumming. I was in heaven every night.
We were the insane puppies on that tour. The other groups were a bit older. They must have thought, "My god, will these guys ever shut up and stop wagging their tails." But it was a very rock 'n' roll tour and I had a lovely time—hanging out with My Bloody Valentine, who I absolutely worshipped. Sitting having a smoke with Deb [Googe, bassist for My Bloody Valentine] and then, "My god, I'm sitting here with Kevin Shields and Belinda Butcher. This is insane." I was freaking out. I think a lot of the audience thought we were too poppy. But we were really doing our best to be horrible and noisy.
Of course, you're also a really dedicated folk and fingerstyle player. You contributed to some of the records and shows celebrating Shirley Collins and Bert Jansch. And you took on a pretty challenging, long-form fingerstyle-and-vocal piece in covering "Cruel Mother" on the Shirley Inspired tribute LP.
I know. I ended up cursing myself when I had to play it live. "Why didn't you just strum like everyone else?" [Laughs.] I also played a couple Bert Jansch tribute shows that were really scary, because playing Bert Jansch's stuff is not easy. I was nervous as hell. But yeah, for a while there I got really obsessed with under-saddle pickups and internal microphones going through blend mixers and EQs. I was really into the idea of getting an acoustic guitar and a little bag and going to America and playing weird bars, which never happened, but one day, I hope. I'd love to do that some time.