Fisher Dynamic Space Expander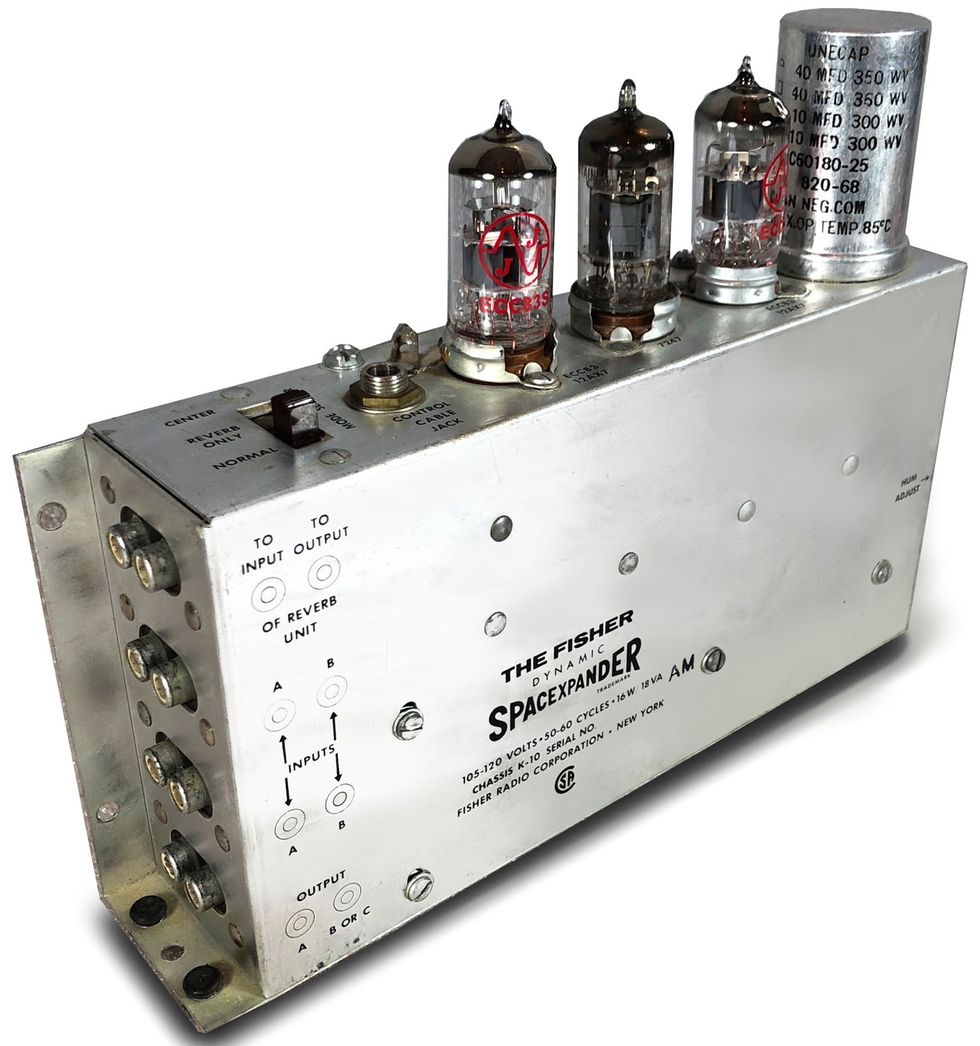 This U.S.-built, tube-equipped reverb features the sort of Gibbs tank originally used in Hammond organs and sought-after by dub aficionados due to its association with King Tubby. This was another of the units that didn't fare well with guitar. We're looking into whether it might be possible to modify it to perform better with guitar, but in standard form it proved extremely noisy.
---
Kawasaki Reverbe Mixing Unit KEA-105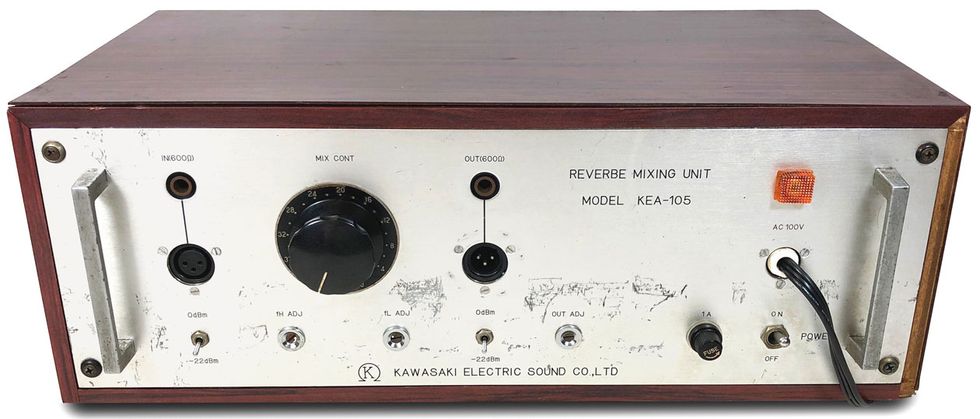 Possibly a one-off custom build for the Japanese broadcast market, this no-expense-spared unit features three two-spring tanks with springs made of different materials, and a middle tank that's wired out of phase. Further, it has input and output transformers, as well as transformers on the driver and make-up amp. It weighs a ton, but sounds so nice that it's permanently installed in the Soundgas Studio. I've never seen another like it.
---
Simms-Watts Mixer Unit Hammond Reverb

This rather uncommon British unit (which has an enticing EMI logo on the rear) boasts four input channels and a Hammond tank (possibly from an L-100). I've had mine for many years and haven't seen another until somewhat recently. Very little is known about Simms-Watts other than it was one of a plethora of U.K. amp builders who disappeared after a few years in the '70s. I kept this one, as I found it vastly superior to similar Laney and Carlsbro units I'd had. The sound is full, rich, and reasonably smooth—which I suspect is mostly a testament to the quality of the tank. Mine may be ready for a little TLC, as it didn't sound as good in the shootout as I remembered.
---
Klark Teknik DN-50

This twin-tank unit from Britain was probably designed for front-of-house use and features two channels, each with dual-band EQ. Most of the units designed for studio use have not fared so well with a guitar plugged in direct, but this was an exception. Plug into the quarter-inch jack under the rear panel's balanced XLRs, and it yields a smooth, full sound with impressively flexible tone-shaping abilities.
---
AKG BX-5

Although best known for its microphones, German outfit AKG also made a range of superb spring reverbs, of which this is the baby. The top-of-the-line models, the BX-20 and BX-25, are large, heavy, extremely complex and delicate units with a smooth response unlike any spring reverb I've heard. But while the BX-5 is a competent recording and mixing tool, it didn't fare well as a direct guitar effect.
---
Danelectro 9100

Sadly, this shiny box is no longer with us, so we weren't able to share audio files for comparison, but this product of Neptune, New Jersey, was quite something. It served up classic tube reverb with a long decay. Once heard, it's never forgotten. Definitely one to check out, although it's easier to find in the States than here in Europe.
Final Thoughts
I had a real gas comparing these units. I knew I'd love the Grampian and the Telefunken, but I was bowled over by how good the Rolands and Korg sounded as guitar reverbs. We at Soundgas are also no strangers to abusing and overloading mic inputs to turn things really filthy—it's in our DNA—so I was very taken with how well many of these reverbs performed as overdrive or fuzz units, as well. I've learned to never dismiss a reverb simply because it wasn't designed for guitar—I'll try everything at least once. The worst that can happen is you might not like the sound. But if fortune smiles, you might just discover a whole new ocean of sun-drenched delights.