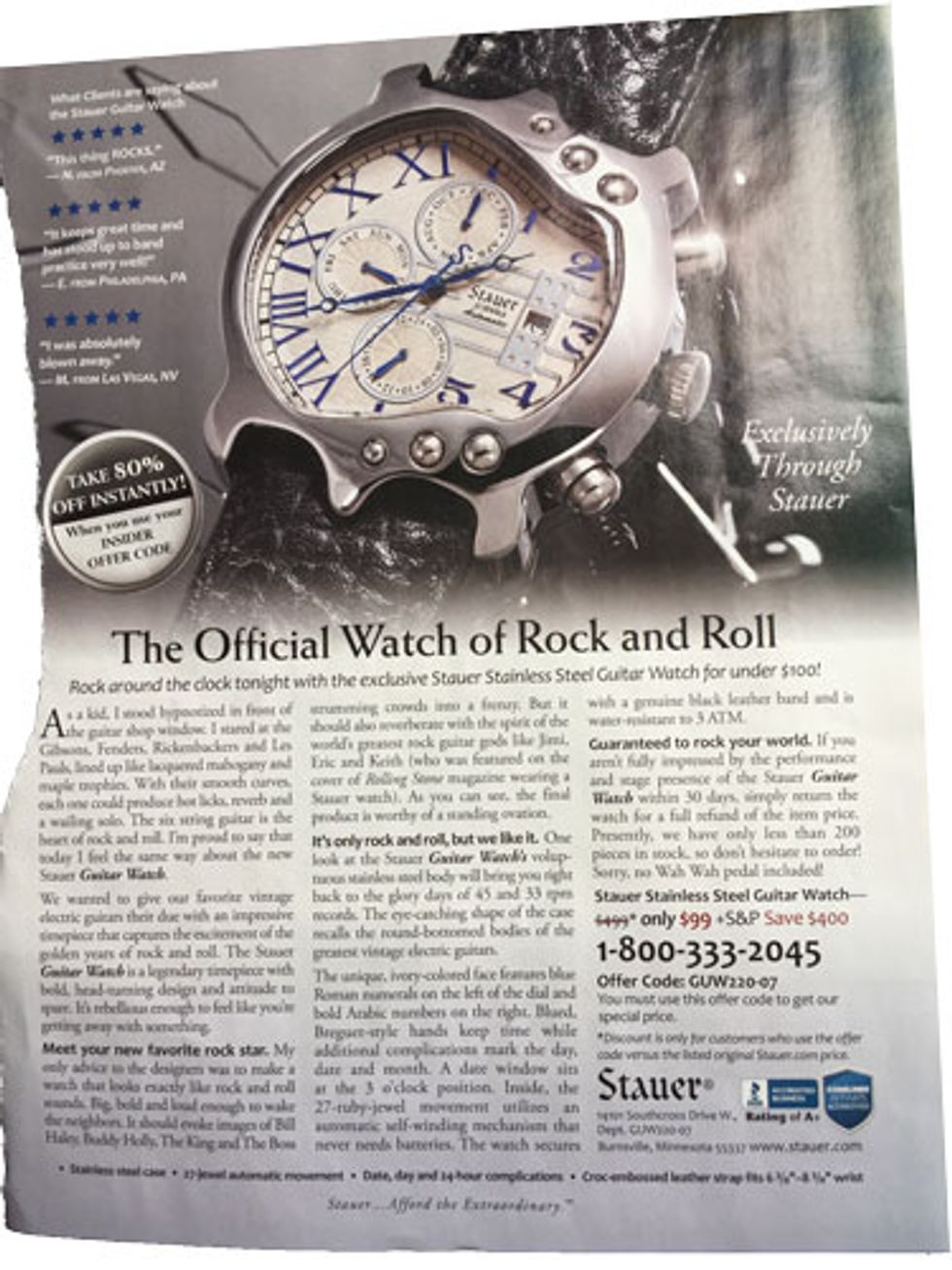 Are you ready to shart yourself from uncontrollable laughter, followed by first-degree projectile vomiting? Better head to the head now, because what I'm about to relate is real, ladies and germs. I did not make this up.
Let me first say that I'm not completely slamming the music mag in which I witnessed the atrocity I'm about to share: Beyond prohibiting ads that promote violence, racism, and other hate speech, media outlets can't exactly dictate that advertisers not be patently ridiculous. Still, that this had to happen is very sad.
Here is the unholiness of which I speak—the world's lamest advertorial.
"The Official Watch of Rock and Roll." The headline alone is enough to make rational beings choke on their chutney. But the unnamed, apparently very Powerful and Important—perhaps even famous—autobiographical copywriter is just getting started.
"As a kid, I stood hypnotized in front of the guitar shop window. I stared at the Gibsons, Fenders, Rickenbackers, and Les Pauls, lined up like lacquered mahogany and maple trophies. With their smooth curves, each one could produce hot licks, reverb, and a wailing solo."
Trophy wives—I mean, watches—yay! Are you puking yet?
"The 6-string guitar is the heart of rock and roll. I'm proud to say that today I feel the same way about the new Stauer Guitar Watch."
Now, if you're into guitar-themed timepiece bedecked with exotic tonewoods, a fretboard-print band, and/or depictions of a hodgepodge of classic 6-strings (like those tacky-ass button-ups), that's all fine and good—to each their own. But this effing watch has got nothing—ZILCHO—going on, visually or otherwise, to make you think of your favorite axe. Or even a shitty one you saw on Craigslist. It looks like a wannabe-sophisticated watch from J.C. Penney.
"We wanted to give our favorite vintage electric guitars their due with an impressive timepiece that captures the excitement of the golden years of rock and roll. The Stauer Guitar Watch is a legendary timepiece with bold, head-turning design and attitude to spare. It's rebellious enough to feel like you're getting away with something."
Got that, kids? Years from now, when you're atrophying away in a rocking chair, lamenting that you never did anything with your love of music and guitars, and waiting for Death—sneering and sounding something like Dave Mustaine—to whisper in your ear that it's time to collect your soul, you can take comfort in the fact that wearing this boring AF hunk of metal and leather will recapture the excitement and glory of The Lost Years.
Years from now, when you're atrophying away in a rocking chair … you can take comfort in the fact that wearing this boring AF hunk of metal and leather will recapture the excitement and glory of The Lost Years.

But wait—there's a whole lot more marketing-speak gold!
"Meet your new favorite rock star. My only advice to the designers was to make a watch that looks exactly like rock and roll sounds. Big, bold, and loud enough to wake the neighbors. It should evoke images of Bill Haley, Buddy Holly, the King, and the Boss, strumming crowds into a frenzy. But it should also reverberate with the spirit of the world's greatest rock guitar gods, like Jimi, Eric, and Keith (who was featured on the cover of Rolling Stone magazine wearing a Stauer watch). As you can see, the final product is worthy of a standing ovation."
Indeed. The same standing ovation I give to my bathroom wall every night. This watch is so exciting they have to italicize every mention just so you'll bother to notice.
"It's only rock and roll, but we like it. One look at the Stauer Guitar Watch's voluptuous stainless steel body will bring you right back to the glory days of 45 and 33 rpm records. The eye-catching shape of the case recalls the round-bottomed bodies of the greatest vintage electric guitars."
Three cheers for euphemistic sobbing in our beers about the good ol' tail-chasing years!
"Blued, Breguet-style hands keep time while additional complications mark the day, date, and month. A date window sits at the 3 o'clock position. Inside, the 27-ruby-jewel movement utilizes an automatic self-winding mechanism that never needs batteries."
Ugh. This crap makes me yearn for "complications" while they're changing my pacemaker batteries. And as if that allusion weren't enough, these cruel bastards resort to other failing-body metaphors, too.
"Guaranteed to rock your world. If you aren't fully impressed by the performance and stage presence of the Stauer Guitar Watch within 30 days, simply return the watch for a full refund of the item price."
The conundrum continues—Viagra or the Woebegone Wanker Watch? At least these copywriting creeps end with a line sure to induce a hearty chuckle … or is that chronic hacking? I can't tell.
"Presently, we have only less than 200 pieces in stock, so don't hesitate to order! Sorry, no Wah Wah pedal included!"
Oh man—gimme some time to wipe away those tears of mirth! Then there's the price: "$499* only $99 + S&P." You know you're getting a quality product when you get a haggle-free 80 percent discount.
To get YOUR totally badass, regret-obliterating timepiece, simply call 1-800-SAD-SACK—today!