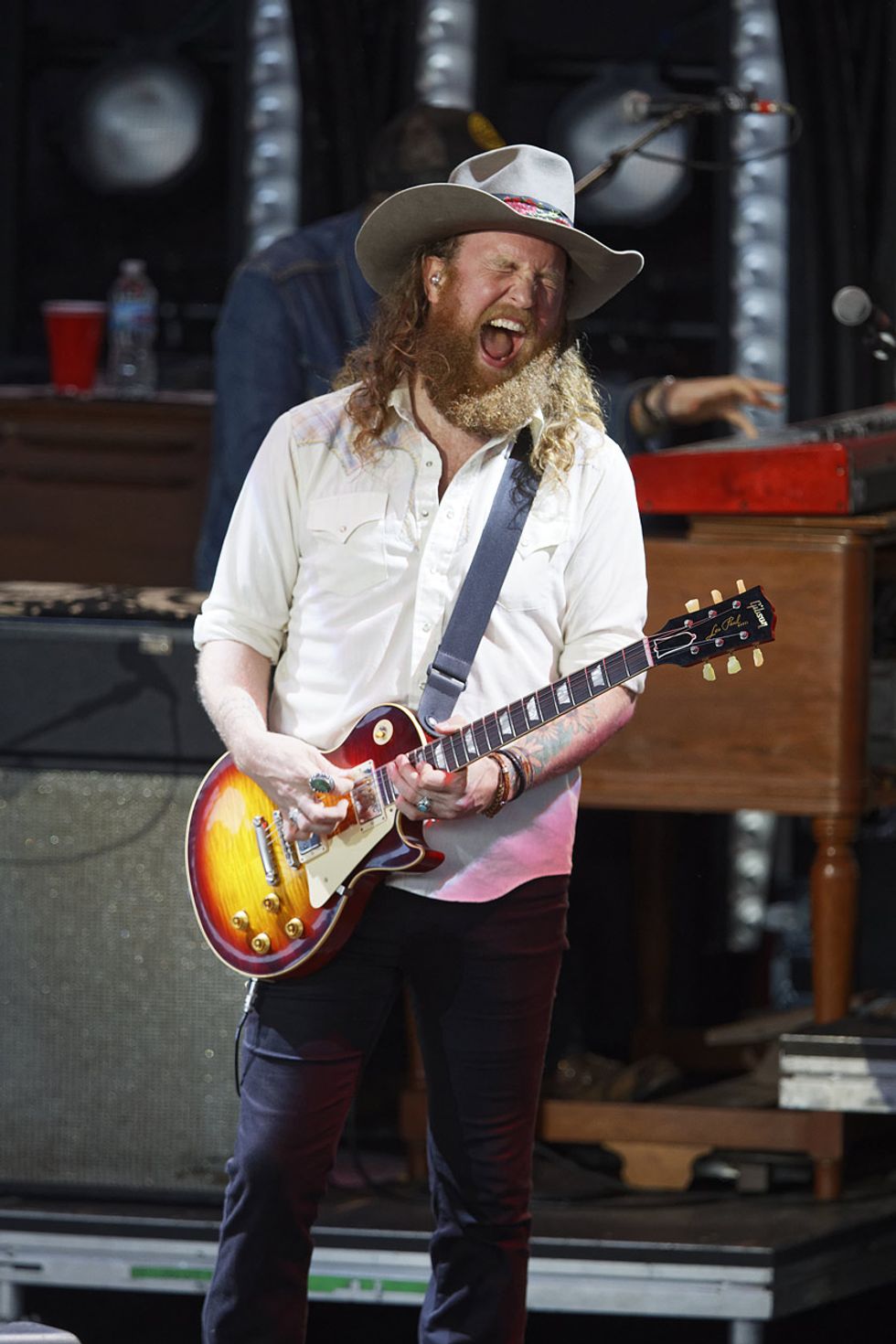 "This instrument is a voice; it's a way for me to sing because I was a shy kid," says John Osborne. "I didn't really want to sing, but I wanted to play guitar." Photo by Ken Settle
So, having some friends there just made it come more alive?
TJ: That's what we were going for: trying to really get what we do live to translate on this record, and that's what's really hard. I think a lot of people struggle with that. We wanted that kind of energy that you would get watching us live, where you could feel like, "This is awesome, but at any second this could fall apart." That was one of the things that we really tried to maintain there, on top of the fact that I've got to sing all these songs. So, trying to make some moments where John can just take off. I get to sing for three minutes, so let's let him have three minutes where he can get the same, because you know, he does that through his hands.
John: I think a lot of current music is lacking spontaneity, because everything is so programmed and written up in a formula. So, we want to add at least some spontaneity to our show to make each live performance special. That's what we wanted to capture with "Shoot Me Straight."
"When you start learning all the styles, you hear them come together, and you realize that they all talk to each other. They just have a different accent."—John Osborne
Let's talk about guitar gear. Your last album was called Pawn Shop. Is that a thing on tour? Are you guys always searching for used gear?
John: Yeah, yeah, it is! Originally, we were pawning our instruments when we were younger, because we were broke and didn't have any money. Now we just go into pawnshops to find stuff. Man, it's not easy to find stuff anymore, though. It's usually junk or everyone wants too much money for these damn instruments—even pawnshops.
TJ: One of the cool things about us traveling, and John is kinda more in tune with this than I am, but he's always going through Craigslist or local [listings] and we do pick up a lot of stuff on the road. Here in Nashville, nothing is really under the radar since we're such a music town, but occasionally if you're out in wherever, Wichita, you can find some cool little hidden gems out there and bring them back to life.

Guitars
Custom T-style B-bender guitar
Mario Martin T-style
Mario Martin S-style
1968 Fender Telecaster
1968 Gibson SG
1951 Martin D-18
1960s Gibson Country Western
Duesenberg Pomona 6
Amps
1956 Fender Deluxe
1966 Fender Bassman (with Marshall mod)
Port City custom cabinet with 10" and 12" Celestion Golds
Effects
Premier Reverb Tank
Eventide H9
Strymon Sunset Dual Overdrive
Greer Amps Lightspeed Organic Overdrive
Strings and Picks
Assorted D'Addario strings
Dunlop Ultex 1.14 mm picks

Any special finds?
TJ: We've found a lot of great stuff. There was one time, we bought off of this one guy, and he ended up having a whole collection of stuff. He was just this mountain guy in East Tennessee and we bought, like, three guitars from him that day.
I bought a banner year Gibson: a 1945 LG-2. John bought a J-45 or J-50. Another guy in our band bought a '60s Gibson LG-1. Just killer guitars in amazing shape. He was wanting to buy another guitar and so he was selling some guitars and didn't really care about maximizing. He didn't really want to wait around for months to get top dollar. He just wanted to get rid of these pieces really quick and buy this one thing that was on sale.
There's a video of Peter Frampton sitting in with you guys at the CMT Music Awards. Is he somebody who's been an influence for you, as a guitar player?
John: Yeah. I feel like anyone that plays electric guitar, especially rock electric guitar, is a huge fan of Peter Frampton. He has such a lyrical way of playing, and a very musical way of playing. He's technically so great, but all of his solos are very singable and melodic—I've always loved that about Peter. When you look at Peter Frampton play guitar, he's just grinning from ear to ear because he's having the time of his life. And that's why we all play guitar: because we want to hold onto our youth. Peter has never really left it. You could close your eyes and still see Peter smiling onstage playing. I think that's one of the things that makes him so great. He's the nicest guy, man. Peter's persona onstage as he's playing—he exudes that even as a person. It's all one thing.
We got asked to play the CMT Awards, and award shows … they just love collaboration. The first person they mentioned was Peter because he's got a place in Nashville. I was like, "Say no more. 100 percent, absolutely." We thought that was so cool, a guitar player of his status wanting to just jam with a band that he's never met before and doesn't really know too much about. It just goes to show why Peter is so great: because he loves playing. All the greats are like that.