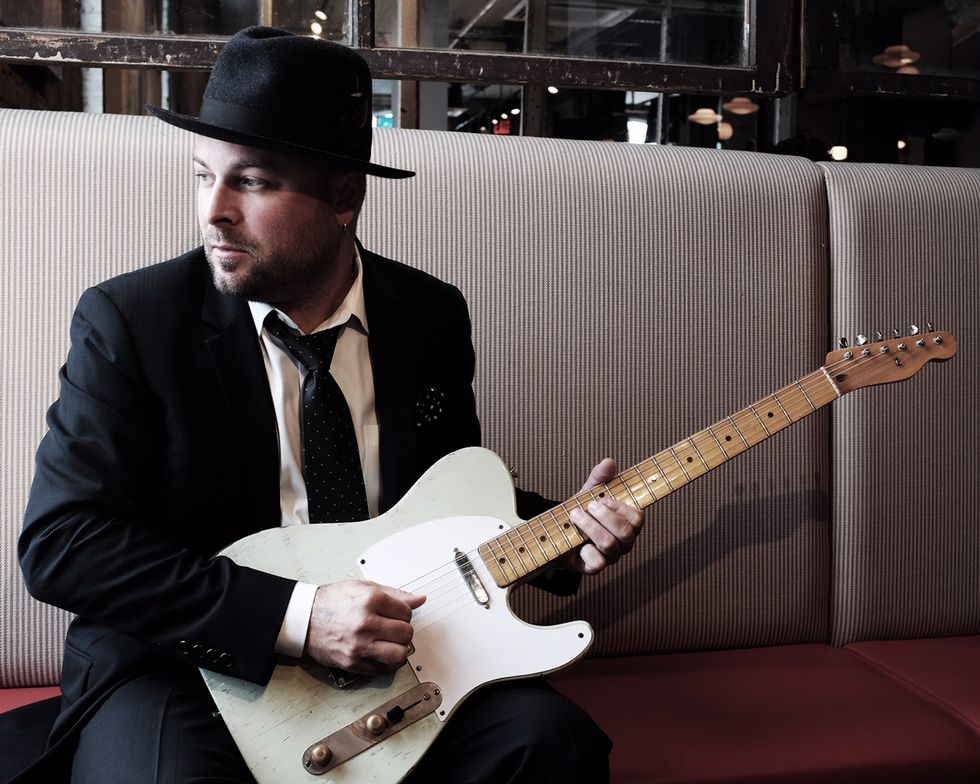 T-Rex: Among the ranks of nationally emerging guitarists in Nashville, Guthrie Trapp dominates the field of younger T-style players. His mainstay guitars are made by Floyd Cassista and Russ Pahl. Photo by Anthony Scarlati
Robert's Western World is one of the hole-in-the-wall clubs along Nashville's lower Broadway adult playground. The place smells like the cheap hamburgers and cheaper beer it dispenses, but to hard-core country music lovers, it sounds like nirvana. It's the one joint where old-school country music prevails, and the electric guitar is always king.
At Robert's, the king's chamberlain is Don Kelley, whose band holds court—for more than 20 years now—Wednesdays through Saturdays. Kelley's a dynamic singer and a good picker, but like John Mayall, he's got an ear for great pickers. And in the realm of Nashville guitar, the Don Kelley Band has become the equivalent of Mayall's Bluesbreakers, offering an apprenticeship to a litany of monster players before unleashing them on the world. Heavyweight graduates of Kelley's academy of twang include Brent Mason, J.D. Simo, Redd Volkaert, Daniel Donato, and Johnny Hiland.
And Guthrie Trapp. Trapp is Nashville's current Man of a Thousand Gigs. He can be found holding down residencies at places like Broadway's Acme Seed & Feed and Dee's Country Cocktail Lounge, the new hipster enclave in nearby Madison, Tennessee, or playing jazz-informed instrumentals onstage at the live-broadcast Music City Roots, or playing sessions for tradition-informed country albums, filling in on Broadway (sometimes with Kelley), or giving guitar lessons on YouTube and ArtistWorks.com. His fluid execution of rapid-fire country licks and blues bends, mixed with Latin montuno and dabs of Wes Montgomery and Jeff Beck, all filtered through articulate, edge-of-breakup tone, has forged a style thousands are viewing and hundreds are flocking to learn.
"If I chased pop country music to make money, I would be unhappy because I would be playing music I don't like, and I wouldn't be good at it because I don't like it."
In his 30s, Trapp is firmly established as a recording and touring musician. Although his timeline in Nashville roughly coincides with the rise of Bro-country, he has carved out a career that steers clear of overtly commercial Music Row fare. Instead, his resume includes work with a Who's Who of American music heroes: Alison Krauss, Ashley Monroe, George Jones, Roseanne Cash, Luther Dickinson, Earl Scruggs, Delbert McClinton, Emmylou Harris, Jerry Douglas, and Rodney Crowell, to name but a few.
The latest addition to his resume is Life After Dark, Trapp's second album—an eclectic collection of tunes that features some of the friends he's made since coming to Nashville in 2001. There's the grinding "New Walkin' Blues" (featuring Jeff Beck vocalist Jimmy Hall), a classic-sounding country weeper with Vince Gill on vocals, and a simmering take on Blind Willie Johnson's "Nobody's Fault But Mine" with a powerful chorus of Danny Flowers, Bekka Bramlett, and the McCrary Sisters. Mandolin giant Sam Bush, Dave Matthews Band saxist Jeff Coffin, and singer-songwriter Charlie Worsham also get their licks in on the album. But the licks mostly come from Trapp, whose instrumental "Shag Rug Burn" is a soul-guitar ripper and whose "Commodity" displays his tone at its most elegant and eloquent.
Bay Seasoning
Trapp was raised in Lillian, Alabama, on the Florida-Alabama line where Perdido Bay joins the Gulf of Mexico, separating those states. "I didn't grow up on Top 40, the Beatles, or Led Zeppelin," Trapp relates. "My mom, dad, and most of my family are old hippies who listen to folk, bluegrass, singer-songwriters, and some jazz. If it was rock, it was folk-rock like Van Morrison, Bob Dylan, and Jackson Browne. Being around that music as a kid, my ear developed even before I picked up an instrument.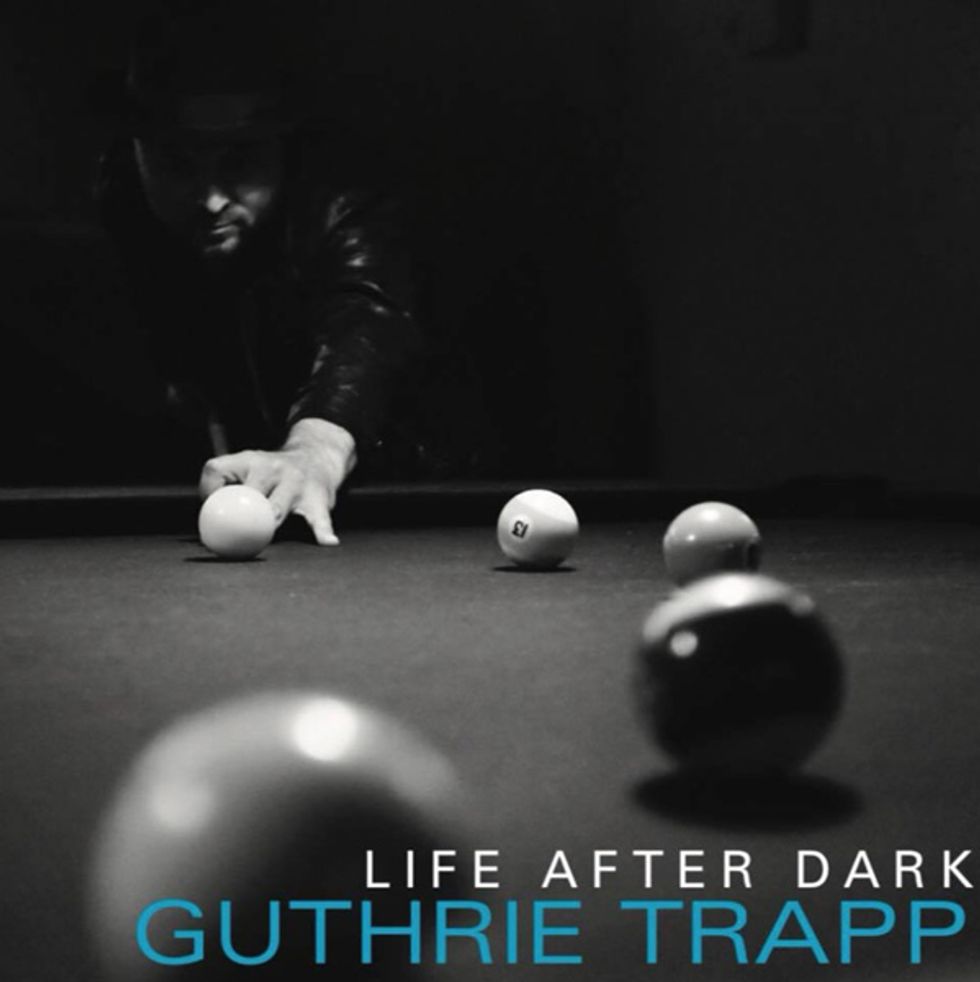 TIDBIT: Trapp used four small vintage Fender amps on his new Life After Dark, but his main amp for the sessions was a Bogner Goldfinger 54 Phi running into an open-back 2x12 cabinet.
"My uncle was a self-taught musician," he continues. "I'm an only child and he was the closest thing I had to an older brother. At around 8 or 9, I'd pick up a guitar and start noodling around when his band would take breaks at a rehearsal."
By his tween years, Trapp was taking the guitar seriously. His was a pre-YouTube generation, raised on albums and video lessons. "I was watching tapes of [bluegrass guitar virtuoso] Tony Rice and dropping the needle on Allman Brothers, Lynyrd Skynyrd, Johnny Winter, and New Grass Revival records," says Trapp. "I was playing a lot of bluegrass, but at the same time I would jam on electric guitar, learning how to overdrive an amp. I'd go in my uncle's music room, turn up as loud as I could without driving everybody nuts, and wail away. I learned lead lines and pentatonic blues before I learned any chords. I learned how to play by ear. I still don't know how to read music. I can read a Nashville numbers chart, but that's about it."
A lack of formal music education didn't hamper his opportunities to play. By the time Trapp was 12, he was good enough on mandolin and guitar for a local bluegrass band to hire him. His earn-while-you-learn experience began with a constant stream of four-hour gigs on Pensacola Beach, where he put in his 10,000 hours playing the many bars that dot the coast. While still in his teens, he began playing electric guitar with a band called the Filthy Rich. "We played original music, old blues, jazz, and some Western swing at all the parties and gigs on the Gulf Coast, seven nights a week, and twice on Sunday. I was making good money," he recalls.
Trapp might still be playing those bars if not for meeting Nashville-based songwriter Gove Scrivenor. "I started playing mandolin and acoustic guitar with him at the Flora-Bama bar, where the Frank Brown International Songwriters Festival is held," he recalls. "After the bar closed at 3:30 a.m., we'd go to the owner's beach house next door. Hank Cochran and Lefty Frizzell albums would play until 8 in the morning. Mickey Newbury was there one night, drinking tequila out of a pint bottle, smoking a cigarette, with his nose hooked up to an oxygen tank. Those fellas were hard-core. That's where I learned how to play with songwriters. They would put the fear of God in you. You didn't play on top of their vocals or you were done."
Though Scrivenor and others encouraged him to move to Nashville, Trapp put it off, believing everybody had to be as good as Brent Mason to make a living. Eventually, a need to escape the endless beach party life led Trapp to relocate—at first commuting back to the Gulf Coast in order to earn enough to pay for an apartment on Music Row.
---
---