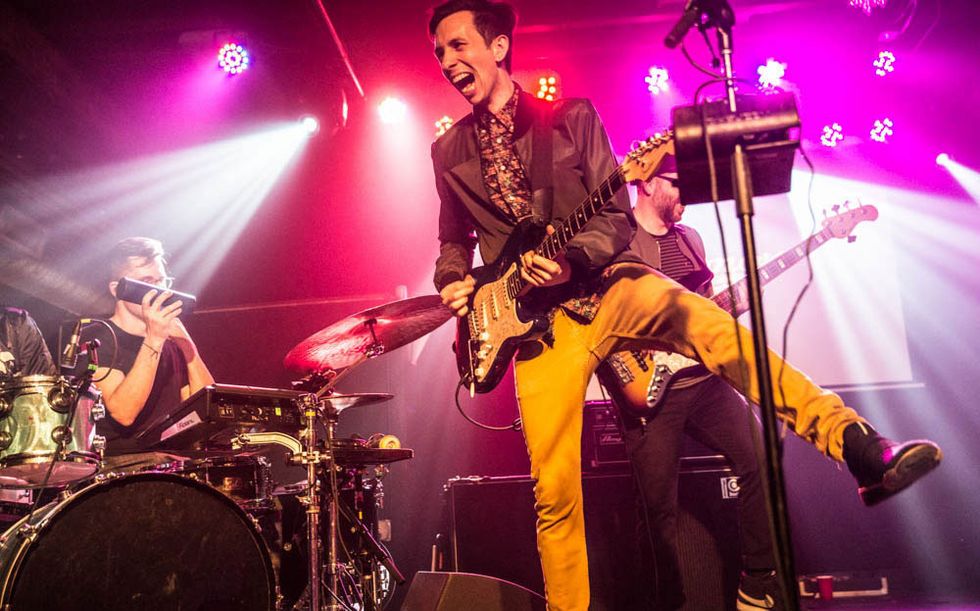 You want exuberance and positivity? Cory Wong, with one of his two Fender Highway One Strats, breathes joy—and fire—onstage. Photo by Charla Harvey
A great rhythm player can make or break a song or performance. The punishing power of Metallica's James Hetfield, the subdued hooks of Maroon 5's James Valentine, the clock-like time of the Count Basie Band's Freddie Green, or even the inventive acoustic stylings of Dave Matthews have all served to prove that point again and again. Yet, thanks to his focus on grabbing the listener's ear, none of even these rhythm giants has kept time quite like the mesmerizingly funky Cory Wong.
"A lot of rhythm players think of themselves as just playing some extra filler stuff to be in the back," says Wong. "But I think of my stuff as hooks. You have to have hook sensibilities to pull this stuff off."
Wong is currently riding those hooks and his rubbery right-hand technique to modern-guitar-hero status. And it's the same deep pocket that has helped him chord-stab his way into a field of bands who put a premium on groove and musicianship, such as Snarky Puppy, Dirty Loops, and Vulfpeck.
In fact, today you're likely to find Wong contributing his Minneapolis-born style to Vulfpeck's legendary rhythm section, trading licks with Snarky Puppy's Mark Lettieri in the Fearless Flyers or laying down the grooves from his own recent solo album, The Optimist. But it's the latter where the truest version of Wong is on display.
"I feel like I have a much more honed-in version of what I want to say through my music. And with this record, I feel like I've captured a more potent version of that," he relates.
While on the road spreading the funk gospel according to Cory Wong, he spoke about his album, rhythmic inspirations, and stunningly busy career. He also discussed the source of the unending energy and positivity that drives his artistic vision.
"I have a goal that's much larger than having people think that I'm amazing at guitar."
How did you get your start in music?
When I was in sixth grade, I wanted to be a bass player, and I wanted to start a band. I got home from school one day, and there was a bass waiting for me. I just freaked out! I got chills. I felt like I could now wield my sword.
Then I was set on having a band, and a guy at school said, "I'll be in your band, but my step-dad has a bass and I'm not going to buy a guitar." So, I ended up having to be a guitar player. And now I'm stuck [laughs].
You spent years doing Nashville and L.A. sessions along with building a career in Minneapolis. Today, you're also gaining notoriety as part of Vulfpeck. How did you go from solo stuff and session work to working with them?
I was doing this house R&B gig in Minneapolis. After I got done and off stage, Theo [Katzman, of Vulfpeck] came up and introduced himself. Theo and I started hanging out more when they'd come through Minneapolis. And now it's become what it is. We've been touring the world together for the last three years. It's just insane!
Even though they have a song called "Cory Wong," there's a bit of confusion regarding your status with the band. Are you an official member of Vulfpeck?
I don't think anybody knows [laughs]. I mean, I play all the shows and I'm at the sessions. But there are the original four guys and then there are three of us that are also part of it: Joey [Dosik], Antwaun [Stanley], and I. Even Theo is like, "I don't know if I'm a part of Vulfpeck." Well, you're the lead singer, guitar player, and drummer!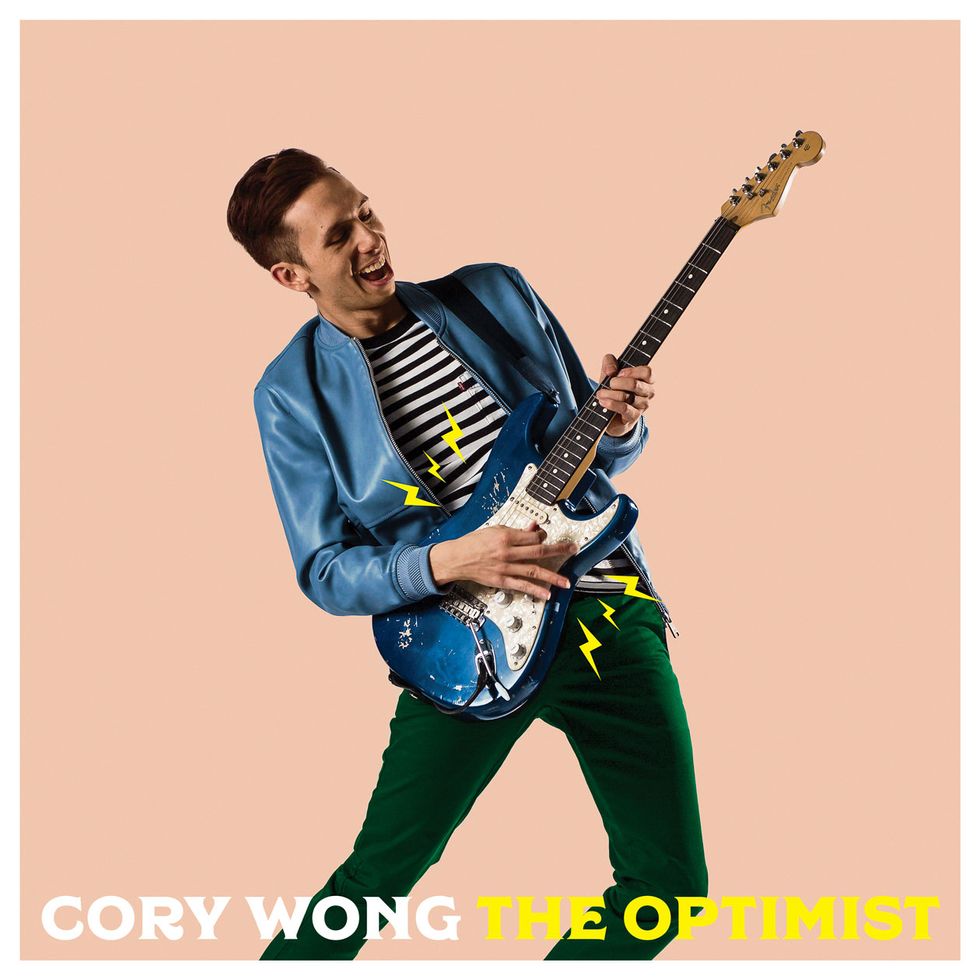 TIDBIT: Wong's in-studio philosophy is to think like a producer or arranger, not a shredder. "And it's always very frustrating to me if the other people are not," he notes.
Why do you think larger-format bands, such as Vulfpeck and Snarky Puppy, that focus on premier musicianship are really exploding right now?
It's very polarizing. It's a lot of the muso thing, which is very fun. But I think there is something with the internet and social media in seeing guys pull off what seems like a magic trick. And now it probably seems like a magic trick more than ever, because people aren't used to seeing amazing musicians around them all the time.
Why do you think you've been able to make such an impact as a primarily rhythm player?
I don't really know. I ask myself that a lot. People think, "I'm going to go see a guitar band. The guy better be shredding!" And yeah, I have some guitar-type fireworks. But I think I also have some rhythm guitar fireworks that can still check off that sleight-of-hand, magic-trick thing.
That may be in the way you use rhythm guitar as the lead voice of the band.
The stuff that I'm writing uses the rhythm guitar as a lead instrument in a lot of cases but is also very groove based. It calls for a very specific thing that is kind of under-the-table impressive.
Your playing style is definitely indicative of your Minneapolis roots. Who or what specifically inspired those rhythmic fireworks?
There are four main influences for that—the number one being Prince. Prince could obviously sing and shred, but he was an absolutely insane rhythm player. And I feel like a lot of his rhythm parts, instinctually, were very hooky.
Another is Dave Williams. If you listen to [Michael Jackson's] "Don't Stop 'Til You Get Enough," if you listen to "Wanna Be Startin' Somethin'" … a lot of those rhythm parts came to the front, and it was like, "Woah! I didn't know you could do that!"
---
---