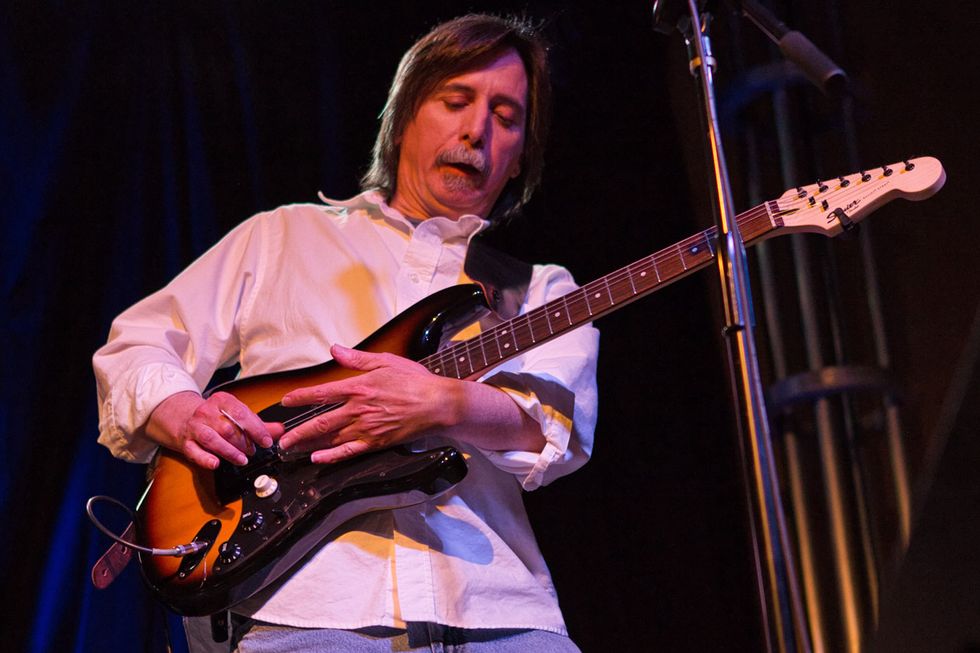 What's that crazy white custom dial for? Volume, of course. When the original dial fell off, Pearson just slipped one he had laying around the house over the shaft on one of his favorite Fender Squier Strats. Photo by Andy Ellis
Despite a career that's in its fifth decade, Jack Pearson remains largely under the radar. Longtime Allman Brothers fans might know him as the guitarist who temporarily replaced Warren Haynes, from 1997 to 1999, and his name will certainly come up should you question any picker in Nashville about who you absolutely must see perform while you are in town.
Over the years, Pearson has released three solo records, two duo records, and a single, recorded with Jimmy Buffet and Bobby "Blue" Bland, and toured with Delbert McClinton and Lee Roy Parnell. And he has achieved some recent recognition, thanks to Joe Bonamassa's Keeping the Blues Alive at Sea cruise and the ubiquity of YouTube, but Pearson's level of fame still has a way to go until it matches the stellar level of his abilities.
Abilities is purposely plural, as a typical show featuring the Jack Pearson Trio (with Josh Hunt on drums and Charles Treadway on organ) might see him blaze through electric and acoustic blues, jazz, gospel, and rock, as well as slide excursions in standard tuning that boggle the mind. All of this on a Squier Bullet Stratocaster!
He also sings ... no, really sings. Like George Benson and Vince Gill, the man obviously went back for seconds when they were handing out musical gifts. And thirds and fourths, as Pearson plays the outstanding organ and bass on his new studio album, Are You Listening?
The "studio" distinction must also be made, since the guitarist has simultaneously released a double live album called, er, Live. Thanks to the sheer talent demonstrated on these three discs, this may be the year that this player's genius begins to light up the aforementioned radar.
We met Pearson at Nashville's Cotten Music Center, the legendary, high-end acoustic guitar store where he teaches. There, we discussed the familial roots of his guitar expertise, as well as this sudden artistic output.
"I started gigging when I was about 14. In high school, I was always in three bands at the same time."
How did you start playing guitar?
My oldest brother, Stanley, played guitar and taught me to play. He said, "I never learned all the notes on the fretboard and I get lost all the time. You need to learn them." After I'd been playing about a year, he gave me a slide and told me I needed to learn how to play slide. That really set me up.
I started gigging when I was about 14. In high school, I was always in three bands at the same time. I'd have a band with friends in school, and then play with musicians who were 25 to 30 years old. I didn't have a driver's license, so they'd take me to rehearsals and gigs. Lee Roy Parnell came to town in 1987, and I started playing with him when I was 17.
How did the Allman Brothers gig come about?
I knew Warren Haynes when he used to live in Nashville. When Dickey Betts had to leave the tour in '93, Warren asked me to come and sub. I did that for two or three weeks, until Dickey came back. Then Gregg asked me to play in his solo band. I played with Gregg until 1997, when he asked me to join the Allman Brothers, replacing Warren. I did that for two-and-a-half years, until I started having problems with my hearing. I was using a 100-watt Randall head they made for Dickey, through eight EV speakers. I was very loud onstage and Dickey was even louder than me. He used two 100-watt Marshalls through JBLs. Sometimes he'd use three. He wasn't in the PA. It was all just coming off the stage because that's the way he always did it. I finally had to quit.
Do you use hearing protection when you play now?
I wear earplugs all the time. I've had about 10 molded sets made, but they never fit right. When I open my mouth to sing, they leak loud volume into my ears. I went back to the foam ones, which bend with the bones in your ear. I get my sound, and then put the plugs in. I try not to readjust my amp … just get used to the way it sounds. After so many years, you get used to it.
Were you playing the Strat with a Tele neck back then?
At first I was, and then I played a G&L Strat-style with Seymour Duncan Hot Rails.
TIDBIT: By simultaneously releasing two albums—one of which is a double CD—Jack Pearson has given longtime fans and potential new converts a way to explore his vast musical imagination. Pulled from two recent concerts with his trio, Live celebrates Pearson's love of extended blues-rock improvisations. Are You Listening? features songs recorded in his home studio across two decades.
How did the new studio album come about?
Are You Listening? has tracks recorded over the last 20 years. It's an R&B record, because I have a background in that. I found four tunes I had recorded in 1995 and '96 that I never released. I thought they sounded pretty fresh, and I had all this new stuff that fit around them, so I just put it all together.
So you had a home studio back in '95?
Yeah, I got into home recording when I was 20 years old.In the '90s, I had two Tascam DA-88s and a Tascam board. I used those for about 10 years, until the heads wore out. By that time you could get into Pro Tools for the same price as replacing the heads, so that's what I did.
Where did you learn to play all the instruments on your studio solo records?
I always want to know how any kind of instrument works. I switched to bass for a while in my teens. We didn't have a piano when I was a kid, but I was always intrigued by it. When I was a teenager, one of my sisters was married to a great keyboard player. That was the first time I heard a Hammond organ in person, and I loved it. Later, when I started playing with Gregg, I learned his drawbar settings and just picked it up. I have a Hammond CV from the '40s. I got that when I did the first CD [Step Out!] in '93 or '94. It has a different kind of sound.
You didn't start playing keyboards until after you joined the Allman Brothers?
Not until the mid '80s, when I was 25 years old. I got a little synthesizer to learn how to play. I learned all the notes, just like I did on guitar. I taped the names to keys until I knew them.
On the studio album, the sound is very focused around gospel, soul, and R&B-style tunes, and the solos are short, whereas the music on the live record is more stylistically diverse with stretched-out solos. Did you feel more comfortable releasing the studio album because you were also putting out a live set where people would get to hear you do everything else?
I had wanted to put both of those out and just ended up finishing them at the same time. The live record is so different. Several people asked me, "Is this a live version of the studio record?" It's not—there's only one repeated song and that's done totally differently. I always wanted to do a blues and rock album and that's what I did with the live record.
"Right Where We Belong" is the one on both records, in very different versions.
The studio version is from 1996. When I wrote it with Donny Lowery, the publishing company said, "You need to do a funk version so we can pitch it in New York." I played all those clavinets and synthesizer bass—I got into my Stevie Wonder mode. I loved the way it turned out, but they never pitched it and the song sat around all these years. My band can't play it that way because we don't have the instrumentation. I always liked the song, so we'll play it every once in a while. It turned out pretty good that night.
Did you record all the live material at the same show?
It was from two shows in January, except for the Gregg Allman tune, "Please Call Home," which was recorded last summer. I had a gig a few days after Gregg died and told Josh and Charles, "I want to play 'Please Call Home' for Gregg tonight." I had played it with him but had never sung it before. We ran over it in the dressing room, went out and played it, and that's what's on the record. We did it in Bb instead of C and with our own arrangement.
---
---