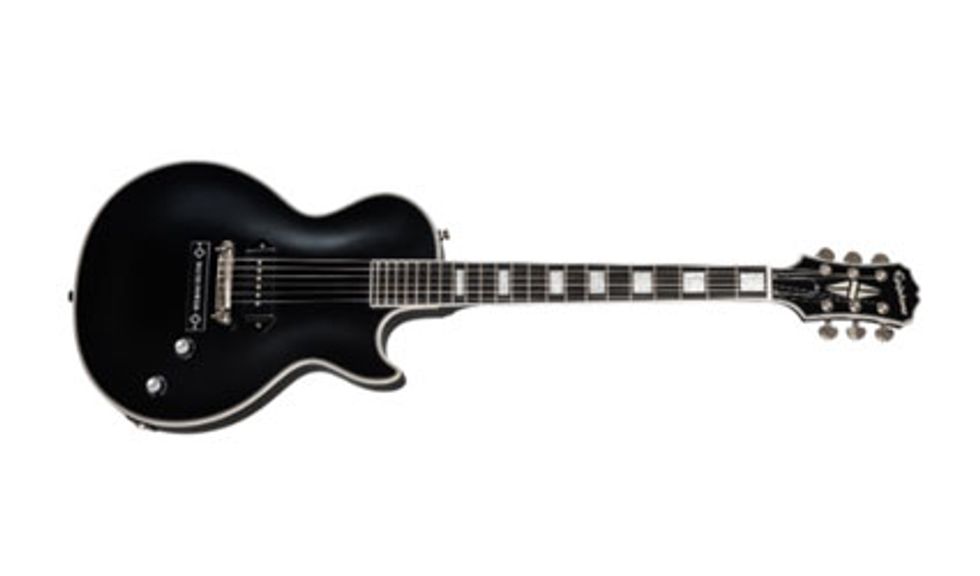 Nashville, TN (March 6, 2019) -- Epiphone, the leader in affordable professional instruments, proudly introduces the Ltd. Ed. Jared James Nichols "Old Glory" Les Paul Custom Outfit, the premier Epiphone Signature model by the phenomenal guitarist from Les Paul's hometown of Waukesha, Wisconsin who Music Radar named their Top 5 Upcoming Guitar Players in the World citing Jared's "wild, untamable solos." The Jared James Nichols 'Old Glory' Les Paul Custom features a classic 1950s-style Les Paul Custom body with a single Seymour Duncan P-90, an ebony fretboard, Grover Rotomatic tuners, and an EpiLite Case along with a signed Certificate of Authenticity.
During the past 5 years touring with his trio and supporting his critically acclaimed album, Black Magic, Jared has been making fans around the world while also earning the admiration of legendary artists like Lynyrd Skynyrd, Zakk Wylde, and Aerosmith for his deft fretwork (without a pick!) and deep love of the blues. And when your hometown is Waukesha--the birthplace of Les Paul--you really have no choice but to take up guitar.
"I've been playing the prototype of 'Old Glory' on stage since the day I got it," said Nichols. "Ever since Joe Perry loaned me 50s Les Paul Custom with a single pickup, I knew I needed one of my own. This is an incredible guitar. I can't put it down. I'm so honored and grateful. Thank you, Epiphone!
The Ltd. Ed. Jared James Nichols 'Old Glory' Les Paul Custom Outfit is modeled after Jared's favorite stage guitar and features a 50s style Les Paul Custom with an Ebony finish, historic binding, and an Ebony fingerboard but with the striking look of a single Seymour Duncan TM P-90 and a Gibson-style 'Custom' plaque inscribed Blues Power. 'Old Glory' also comes with an EpiLite TM Case and a signed Certificate of Authenticity.
"Jared epitomizes what our Epiphone and Gibson brands are all about", said Cesar Gueikian, a longtime fan and Chief Merchant Officer of Gibson Brands. "He is a true student of the guitar and takes commitment and performance to a level I have only seen in the greatest musicians. The Epiphone 'Old Glory' we are unveiling today pays tribute to Jared and his favorite stage guitar and we hope it will inspire new generations of players, too. All of us at Gibson and Epiphone are proud of Jared and excited to see how he shapes sound with the Old Glory. Jared's future is bright and we are honored to be part of his journey".
Look for the Ltd. Ed. Jared James Nichols "Old Glory" Les Paul Custom Outfit at Authorized Epiphone Dealers later this spring. And check out our feature interview and product pages.
Watch the company's video demo:

For more information:
Epiphone