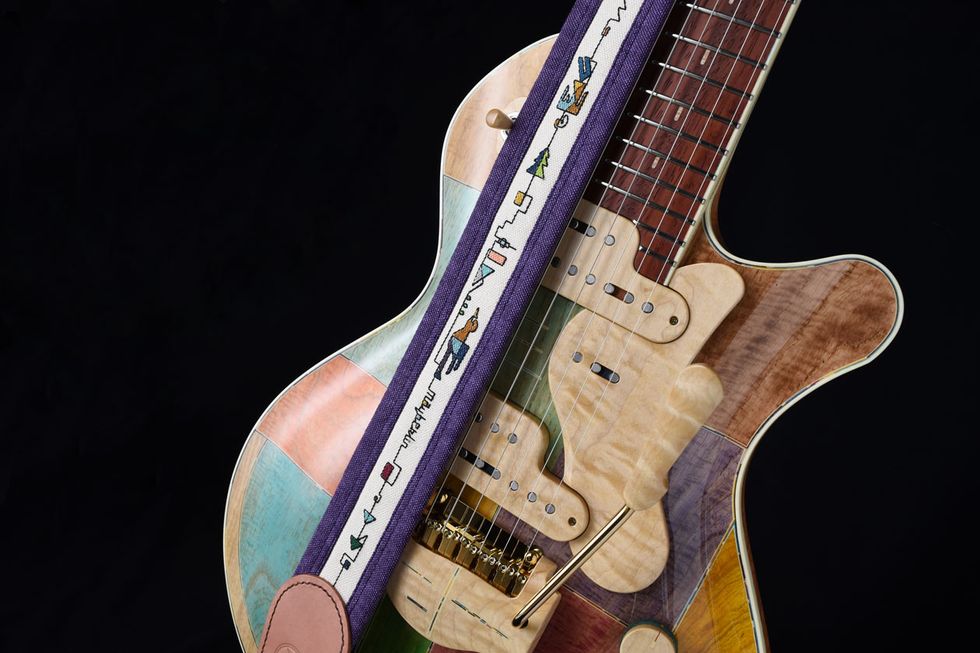 From its pastel palette to its perfectly nestled "three-by-three" pickups and the flowing lines of its pickguard and hardware accoutrements, Mayberlin and its neo-primitive-motif strap are a joy to behold.
What was it that first led you to build stompboxes?
Sometimes I would install a preamp in a guitar, and one time someone said they wanted me to put the preamp into a pedal. So I made it with the help of my friend Kenichi Shiho. That was our first pedal, the Middranger. That customer then showed it to Mr. Kishimoto at Ishibashi guitar-shop in Tokyo—one of the biggest guitar-store chains in Japan—and he was really interested and suggested I make it as a product. So we did. We released our best-selling overdrive, the Fulltender, in 1998. It has a unique preset tone selector that goes from "edge" to "bottom."
When did you start building artistically themed sets—matching guitars, pedals, and straps?
We started making pedals in 1996, too, sometimes with wooden enclosures. Then, with some help from Heath [Berkowitz] from Boston Guitar, we were able to go to the 2004 Summer NAMM show—which was a big event for us. That was our first time going to NAMM. The next year, Heath helped us get a booth for Jersey Girl at Winter NAMM 2005. That was when we decided to make all our instruments with a matching strap and a matching pedal.
Does every JGHG guitar have a matching strap, and do you collaborate to ensure that they have complementary or contiguous design motifs?
I always make a concept of the composition, and Akiko and Eiko do their work along with it. Eiko starts making the strap after Akiko finishes doing the inlays and coloring. Wood inlays are Akiko's "language," and embroidery is Eiko's language. I'm so lucky to have their expertise.
Describe your building process for us—from initial concepts to prototyping, building, finishing, etc.
I don't make plans or templates. Every time I start building a guitar I draw the outline directly on the wood. Besides a drill press and band saw, all of our tools are handheld.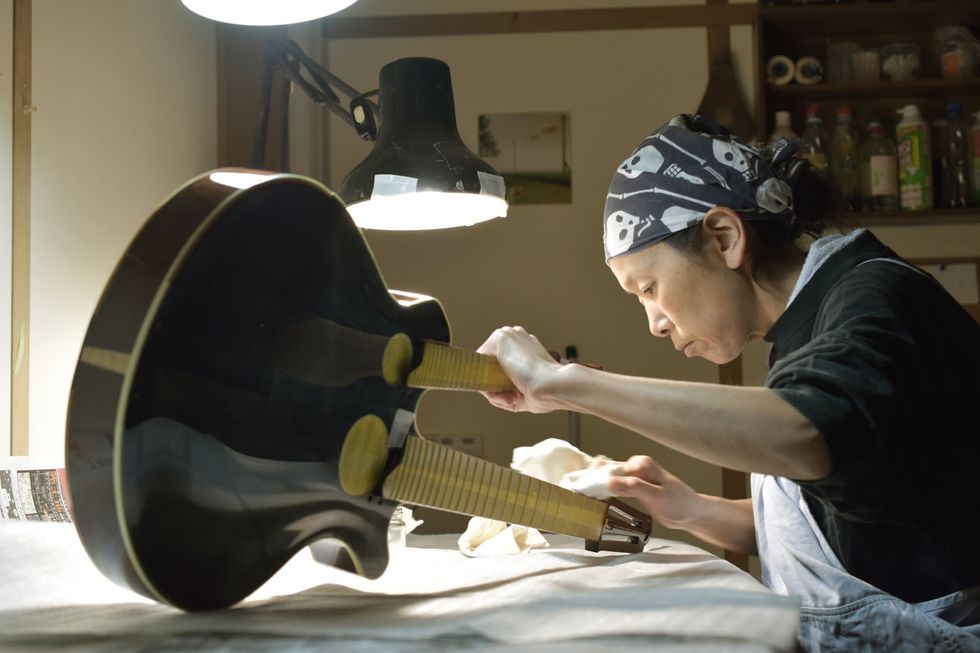 Fellow luthier Akiko Oda polishes the binding on a Jersey Girl double-neck.
Do you have "standard" or preferred body shapes in your head that you typically work from, or is it "anything goes"?
I primarily do single-cuts, but I always adjust it a little bit, depending on whether it has a tremolo or what pickup arrangement it has. I also work in different scales, so the shape and layout changes a bit every time. I mostly do 25" scale, but sometimes I'll do 24 3/4" or 25 1/2". I also work in my own scales—like 641 mm [25.24"]—to help it balance better. Bridge placement is very important, so sometimes I want to put the bridge a little bit closer to the neck. That can really affect the bass response and how well the guitar resonates.
How long does one instrument typically take to build from start to finish?
Well, let me answer this way: This year we're trying to make 15 compositions. Most years it's between 10 and 13.
Do you have specific preferences/favorites for wood and other materials?
We've never actually ordered specific woods. We have a great wood supplier who's been helping us for a long time. He works with all the big Japanese guitar factories, like Fugijen, and sometimes he has ash or alder with very fine grains and figuring that the big factories working on, say, a Telecaster don't want. He sends materials he thinks will be useful for us. Then I design each guitar based on the weight of the wood. I have to think a different way based on whether it's heavy or light.
What about hardware?
We've been using Gotoh hardware on all our guitars for a long time.
What's the range of prices for your instruments?
Our guitars cost between $7,000 and $10,000. Boston Guitar is my main distributor in the U.S., but I also sell direct at jerseygirlhg.com.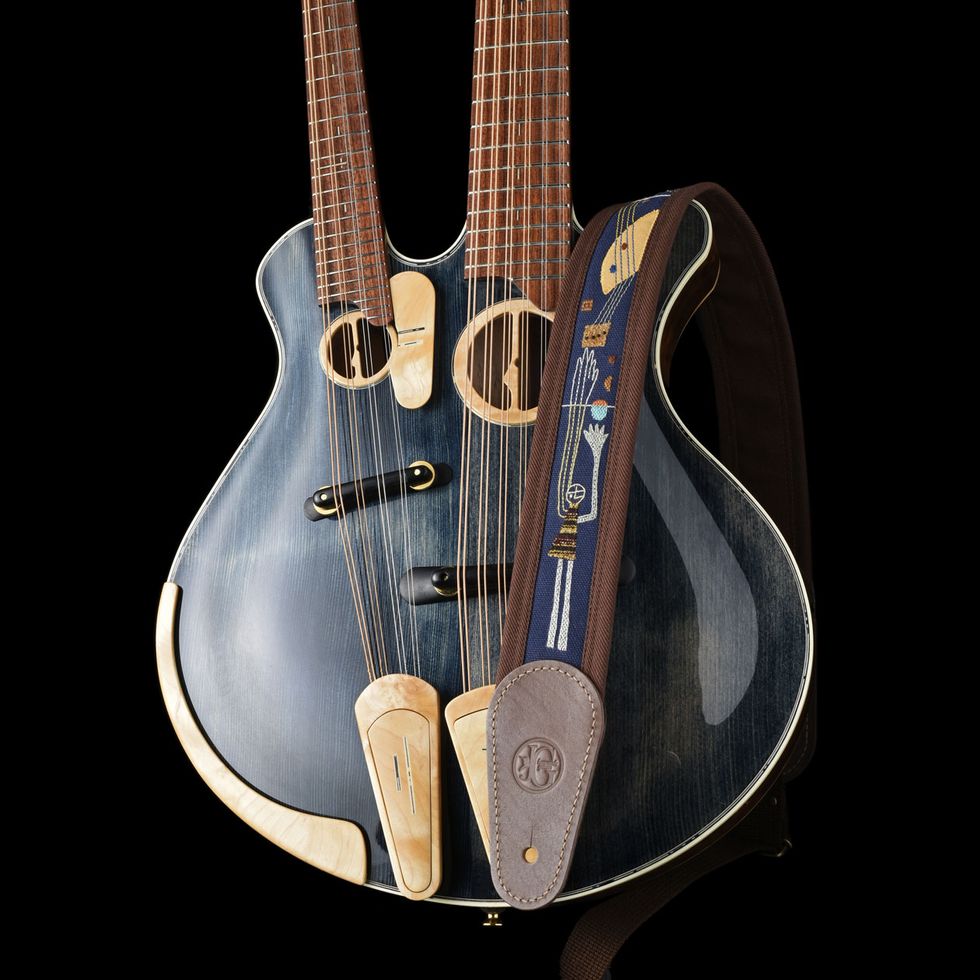 "Chichitoko" (Japanese for "father and son") is a double-neck featuring a mandolin on top and a 12-string on bottom.
Let's talk about some specific instruments. Crow on a Scarecrow looks like a fascinating cross between an archtop and a flattop, especially with that interesting soundhole pickup.
That was our first archtop. We wanted to try to make it a very special-sounding one and use our dinosaur bracing and unique construction. It has a pickup mounted in the neck block rather than on the top.
Which the pedal is it paired with?
That's our Middranger, which allows you to alter the mids without adding overdrive. It's my favorite pedal.
Takutack is incredibly thin, and it's paired with a 3-knob pedal with no labels and no footswitch.
Takutack is our first composition with a middle board—the soundboard that the bridge is mounted to is actually inside the guitar. You can see it through the f-holes. I wanted to make an archtop without having to make bent sides—and also make it very light. Takutack has an arched top and back, so it's loud enough to enjoy by yourself without electronics—I always want my guitars to be fun to play. That's crucial. But it also has a magnetic pickup and contact pickups inside. The pedal is a preamp mixer for all that.
What's the story with the Chichitoko double neck?
"Chichitoko" means "father and son" in Japanese. We used to make a double-neck line called Rainmaker for a long time. The total theme of that composition is "Peace. We all are in the same box called Earth."