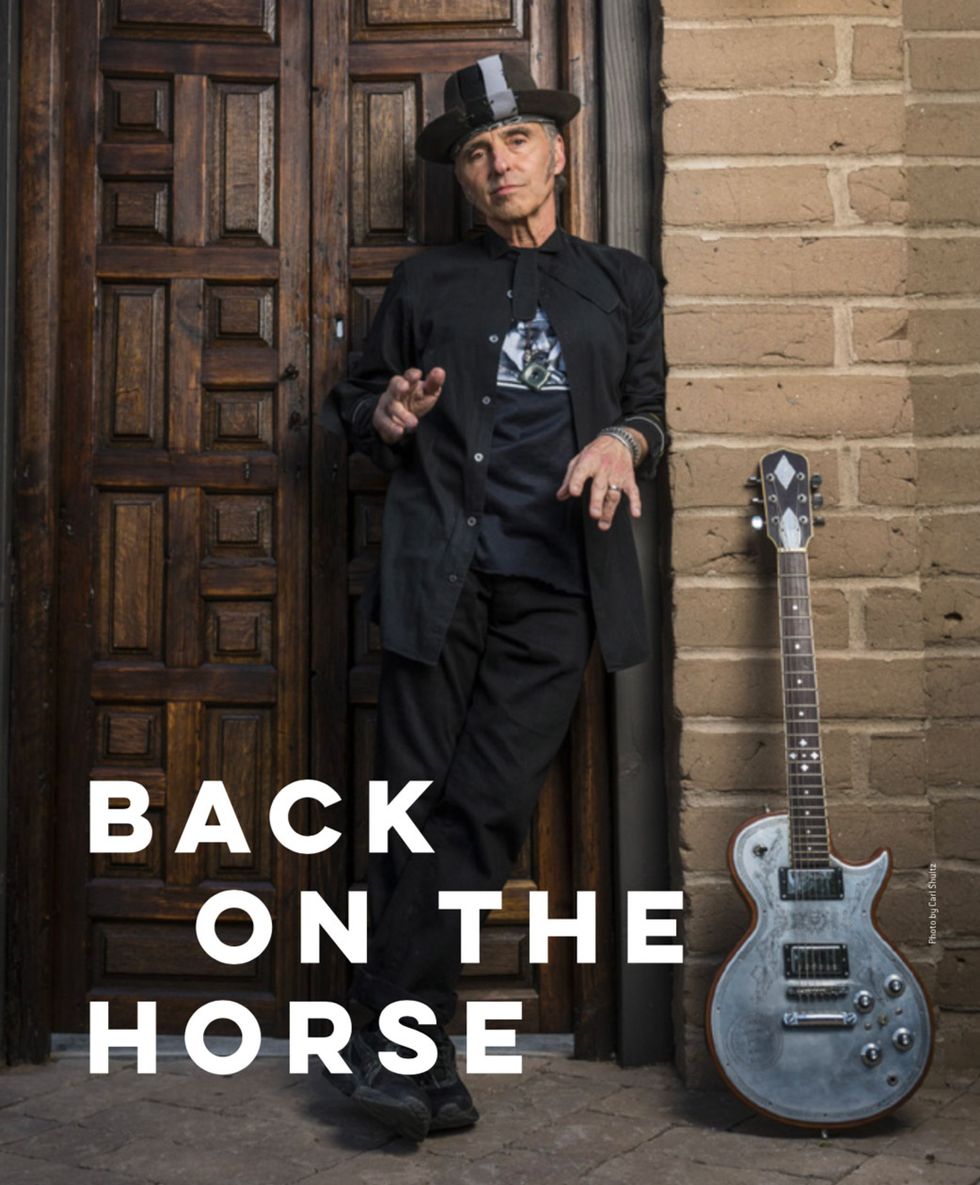 Photo by Carl Schultz
Much like a well-played vintage instrument, a great improvising band just gets better with age. The depth of an ensemble's improvisational abilities grows as the musicians become more comfortable with each other, establishing a shared vocabulary that can only come with time and experience. There may be no greater example of a rock 'n' roll band so collectively in tune with each other than Neil Young and Crazy Horse. Not only are they one of the longest running bands around, they're also one of the only groups in their milieu who continue to challenge listeners as they break through the sonic limits of their improv abilities.
Naturally, it came as a great shock to Crazy Horse fans when it was announced that guitarist Frank "Poncho" Sampedro wouldn't be joining the group for a series of shows in 2018. Poncho had been playing second guitar to Young since joining the band on 1975's Zuma, filling a hole left when his predecessor, Danny Whitten, tragically passed in 1972. In the time since Sampedro joined, Crazy Horse has thrown down countless legendary jams, creating an unmistakable and incomparable sound. What, then, would become of Crazy Horse without Poncho onboard?
Not just anyone could fill Poncho's empty shoes, but there was one guitarist who was perfect for the job. Nils Lofgren's history with Crazy Horse goes back half a century to a club in Washington, D.C., where the teenage guitarist met the band. Following the group to Los Angeles, he became Young's protégé, playing on 1970's After the Gold Rush and joining Crazy Horse for their 1971 self-titled record that did not include Young, to which Lofgren contributed two songs and shared guitar and vocal duties with Whitten.
Alongside this early history, Lofgren has, of course, had a busy career with a multitude of projects: pursuing his band Grinin the 1970s, releasing a prolific string of solo releases beginning with his 1975 self-titled debut, and his extensive work with Bruce Springsteen and the E Street Band. But over the years, Lofgren has still found time to work alongside his mentor Young on releases such as Tonight's the Night (1975), Trans (1982), Berlin (1983), and Unplugged (1993), and even released his own solo acoustic record of Young's material, 2008's The Loner: Nils Sings Neil.
In 2018, following a run of tours with the E Street Band, Lofgren was working on what would become his 2019 release, Blue with Lou, a tight, well-executed set of expertly crafted songs that included six cowriting collaborations with Lou Reed, five of which had been sitting on the shelf since the late-'70s.It was then that Young called on Lofgren to join Crazy Horse. Poncho had announced his retirement and Young had started writing a new set of songs that were "coming pretty fast" as Lofgren says, prompting Young to reassemble Crazy Horse.
With Lofgren onboard, the band met in Telluride, Colorado, to record Colorado. Young brought a crew to document the process for a companion film release, Mountaintop Sessions. The result is an in-depth, "warts-and-all" look, as Lofgren puts it, into the process of Young and Crazy Horse as they create the spirited and focused Colorado. Young's process has long drawn mythical status from fans, and it's revealing to see a master at work in the studio dealing with the same struggles that face all artists as they overcome simple obstacles like mic feedback and monitor issues. But in the end, the band delivers a solid album full of songs that emphasize modern concerns like climate change and feature jams that find Young sparring in open-ended spontaneous journeys with his old friends Billy Talbot, Ralph Molina, and Lofgren, who slips right back into the mix with masterful ease, as if he'd been there all along.
"Historically, musically, and personally, of all the many inspired musicians and people and mentors I've had, Neil and David Briggs were at the top of the list."

We caught up with Lofgren via phone at his home in Arizona, where he was hanging out with his dogs and eager to talk about all things Crazy Horse.
Blue with Lou features six songs you wrote with Lou Reed in the 1970s as well as a tribute to your dog, Groucho, who'd recently passed, and a tribute to Tom Petty. How does that experience put into perspective that you've just rejoined Crazy Horse, opening a new chapter in your relationship with Neil Young and the band?
Nils Lofgren: I met Neil and Crazy Horse when I was 17. That was 50 years ago this last May. I walked in on them at the Cellar Door nightclub in D.C. My band, Grin, was headed to L.A. in a few weeks to look for a record deal and Neil let me sing him some songs and invited me to spend two days with him hanging out at the hotel.
When we got to L.A., he turned us onto [longtime Neil Young producer] David Briggs, who wound up moving me into his home, becoming my big brother and mentor—as was Neil—and that led to a 50 year on-and-off friendship. Historically, musically, and personally, of all the many inspired musicians and people and mentors I've had, Neil and David Briggs were at the top of the list.
I was blessed to make After the Gold Rush when I was 18 years old. It was the first time I ever played any professional piano in the studio. Neil and David had that kind of faith in me. So, this was a very powerful musical family that, pretty much, I met in the very beginning. You temper that with all the people you've lost through all the decades and you realize it's really a rare gift to play and sing, period, which I took on in my Blue with Lou album and tour.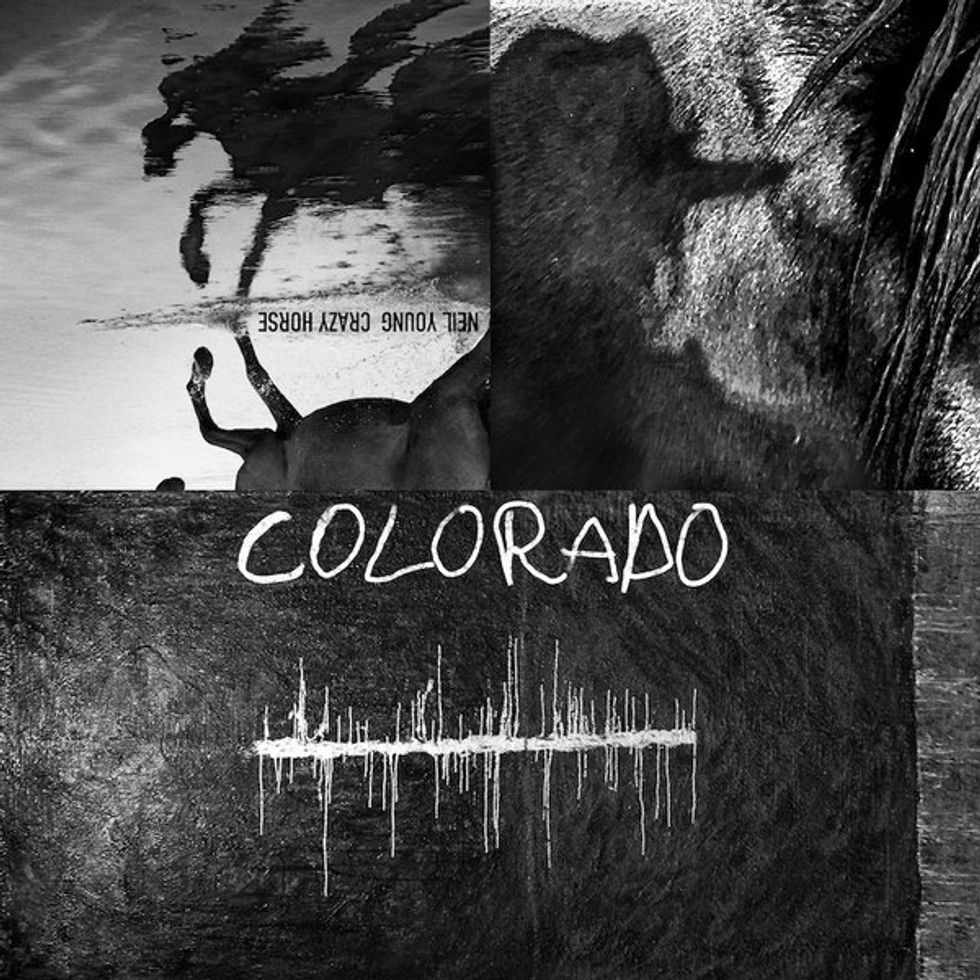 Crazy Horse guitarist Nils Lofgren says he pre-ordered his own new album, Colorado. "I know management will send it to me, but just the excitement of being a kid, getting it sent in the mail… you open it up, it's a new Neil Young record with Crazy Horse."
You've played with Neil on various projects over the years, from Tonight's the Night to Trans to Unplugged, but it's been quite a while since you've worked together. This came about pretty quickly.
Neil had planned five theater shows and Frank [Sampedro] had some heavy stuff going on at home and couldn't make them at the last minute. Rather than cancel, Neil and Elliot [Roberts, Young's longtime and recently deceased manager] gave me a ring and asked if I'd mind jumping on with pretty much no rehearsal and winging it so that they could do the shows, and I did.
It was just an honor to play with Neil and Ralphie [Molina, drummer] and Billy [Talbot, bassist]. The last night, we were doing vocal rehearsals and Neil just looked at us and said, "Hey guys, I don't have the heart to write a setlist. I'm excited to play. Let's just go have an experience. Let's just walk out and we'll wing it song to song, whatever comes to mind." I thought, that's a very brave thing to do. No better band or group of old friends and musicians to do it.
How do you prepare as a player for something like that?
I'd study Danny [Whitten] and what he did. I'd study Frank and what he did—both great players. Danny kind of set the standard for working with Neil that nobody could ever match. So we'd just be ourselves, but I'd start with the great things those guys did and then try to make it my own.
When we play live, I know that we all have permission to play what we feel. By the time we got out there, I wasn't worrying about what did Danny play here, what did Poncho play here. I was just reacting with the sound in my hands and the instrument. I never played any of those songs the same way twice, but Neil likes that. That's the blessing of Neil and Crazy Horse: He expects improv, he expects surprises, he expects you to just stay down there emotionally. So all that work I would do is what I call pre-production. Once you're out there, you just be yourself and react, because I love the music and we all have good instincts for it.
When I joined the E Street Band, my first step was to study what Stevie [Van Zandt] did on guitar and what Bruce did, and whatever somebody is doing, I'll do the next idea I hear. It's just kind of osmosis, and you want to get to the point when you play live that you make it your own, but keep the core of the song familiar for the band and the audience.
I would've imagined that this is the opposite from how the E Street Band goes, since that's such a big ensemble.
It's not really different at all. It's very similar in the sense that Bruce is another one of our great writers that likes things to be very emotional. Of course, the main difference is you've got three guitar players and two keyboard players, so that's a huge difference, space-wise, but the approach is still we don't over-rehearse, we don't overthink something. There's a bit more sound to digest and figure out where you're going to play and not play. I'd wind up playing less, of course, in a big ensemble like that then Crazy Horse.
---
---