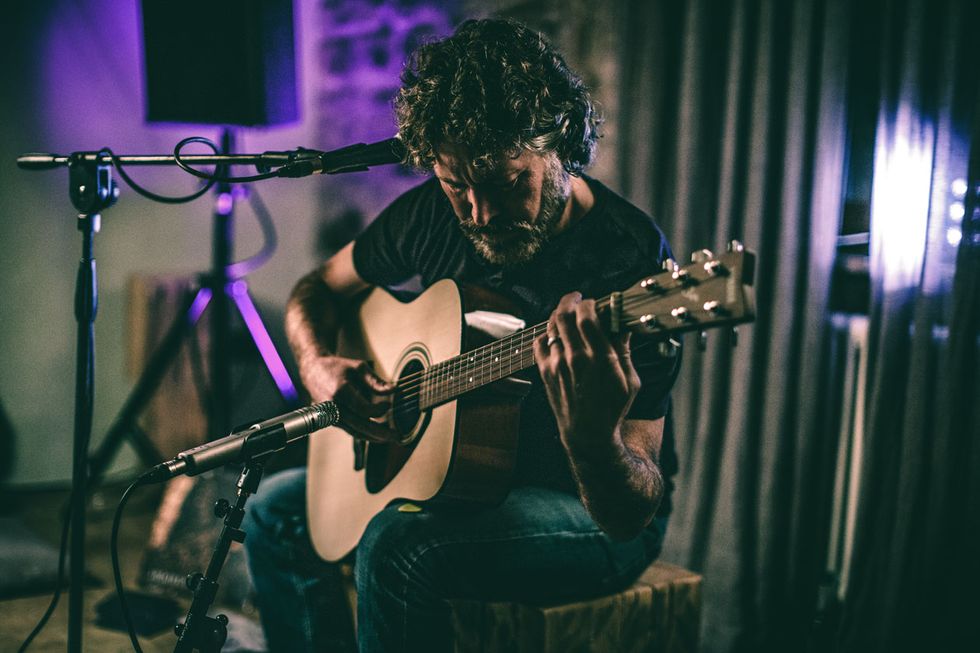 Buck Curran is playing his road guitar here, a Yamaha F310, but prefers his custom-designed Butterfly acoustics, tailored for his style of playing. They are extremely light and tight-waisted, for generating overtones and a strong midrange, and made with alternate tunings in mind. Photo by Wilson Santelli
Guitarist Buck Curran embodies the spirit of folk music as much as he plays in that style. He grew up in Ohio, and he's lived in Ireland, where he absorbed the culture of his heritage, and in Virginia, where he worked on folk instruments and became immersed in sitar music, and then in Maine, where he started the psych-folk duo Arborea—which recorded six albums—with his then-wife, Shanti.
It was during his time in Virginia that Curran started developing his own voice. Driven by the desire to capture the contemplative drones of ragas and replicate the timbre of the human voice on his 6-string, he began to explore an East-meets-West acoustic guitar style. He was later inspired to produce two tribute albums to one of the genre's leading figures, Robbie Basho.
Following suit, his latest project, Ten Years Gone: A Tribute to Jack Rose, is an homage to Rose's contributions to what's become known in recent years as American primitive guitar. Originally a member of noise/drone band Pelt in the early '90s, Rose discovered a passion for the fingerpicking and textural styles of John Fahey and Robbie Basho in the early 2000s, and the self-taught stylist dedicated the rest of his prolific career to this music until he died from an apparent heart attack on December 5, 2009.
Hear Buck Curran play "Greenfields of America," his slide guitar contribution to the new album, Ten Years Gone: A Tribute to Jack Rose.
Curran's idea was to release the tribute album—which he'll follow with his own just-recorded solo release, No Love Is Sorrow—on the 10th anniversary of Rose's death. He scrambled to compile the work of 13 different players over the three months leading up to that anniversary. They include Mike Gangloff, a former Pelt member, and Helena Espvall, who has recorded and played with Arborea, Bert Jansch, and Vashti Bunyan. With all those different voices, the album is still unified by the same romantic, folkloric spirit, weaving from sonorous cello to twanging ragtime guitar to the droning acoustic palettes that were the signature of Rose's style.
When I spoke to Curran over the phone at his home in Bergamo, Italy, our conversation touched on Rose very little. Curran was eager to share his musical life stories and how a global ancestral voice is expressed within the genre the album celebrates. A lot of his interest lies in reproducing other instruments, not just voice, on the guitar. He comments on one of his favorite piano pieces by Robbie Basho, "Rhapsody in Druz," which sounds as if played on the Persian dulcimer-styled santor, which in turn reminds him of Debussy recreating the sound of gamelan on piano. He says how the appearance of the Turkish ney—an end-blown flute—on Peter Gabriel's soundtrack to Passion made him think, "How do I do that on guitar?"
Curran is a great conversationalist, with plenty of oral history to share in a vein that speaks to a greater community of players. Just listen.
"You don't necessarily have to go into a big studio to record this. I'm an avid advocate for field recordings."
How did the idea for the Jack Rose tribute album come about?
It goes pretty far back, to Arborea's second album, while Jack Rose was still alive. I did a composition dedicated to him, and then, in 2009, he passed away suddenly after he got off tour. Over the years I thought about re-recording that, because that particular instrumental was improvisation, so it was pretty raw. And up to about a year before the 10th anniversary of his death that just happened in December, I was still kind of mulling over that idea—to release it as a single, as a tribute to him. But I suddenly realized, because I've done these tribute albums to Robbie Basho—who was also an influence on Jack Rose, and was informed by Japanese music and Indian music ... I worked with so many great guitar players for those two volumes that I thought it would be better to do the tribute as a community. There wasn't a lot of time at the point I decided to start asking people.
How do you know all the musicians on the album?
I had to really think about who were Jack's friends. For years, Sir Richard Bishop was in the Sun City Girls. His music is influenced a lot by Gypsy music. Around 2010 or 2011, Rick and I were both on tour and playing the Tin Tan Festival in Spain, and we were actually asked to do a tribute to Jack, which we did. So he was one of the first people that I thought of to invite. And then Helena Espvall, who was the cellist from Espers. They were friends of Jack.
Also, there's a lot of younger guys on the record now, like Simone Romei from Italy, who was influenced by Jack's music. I've played concerts with just about all of these guys. I was thinking specifically of William Sowell, who goes by the name Prana Crafter. I've been a fan of his music and we've never worked on a project together. He actually asked me at some point, before the compilation, if there was going to be another Robbie Basho tribute. I thought to ask him right away. He's one of the guys that I haven't really met in person. So hopefully the next time I tour in the U.S. I'll get to meet him and play a show. We're also thinking about collaborating in the future.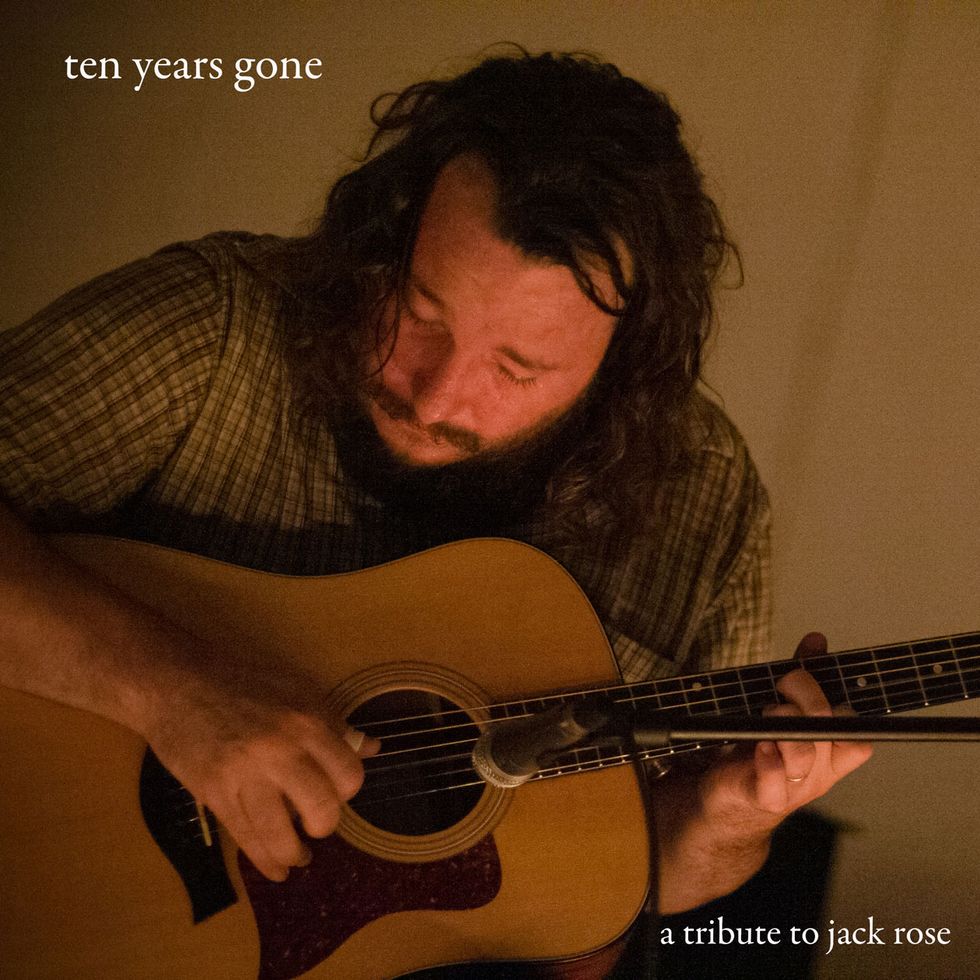 TIDBIT: In curating his tribute album for Rose, Curran asked musicians to contribute what he described as "field recordings," amassing a collection of performances that ranged from studio tracks to an iPhone demo.
How was the album recorded?
It's from various sources. I didn't want to stress anybody out, so I thought I'll just ask everybody to think of it as field recordings. You don't necessarily have to go into a big studio to record this. I'm an avid advocate for field recordings. Actually, for Simone's track, I picked out a track that I had heard by him, and believe it or not he recorded it on his iPhone. The thing was, the source was so good. He was actually very self-conscious, and went into a studio and ended up not capturing the same vibe. So we ended up using the original track.
Community seems to be a thread throughout your career. Any thoughts on why you work this way?
That's not an easy question to answer, because there's a lot of things that are related to that. In the '90s, I ended up moving to Ireland and living with a family in the mountains outside of Dublin. It was kind of communal living. A lot of beautiful things can come of collaborating with people. Musically, I've always had this interest in improvisation. With my duo Arborea that I was with for 10 years, Shanti and I started that in a backyard in Maine and we would invite other friends over and have group jams. Really good things inevitably came out of those situations.
There were years before that time where I was always struggling to meet people, you know? When I was in high school, there was hardly any other guitar players or musicians. I went to high school in Ohio, so by reading Guitar Player magazine I would discover Biréli Lagrène from France playing Django Reinhardt style, and read about flamenco players. But I had no way of hearing that music live outside of trying to go and get the albums. As things progressed and I started getting out, touring and meeting everybody … everything started to gel in that way.
---
---