When it comes to cosmic tone, it's critical to have functional potentiometers. Here's how to install them correctly and keep them ship-shape afterward.
(Originally published March 27, 2020)
Over the last few years, we've discussed the construction of potentiometers and diagnosed several potential problems with these essential, yet sometimes pesky, electric guitar components. (If you missed these, check out "The Trouble with Tribbles" and "Dealing with Knobs and Pots.")
Let's now consider problems that can occur when replacing pots, and then discuss ways to either avoid or solve these potential issues. Over the years I've analyzed virtual cries for help from hundreds of customers, and as a result I can safely say that non-working pots fall into one of two categories that account for essentially 100 percent of the problems: (1) mechanical damage while installing the pots, or (2) soldering damage when wiring them up. It's very, very rare that a pot comes DOA from the factory. Reputable manufactures have quality control systems to prevent this, so it's almost guaranteed that a problem with a potentiometer has to do with the end user. So let's take a look at these two scenarios.
Mechanical damage.
In this case, the most common damage is caused by overtightening the nuts, especially when installing pots into a guitar with a stiff wooden top like a Les Paul.When installing pots, forget the adage "the more, the merrier." Instead, keep this in mind: The next level beyond "tight" and "super-tight" is "broken." Guitar pots don't have to handle a lot of weight or withstand a nuclear strike, so they should only be screwed down tight enough to remain immobile when you rotate the knobs.
First and foremost, it's essential that you install the pots correctly. This might sound obvious or trivial, but you can't imagine how many guitars I've seen where pots have been installed in, shall we say, unusually creative ways.
Here's how to do it right: The first step is to slip the lock washer onto the pot shaft and then insert the shaft through the hole in your guitar's pickguard or top. With the shaft protruding through the other side, now put the flash washer on the shaft, followed by the hex nut, which you can initially thread with your fingers. Finally, use a socket wrench, small adjustable wrench, or an ESP Multi Spanner to carefully tighten the hex nut until it's snug against the washer and doesn't turn anymore.
If you discover that the pot sits too high on your pickguard or guitar top, you'll need to remove the pot and start over by first threading another hex nut on the shaft, followed by the lock washer, and then repeating the installation process. This "underside" hex nut will let you adjust the height of the pot to your individual wishes. Simply insert the shaft through the pickguard or top, eyeball the height, and adjust the hidden hex nut up or down on the pot threads as needed. Finally, add the flash washer and exterior hex nut to complete the process. The key here is to always remember the correct order of these parts.
So what happens to a pot when you overtighten it? If the four tiny tabs that hold the little metal plate to the shaft, wiper, etc., are unable to withstand the force applied to the shaft when you torque down the hex nut, they'll bend and let the plate and the shaft rotate freely. Hmm, no good.
But don't worry, it's an easy fix: Use needle-nose pliers or a small flathead screwdriver to gently pull the tabs up a little more so you can rotate the plate and return it to its centered position. Then bend the tabs back into place so they hold the shaft securely (Photo 1). Done!
It's almost guaranteed that a problem with a potentiometer has to do with the end user.
Other mechanical damage is typically caused by trying to remove or install knobs that aren't made for a given pot's shaft. When you try to hammer down a non-fitting knob, you can easily break the shaft by forcing it through the knob bushing. (In most cases, this happens when trying to force a metric knob, measured in millimeters, onto a U.S. pot shaft, measured in fractions of an inch.)
If you try to remove a jammed knob that someone managed to "fit" using brute force—or even attach with superglue—chances are good you'll break the wiper inside the pot and pull out the entire shaft along with the knob.
Yet this is easy to avoid: Never try to force a knob onto the pot shaft; instead use one that fits. If you need to remove an improperly fitted knob, use a heat gun to soften the plastic or a saw to split it open. Don't use any upward or downward pressure—that will ruin the pot, for sure.
Soldering damage.
The easiest way to damage a pot is to overheat it, especially when attaching a ground wire to the back casing. It's a common mistake. When it comes to how long your soldering iron should be in contact with the pot, the golden rule is "as short as possible, but as long as necessary." It takes time to develop this skill, so you'll need to practice. Also, to avoid disaster it's crucial to have the right tools. Here are some helpful guidelines for soldering onto pots.
1. If you don't have a soldering station with an adjustable temperature control, you need at least two different handheld soldering irons: one rated at around 30 watts and the other around 60 watts. This is exactly what I use for any soldering job outside the shop. The 30-watt iron is for soldering on the pot terminals, pickup selector switch terminals, output jack terminals—those common tasks. The 30-watt iron is our daily go-to tool for all things guitar at the shop.
The 60-watt iron is for soldering to pot casings and Stratocaster tremolo claws. Don't try to solder to a pot's case with a 30-watt iron—the solder will need a very long time to flow and you'll expose the pot to a lot of heat. With a 60-watt iron, the solder will flow instantly and soldering time will be very short. This yields strong solder joints.
2. If you want to be on the safe side, remove the case from the pot before you solder to it. That's what I do when I want to avoid damaging vintage pots. To remove the case, gently bend the four metal tabs away from you. To reinstall the case, simply bend the tabs back into place. Take your time and go easy.
3. Always rub the metal casing with 180-grit sandpaper before soldering to it. Manufacturers use all kinds of greasy coatings to protect the case against oxidation, which can make a soldering job close to impossible. So sand the case until it's clean and shiny, and then clean it with naphtha. This will provide the perfect base for a good soldering joint. But don't do this to vintage pots! For those, it's paramount to preserve the patina that comes with age.
4. If you decide not to remove the pot's case, strive to avoid any unnecessary heat. Here are some helpful tips:
Always turn the pot down to 0 before soldering to its case.
Use a heat sink on the case. For this job, you'll need something bigger than just a standard clip. To enhance its effect, you can chill the heat sink in the fridge ahead of time.
If you need to connect one of the terminals to ground, as on most volume pots, don't try to solder the terminal directly to the case by bending it back. This may look cool and vintage, but you'll need a lot of heat and good soldering technique to pull this off. Simply use a piece of solid-core wire and solder it to the terminal and from there to the case—this yields the same performance.
After tinning the case, let it completely cool down before you solder the wire to it.
5. Don't apply excessive solder to a terminal—it will flow down the terminal's leg and find its way inside the pot.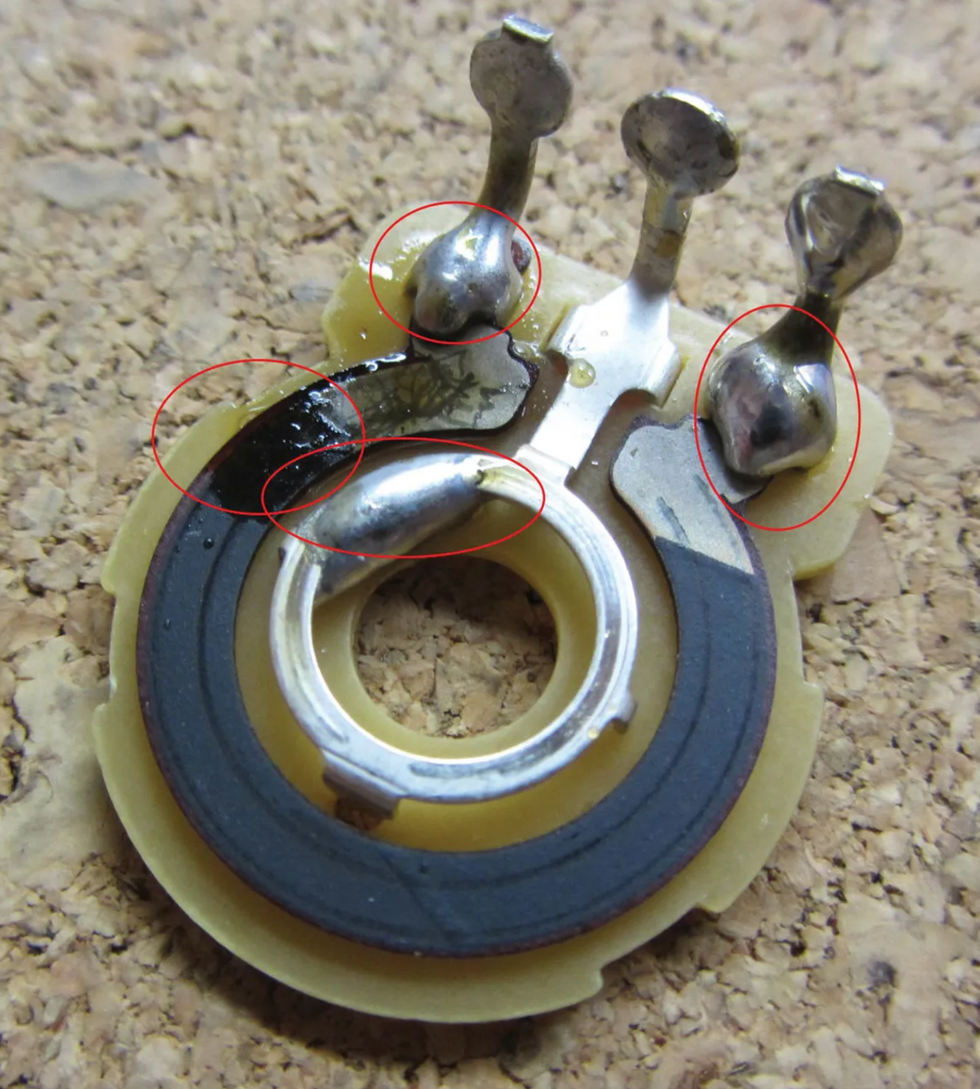 Photo 2 — Photo courtesy singlecoil.com
Photo 2 shows a pot from my "Hall of Shame" collection. Look at the two red marks at the end of the two terminals. These solder blobs are what happen when you apply way too much solder. There's also a big solder blob on the middle terminal's inner ring. How someone managed to get the solder inside there will forever remain a mystery. On the upper left, notice how the carbon is melted and buckled from too much heat. This poor little thing had to endure cruel treatment ... may it rest in peace!
Remember, if you don't solder regularly, there's no shame in having a professional guitar tech do the work for you—especially when you have a vintage guitar and need to work on its original pots. Retaining your guitar's value is an excellent investment. Soldering on pots isn't rocket science, but it requires the right tools, experience, and a steady hand.
Maintaining pots.
These are mechanical devices with a limited lifespan, and it's inevitable they'll start to wear out over time. Yes, it's possible to clean, repair, and renew the carbon inside, but this only makes sense for a vintage pot, not a modern one. Instead of trying to repair the latter, it's more cost-effective to simply replace it.
Typical pots are not completely sealed; they have open areas around the terminals, so moisture and dust can creep inside. To prevent this, you can buy pots that are completely sealed or cover standard pots with an additional dust seal. Usually a guitar's electronic compartment is closed and not directly exposed to contamination, so an additional dust cover isn't necessary for our applications.
Also, there's no need to maintain your pots. At a certain point, they'll begin to wear out and make scratchy noises when you turn them. This means it's replacement time! You can delay this a bit with contact cleaner, but this treatment is only temporary. Contact cleaner is cool for some applications, such as servicing hi-fi equipment, but it can't repair worn-out pots.
My advice? Never use contact cleaner on your pots because the cleaner will attract debris, and when it evaporates you're left with hard, dry crud—something you definitely do not want inside your pot. To combat this, you'll spray more cleaner and thus begin a destructive cycle. This results in replacing the pot much earlier than necessary, exactly the opposite of what you want. We all know the road to hell is paved with good intentions. If a pot is really dusty and making scratchy noises—maybe you took your Tele to Burning Man—the best thing to do is open it up and swab everything with Q-Tips soaked in naphtha.
Finally, when it comes time to replace a pot, pay attention to the specs. Some pots are designed for 2,000 rotations while others are tested to withstand 20,000. You get what you pay for, and this isn't a place to cut corners.
All right! Next month we'll examine the Peavey Omniac JD, Jerry Donahue's signature model T-style, and I'll show you how to transfer its sophisticated wiring scheme to your own guitar. Until then ... keep on modding!
Ram's Head-style circuit meets germanium treble booster in a stomp built to deliver Dinosaur Jr.'s wall of sound: The PG Wren and Cuff Garbage Face review.
 

Ratings

Pros:

Rich, complex, and searing Ram's Head-style tones. Simple but brilliant dual master output section. Effective and versatile treble booster.

Cons:

Cramped footswitch array.

Street:

$349

Wren And Cuff Garbage Facewrenandcuff.com

Tones:Ease of Use:Build/Design:Value:
Though it isn't always easy to tell over the sheer volume, J Mascis' live sound is a complex tapestry. Waves of modulation weave in and out of phrases. Wah blasts hit like shots of nitrous oxide. Delay repeats flash like meteorite tails. But the beating heart of this deafeningly exploding nebula is a 40-something-year-old "Ram's Head" EHX Big Muff that has soldiered on through more than a few scrapes. In 2017, it was crushed by a falling amplifier cabinet and resuscitated by Big Muff specialist and Wren And Cuff founder Matt Holl. That repair led to this pedal.
The Garbage Face, which was built with significant input from Mascis, is a first-rate Ram's Head Big Muff clone that captures the rage and expansiveness of J's original. But it also extends the Muff circuit's versatility by adding a footswitchable second master volume switch and a treble booster—effectively replicating one of the most vital sections of Mascis' live rig in a single pedal.
Freak Scene
Mascis' writing and arranging style could, in many cases, be classified as many shades of loud. And if you've spent any time investigating this performance method (and when you realize how spacious and dynamic Mascis' songs are relative to other loud-on-loud styles like metal and hardcore), you know that walking the fine line between a big, fuzzy rhythm sound that leaves room for vocals and a more scorching setting for leads can be tricky. Mascis has used several solutions to achieve this rhythm/lead contrast over the years, including stacked Big Muffs, overdrives in front of Muffs, and treble boosters upstream from his Ram's Head.
The latter approach is replicated in the Garbage Face, which situates a germanium Rangemaster-based booster before the Muff circuit. The treble boost section also features a treble/wide switch that moves between a very hot, toppy boost and a more contoured, low-end-heavy setting. The Garbage Face provides another, more inventive, way of achieving the fuzzy loud-to-louder dynamic in the form of a second master volume/output control that can be set dramatically quieter or louder than its opposite.
The entire scheme is controlled via five knobs, a treble booster voicing switch, and an array of three footswitches that activate the fuzz and the treble booster, and enable switching between the two output volumes. The pedal is built to Wren And Cuff's usual super-high standards and the control set is easy to master. If there is a design drawback, it's that the footswitches can feel crowded on such a compact enclosure.
There's a perceptible sense of space, air, and headroom in the Garbage Face's output.
Correct For Drift
Matt Holl's time under the hood of Mascis' favorite Muff yielded some surprises. Many component values were off from their declared values by as much as 40 percent. That's not that unusual for a vintage pedal—of any type. What was difficult was replicating the performance of so many drifting-value parts with modern equivalents. The answer, according to Holl, meant occasionally stacking components to achieve a best approximate value. The audible results of Holl's exactitude are impressive.
Take a Run at the Sun
Most builders accept that building a definitive version of any vintage fuzz verges on folly. (A fact underscored by the value drift Holl encountered in measuring the original components.) But Holl's aspirations to achieve authenticity in the Garbage Face pay big dividends and reveal much about why good EHX Ram's Heads are so coveted in the first place. For starters, there's a perceptible sense of space, air, and headroom in the Garbage Face's output. Sure, high-gain settings will compress the hell out of your signal, but if you compare the compression and space you hear from the Garbage Face to the highest gain settings of, say, a Sovtek Muff-style fuzz, there's no contest. The Garbage Face gives individual notes more room to bloom, making solos more lyrical and chords much more articulate. It's little wonder that Mascis leaned so heavily on the Ram's Head to lend mass to the folk-rock underpinnings behind many Dinosaur Jr. tunes.
Note articulation is also improved by a very effective tone knob, which can add a lot of detail (and a lot of sizzle at high gain and volume settings) and dishes the darkness for more sludge-oriented Muff pilots. Similar brightening and detail-enhancing effects can be achieved with the treble booster. It's not an easy effect to add at high volume and high gain—things got very squirrelly when I had a go at replicating the Dinosaur Jr. experience by using the treble booster and Muff circuit together in front of a 100-watt Marshall and a 4x12. But it's important to remember that the Garbage Face can do much more than just reproduce Dinosaur's live megatonnage. In fact, the available range in the tone controls and the treble booster (as well as the ability to use the latter independently) means you can conjure mid-'60s freakbeat fuzz sounds, sustaining cello lead tones, raspy garage textures, and chugging mid-gain rhythm colors. Add the ability to switch between two different output levels and the Garbage Face's tone library adds up to an expansive collection.
The Verdict
It's hard to imagine a Big Muff enthusiast not being intrigued by the potential of the Wren And Cuff Garbage Face. Like most really good Ram's Head-based circuits, it covers 90 to 95 percent of the Big Muff tones most players want—save for a few very wooly or icy textures that are unique to Sovtek- and "triangle"-style circuits. But the utility that comes with the addition of the germanium treble booster, a wide-range tone control, and the unique switchable output section goes a long way toward making the Garbage Face a complete multi-gain solution.
With a highly maneuverable class-A tube preamp, 800 watts, a built-in handle, and a featherweight 8 1/2 pounds, this amp was born to rumble and travel.
Played on Warkwick Streamer LX5 and recorded using PreSonus FireStudio and PreSonus Studio One 3.
Clip 1: Drive at 12 o'clock, compression at 8 o'clock, bass 1 o'clock, shape at 12 o'clock, freq at 12 o'clock, and treble at 12 o'clock.
 

Ratings

Pros:

Compact. Fine tones. Easy to dial in.

Cons:

Somewhat noisy fan.

Street:

$599

Hartke LX8500hartke.com

Tones:Ease of Use:Build/Design:Value:
If you've played bass for any amount of time, you have likely heard the name Hartke, a company known for aluminum-coned speakers and synonymous with top players from multiple genres. Hartke is also known for blending a unique sound with the latest technology to give bassists a solid footing, but without breaking the bank.
In the class-D bass-amp movement, there seems to be stiff competition. Lately, it feels like anyone with a soldering gun is putting out a powerful amp with little to no weight and a few tone knobs. As with just about everything else, however, the cream does rise to the top, so you need something special when you bring your amp to the table. So while Hartke is certainly no newcomer to the bass universe, their LX8500 head is, and we recently put it through its paces.
It's Light. So Watts?
The LX8500 is a class-D amp with a twist: a class-A tube preamp. This amp's 12AX7 is designed to give a bit of heat to the signal when needed, as well as help its class-D bones become, well, less sterile. The LX8500 is a powerful amp at 800 watts, weighs in at a gig-friendly 8 1/2 pounds, and even has a built-in carrying handle—making it easy to heft for on-the-go players and a breeze to pull out of a carry bag.
I really like when I can just plug in and dial in a great sound with little to no effort, which was the case here.
The front-panel layout is simple to navigate, and it's illuminated for those dark-stage adjustments on the fly. From left to right, it houses a drive control (footswitchable), a mute switch, dials for compression and gain, and a brite switch. The tone-stack EQ section houses bass and treble controls, and a midrange section which allows one to adjust the shape and frequency independently. The oversized master volume control will let you turn up louder than the PA in a hurry, and the frontside also houses an aux in and headphone out—both 1/8"—for easy and quiet practicing.
The back panel is rich with features and nicely laid out to make connections a breeze. There is a dedicated tuner out, which makes life easier if you aren't using a pedalboard. Next to the effects loop is the XLR DI section with both pre/post EQ and lift/ground switches. The footswitch section has two jacks to accommodate a pair of 2-button footswitches (not included)—one to control the drive and effects loop, and the other to control the frequency and bright circuitry.
Shape of My Heart
I paired the LX8500 with an Eden 410XLT cab and alternated a stock 1978 Fender Precision with an active Warwick Streamer LX 5. I jumped in first with the Warwick with the amp's drive off and EQ flat (noon settings across the board, actually). The tone was powerful and downright impressive as I watched the compressor lights dance between white and orange. I really like when I can just plug in and dial in a great sound with little to no effort, which was the case here.
As I adjusted the settings, the gain control seemed a little noisy—scratching audibly as I turned it. This is an easy fix at home, but it was a little disappointing to need a pot cleaned right out of the box. That said, Hartke did let us know our test amp was a pre-production unit and not mass produced, and that customers will not experience this with the production models.
Getting deeper into the amp's features, I was able to dial up everything from modern fuzz to compressed funk in just a few short minutes. The drive control is a wonderful compliment to the LX8500, and the 12AX7 really gives the amp life. Setting the drive dial to about 9 o'clock gave my tone just a touch of hair and the amp more character, especially with a few turns of the shape and frequency controls, with which I could quickly roll the sound from wonderfully thick to razor-sharp and brash.
Giving the Fender Precision a turn as well, the LX8500 did an excellent job making this bass dance. As with the Warwick, the amp brought out the finer characteristics of my P, without coloring the tone too much. One could say the Hartke falls short in this way. A great amp should have a unique tone. However, I feel a great amp simply makes a bass sound better, which the LX8500 achieves in style.
I spent a lot of time with the different settings available through the shape and frequency section. It's really the heart of the amp. The fact that the frequency is footswitchable is nice, too, as one may want to pair effects catered to the amp's midrange-shaping abilities. A couple of my favorite settings for the Precision and the Warwick can be heard online, and both solidify the dramatic range of this amp.
The Verdict
Simple, powerful, and packed with usable features, the LX8500 is a budget-friendly bass head with plenty of juice, and adds a nice-sounding drive function and easy-to-use compressor (One knob!) to boot. To say this amp would be able to handle most anything is not exaggerating: church, coffee shops, and big rock venues alike could all be easily managed with the LX8500. I also just liked the overall presentation of the amp and can confidently say it's worthy of a solid run-through at a dealer near you.