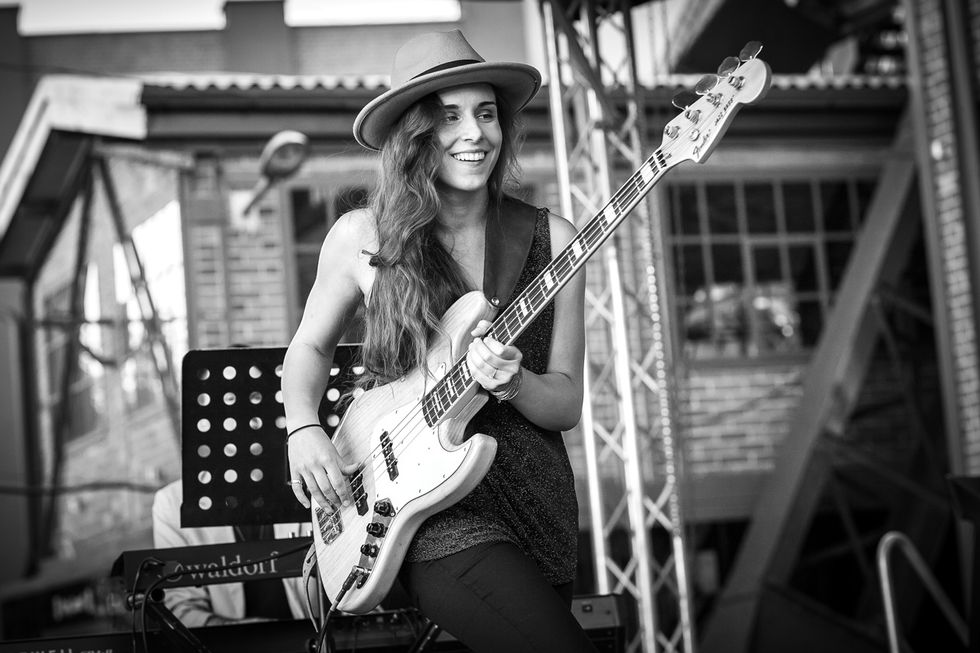 Besides the excellence of Glyk's still-growing musicianship, her palpable delight for playing is an infectious part of her appeal. Her song "Joy Joy" is a literal incarnation of that. Photo by Krzysztof Grabowski
Onstage, which instrument do you primarily listen to? The bass drum?
Yes, and that is because of my dad. He told me all the time, "You have to listen to the main drum. You have to keep the same rhythm with me, because the bass is the heart of the band, and you have to be focused." The bass and drums should be together as one. They should have one blood.
Do you have a special chemistry when you play with your father?
He's probably the only person who I always know what he is going to play. That was a really nice thing when playing onstage with him, because we have one blood and we practiced a lot for fun at home. He knows me really well, too, so he catches my ideas when we are onstage. I think that is the power of bands that play together their whole life. They know each other well and speak each other's "language."
What's your approach to soloing? Do you view it as a chance to use more complex harmonies or rhythms?
Sometimes. I don't always know what I am playing, because I am a really emotional person. Sometimes I just play what I feel—I don't think about harmony or the structure of the chords. If I want to play totally crazy notes, I just play, because I feel it. For my knowledge, I want to practice [sophisticated harmonies and rhythms], because sometimes it is useful to know what you're playing. But I am really emotional, so usually I play from my heart.
I don't always know what I am playing, because I am a really emotional person. … If I want to play totally crazy notes, I just play them, because I feel it.
What styles of music do you listen to other than jazz?
Not heavy stuff—not hard rock or anything like that—but a lot of pop songs. I love to do my own bass lines to really popular songs. I appreciate the creativity of people and I want to listen to new things. I also like older stuff, like Level 42, for example. The bass lines in old songs are always cool. Stevie Wonder, Tina Turner, and even Michael Jackson—their songs have a lot of great bass lines.
"Joy Joy" is a great example of you leaving the jazz box. Are you trying to move more in that direction?
Yes. I was thinking recently and I decided I don't want to be called a "jazz musician." Jazz puts a huge emphasis on progressing—in your knowledge of the music, the history, the harmony. That is a good goal for me to know all this stuff, but I am just a person who loves music. I want to create music—not jazz, but music.
You have a few incredible guests on Feelings.
Yes. I met Brett Williams onstage with Marcus Miller, and then wrote to him on Instagram. He recorded at home—or in the studio—and then he sent us the tracks. Most of the people [on the album], even Anomalie, I contacted through the internet. Mateus Asato, too. He recorded his tracks from home as well. I've never met him. I'd really love to, because he is one of my favorite guitarists. I remember the day he wrote me—I was so surprised. It was more than a dream that Mateus Asato wrote me.
Basses
2006 Fender Jazz Bas
Gibson EB-3
Amps and Effects
Kemper Profiler Stage
Strings and Picks
Europa Sound .045–.100 sets (roundwound for the J, flats for the EB-3)
What did he say?
His brother showed him a video of me playing, and he wrote that he liked my way of playing the bass. I was super inspired. I practiced even more because he liked my way of playing! He has his own language with music. He's really recognizable when he plays. When you hear his songs, you know that it is Mateus Asato playing.
How did you record your tracks and the parts with your group in Poland?
We were in the studio for three or four days with drummer Calvin Rodgers, who is on every song. But most of the tracks were recorded at home, and we were sending tracks to everybody. My previous album is totally live in the studio, but this one was more of a production.
When you record, do you use an amp or go direct?
In the studio, I used an amplifier. It was handmade by a guy in Poland, and he created a really good-sounding amplifier. But when I record stuff at home, I use only the Universal Audio Apollo as a preamp, and it is connected straight to my computer.
What amp do you use onstage?
Onstage, I only use the Kemper Profiler Stage and in-ear monitors.
What do you like about Fender Jazz basses?
I've always loved the Fender brand, from the beginning that was my only choice. I feel a connection with this instrument. I tried different brands, but this one fits me really well. It is my favorite, and I really like the sound and the look. I also have a Gibson EB-3 with flatwound strings, so it sounds really soft and clear. I use those two basses most of the time. My Fender is from 2006, and it is made in Japan. My dream is to have a really old Fender Jazz bass made in the U.S.A. Maybe in the future I will find something.
What are you working on next?
I released albums every year when I was 18, 19, 20, and 21—and then I took a short break from albums. For now, I am focused on doing things with my band. I am still trying to find my own path in music, but I will for sure create a new album soon. I would also love to come to the States, too, but it's not so easy!
Kinga Głyk's Jamiroquai-esque lines on "Joy Joy" are as infectiously upbeat and fun as the video's quirky Napoleon Dynamite vibes.
---
Slap virtuosity, guest keys from Anomalie, and a loving nod to Rick James' "Super Freak" are just some of the goodies in wait on Głyk's "5 Cookies."
---
Głyk tackles bass legend Jeff Berlin's arrangement of Eric Clapton's "Tears in Heaven."
---