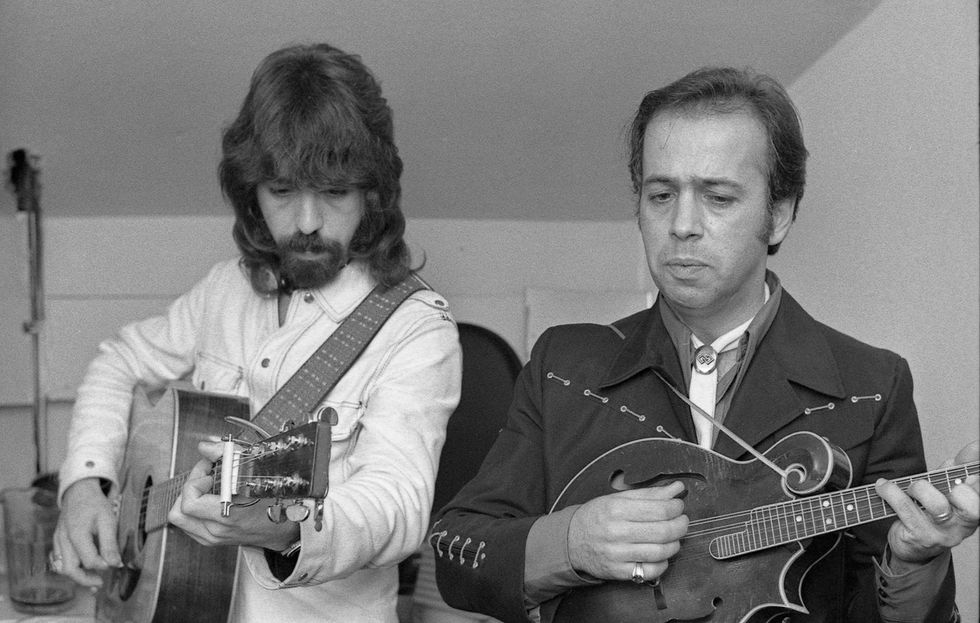 Clarence White (left) and his brother, Roland White (right), played in bands together for decades; first in the Country Boys and then the Kentucky Colonels. This photo was taken at L.A.'s Ash Grove club in 1972. Photo by Frank Chino
Electric Bends
As the '60s wore on, the folk revival took a backseat to rock 'n' roll, and the Kentucky Colonels went on hiatus. Roland moved to Tennessee and worked with Bill Monroe and then Lester Flatt, and Clarence—at the suggestion of Telecaster legend James Burton—started playing sessions. It was at that time he met his future bandmate and collaborator, multi-instrumentalist and tinkerer Gene Parsons.
"The way we met was through a guy named Darrell Cotton," Parsons says. "I was in a band with him, along with Gib Guilbeau and Wayne Moore, and he had a recording studio in Hollywood. He had booked a session, and said, 'You've got to meet this young guitar player, Clarence White—boy is he hot stuff.' I hadn't associated the name with some of the stuff I'd heard with the Kentucky Colonels, and besides, this person he was talking about was an electric guitar player. Anyway, the session went off really well, we hit it off with Clarence, and he joined our band right away—which ended up becoming Nashville West. It was so early in his electric career that he was still using a capo on the electric guitar."
White, along with Parsons, Guilbeau, and a few others, did sessions for noted producer Gary Paxton—first in Hollywood, and then near Bakersfield, playing on country-flavored tracks by such artists as the Gosdin Brothers, Jack Reeves, Bruce Oakes, and many more. That's when White, in collaboration with Parsons, modded his Telecaster with a mechanical string bender affixed to the strap. The device, which he ultimately connected to the B string, allowed him to bend the pitch up a whole-step—similar to pushing a string behind the nut, which many players do on a Tele—but without having to take his hands off the fretboard, and those bends became integral to his voice on electric.
"Clarence was the leader of that California hippie-rock bender movement," country star Brad Paisley says about White's influence at that time. "He played that bender and it became such a cool, honky-tonk, California country sound. He made the Tele sound twangy and unique."
Nashville West—White, Parsons, Guilbeau, and Moore—took their name from a club they played, and were an important part of the Southern California country scene. In addition to recording their own music, they did numerous sessions—as a group and as individuals—and it was through his session work that White met Byrds members Gene Clark and Chris Hillman, played on early demos for what was to become the Flying Burrito Brothers (with Gram Parsons), and eventually found his way into the Byrds.
"Clarence, he would incorporate different little push beats and that kind of thing. He was a very sly guitar player. He would sneak things over on you and you had to pay attention."—Herb Pedersen
"Clarence had played on records like Younger Than Yesterday and The Notorious Byrd Brothers," Parsons says about White's work with the Byrds as a session player before joining the band. "He also did Sweetheart of the Rodeo with them. They wanted to duplicate some of the steel stuff that Lloyd Green and JayDee Maness did on that record, and in particular on the tune 'You Ain't Goin' Nowhere.' Clarence was able to do that with his string bender. They also knew he would be a great addition to the band, and they hired him. The drummer was Chris Hillman's cousin, Kevin Kelley, at that point. I guess they weren't satisfied with him, although I thought he did a wonderful job, and Clarence was basically the guy that got me in. He said, 'You need to use my drummer Gene.' I did an audition and I was in."
On both acoustic and electric, White used a hybrid-picking style that combined a flatpick with his middle and ring fingers. But in his electric playing, he broke from the traditional bluegrass approach of position-style playing based on open chords.
"Electric guitar and acoustic guitar are two different animals," says Pedersen. "On electric guitar, Clarence could really branch out. He used the whole neck, could go up and down on it, and did pull-string things. But he would still use a straight pick and a two-fingers style. He incorporated that from his acoustic playing."
White was with the Byrds from 1968 through 1973, appeared on five albums as a band member, and, except for Roger McGuinn, had a longer tenure in the band than anyone else. His only electric guitar throughout this period was his StringBender-equipped Telecaster, although his amplifiers varied. In the studio, he usually used a Fender Vibrolux, but onstage—depending on the size of the venue—he used different amps including a modded Dual Showman, a modded Twin, and a Super Reverb. He also used a Leslie cabinet miked in stereo.
"It had a blanket over the top of it, a mic on one side, and another mic 180 degrees on the other side," Parsons says. "It was panned far right and left, so you'd get the chorus effect in the house. It had two speeds—the fast vibrato and the chorus, which was a slow revolution. He mostly used the slow chorus."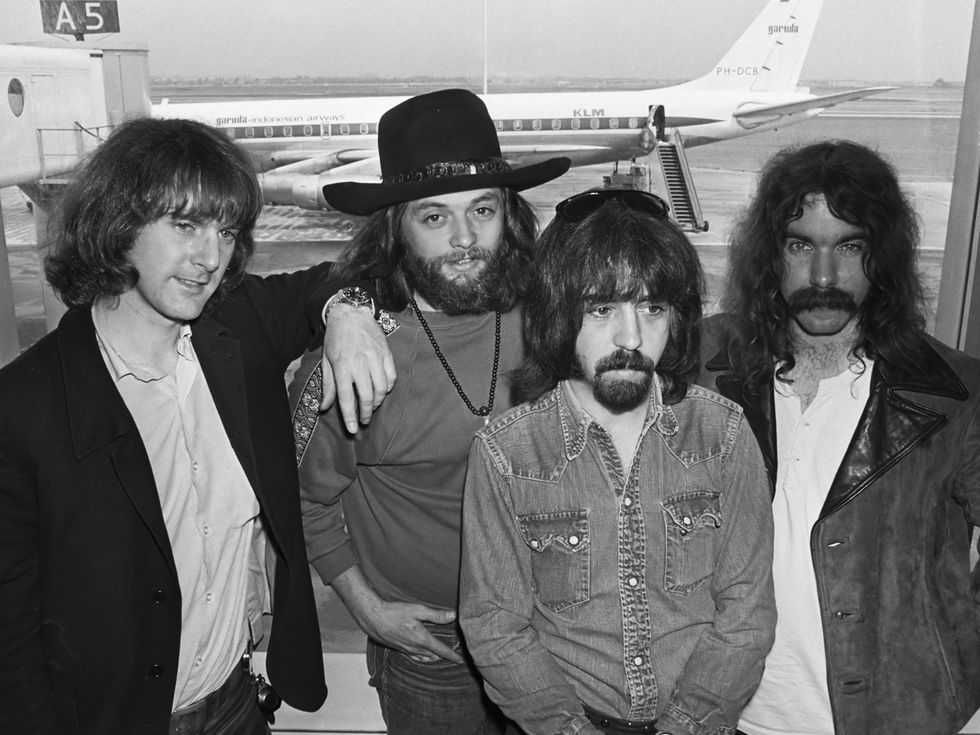 The Byrds circa 1970, from left to right: Roger McGuinn, Skip Battin, Clarence White, and Gene Parsons. Photo by Joost Evers
White's tenure with the Byrds was during a time when the band was transitioning from having to be very loud onstage to relying on the PA. The band's soundman was the legendary engineer Stuart "Dinky" Dawson, who set them up with a WEM PA system, which was one of the earliest modern PAs. That meant, at least in theory, that the stage amps could be a lot quieter. "But I don't think the guitar players ever got over having big amps onstage," Parson says. "It was loud."
White didn't use many effects, although he did have an out-of-phase switch for when both pickups were activated on his Tele. He also had a custom distortion unit, built for him by pedal-steel guitarist and amp tech Orville "Red" Rhodes. Despite the many different—what today would be vintage—tube amps he used, he relied on the pedal for fuzz A good example is "Lover of the Bayou" off the 1970 release Untitled. According to Parsons, that pedal was stolen at a show, and they had trouble finding another that sounded similar.
White used his acoustic guitar with the band as well, and although he took a laid-back approach with the engineers, he had an intuitive sense when it came to miking his instrument.
"Having done so many acoustic shows with an acoustic guitar, he knew the sweet spot," Parsons says. "He would gravitate to that spot and hold the guitar so it was in the position in relation to the mic that sounded the best."
Through his work with the Byrds, as well as his continuing session work, acoustic shows, and reunions with Roland, White's reputation and influence began making a mark. Aspiring guitarists came to shows to stand in the front row and gawk, and established players stopped by to check him out, and to meet him.
"We were playing at the Whiskey a Go Go, and a finely dressed man in a mohair suit, with a feather in his cap, came to the dressing room door," Parsons remembers. "The road manager said, 'There's a gentleman here to see you Clarence.' The guy walked in and said, 'I am an admirer of yours. I used to come down to the Ash Grove and hear the Kentucky Colonels play. I really love the way you play guitar.' Clarence said, 'Well thank you very much, and what was your name?' And he said 'Jimi Hendrix.' Clarence said, 'I'll be darned. I like the way you play, too. You're the whoo-whoo guy,'" Parsons says, chuckling at Clarence's description of Hendrix's wah-wah work.
Post-Byrds
White left the Byrds in 1973, and he was busy. He played in the bluegrass supergroup Muleskinner—with David Grisman, Peter Rowan, Richard Greene, Bill Keith, John Kahn, and John Guerin, played on many sessions, and toured Europe with the New Kentucky Colonels, which featured his brothers Roland and Eric, plus either Pedersen or Alan Munde on banjo. He signed a deal with Warner Brothers, began work on a solo album, and did a short East Coast tour with an all-star lineup that included Gram Parsons, Emmylou Harris, Gene Parsons, the Country Gazette, Sneaky Pete Kleinow, and others.
But early on July 15, 1973, White was playing a gig in Palmdale, California, with Roland, when tragedy struck. He was loading his gear into his car after the show when a drunk driver hit him head on. He died at the scene, just over a month after turning 29.
"When I got fired from the Byrds, I went to Warner Brothers, got a contract, and came out with a solo album, which of course, Clarence was on," Gene Parsons says. "Clarence, Emmylou Harris, Gram, and the Country Gazette—which Clarence was playing on—also went with Warner Brothers. We all had the same manager, and we were going to do a European tour promoting all of our albums coming out at close to the same time, so we did a pilot tour back East to just cement how we were going to present ourselves in Europe. But not long after that, Clarence got killed by a drunk driver, and, soon after, Gram did himself in, in the Mojave Desert, right where I was raised. In fact, my dad called and said, 'I am so glad to hear your voice son. They got your picture on the front page of the local paper saying that you killed yourself out here in the desert'—because my name is Parsons, too. So that took the wind out of the tour to Europe idea, and we all moped along. I didn't play any music after that for a while, because it just broke my heart. I tried to fulfill what Warner wanted me to do to promote my record, but I'm afraid I let them down. I asked them to drop me, which they did."
White had started young, was an in-demand player, and despite his early death left behind an extensive discography. His influence was massive and not only helped change the role of the acoustic guitar in bluegrass, but because of his work with the StringBender, defined the sound of modern country guitar. And a big part of that may have been due to how easy he was to work with.
"It was always good working with him," Pedersen says. "He was a solid guy. He was a band guy. He never—for lack of a better term—took his solos and tried to stick them up your ass, and he had a wonderful way, a subtle way, of playing."
"Clarence never played anything the same way twice," Parsons says. "When we'd do 'Eight Miles High,' which we did every night on the road, every night was different. There were some parallels and some similarities, but it was always a different trip. His timing and his drive were just impeccable. Man, he'd come out of the chute burning—he would do these odd-timing things—I think he would get out of his comfort zone, go out into the cosmos, and we'd wonder if he was going to get back in time. He always did, but it was like a story he was telling that was different every night."
---