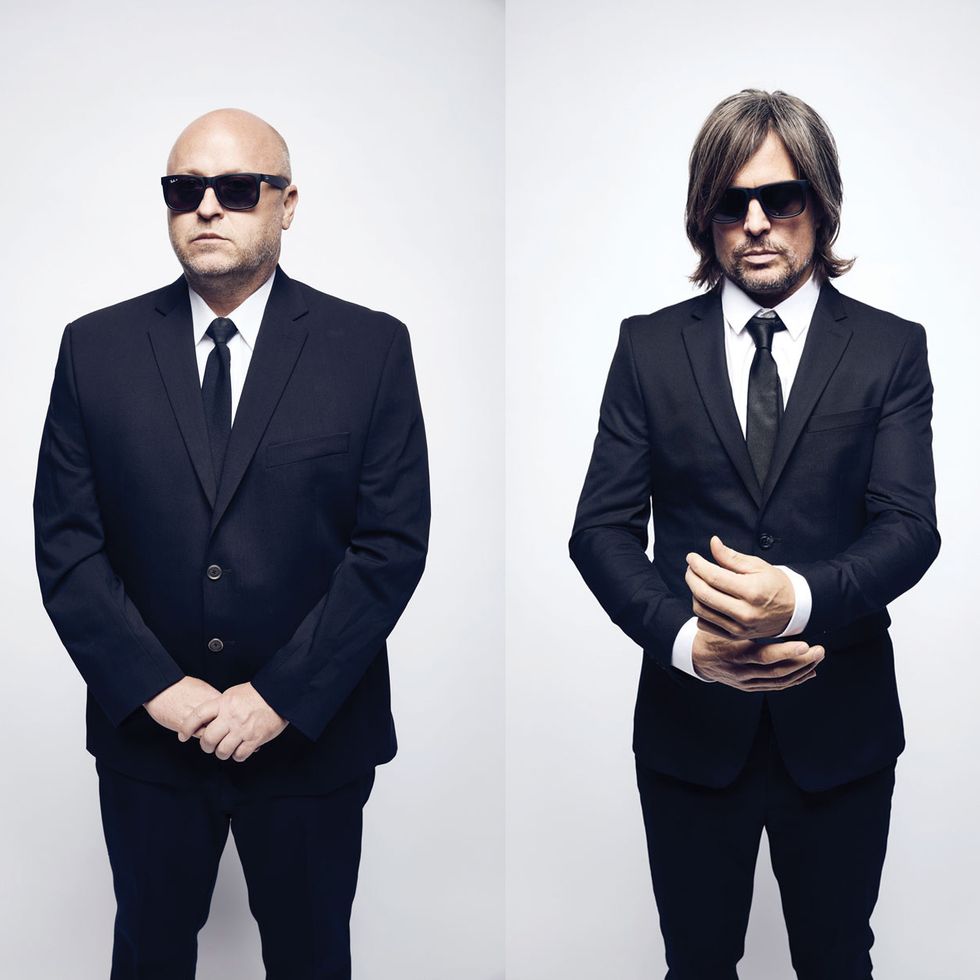 Photos by Travis Shinn
How Mat and Greg Met Maynard
The road to working with Puscifer's fabled frontman, Maynard James Keenan, was quite divergent for Mat Mitchell and Greg Edwards, but their different experiences dovetail to make the group stronger.
Both started playing in bands—Mitchell as a teen in Florida, and Edwards with Failure. But Mitchell soon diverted into the studio, where he started working on SSL desks and editing tape with razor blades, before moving to Austin, where he connected with and engineered for heavyweight industrial bands like Ministry and Pigface, and Texas psych-rock dervishes the Butthole Surfers. He even worked in electronic arts, doing video-game work for a few years. "Then I realized I needed to get back into the music side of things." His resume also includes work with Katy Perry, Queens of the Stone Age, and Nine Inch Nails.
Nearly 20 years ago, after a Ministry tour on which Mitchell ran the live video content, he was told that A Perfect Circle guitarist and co-founder Billy Howerdel was looking for help. "We got on the phone and really got along," Mitchell says. "He's super techy as well, and we had a lot of similar favorite pieces of gear and things like that. It was natural that we started working together. When we finished that tour cycle, they immediately went back in the studio to start working on a new record, and I was asked to be involved with that. That's where Maynard and I started working in a creative capacity, and I have been hands-on on everything he's done since."
Edwards, meanwhile, connected with Keenan on the Los Angeles music scene, and they bonded further on tour when Failure opened for the Flaming Lips and Tool. "The Tool audiences were not open minded, especially at that time," Edwards recounts. "That was a tough gig for the Flaming Lips, but it was an incredible bill for me, because I got to watch the Flaming Lips and Tool every night. They were totally different bands, and it was so educational.
"On that tour, Maynard would sometimes come out and sing a song with us. When he wasn't busy with something else, he'd introduce us to the audience. He'd basically say, 'You're too stupid to understand this band, but try to pay attention.' If he did that, we had their full attention and there was no booing or low chants of 'Tool' throughout the whole set. But if he didn't introduce us, we just got abused through the entire show."
Edwards formed a cover band called Replicants that cut an album in 1996. "I wanted to do [Wings'] 'Silly Love Songs' in a very dark, super-halftime feel, and have Maynard sing it. He came in and did that. I think that was the last time I did anything with him, creatively, until I was onstage with A Perfect Circle. This is the first record where I've worked with Maynard. It's something I always assumed would happen, but I guess it took a while."
---