It has been one big adventure restoring this '65 Gibson SG as it came to us with its headstock snapped clean off. This guitar was stepped on and the pieces were gathered and stored in its case. Finally after four decades, the dust was blown off and it has hit the pages of "Restoring An Original."
In last month's issue, following various procedures covering lots of hours, the headstock was glued and clamped up in our custom-made headstock repair jig. After 48 hours, the clamp was removed and the remaining damaged areas were drop-filled with cynoacrylate glue and surfaced leveled for strengthening purposes before routing the neck and installing the reinforcement splines.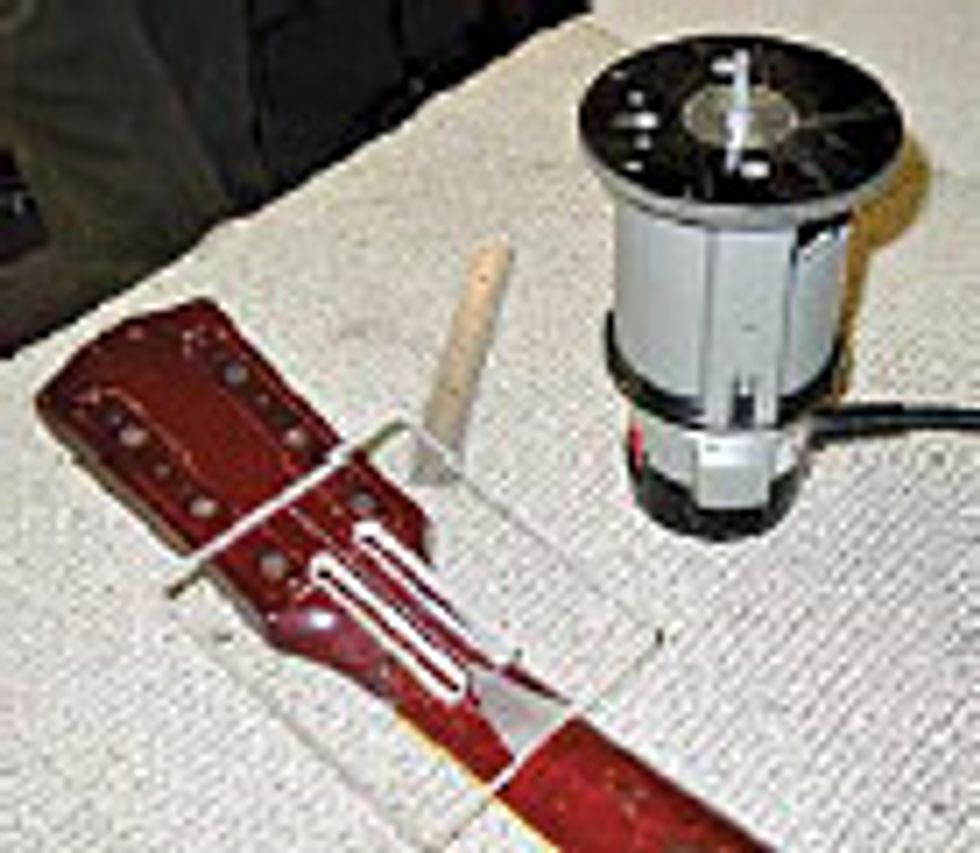 CHANNEL ROUTING
For this procedure I used my special routing template, template guide (1/4" I.D. 5/16" O.D.), and my handy trim router. I really like using the trim router for the more delicate routes, as it is much smaller then standard routers and can easily be maneuvered. I used a Stew Mac router bit (#4399) that they list for their .200" carbon fiber rods – it is my favorite bit for routing out spline channels.
A 3/8" thick template is designed with two slots and a radiused bottom that matches the neck radius, which helps to center the template and lock it in place with double stick tape. Once everything is jigged and routed, we end up with two 2-½" length routes at a 3/8" depth that are 5/8" apart to avoid routing into the truss rod nut, back plate and access pocket.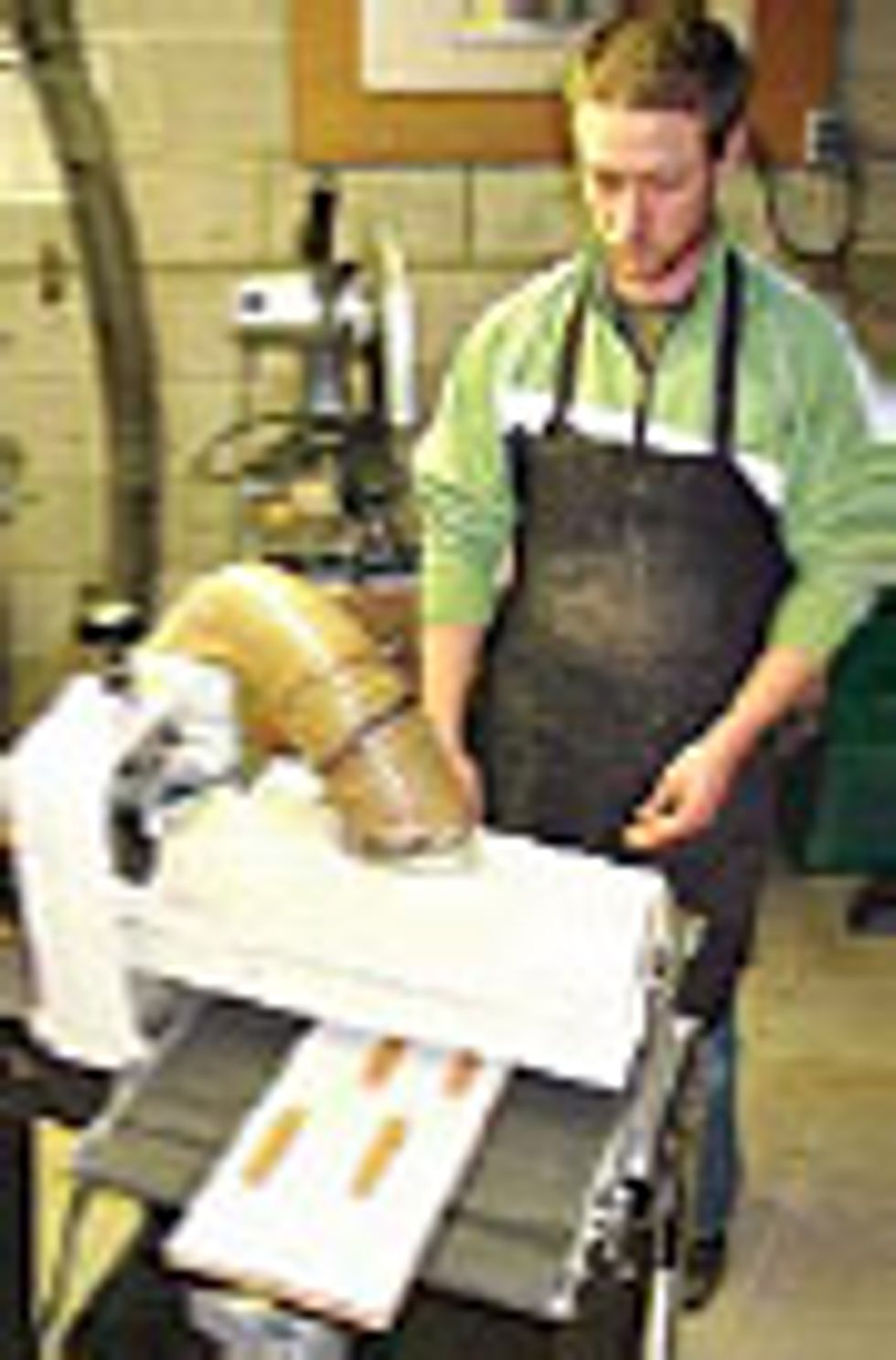 THICKNESS SANDING
First, we must pick the wood that will be used for the making of these splines. For this, I went to my private stock of wood, as I was looking for an older and denser piece of mahogany. Once the wood has been chosen, we cut it down to quarter-sawn blanks. Rick Pavlik assists me with this project and thickness sands the mahogany blanks. We are looking for a thickness of 7/32" by gradually removing and measuring in small increments.
Quarter sawn splines are important for their strengthening properties, as is the proper non-slop fit of the splines. He has the smaller mahogany blanks double stuck to a mediumsized, flat and leveled countertop cut-out. This assists us in precisely sanding and measuring.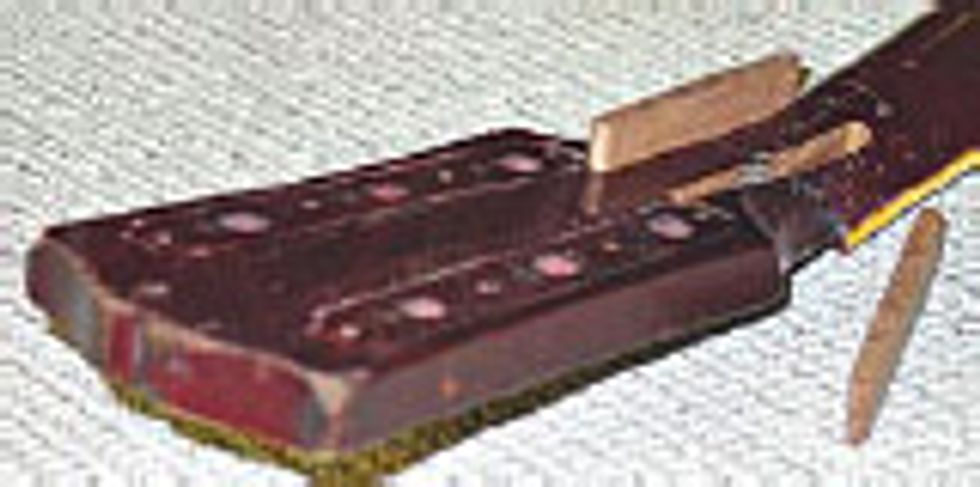 FIT/GLUE/CLAMP
Once the mahogany splines are at the proper thickness where they will fit into the neck routes with very low friction, it is time to round the ends, matching the radius of the #4399 bit route. We got the first two splines to work perfectly. Note: when Rick was originally thickness sanding these mahogany blanks, he made a couple extras in case one or two went bad during the final and most crucial fitting.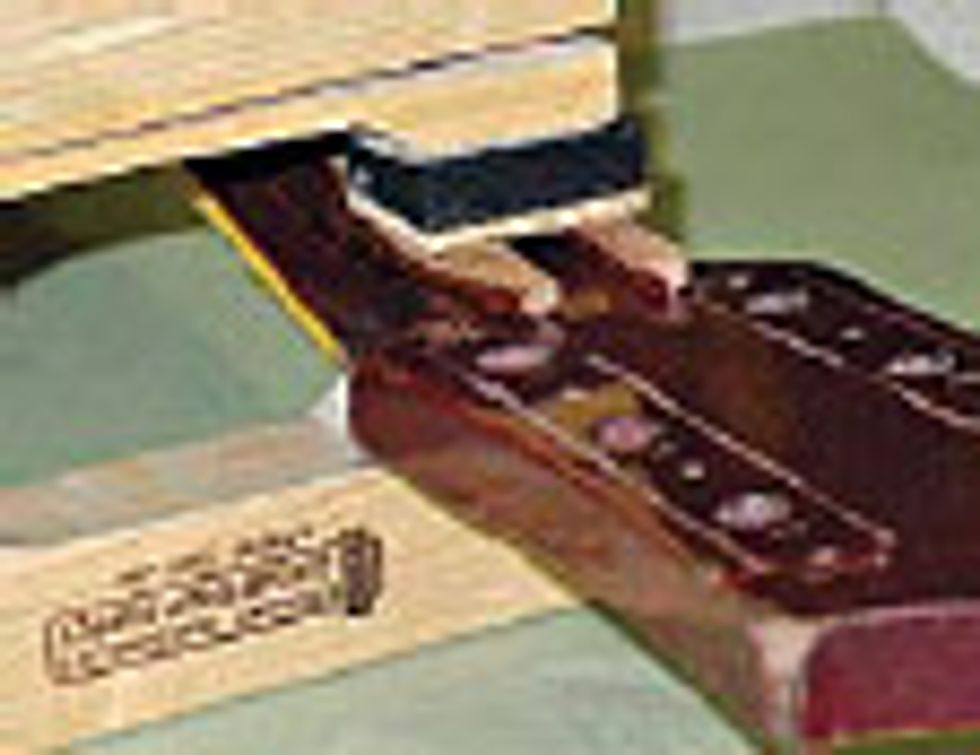 We are ready to glue in the splines with System Three industrial epoxy. Being that there is a tight, but low friction fit, I lightly brush glue into the neck channel routes and onto the splines. High pressure clamping will not be needed. I simply finger pressure the spline into the route, wipe away the glue squeeze out and support the splines by clamping with my Stew Mac cam clamp.
Next month, we will be trimming down the splines flush to the neck and repairing the damaged and scarred Gibson faceplate.
You can view past articles on "Restoring an Original" at
premierguitar.com
or
brownsguitarfactory.com
---
John Brown
John Brown, of Brown''s Guitar Factory, is the inventor of the Fretted/Less bass. He owns and operates a full guitar manufacturing and repair/restoration facility, which is staffed by a team of talented luthiers. He is also the designer of guitar making/repair tools and accessories that are used today by instrument builders throughout the world.
www.brownsguitarfactory.com
info@brownsguitarfactory.com