That''s pretty good.
It''s mostly in the fingers. The other things help to enhance it, to make it sound like the guys. But something I''ve always had a talent for and really enjoy is figuring out how my favorite guitar players got their sound, and how to make it sound like they did. Play with your fingers and snap the strings to make it sound like Johnny "Guitar" Watson. You play country blues, like Muddy Waters, with your fingers. To get different artists'' sounds, you do different things. That''s almost like a hobby of mine, in a way. What has kept me very excited about music is trying to get those tones, because tone is such a big part of it ­ the sound and the nuances of the sound. That''s why I like to produce, because I''m excited about the sounds of recordings. Everything I''ve listened to, which are millions of records over the years, are stored in my head. It''s kind of a library of sounds.
Let''s talk a bit about the new record,
Duke Robillard''s World Full Of Blues
. It''s a nice double set with a lot of good music, diverse in sound and tone. It''s really kind of a condensed sample of the broad musical personality of Duke Robillard, in my opinion. Obviously a guitar CD, I like how you list the guitars used on it, like the ES-335, the R8, the Gretsch and all. It''s an excellent album.
Thank you. I had a lot of fun making it. I''m very proud of it because it touches pretty much everything I do. It touches on all of the different elements of what my music is. I felt it was too much to get on one CD. I''ve been bugging my label for years to let me do a double CD and they finally agreed. I feel I''ve made a statement now. It''s pretty cohesive, too ­ it has a listenable flow. It was tricky to pick the music and sequence it so it didn''t sound like flipping through radio stations. [laughs]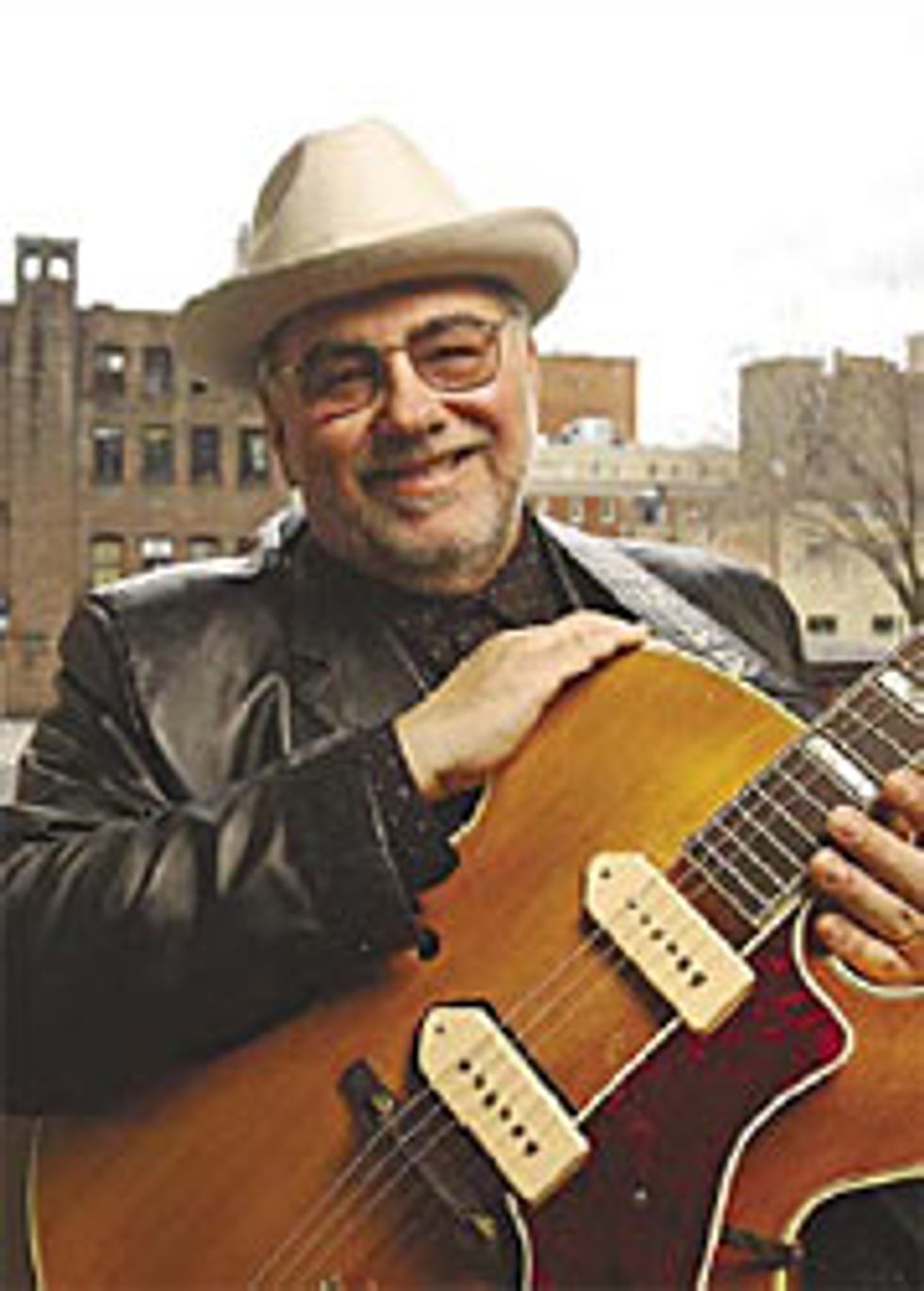 How do you go about choosing a certain guitar for a specific song? Does it depend more on style or tone?
You know, it''s such a personal thing. I could go onstage with a Telecaster, or I could go on with a big, fat guitar. People tell me that I sound like Duke no matter what. It really doesn''t matter what guitar you play; to me, it''s all part of this guitar obsession I have. With certain instruments, I can get closer to where I want to get. I experiment with that in the studio, but usually it''s not even an experiment. Generally speaking, I just pick what I think is going to feel and sound closest to what I''m trying to do. I get good results by doing that.
It''s just fun to play a bunch of instruments. I keep trading them ­ I trade them like baseball cards in a way. I hang on to a few that I really love, the older guitars, but I''m always trying new things, seeing what kind of sound I can get out of this or that.
In talking about the sounds you get out of guitars, you do an interesting and gritty cover of Dylan''s "Everything Is Broken" on the new album.
Oh, yeah.
I like the sound of the slide guitar you use on that one ­ the Galanti, I think it was.
It''s a Galanti, yeah. It''s a really cool instrument. Not exactly high tech, but it''s got a unique sound. It doesn¹t sound like anything else.
As you mention in the liner notes, the T-Bone Walker penned "Treat Me So Lowdown" segues nicely between a swing and funk groove. That is an interesting rhythm, and the lead guitar is enticing throughout. I believe it''s the Epiphone Zephyr Deluxe Regent.
Yes. The Zephyr Deluxe Regent is sitting here right next to me. That''s one of my favorite guitars. It''s really an incredible instrument.
Though you''ve been friends since the ''60s, supposedly you and Sugar Ray Norcia recorded together for the first time in the James Cotton instrumental "Slam Hammer."
Yeah, we played together quite a bit, but we never really recorded together until recently. I'm on quite a bit of his latest album as well, maybe half of it. But it's the first time we've recorded together. It's cool; it has been a lot of fun and he's such a great player and singer. You don't often hear him in a situation where he's just playing, backing someone up. I think he really shines on those cuts. He played great and I think they were only one or two takes.
I noticed that your old friend, Al Basile (of early Roomful of Blues fame), is on a couple of tunes on your new CD. The CD he released last year,
Groovin' in the Mood Room
, is very good. Your contributions to that were fantastic as well.
Thank you. He has a new one coming out soon. I think it's his best yet. He's becoming an excellent songwriter.
Yes, he is. The last song on the CD set, "Stretchin'," is really very nice. It's basically an improvisational jam.
I'm a big fan of that style – jazzy and bluesy organ combo stuff from Prestige Records of the '60s.I'm a big fan of that style – jazzy and bluesy organ combo stuff from Prestige Records of the '60s.
Do you get into much improvisation when playing live?
Sure. When you play any song a number of times you remember what it was you played. Naturally, you'll often go for what you remember as being the best of what you played before, but I always try to come up with something new. Some nights the solos are totally improvised and sometimes I'm relying on the best licks I've played before. You never know. That's the beauty of music – you never know what's going to happen.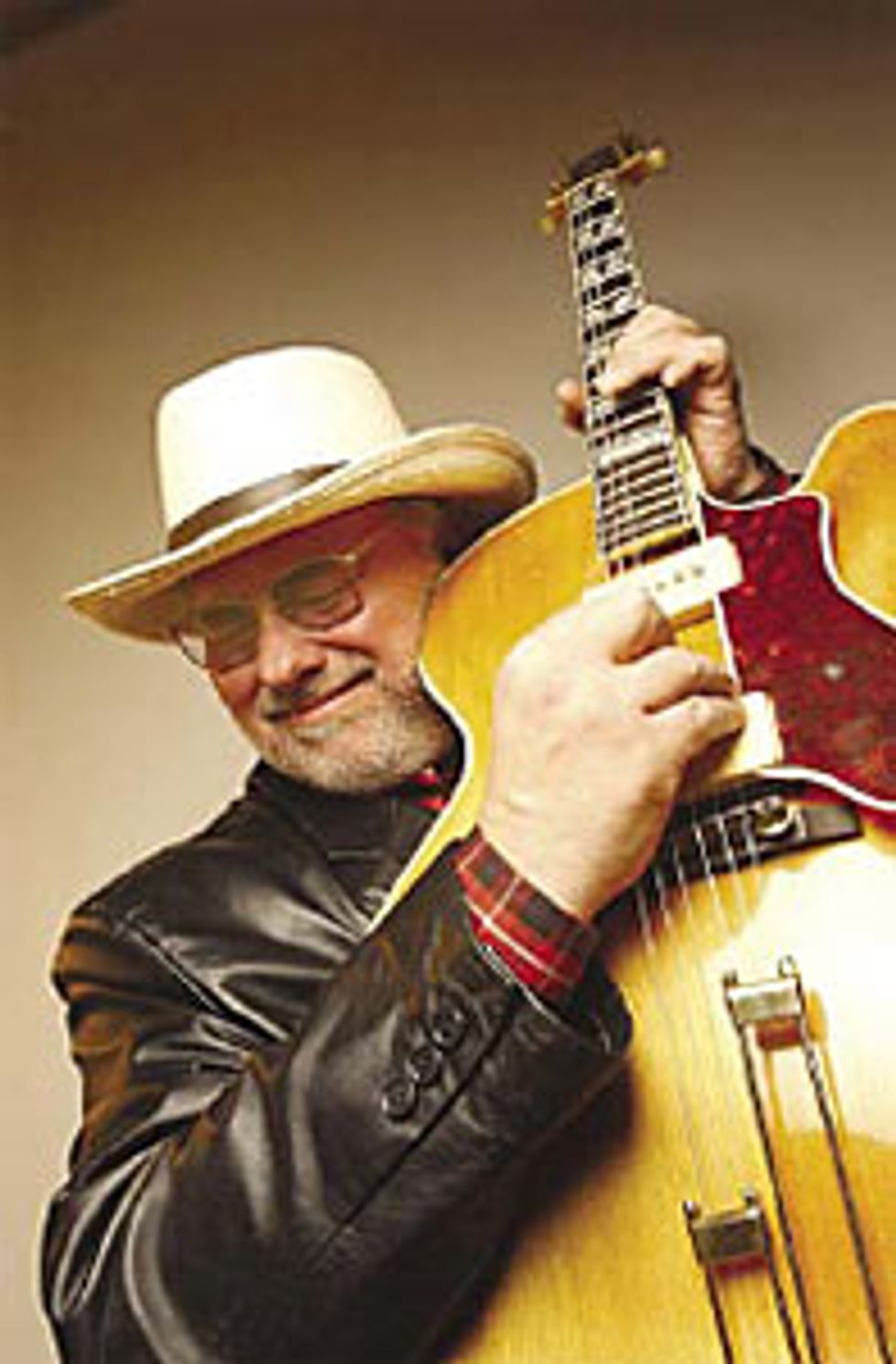 You used a '58 Les Paul reissue on the next song, "You're Killin' Me Baby," and it has an incredible tone. Where do you think the reissues and historics sit, in comparison to vintage instruments?
I take each instrument one at a time. I don't think you can say that every old Stratocaster or old Les Paul is a great guitar. I've owned some that weren't and I've owned some that were. To me, the age only matters when it's got an acoustic body. An arched or flattop guitar is when it matters most, because when the wood gets old it dries out and sounds better. It's true with solidbody guitars as well, but I'm very happy with the vintage reissues of all those instruments, whether they be Gibson, Epiphone, Fender, or Gretsch. They're all really nice and extremely well made. I hate to think where we'd be if they didn't start doing that because there's only so many of those original guitars – they've become too pricey for people to buy. I love the fact that I can buy a Les Paul with a big neck like a real '50s Les Paul. They make the pickups great now – those '57 classic pickups sound incredible. To me, they're just as good as the old ones, though I've never had a real '58 Les Paul because I'm not rich. [Laughs]