Mike Campbell has been laying down tasteful, unobtrusive licks for over 30 years, and while that might be enough for lesser constitutions, he's showing no signs of slowing down. We sit down with Mike to talk about the music, the gear and the state of rock n' roll.

For well over 30 years, Mike Campbell's tasteful guitar playing has been a key ingredient to the success of Tom Petty and the Heartbreakers. Although initially inspired by first generation rock n' rollers Scotty Moore and Luther Perkins, his primary influences can be traced to the 1960s, particularly guitarists from the British Invasion, including George Harrison, Keith Richards and Brian Jones. Mike's straightforward melodies have served as the cornerstones of many rock classics, including "Breakdown," "American Girl," "Refugee" and "Runnin' Down a Dream," with his understated playing giving these songs an eternal freshness. Relying on melody, tone and dynamics versus flash, even Campbell's earliest work with the Heartbreakers sounded mature beyond his years.
From the beginning, he has been heavily involved in constructing the arrangements for the Heartbreakers' tunes. As a coauthor, Mike has been responsible for some of the band's biggest hits, as well as two of Don Henley's biggest songs, "The Boys of Summer" and "Heart of the Matter." Time and time again, he has demonstrated that great songs are all about melody, construction and amazing guitar sounds. Like George Harrison before him, Mike reminds us that no matter what guitar he is playing – be it 12-string, slide, acoustic or electric – the most important thing is to always respect the song.
To celebrate the 30 plus years of the Heartbreakers, director Peter Bogdanovich put together a high-quality DVD boxed set called Runnin' Down a Dream, which has the potential to go down as one of the best rock n' roll documentaries ever created. In the film, Mike displays a sense of candor and comes across as both caring and wise – qualities which also emerged in our interview. Shortly after our chat, it was announced that Tom Petty and the Heartbreakers would be joining a small but elite class of musicians who have been chosen to perform at the Super Bowl halftime show.
---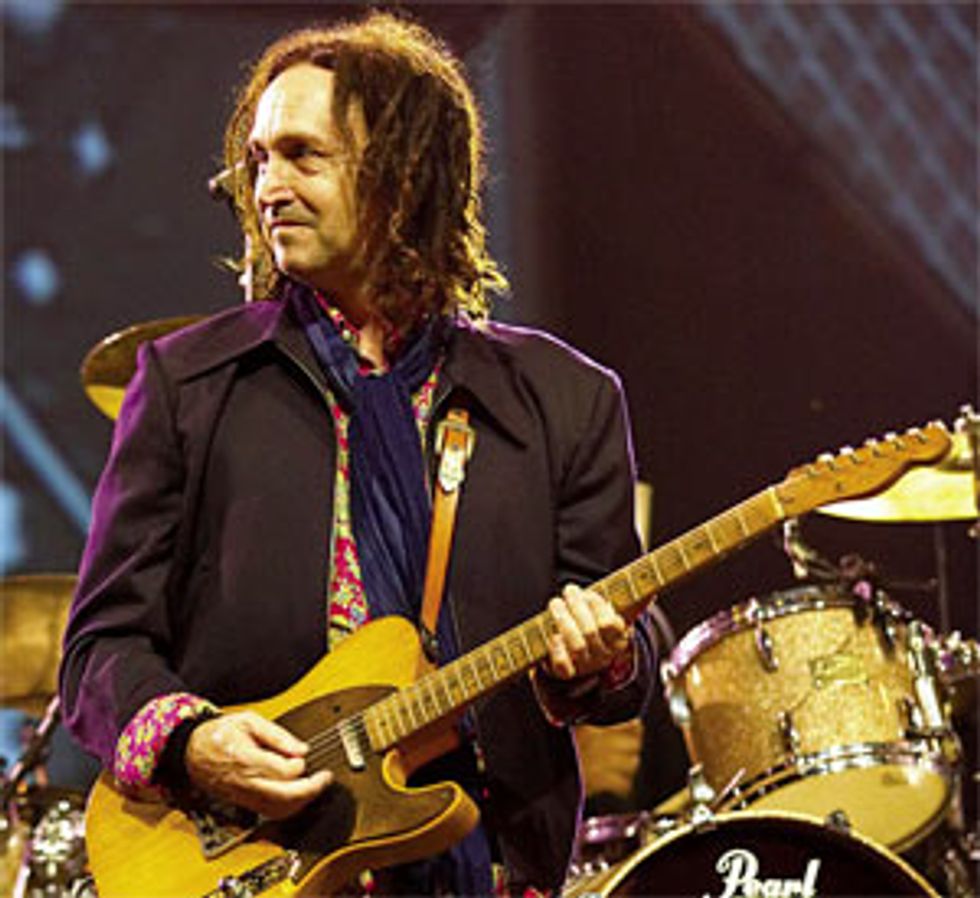 Hi Mike, and thank you for taking the time to speak with us today. First off, congratulations on the new DVD, Runnin' Down a Dream; Peter Bogdanovich did a fantastic job on it and the amount of old footage is amazing. It's a great close-up of the band's 30-year career, but I still get the feeling that there's plenty ahead for the Heartbreakers. Are you guys planning on touring in 2008?
Yes we are – we're planning on putting a tour together for next summer.
I understand you have a new side project called The Dirty Knobs. Can you tell us about that? Are you guys doing mostly original stuff?
We do mostly originals, but do the odd cover now and then, like The Beatles' "She Said, She Said," or something by the Kinks or Chuck Berry – older stuff – and then arrange it to fit our group. The Dirty Knobs is myself and another guitarist named Jason Sinay, Matt Laug on drums and Lance Morrison on bass. It's all about fun, it's a very spiritual band, and we're not concerned about trying to get a record deal.
Have The Dirty Knobs been in the studio, and if so, can we expect a release anytime soon?
We've recorded a lot and it's great stuff, but I don't know that we want to take on the industry right now because we've got such a good thing going. I almost don't want to bring that energy to it, because it is such a great way to just go out and play.
How did you develop your style of playing? Did you take lessons or learn mostly from records?
Back then we didn't have cassette players or anything, but I would sometimes slow the records down and listen real close and try to figure out how the guitar player was doing certain things. I had a couple of guitar books too. There was one I had, I wish I still had it – it was
How to Play the Guitar with Carl Wilson
[of the Beach Boys], and it had pictures of his hands. I met him several years later and said, "Hey, I had your book" and he was sort of blown away, and said, "Oh, my Dad put that together!" So I got a couple of ideas on how to finger certain chords from that, but most of it I just picked up by ear, off the records.
So no formal lessons?
No, I never did, but when I was real young – I guess I was in sixth grade – my parents got me some accordion lessons in school, so I kinda learned a little bit of basic theory from that. I can read, really painfully slow, but not enough to actually use it.
Were you just playing with an acoustic at that point?
My mom got me my first guitar, a Harmony acoustic for $30 that was unplayable. The strings were so high and I would struggle like crazy and my fingers would bleed trying to play the damn thing. Then I went to a friend's house one day and he had a Gibson SG, and I could not believe how easy it was to push the strings down. So I started on that Harmony acoustic and later on my Dad got me my first electric guitar, a Goya. I wish I still had those, but I gave them away over the years.