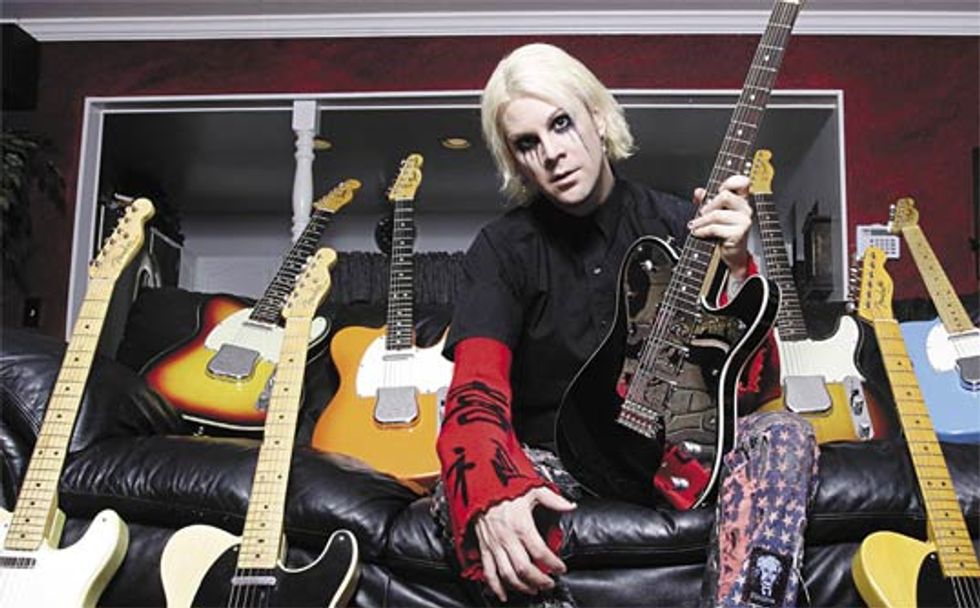 With the release of his latest album, Requiem, John 5 has been a busy man. Between touring with Rob Zombie and playing clinics for Guitar Centers around the country, it seems that his subtly unnerving brand of gothic rock has struck a nerve with fans. They're absolutely eating it up everywhere he goes, perhaps because it's something different in a world of homogeneity. From his best-selling instructional DVD, The Devil Knows My Name, which blends twisted horror imagery with lightning fast licks, to his new album, chock full of allusions to the darkest ports of human exploration, it would seem that John 5 has found a healthy musical and stylistic niche to exist in.
Of course, it's never quite that easy. John 5 is a musician full of tough, disorienting contradicitions – things that might make sense if it wasn't for his darker-than-dark image. The former guitarist for shock rocker, Marylin Manson, John 5 is actually a friendly, passionate guy who is happy to answer any and all of your questions, whether its about his guitar or his floorlength leather coat. He is upfront about his love for old country pickers like Jerry Reed, and peppers Requiem with some of the hottest picking you'll ever hear on an album with song names inspired by torture devices. He's made a name for himself within guitar circles for producing punishing riffs with a Telecaster and Marshall, an odd combination that stands in direct defiance of what many assume to be a standard-issue rock rig. There's absolutely no pretension surrounding him, and the fact that there isn't is almost maddening – why can't he just be what we expect him to be?
Needless to say, within the first minutes of our interview we stopped trying to label John. Instead, we talked about his beginnings due to a cornpone television show, his collection of classic Telecasters and why he's a Marshall man for life.
---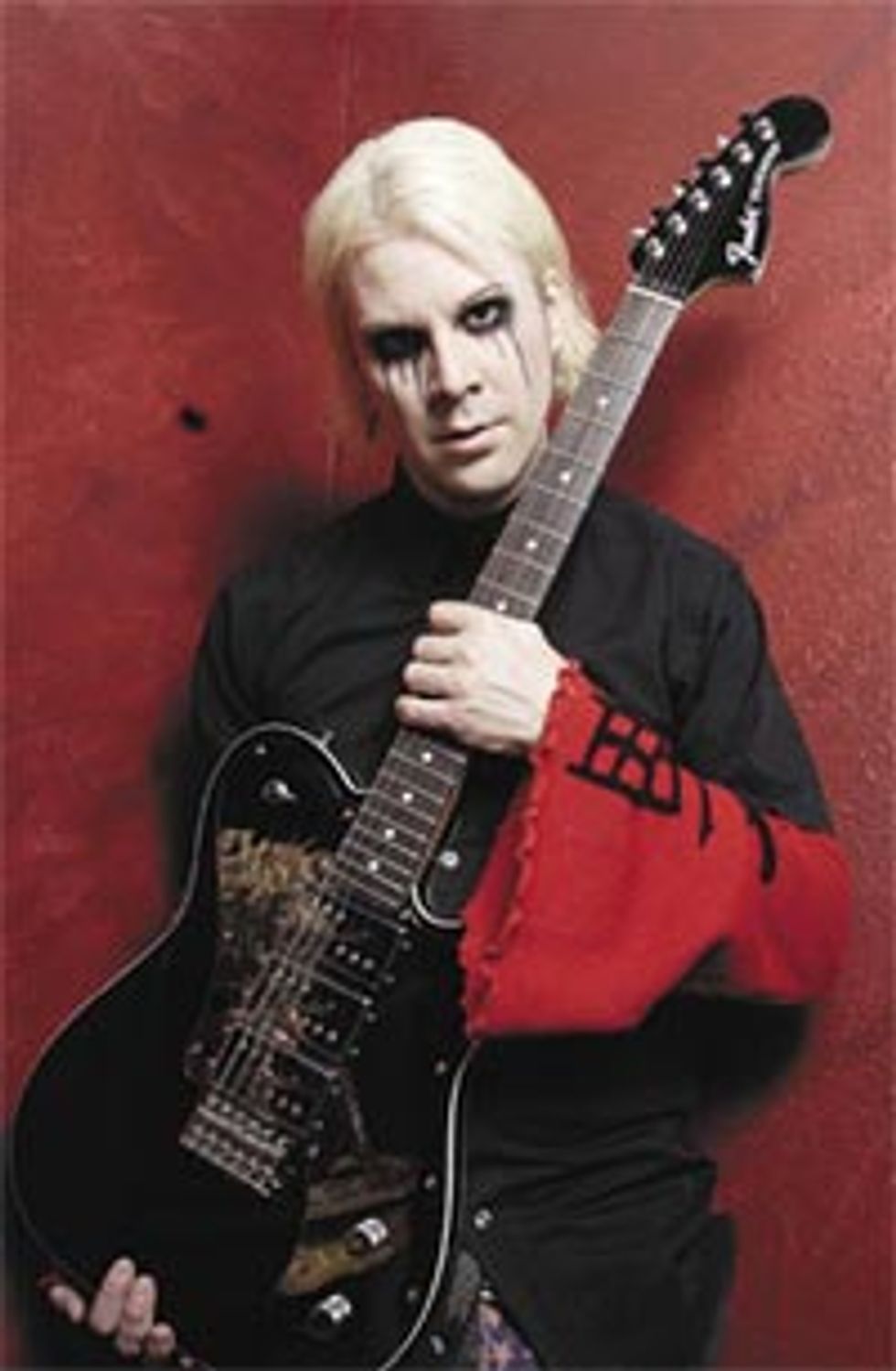 Photo: ©2008 Neil Zlozower
You've said in other interviews that you picked up the guitar after seeing Buck Owens and Roy Clark on Hee Haw. What was it about that show that sparked your interest?
What I loved about it was that Hee Haw was a show that everyone crowded around the TV and watched together because it was the thing to do. I remember one time there was a little kid on there. He had to be ten or eleven, and he played banjo like nothing I'd ever seen. I mean, you're shocked when kids do things, but this kid played the banjo so well I couldn't believe my eyes! It always stuck in my head.
The other thing that stuck in my head was that everybody played Telecasters – I just thought that it was the electric guitar. I wanted an electric guitar and I wanted it to look like that.
As you began learning the guitar, what did you cut your teeth playing?
I started learning from Jimi Hendrix and people like that. I slowly learned Jimi's riffs and then I learned "Happy Birthday" for my dad. I loved playing, but I wasn't learning songs that I loved. Once I learned "Crazy Train" and a few other favorite songs, I never put the guitar down. I was like, "Wow! I can play my favorite songs!" If someone wants to learn guitar, I'll teach them a couple of songs and then I'll teach them songs they really love. That's what my teacher did for me; I had a very smart guitar teacher in that regard. If someone loves Neil Young, I'll teach them an A and an F chord, and then introduce them to a Neil Young song they can play – at that point, they're just amazed.
Did you ever get into guys like Don Rich or Roy Nichols because of that Hee Haw connection?
Of course! Those guys, and players like Jerry Reed, were awesome. I loved that stuff and still do today.
It's nice to see that you have a wide range of influences and favorites. Most musicians seem to lean predominantly towards either rock or country.
You know, I've been doing these Guitar Center clinics and I've never done anything like them before. I was nervous because it was the first time I was without a band. I was thinking, "Do people want to hear this stuff or not?" Not only did tons of people come and hear it, people really enjoyed it. I was playing heavy stuff and then playing bluegrass and Western swing stuff, and you're right, it's a very diverse range of sounds, but people really enjoy it. I think that's one of the reasons I'm popular is because it's different. To make something different that works is just awesome.
You've made a name for yourself by playing absurdly heavy music with a Tele. How do you create those sounds? Why don't you just pick up a Les Paul?
[Fender] built these guitars, Subsonic Teles, which are really low, like baritone guitars. It's like having a seven-string, but in a sixstring form. And, as you know, they had those back in the day – they could have been playing Korn songs back in the sixties with these types of guitars. They have always had those guitars as an option; they have been around longer than most people care to remember. I just love the feel of the Telecaster – I love the Les Paul, too, but I just feel more comfortable with the Tele. It's like an old friend of mine.
Can you tell me more about your three signature Telecasters created by Fender?
The first one I created was when I was in Marilyn Manson. At the time, Fender had a guitar called the Maverick and they also made a 12-string guitar called the Villager – both had similar headstocks from the sixties. I thought both of these headstocks were cool, which is where I got the idea for the headstock on the first guitar I created [the Fender Custom Shop J5 Bigsby Signature Telecaster]. It's elongated and has a similar layout to 12-string guitars, but we shaved a little bit off the bottom of the headstock so I could do the behind the nut bends and things like that. I love the rosewood fingerboard, too.
I put the Bigsby on there for those old country guys – I always thought it looked so crazy. Although I like the Floyd Rose, I don't like depending on them; I like being able to use a little finesse here and there with the Bigsby. I also put a Hot Rail pickup in there and chromed it up. With the next version I did [the J5 Telecaster], everything stayed the same, except we put a humbucker in and replaced the Bigsby with a hardtail, because, as everyone knows, the Bigsby is very tough to string up and keep in tune.