Blessed's Tone Immaculate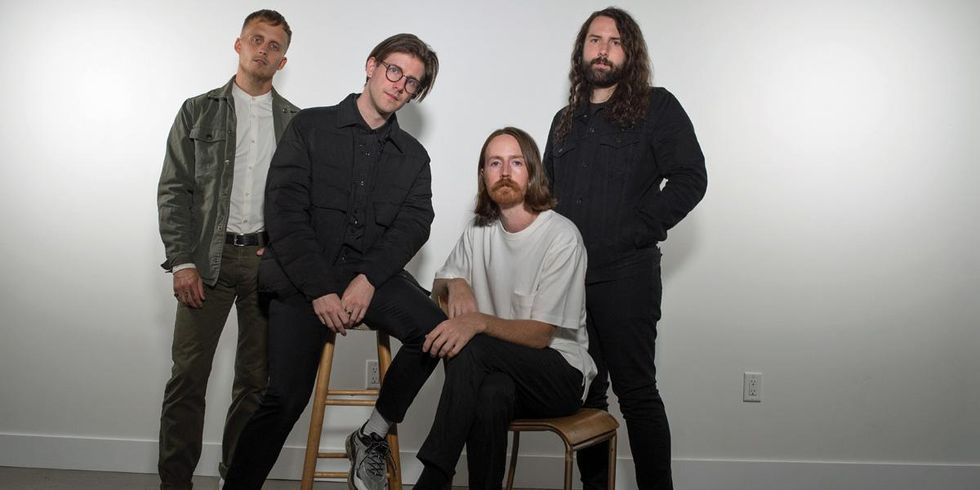 Photo by Jake Holmes
Breaking out of the hardcore scene, Drew Riekman and Reuben Houweling find their Zen path to melody and dissonance on the band's new EP, iii.
Are you exhausted with thoughtless, formulaic, retro-rock guitar drivel? You know the stuff. It sounds like the background music on any of the seemingly infinite home improvement or BBQ competition shows flooding TV these days. It sounds kinda like it was made by someone that listened to a few bars of a ZZ Top song and then recorded the first idea that came out. Yawn. Where are the contemporary rock artists using the guitar thoughtfully to create vital art?
---
For many, post-punk's substantial creative umbrella has provided the perfect biome to do just that, and Blessed—a quartet from the rural town of Abbotsford, British Columbia, about an hour outside of Vancouver—has emerged as a unique voice in that ecosystem. With their latest EP, simply titled iii, Blessed's core guitar tandem of Drew Riekman and Reuben Houweling have capitalized on the magic that can exist between two 6-strings by crafting an album of nuanced textures, math-rock time-signature warping, and intricate interplay. (The band is completed by drummer Jake Holmes and bassist Mitchell Trainor.) Add in a fearless but deliberate approach to dissonance and the meditative pulse of Krautrock, and you have a recording that's deeply wrought, occasionally challenging, but overall really beautiful. And iii has been enjoying high praise from some notoriously tough critics, including Pitchfork's Jesse Locke, who gave it a 7.3.
Blessed "Centre" (Official Video)youtu.be
Post-punk has always attracted guitarists seeking refuge from the overblown machismo and posturing of traditional rock, and has embraced playing that is abstract and doesn't hinge on technical prowess. And for Blessed, while the guitar is an invaluable tool, it's an instrument that Riekman and Houweling view with the gaze of songwriters.
"We see the guitar as a vehicle for rhythm and melody, rather than in the classic sense of the traditional guitar riff," Riekman explains. "We're after ideas that could be transposed to any instrument, like a piano part can become a guitar part or a guitar part can become a synth melody."
Riekman confesses to having something of a love/hate relationship with the instrument, stemming from years of dedication and an intense practice regimen growing up. "It was important to me that I didn't feel any barriers as a player. Reuben and I used to play in hardcore bands and a lot of that playing is very technical. I looked up to metal bands like Carcass, Slayer, and Converge, and I think that influence still bleeds through, like on the end of [iii's] 'Centre,' but we've gotten much more comfortable admitting to ourselves that we want to play softer music that focuses more on beauty—which takes a lot for guys that came from hardcore."
"My ear is a little funny. I'll often write a part that I think is really beautiful, but is also super-nasty."—Reuben Houweling
The second half of the song "Centre" segues into a chaotic but highly syncopated math-rock freak-out, which serves as the EP's emotional crescendo and is iii's most demonstrative guitar moment. It lays bare Riekman and Houweling's hardcore-punk roots, and has technically challenging timing. Reflecting on the song, Riekman allows "we're very detail-oriented, and while nobody romanticizes the idea of having a whiteboard in your jam space so you can map out where and when everyone's supposed to be playing, we spend hours planning that stuff before even jamming on it."
Houweling's guitar philosophy, forged during his time in the hardcore world, has led to a similar post-technique Zen. He says he learned that "technicality and talent as a player isn't really necessary to write interesting music, to play shows, or go on tour. Absolutely anyone can do it. That mindset has always stuck with me, and I think it's important for young people to hear." He cites spastic, math-y hardcore bands like Blood Brothers and the Vancouver group the WPP as key influences from his own hardcore days.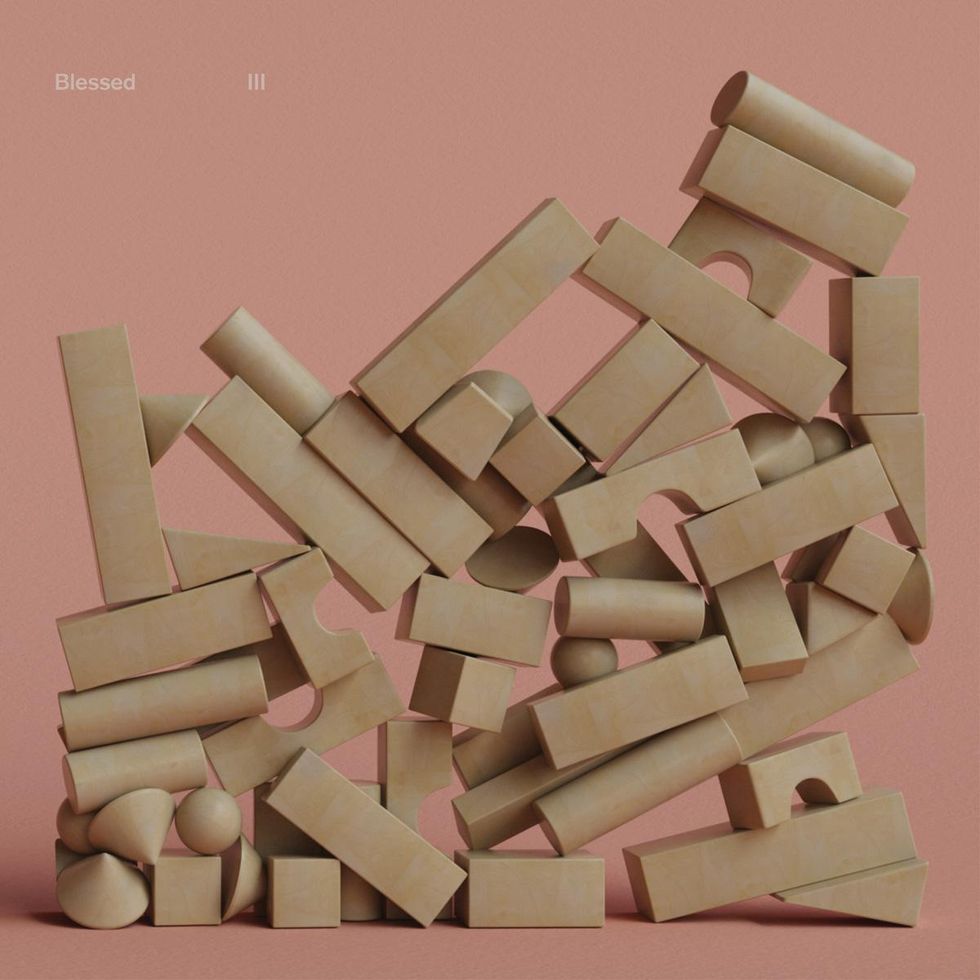 TIDBIT: As an artistic statement about their compositional strength, the band had a different engineer, including guitarist Drew Riekman, mix each of the new EP's four tracks.
Despite the few passages where Riekman and Houweling's heavy music roots show, the guitars on iii are mostly characterized by lush textures, cascading single-notes lines that recall vibraphones, and mild overdrive. Riekman had something of an epiphany that set him on the path of understatement after getting turned on to New York City's cerebral, seminal punk heroes Television, whose influence is palpable on the latter half of iii's opener, "Sign." Television is also the band Riekman credits with developing his deep love for the interplay between two guitars, which he and Houweling do exceedingly well—assisted by the fact that they have consistently played in bands together since they were 12 and 13, respectively.
"Reuben knows how to really get the most out of his pedals and plays to his strengths," Riekman explains. "He has an innate understanding of both what songs actually need and what they don't, and how to get out of the way if necessary. It comes back to the idea of listening to what a song really wants and not always having to insert yourself just because you play guitar and you feel like every part needs some guitar. A lot of that syncopated stuff that we do really benefits from his sense of harmony, and we've developed a real openness and musical language between us over the years."
Drew Riekman's Gear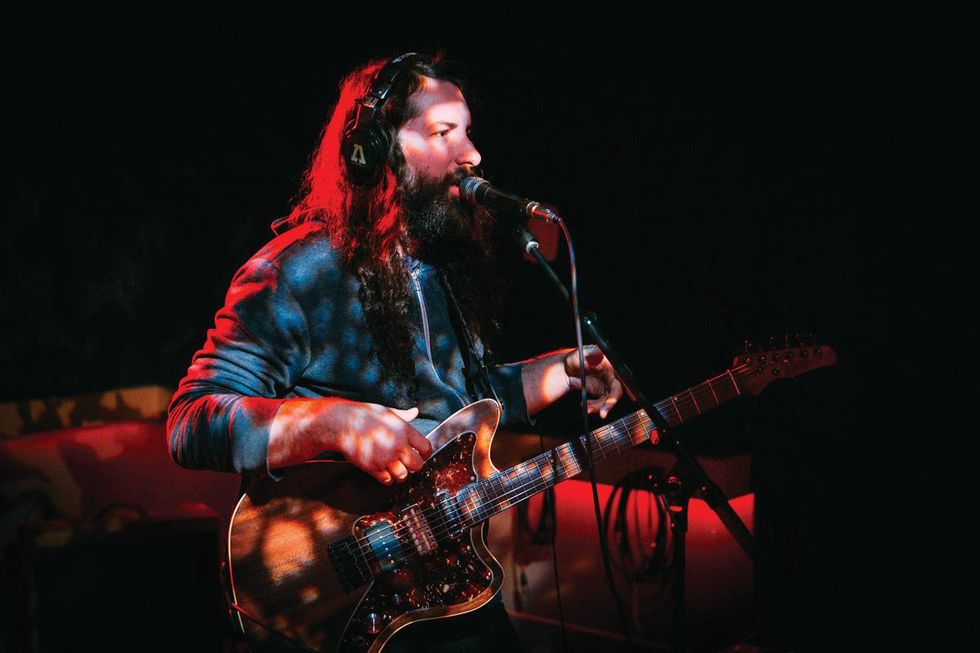 Drew Riekman's main stage guitars—and the only 6-strings used to record 'iii'—are a pair of heavily customized Foundry models: an Adelaide and a Valemont, with independent outs for each pickups.
Guitars
• Foundry Adelaide (Rio Grande Fat Bastard P-90 in the bridge, Lollar Gold-Foil in the middle, Rickenbacker Toaster in the neck—each wired with independent outs)
• Foundry Valemont (Curtis Novak Lipstick in the bridge, Lollar Charlie Christian in the neck, each wired with independent outs)
• '70s Travis Bean TB1000S
Amps
• '70s Music Man HD150 (heavily modified)
• '60s Gibson GA-15RVT
• '70s Hiwatt DR103
Effects
• Boss TU-2 Tuner
• Union Tube and Transistor LABcompressor (always on)
• Union Tube and Transistor NeverMORE preamp (always on)
• DOD Stereo Chorus
• Empress ParaEQ
• ARC Effects Klone
• Walrus Audio Voyager
• Boss DS-1 Distortion
• Strymon TimeLine
• Strymon BigSky
• Soundtoys and Valhalla plug-ins
Strings and Picks
• D'Addario (.011–.049)
• .73 mm (any brand)
Houweling notes that "Drew tends to write the busier guitar parts and I tend to lean towards the more tonal, effects-driven stuff. A lot of my writing is working with negative space because we'll establish something with Drew's guitar or synths, and my parts have to naturally fit in the pockets left around that. So I tend to focus on complementing other parts. Drew and I have a very strong understanding of each other in general and that really helps with ease of writing and knowing how to play off of each other's specific strengths."
Blessed saw an opportunity to take greater creative risks with an EP than an album, and sought to prove that it was their musical personality and songwriting that created their recordings' cohesion—not just the songs' sonic character. So, as an artistic statement, the EP's four cuts were mixed by different people, yielding noticeably different sounds for each and challenging the norms of digitized perfection and uniformity in the streaming era.
Riekman handled the deliberately hazy mix on the closer, "Movement," but the band employed some notable knob-twiddlers to do the honors on iii's other tunes, including Tortoise's John McEntire, Purity Ring's Corin Roddick, and Holy Fuck's Graham Walsh.
Reuben Houweling's Gear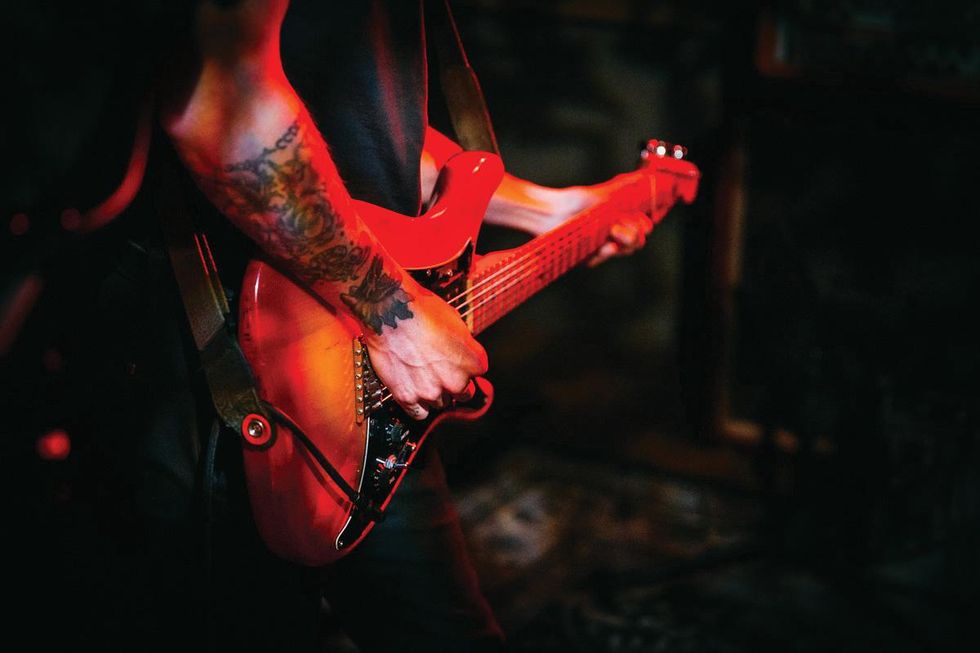 Although Reuben Houweling used Riekman's Foundry guitars to record his tracks for iii, his primary stage guitar is a Fender Lead III from the 1980s.
Guitars
• '80s Fender Lead III
Amps
• '70s Music Man HD150 (heavily modified)
• '60s Gibson GA-15RVT
• '70s Hiwatt DR103
Effects
• Union Tube and Transistor More preamp
• Electro-Harmonix Superego Synth Engine
• Boss CE-2 Chorus
• Electro-Harmonix Crayon
• Chase Bliss Tonal Recall
• Meris Mercury7
Strings and Picks
• Ernie Ball Power Slinky (.011–.048)
• Jim Dunlop 1.00 mm
Dissonance and a sour/sweet dynamic help define Riekman and Houweling's work on iii, as they throw jarring dyads and atonality against pretty melodies and atmospheric textures. Riekman is an especially vocal champion of "ugly" sounds. "Dissonance is so important to what we do," he explains. "It's one of the most underutilized tools to make beautiful songs. It's really exciting for us to insert dissonance in a graceful way."
Riekman says he developed a taste for ugly sounds via a deep love of classic horror movies, whose scores relied heavily on dissonance and oscillation to build tension. "Bending in and out of tune and oscillation is the key to unique music for me. Weezer's 'Buddy Holly' is a great example, and there's a really nasty note blatantly in there, but it makes the pretty melodies sound so much bigger. That balance and dynamic is really important to us as a band."
Houweling explains that "My ear is a little funny, and I find dissonance really pleasing. I'll often write a part that I think is really beautiful, but is also super nasty. Blessed having such open communication as a band helps a lot with keeping the dissonance in check and musical, because without that collaboration and conversation, I'd have a tendency to write parts that might be a bit too far in that direction, because I'll go all the way without their ears and opinions."
Blessed prefers to keep things local. The band is very outspoken about the importance of community, both in regards to the music scene in their part of Canada and as citizens of a small town. And the primary 6-strings they used to track iii were built up the street from Riekman's home by Foundry Guitars.
Throughout his years fronting Blessed, Riekman has relied on a Foundry Adelaide (an offset design) and Valmont (a T-style), sporting mismatched pickups wired to have individual outputs so Riekman could route them to separate amps and dial in the ideal tones for each pickup, and take full advantage of his stereo rig. Both Riekman and Houweling used the pair of Foundrys for the heavy lifting on iii, but the guitars' stereo outputs were not used, as the band opted to double track everything—including ambient noises and swells.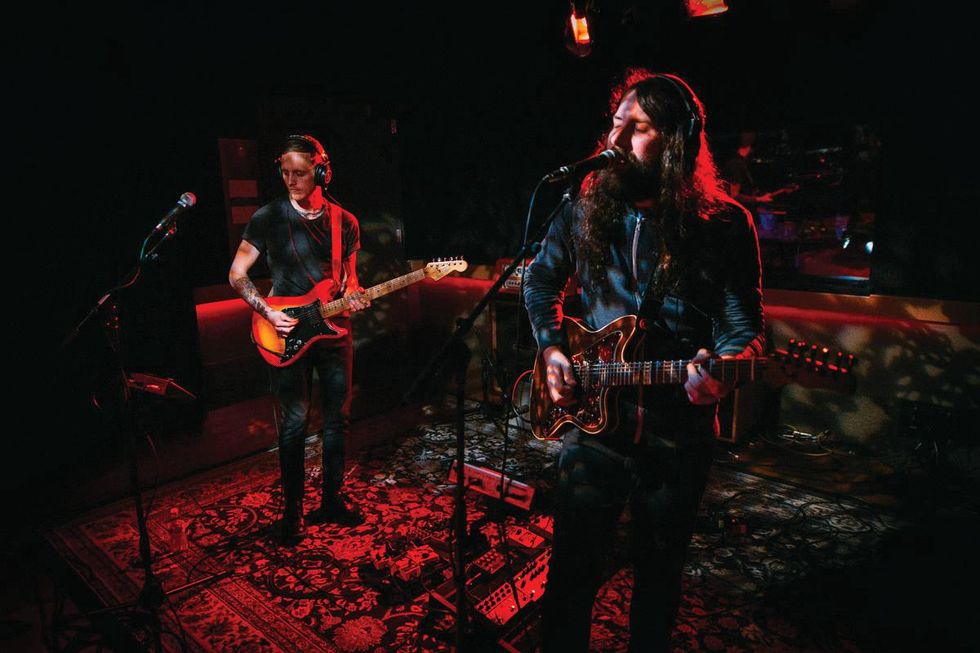 Guitarists Drew Riekman and Reuben Houweling have developed a strategy for interlocking guitar parts based on playing together since the ages of 12 and 13, and influenced by the seminal New York City art-punk band Television.
Houweling's workhorse for touring (remember touring?) is his trusted '80s Fender Lead III. However, he's found it to be a difficult guitar for the studio. The main amps the band used to record were vintage, and included a '70s Music Man HD150, a Gibson GA-15RVT from the '60s, and a Hiwatt DR103 for the more compressed clean sounds. While the duo brought their tour pedalboards into the studio, many of the effects heard on iii are a mix of pedals and in-the-box sounds from Soundtoys and Valhalla plug-ins, and the hairy distortion on "Centre" was mostly saturation from Soundtoys' Decapitator plug-in.
As an EP, iii is a concise, impressive statement. Riekman makes no bones about the fact that the key to Blessed's songwriting philosophy really comes down to having an open mind and embracing exploration, even if an idea isn't speaking to you in the immediate. He explains: "The most important thing for me to establish when I talk about songwriting—especially when I reflect on what I would've found helpful to read as a younger artist—is that there doesn't need to be a set process for how you write, as long as you're happy with the end result. I think being exploratory is the most important aspect, and not cutting yourself short because an idea isn't working early enough in the process. If you don't really explore the ideas that you're having, you can miss out—especially because the feelings a musical idea can inspire mutate so much over time."
He seeks to demystify the creative process for others: "I want to dismantle the idea that there are artists out there that you can't be as good as. It's mostly just working hard and having the good fortune to find others you work well with, but it's important to us to drive home that there's no magic in it. I'd hate for people to look at any band that they admire and feel like they're incapable of emulating it or doing something of their own that's as powerful. The real thing that's propelled us along as musicians isn't so much the amount of time we've spent playing together, but communication. We listen to the songs, we communicate clearly about what we think they need, we're open to each other's opinions, and we're open to changing what we're going to do based on the greater need to serve the artistic purpose and intent of what we're creating."
YouTube It