Jim Campilongo, NYC Telemaster
Jim Campilongo discusses his go-to Teles and his love for Princeton Reverbs, and Greg Koch talks about Jim''s new signature Tele.
| | |
| --- | --- |
| When you're a serious fan of the combination of Fender Telecaster and Blackface Princeton Reverb amp, there is no way around Jim Campilongo, NYC-based Telemaster with no less than eight critically acclaimed instrumental CDs to his name. His latest masterpiece, Orange will be released in February 2010. His playing style is more than unique, revealing a range that extends from seductive country swing to atmospheric jazz and well beyond. | |
Besides his solo career, he's playing in the Little
Willies with Norah Jones and has an ongoing and celebrated residency at
NYC's Living Room. He toured Europe last year with Martha Wainwright,
has a Gold Record representing his collaboration with Cake, and was
recently involved in designing the Fender Custom Shop Campilongo
Signature Telecaster, to be released at the winter NAMM 2010 in
Anaheim, CA. He also toured Finland and Italy this past summer. In
between all his activities, he took some time to talk with me about
music, gear and life in NYC.
What got you into music? Can you give us a short musical biography?
I started to play on my grandma's piano when I was a kid every time I'd visit her, but I didn't start to play guitar until I was 14 years old. I started seriously studying guitar in the mid- '70s in San Francisco with Bunnie Gregoire, who opened up my mind to all kinds of music and styles. I'm really proud and thankful that he was my teacher. During this time, I was given the 1959 toploader Telecaster by an appreciative student in exchange for successful bass lessons, and that changed everything for me. It was like it told me to get serious. Soon after that, I formed the hugely popular Ten Gallon Cats, which featured pedal steel guitar in combination with my country/jazz vocabulary. We recorded three CDs. In parallel, I also worked on my solo career, and in 1998 I left the Ten Gallon Cats to fully concentrate on my solo thing. In 2002 I moved to NYC and formed the Jim Campilongo Electric Trio, with which I toured Europe and recorded some CDs. Since 2004 we've been playing the Living Room in NYC every Monday night.
Do you play any other instruments?

I'm a guitarist down to the bone. I tried some steel guitar playing, but I want to do everything I do perfectly, so I decided to fully concentrate on guitar playing.
Do you remember your first guitar gig ever?

Sure, after playing guitar for six months, I started to back up a bluegrass band for $5 each gig. I was 14-and-a-half years old and strummed some chords on an acoustic guitar.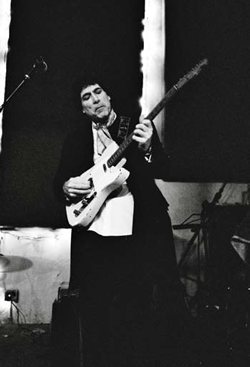 Photo by Arthi Krishnaswami
Who are your most important musical influences?
It's definitely the blues, and players like Blind Lemon Jefferson, Django Reinhardt and John Coltrane, but I'm also into the music of Roy Nichols, Merle Haggard, Roy Buchanan and, of course, Chet Atkins. Some other private heroes of mine are Jimmy Bryant and Speedy West—their stuff is really wild but very inspiring for me as well.
You're well known as a humorous person, always in a good mood—what's the funniest thing that ever happened to you while playing music?
Are you serious, only one? I know 2000 funny stories. My favorite story is the one I call the "Cocaine Story." It happened in the '80s when I was 25 years old. The band I was playing with had a gig in a club, and suddenly the drug squad stormed the club. They all had those black SWAT clothes on and their guns at the ready, shouting at us and the guests to not move and to put our hands up. They arrested approximately 75 percent of the people in the club because of drug abuse and drug dealing. Naturally, we stopped in the middle of the song while the drug squad stormed the club, and we stood motionless on the stage with our hands up, my guitar hanging around me. After arresting most of the people in the club, one of the policeman came up to me, and he pressed the muzzle of his gun against my forehead ... waited some seconds and then he shouted, "Boooom!" and then asked us to go on playing. And I tell you what, the first song we started to play was "Cocaine." I couldn't really laugh about it at that moment, but later on it was really funny. Yeah, that's my "Cocaine Story."
Wow, that is indeed a wild story. How long do you practice every day, and how do you practice?
I play a minimum of one hour each day, seven days a week. I think it's not important how long and how you practice. It's much more important to do it intensively and to concentrate 100 percent on the things you're doing.
Do you have some general things, tips, etc., that you'd like to share with our readers about practicing and developing a personal style and unique tone?
Yes, sure. Stop playing a Blues in E major every day… you all already know how to do this. Try new and innovative things, things that inspire you. Make goals. It's important and cool to master different scales and all kinds of arpeggios, but don't forget to use all this stuff for your own music. It's useless to learn all this if you don't use it in your own musical context.
Is there anyone you'd like to have the chance to play, record or jam with?
That's a good question! I think it would be Miles Davis, John Lennon and, of course, Billie Holiday.
You're also playing with Norah Jones, right?
Yes, I'm playing in the Little Willies with Norah. She's a great person to work with; I like her very much. She was one of my first contacts here in NYC, and she also helped me to get the flat I'm living in now here in Brooklyn. When playing together, she always lets me do what I want to, no matter how crazy it is. It's amazing to have a friend like Norah Jones. .
Let's talk gear, Jim. Do you have a favorite guitar, amp and effect, and why they are your favorites?

Without any doubt, it's my old and trusty Fender toploader Telecaster from 1959 and a Fender Blackface Princeton Reverb amp from the mid-'60s. This combination works perfectly for me. The Fender toploader Telecaster was only produced in 1959, and the feel and sound of this guitar is a bit more "rubbery" than a standard Telecaster, more unique. As for the Fender Princeton Reverb amps, I prefer the weight, portability and their sound. It's a low-wattage amp, but I still have yet to find a venue where the amp isn't loud enough… and I prefer to play my Princetons with the Volume and Bass control on 10—Yeah! [laughs]
Is that your standard equipment for live gigs and studio sessions?
It's always the same setup: my '59 toploader Tele and a Blackface Princeton Reverb amp. That's all I need. Ocasionally, I also use a 1962 Fender Strat, a Gretsch Chet Atkins model and a 12-string guitar.
How may instruments and amps do you own?
I have approximately 10 guitars. The newest addition is my Hahn Telecaster, which is a fantastic instrument. And I have approximately 13 amps, all from Fender. Most of them are Princeton Reverb and Vibro Champ amps.
What is the secret of your signature Telecaster tone, gearwise?
I think it's my hybrid picking with a thumb pick. You know, that's the kind of playing Chet Atkins made famous.
What do you think about vintage equipment?
Well, a lot of those guitars are great, but not all of them! I don't know what it is that makes a lot of those guitars stand out… maybe it's the wood they used back in the golden days of guitar building. Most vintage instruments are unaffordable today and to be honest, even if I were a millionaire, I wouldn't spend $25,000 for a guitar. There are a lot of great and fairly priced guitars from actual production runs that work more than well for me and my needs. But I really enjoy playing old instruments as well.
Is there a general setup for your instruments: string gauge, action, pickups, etc.?
I like jumbo frets and a medium action, you know that kind of "not too high but also not too low" thing? [laughs] I also like threaded saddles and a pure neck-to-wood connection— no shims, stickers and paint between them, just the plain wood. I use regular D'Addario .009 strings on most of my guitars, but 11s on my Gretsch Chet Atkins axe.
Can you tell us more about your Fender Signature Telecaster?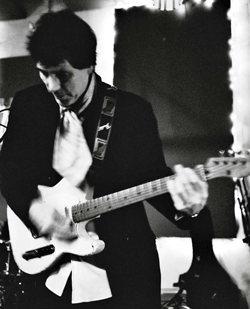 Photo by Arthi Krishnaswami
I'm really proud that Fender is doing this, and it's a lot of fun to work with the guys from the Fender Custom Shop. It will be an exact copy of my '59 toploader Telecaster, but with some little modifications. The neck is a faithful recreation of the original; the Fender guys even copied the neck wear. The neck is on the smaller side, so it's easy to play with the thumb over the fretboard, a technique I really like and use a lot. Actually, I have two prototypes at home—they're sporting the threaded saddles I love so much and special humbucking singlecoil pickups that I like to call "Campy pickups" [laughs]. Toploader Teles in general are more mellow sounding, less bright compared to a standard string-through-body Telecaster. And it's easier to do bend-behind-the-nut techniques because the tension of the strings is more moderate. As for the electronics, I like it stock! No mods and no hidden gems.
The guitar will be released at the Winter NAMM in January 2010 in Anaheim. It will be available in white-ish blonde with a white pickguard, like my original guitar and in orange as a custom color as well. Both colors will be nitrocellulose finish, applied conservatively. I feel most of the great guitars I've played featured very light to nearly nonexistent finishes. I think this allows the true resonant character of the wood to shine through. The neck will be lightly finished for a fast playability.
You're widely known as a Fender Princeton Reverb player—what is so special about this amp?
These little amps have everything I need. They have a great tone, fantastic reverb and vibrato. Besides this, they're easy to move and they are always loud enough. The tone is a perfect combination between the wellknown bright, sparkling Fender clean tone and a mellow, woody sounding overdrive when pushing it hard. The overdrive sound of a Princeton Reverb amp is by far the best one I've ever experienced. Don't get fooled by the low wattage of these amps. These little rascals can get really loud [laughs].
Can you tell us about your involvement in testing the Fender Princeton Reverb reissue amp?

I was only involved in testing and fine-tuning this amp, not in development. Fender did a fantastic job; these amps are really great, and I own two of them. G.E. Smith was the one who introduced me to this project, so Fender followed his suggestion, asking me to test and endorse their new amp. I'm really glad and proud to be involved in this project. The reissue amp hits the flavor of the original blackface amps of the mid-'60s perfectly—it's a really faithful recreation and affordable as well.
If you had the chance to live wherever you wanted, where would it be?
I really love NYC, and I can't think of a better place for me. I like to discover my new hometown, and whenever I have the time and the chance I do extended walks through NYC. I really love this city and the people here. For me it's the most American city of all. I'm proud to live here and to be a New Yorker at heart ... the city is so big and has so many different cultural shades that exploring NYC will be an adventure for the rest of my life. You can ride the train for a short time, and you will find a completely different New York… living here is simply perfect for me.
But cities like Rome, Barcelona or Berlin are great as well. I really like Europe and I always enjoy coming over. If I had the money, I think I would spend my year with three months in San Francisco, two months in Rome, and the rest of the year in NYC ... but that's just a dream.
If you had to go to a desert island and were only allowed to take one guitar, one amp and one stompbox with you, what would they be?
I knew that question was waiting for me [laughs]. That's easy to answer: it would be my '59 Fender toploader Telecaster, a Fender Blackface Princeton Reverb amp and my Boomerang sampler. Do you know my next question for you?
I bet it's about where you're supposed to plug all this stuff in on a desert island, right?
[uproarious laughter]
What are your plans for the future?
I just finished my eighth instrumental CD, Orange. That will be released in February 2010. I would like to bring my music to more people, especially in Europe. I'm currently looking for a European booking agency to help me with this.
JIM'S GEARBOX


Guitars:
1959 Fender Toploader Telecaster
Fender Custom Shop "Jim Campilongo" Signature Telecaster
1958 Gibson 225 Gretsch Chet Atkins with Bigsby Tremolo
Hahn Telecaster
Greenwich Village Telecaster
1962 Fender custom color Stratocaster
1958 Martin 015
1970 Martin D-35

Amps:
1966 Fender Blackface Princeton Reverb
'70s Fender Silverface Princeton Reverb
Fender Princeton Reverb reissue
'70s Fender Silverface Vibrolux Reverb
'70s Fender Silverface Vibrochamp

Pedals/Effects:
Klon Centaur (occasionally)

Accessories:
D'Addario EKXL120 strings (.009–.042)
Gotoh Vintage-Style Tuners
Fulltone Gold Standard cables
Celestion G-10 speakers
'60s "Gold Back" Jensen C-10N speaker

jimcampilongo.com
Fender Custom Shop Jim Campilongo Signature Toploader Telecaster

By Greg Koch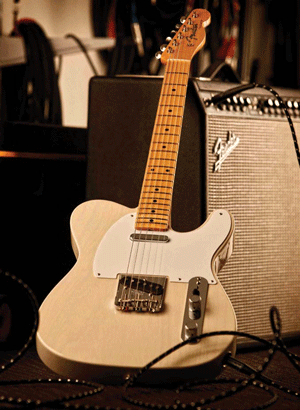 Photo courtesy of the Fender Custom Shop.
As with most guitarists, I often have my head so deeply ensconced up my own portal that the obvious seems to elude me until at some point I have to come up for air. One such moment occurred a little while back when rummaging on the inter-google: I came across an advertisement for a Jim Campilongo CD on the Telecaster Discussion Page. The old-school look of the CD's artwork intrigued me, and I assumed that here was really good Tele guy steeped in the history of the 'School of Tele-dom" that I simply never took the time to check out. I then decided to take a trip over to iTunes, and what I heard prompted an immediate purchase. When I experienced the pungent groovulence of Jim Campilongo's American Hips, I was an immediate fan. To me, here was someone who clearly understood and was able to channel the raw cathartic power and searing yet glorious tone of Roy Buchanan. Far from being a Roy clone, he then used the Buchananite as a fissile element along with a roux of rootsy goodness to create a highly sophisticated yet simple, idiosyncratic yet strangely accessible musical style that goes way beyond "guitar music" (by which I mean music by guitar players for other guitar players). My initial description of Jim's music to friends was for them to imagine Roy Buchanan and Bill Frisell fighting over control of a hellbound stagecoach (and I say that with love).
The powerful image of a cat with a beat-up old telecaster going straight into an old Fender amp with the volume knob dimed, and then being able to conjure up all the tones of both Shangri-La and Mordor by utilizing behind-the-nut string rustling, pinch harmonics, volume slurs, tone control "wahs," bending the neck hither and yon and all the other things in the lexicon of licks and trickery endemic to the "Telemaster"—it's something that intrigues many folks to the point of near cult-like reverence. Along with this reverence for the player is the near fanatical attention to the minutiae of what gear is used to create these glorious sounds, because even though the number of tools is small (guitar, amp, cord), the variables are many (which guitar, amp, pickups, bridge saddles, strings, tubes, speakers, transformers, cords, picks? etc).
I always enjoy it when rather meticulous guitarists get signature instruments, because you know they've got 'em sussed. The Jim Campilongo Tele is a toploading (strings through the bridge, not the body) version of his '59. Fender only made the toploader in '59, and Jim describes the tone as being more "rubbery." Rest assured, it will resonate differently than a standard Tele. The pickups were wound to Jim's specs and will only be available on this guitar. The neck is an exact duplicate of Jim's '59 and has jumbo frets. The guitar sports a "Top Hat" toggle switch, "T" string tree and a flat bridge plate without the lips for holding the "ashtray" cover (Jim finds the lips a hindrance in trying to pick the low E string). It is available in a white blonde and orange nitrocellulose finish with a white pickguard. They are limited to 50 pieces, so be swift! My favorite color is orange. I feel GAS coming on. Do yourselves a favor and check out Jim Campilongo's music and this guitar and experience why people call this guy a "national treasure."