Ville Leppänen: Finnish Lines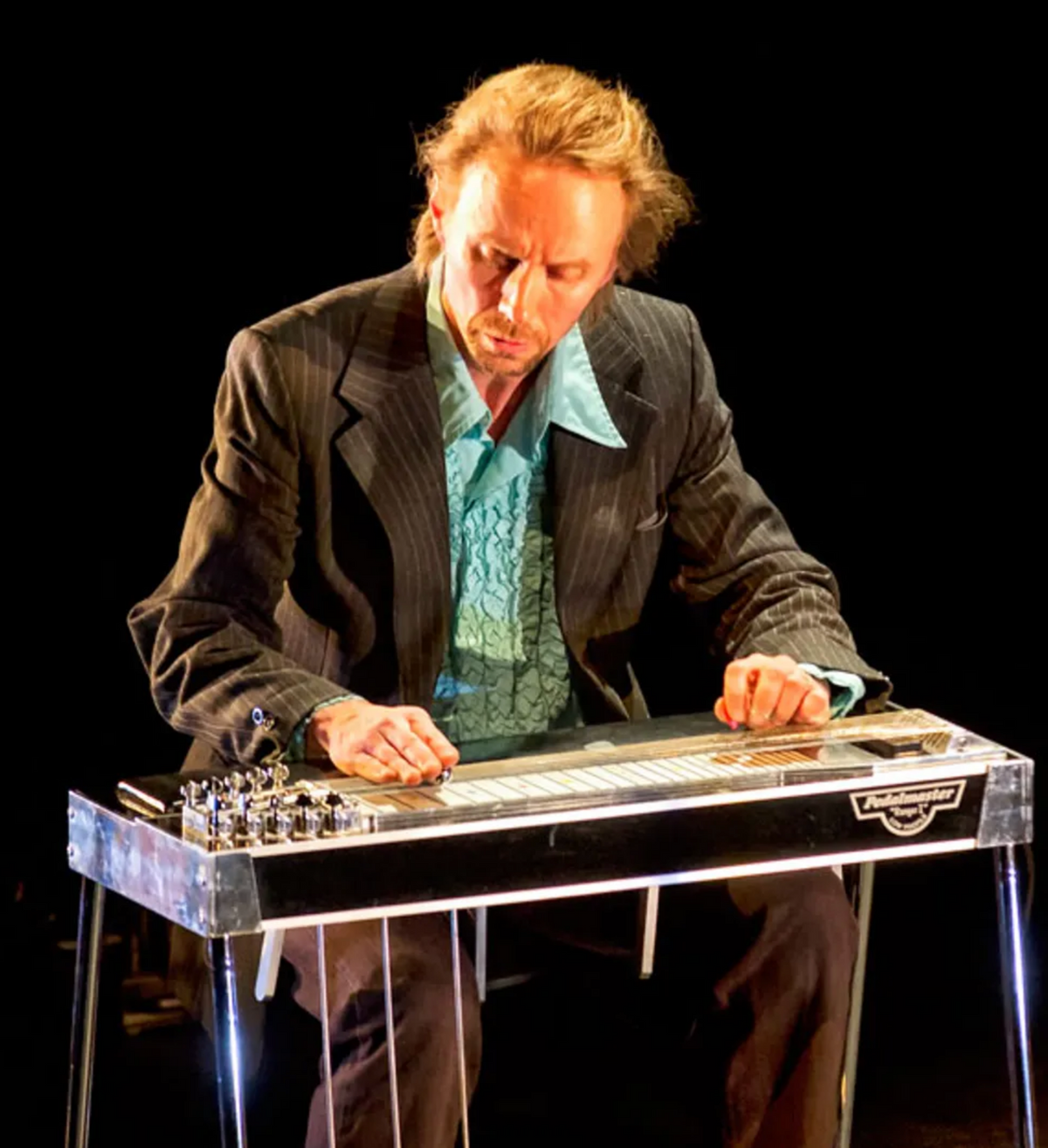 Americana slide and steel—as viewed from Helsinki.
Finnish guitarist Ville Leppänen has only visited the United States a few times, though his deep knowledge of American music suggests otherwise. Playing conventional guitar as well as resonator, pedal steel, and lap steel, Leppänen has forged a style that synthesizes many regional sounds, from the Southwest to the Hawaiian Islands.
---
After touring his native country as a singer-songwriter for many years, Leppänen was toying with the idea of a power trio in 2010 while working with the country-rock group Commotion Band, led by the singer and guitarist Kari Huovinen. One evening Leppänen found himself in a rehearsal room with the group's bassist, J.P. Mönkkönen, and drummer, Tero Mikkonen. Leppänen led his cohorts in a few of his original compositions, and the sound instantly gelled.
Since then the group, Southpaw Steel 'n' Twang, has played Finland's club and festival circuit, and held an informal residency at a Helsinki bar. Their recent debut album, Hale's Pleasure Railway, is a mostly instrumental Americana survey—and a pleasurable listen for guitarists and non-musicians alike.
"I like soulful, traditional playing, only sometimes it's too predictable. The players I love to listen to the most are the ones who
somehow surprise me."

We chatted with Leppänen about his affinity for American music and were surprised to learn that he conjures so many different sounds with a relatively modest collection of gear.
Tell us a little about your formative musical experiences.
I'm 48 years old now and was 13 or so when rock 'n' roll hit me. I'd been playing clarinet and classical guitar in a music school from age 9, but that had been more like something my parents wished me to do. My musical awakening happened at the end of the '70s. Punk rock and new wave were going strong in Finland, and then there was a huge '50s rock 'n' roll revival. Buddy Holly and Eddie Cochran were my heroes. That naturally led me to country and blues, especially Robert Johnson.
Then there was my Austin, Texas, period. A lot of great American blues-roots guys played in Helsinki: Stevie Ray Vaughan, Johnny Winter, Ry Cooder. Winter and Rory Gallagher were my main slide heroes. At the same time, the hot jazz bug bit me in the form of Hawaiian steel guitar—first Bob Brozman, then Sol Hoopii, and finally Leon McAuliffe, Herb Remington, and Buddy Emmons. And there were jazzmen like Barney Kessel and Wes Montgomery. I still love to listen to Wes's The Incredible Jazz Guitar. I've mentioned just a few names. In general, my main influence has been American rhythm music.
What kind of gear did you use early on?
Prior to my awakening I'd been playing my father's old Landola, a Finnish-made nylon-string acoustic. When I wanted to go electric my dad was a bit skeptical, but he eventually bought me a pickup, knobs, and tuners, and I built my own, trying to shape it to look like the Gibson ES-355 Chuck Berry had in all those pictures. It was horrible, barely playable—but I loved it!
As a lefty, I had difficulty finding a proper guitar. In high school I tried to play a right-handed electric Hendrix-style, but the knobs always felt like they were in the way. So I got a summer job, got the dough together, and a guitar workshop in Helsinki made me a butterscotch early-'50s-style Tele from ESP parts. I still play it.
Have you spent much time in the States?
I've been to California a couple of times, and to Memphis, where my group was a semi-finalist in the 2012 International Blues Challenge. That same year we recorded in New Orleans. It's been a great experience to visit those places so crucial to this music, but I already had a firm musical identity before I visited the States.
Living in Finland, do you feel any kinship with composers like Jean Sibelius?
Sibelius composed beautiful, timeless music. I've sometimes toyed with the idea of adapting one of his pieces for steel, just as Buddy Emmons did with Pachelbel's Canon.
You have an impressive command of jazz harmony—the minor-major seventh chords and unusual chord progression of "Open Field," for example. How did you develop your harmonic language?
By listening to and studying jazz. I'm not exactly a jazz player, but I like to throw in interesting harmony and diminished ideas. The jazz players I mentioned had such big, luxurious chords and interesting notes in their bluesy playing. I wanted to do something like that.
Did you study jazz formally?
My studying has mostly been sitting on my butt and sorting things out by myself. I finally did get a musician's degree at a pop-jazz conservatory a few years back, and that helped me to update my theory knowledge.

Ville Leppänen uses his 1980 ESP T-style to guide Southpaw Steel 'n' Twang through an original instrumental.
Your melodic voice is also sophisticated—for instance, the way you draw from the diminished scale on "Dark C."
I like soulful, traditional playing, only sometimes it's too predictable. The players I love to listen to the most are the ones who somehow surprise me. For example, in the blues-rock field, take the great Jimi Hendrix. He sometimes drives off the road but it's so interesting! Or think of all the great jazz-rock/fusion players. So when improvising, I try to surprise myself with unpredictable note choices, hoping that the listeners will be surprised too.
Western swing is clearly a big influence.
Yes. The weird but nice combination of country and jazz has always fascinated me. When I was a kid we played—at the risk of sounding politically incorrect—cowboys and Indians. Now I had cowboys playing swing, hillbilly and jazz—those Charlie Christian-influenced guitar hotshots like Eldon Shamblin, etc. And that steel bunch! Eventually I bought myself a Japanese Fender Stringmaster D8 copy, a great guitar that I didn't have a clue how to tune. But then the pieces clicked together.
Ville Leppänen's Gear
Guitars
Fender Japan 1957 Stratocaster reissue with Kinman pickups
1980 ESP parts T-style with Texas Special pickups
1957 Fender Stringmaster D8 (22.5"-scale doubleneck 8-string lap steel)
1935 National Duolian
Pedalmaster S-10 Ranger (10-string pedal steel)
Amps
1969 or '70 Fender Vibrolux Reverb
Effects
Boss ME-70 multi-effects
Morley M2 Wah Volume
Strings and Picks
Various S.I.T. sets and singles
How so?
On conventional 6-string steel I use high-G tuning [G–B–D–G–B–D]. Meanwhile, the Stringmaster has two 8-string necks. It took me a while to figure out how to add those sixth notes to the basic triads, and then get used to having two strings tuned just a whole-step away from each other. It's pretty hard to play "Dust My Broom," for example, with that tuning, but the Western swing thing is right there!
What inspired you to take up steel guitar?
I heard Bob Brozman's playing in the late '90s, and I just had to make the same kinds of sounds. I found a 1930 National Triolian roundneck and played it both bottleneck and lap-style, with a flatpick and two fingerpicks. Slide guitar has always been my thing, so it wasn't a big step. I just had to get used to the lap playing position.
Do you think of yourself as more of a guitarist or pedal steel player?
They're both fascinating tools of expression. Of course I've logged more miles with the conventional 6-string, and that's probably my most natural thing, especially slide. But I think I'm catching up with lap and pedal steel. Those instruments are also just so much fun to play. Difficult, but fun!
Which is your favorite 6-string these days?
I've mostly been playing a Japanese Fender 1957 Strat reissue with Kinman noiseless vintage pickups. It's a good, reliable guitar—a real workhorse. And it's not terribly expensive, so I don't have to worry about it.
Is there any new gear that you've been coveting?
I'd love to get a 12-string pedal steel—maybe one of these days. A full-bodied jazz box would also be great. And I've never had a Les Paul. I could easily make a long list!
Talk a little about the Hawaiian influence evident on tracks like "Secret Sunset."
That's a 1957 Fender Stringmaster, short-scale, which I got via eBay from a seller in Arkansas. The tune is a vain attempt to bring the sun to the cold and dark Finnish winter. Hawaiian music made me feel happy when I first heard it, and it's always been a kind of "secret sunset" for me.
Why did you decide to set aside your instruments and do a mostly a cappella thing on "Steel 'n' Twang?"
There's so much guitar on the record, and I thought it needed a breathing break. In concert we usually play the piece and some other vocal numbers between the instrumentals. It works well, and it wakes up the audience.
YouTube It
Watch Ville Leppänen play Jimi Hendrix's "Little Wing" on pedal steel.
How would you describe your compositional process?
I can write a composition down—melody, rhythms, and harmony—but usually I just mess around on 6-string or steel, or even a keyboard, with a melody, chords, and rhythms in my mind. I might write down certain lines for a reminder, but more often I just record a rough version, no overdubs or anything, then we all arrange it together with chord charts. That way the music has a free-flowing feeling.
Talk about how the album was recorded.
The recording took place in the main hall of an old wooden house in Helsinki, and most of the stuff was recorded live. Everything leaked all over the place, because we were all in the same big room. The guys—J.P. Mönkkönen on bass and Tero Mikkonen on drums—played together for a long time before we started the group, and it worked pretty well. A bit rough, but very organic.
What made it rough?
We used the takes that had the best feeling, even if there were some mistakes. I don't really mind a few wrong notes if I hear the band reaching for something we haven't done before, not just playing it safe. And, as we know, sometimes in the end the wrong note is exactly the right note!