Once in a great while, true innovation rears its head. Or perhaps lack thereof.

Ned Steinberger and his creation. Photos courtesy steinberger.com
Someone recently posted a photo of a headless bass in a forum. Yes, that frequently happens, but what was surprising this time was the reaction of an obviously younger bassist. He vigorously complained that the thread opener had posted a photo of an "incomplete or broken instrument." I'm sure we're all used to encountering a high degree of ignorance when surfing the net—and particularly when accessing these "open-to-all" areas—but apparently this guy had never seen a headless instrument.
No bassist should be surprised if the general public doesn't get it, but a player should at least have an interest in the various flavors of our instrument. Especially when you consider there aren't that many flavors in the bass world to begin with. It's reason enough, I'd say, to revisit the design that kicked off one of the most adventurous periods of our instrument's history.
Flashback. Born in the 1930s, the electric bass became popular in the '50s when the Precision hit the stage. After laying the foundation for rock in the late '60s and throughout the '70s, the electric bass finally encountered its wildest and most experimental era.Prior to that,countless manufacturers had offered variations of the initial design—different woods, colors, pickups, body shapes, and materials—so builders and players must have thought they'd seen it all.
The openly experimental '80s were surely the best era to
host the headless bass.
That is until 1979, when a young Ned Steinberger popped up and revealed a radically different concept and construction: the headless bass. (And yes, we got it before guitarists!)
Not only did he swap out all the wood for a two-part graphite build consisting of a one-pieced body and neck, plus a faceplate, he also changed the arrangement and functionality of some key elements. By using a body-based tuning system, Ned managed to get rid of the entire headstock. The silhouette of this bass differed so dramatically from typical models that even non-musicians could easily recognize it. Because ignorance is not an invention of our time, it must have been hard to get the word out to players and, more importantly in those pre-internet days, retailers.
The Steinberger makes its debut. A few years ago at the Frankfurt Musikmesse, I had the opportunity to get an extended, highly entertaining history lesson from Hap Kuffner, a New York shop owner and later associate at Steinberger Sound. Hap was so impressed by his first meeting with Ned that he still remembers the encounter decades later.

The two main elements of a headless instrument: the bridge and headpiece.
That fateful day, a young guy entered his store. After playing a few notes on a futuristic-looking instrument, he unstrapped it and smashed it on the floor. He then picked it up and began playing again to demonstrate that it was still in tune.
Over the next few years, Ned and Hap reenacted this scenario many times to show off the Steinberger's superior durability and tuning stability. This move illustrates one of the advantages of the basic material and construction, but there are others.
The headless concept was quite successful for almost a decade, but as we know today, the vast majority of players could never be convinced to go for it, most likely for one reason: its unusual looks! The openly experimental '80s were surely the best era to host the headless bass. Had it been introduced today—an age dominated by selfies and publicly displayed ignorance—chances are we'd have missed its many practical advantages.
That's why it's good to see the concept regaining attention. In the world of musical instruments, there are several perennial, unresolved debates: tube versus solid-state amps, active versus passive electronics, wood or graphite construction, set neck, bolt-on, or neck-through designs, etc. All those technologies have their pros and cons, but in the case of headless construction, the concept really has all the arguments on its side. In fact, the arguments are so compelling that we'll take a detailed look at them next time.
Looking for more great gear for the guitar player in your life (yourself included!)? Check out this year's Holiday Gear Finds!
Outlaw Effects introduces their next generation of NOMAD rechargeable battery-powered pedal boards.
Available in two sizes, NOMAD ISO is a compact, versatile tool that offers the convenience of a fully powered board plus the additional freedom of not having to plug into an outlet. NOMAD ISO is ideal for stages with limited outlet availability, quick changeovers, busking outdoors, temporary rehearsal locations, and more!
NOMAD ISO builds upon the legacy of the ultra-convenient and reliable NOMAD rechargeable pedalboard line originally launched in 2018. The brand new NOMAD ISO editions feature eight isolated outputs (1 x 9V DC, and 1 switchable 9V/12V DC) for even more versatility and clean, quiet power. With an integrated lithium-ion battery pack boasting 12800mAh capacity, NOMAD ISO can fuel a wide array of pedals, and will last over 10 hours* on a single charge.
Each NOMAD ISO pedal board includes adhesive hook & loop pedal-mounting tape, eight (8) standard DC connector cables, and one (1) reverse polarity DC cable, giving you everything you need to build your ultimate "off-the-grid" rig. A rugged, road-ready padded gig bag with shoulder strap is also included, to safely protect your gear while you're on the move.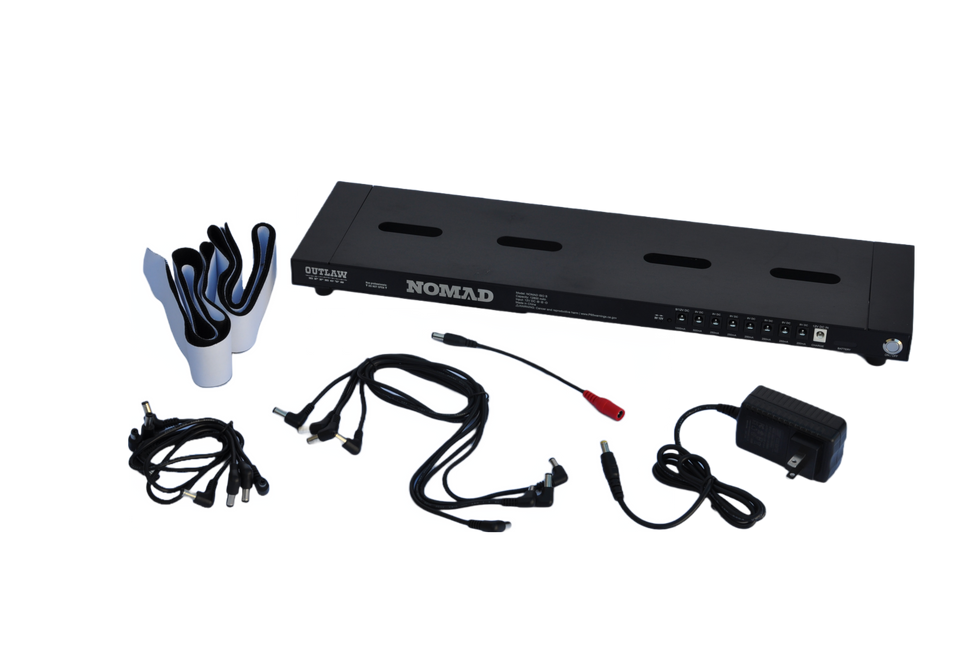 Dunable announce new Minotaur model featuring Grover Rotomatic Keystone tuners.
The Minotaur's DNA is rooted in their classic Moonflower model, which Dunable discontinued in 2017. However, they have long since wanted to create a fresh take on a carved top guitar design, and various attempts to rework the Moonflower led them to a brand new concept with the Minotuar.
Dunable's goal is to give the player a guitar that plays fast and smooth, sounds amazing, and gives maximum physical ergonomic comfort. The Minotaur's soft and meticulous contours, simple and effective control layout, and 25.5" scale length are designed to easily meet this criteria.

Dunable Minotaur!
Features
25.5" scale length
Dual Humbucker
one volume, one tone, push pull for coil splitting
Grover Rotomatic Keystone tuners
Grover Tune O Matic bridge with brass Kluson top-mount tailpiece
jumbo nickel frets
12" fretboard radius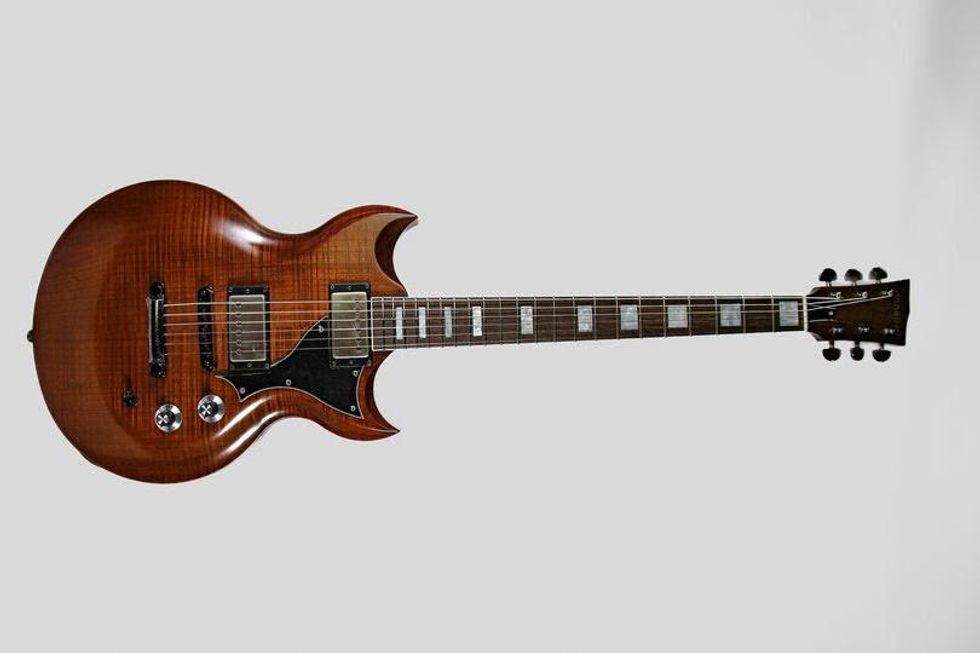 Dunable
This full-amp-stack-in-a-box pedal brings a new flavor to the Guitar Legend Tone Series of pedals, Missing Link Audio's flagship product line.
Adding to the company's line of premium-quality effects pedals, Missing Link Audio has unleashed the new AC/Overdrive pedal. This full-amp-stack-in-a-box pedal – the only Angus & Malcom all-in-one stompbox on the market – brings a new flavor to the Guitar Legend Tone Series of pedals, Missing Link Audio's flagship product line.
The AC/OD layout has three knobs to control Volume, Gain and Tone. That user-friendly format is perfect for quickly getting your ideal tone, and it also offers a ton of versatility. MLA's new AC/OD absolutely nails the Angus tone from the days of "High Voltage" to "Back in Black". You can also easily dial inMalcom with the turn of a knob. The pedal covers a broad range of sonic terrain, from boost to hot overdrive to complete tube-like saturation. The pedal is designed to leave on all the time and is very touch responsive. You can get everything from fat rhythm tones to a perfect lead tone just by using your guitar's volume knob and your right-hand attack.
Features 
Three knobs to control Volume, Gain and Tone
Die-cast aluminum cases for gig-worthy durability
Limited lifetime warranty
True bypass on/off switch
9-volt DC input
Made in the USA
MLA Pedals AC/OD - Music & Demo by A. Barrero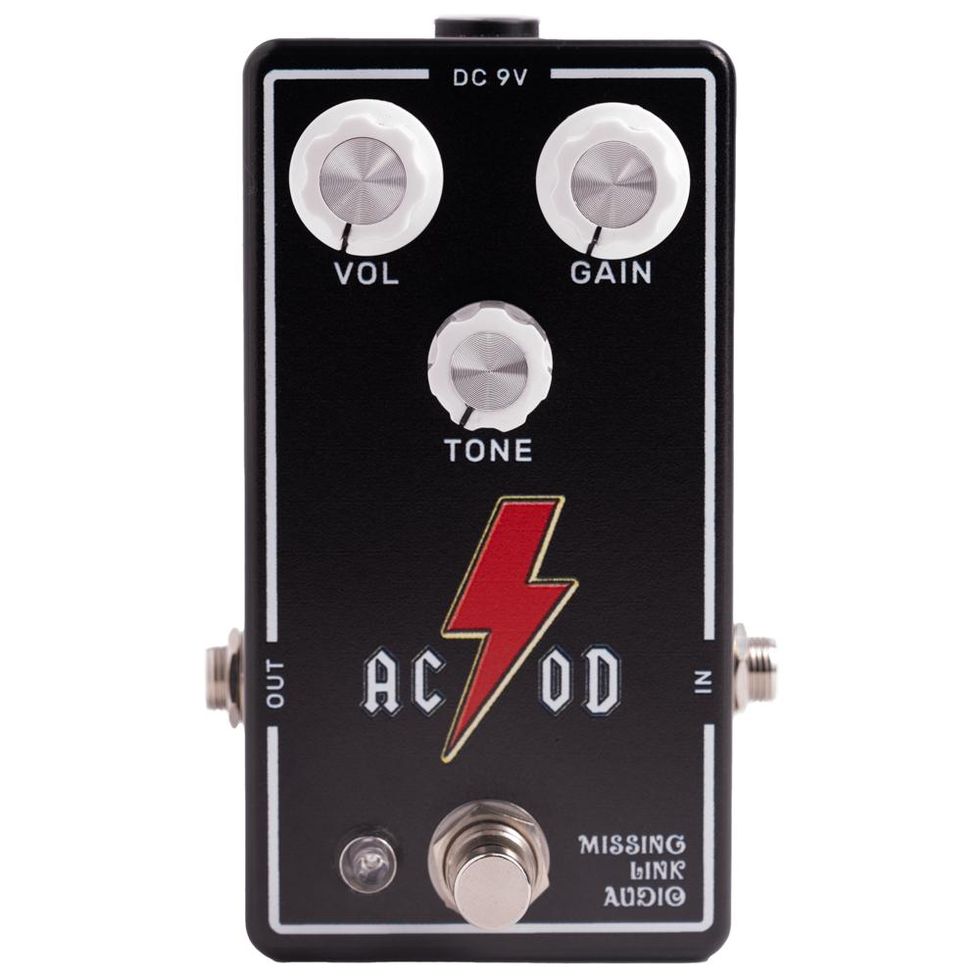 www.mlapedals.com.