Billy Sheehan - Shy Boy at LaMoures
Keeping TABS on a Bass Legend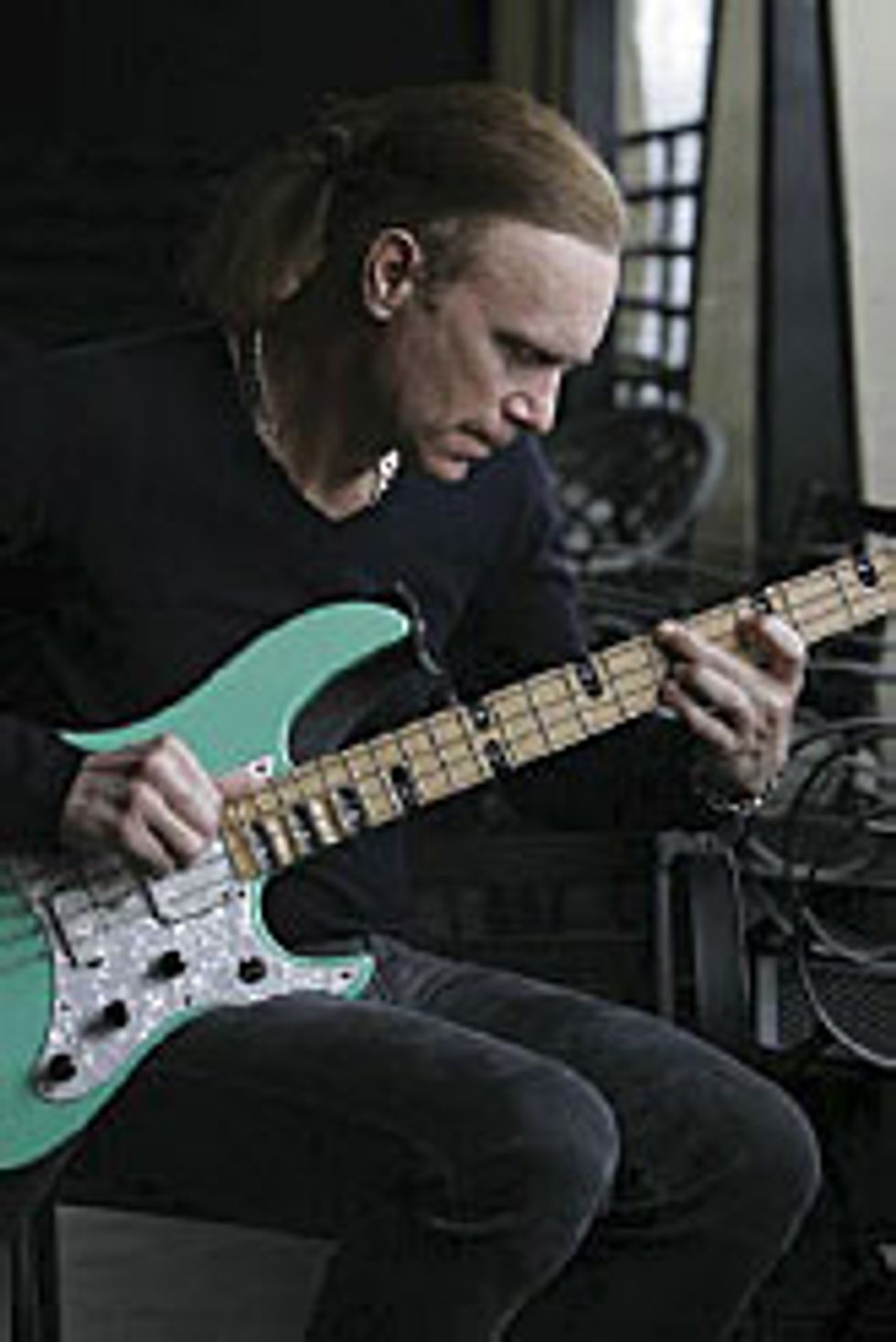 In the early '80s, I was a young musician growing up in New York City. I was walking to catch the train and the sweet smell of grit was rising from the pavement – when there used to be mysterious puddles of water on every street corner, even though it hadn't rained in weeks and the squeegee patrol was out, aggressively commandeering people's windshields at the Willis Ave Bridge.
I was on my way to LaMoures club to check out the band Talas and their incredible bass player who was causing quite a buzz in the guitar community. Once inside, I staked out my little claim of space, had a cold brew – which I believe I had snuck in because I was under age – and waited. Like most of the crowd, I was skeptical of what kind of performance I was going to see, but that changed as the show began.
Talas was a great band with a lot of energy, but what I really witnessed was the best bass player I'd ever seen, even to this day. Lanky, long-haired and dressed in spandex, the bass player ran out to center stage with his Fender P Bass and performed Eddy Van Halen's "Eruption." Most people couldn't perform "Eruption" on the guitar, let alone the bass – and in addition to performing two-hand tapping, he was doing acrobatics while playing to boot!
This was the man who would become the legendary bass player Billy Sheehan. Voted the "Best Rock Bass Player" five times in Guitar Player magazine's Reader's Poll, Billy earned a place in their "Gallery of Greats" alongside Jimi Hendrix, Paul McCartney, Geddy Lee and Eddie Van Halen, to name a few.
Just recently, the B3 Tour was in town and I caught Billy's performance with Jeff Berlin & Stu Hamm at B.B. King's on 42nd St. I spoke with Billy after the show and he agreed to play on a remake of the classic Jeff Beck song, "Blue Wind" that I was recording.
I got the tracks in the mail and they were stupendous. I'm an old two-hand tapping fool myself, and Billy played off the tracks I had given him and absolutely nailed it. I talked with Billy about recording "Blue Wind," and about his "Unleash the Beast" track from BHP Music's Guitar Masters, Volume 1.
What gear did you use on the recording of "Blue Wind?"
I used my home studio. I have an Ampeg SVT (turned way down!), as well as an Avalon pre-amp for direct sound. We recorded in Logic on a Mac. I used my regular bass that I play on stage – the Yamaha Attitude with RotoSound strings.
How did you record the bass?
We miked up the SVT cab, as well as split signals for a direct through a Radial Engineering direct box.
What format did you record the song on?
I'm all digital. We used Logic, Pro Tools, Digital Performer, and Cubase too, but I've been using Logic mostly. I use MOTU interfaces and a Yamaha 02R96 to route everything where it needs to go.
Give us a little background of your relationship to the classic version of "Blue Wind" with Jeff Beck and Jan Hammer?
I've jammed on the song since it came out many years ago. In many ways, Jeff really got the music scene going again with his releases in the '70s. Wired and Blow by Blow really ushered in a new era of improvisational jamming. I've recorded the song with Niacin – a B3 version, that we perform live a lot. It's one of my favorite Jeff Beck songs – and there are many that I love.
What's your set up, bass and amps that you used on the recording of "Unleash the Beast?"
It was done in the back room of a record company office in Tokyo, Japan on bass and guitar PODs. We had no choice at the time; we needed another song for a single release, so we hustled this up. Sometimes being under pressure and having to make do with inadequate gear makes you work harder – I like the way it came out.
Are you currently working on a new project or album?
Yes, my third solo CD. I'm recording it in my home studio using my real gear. I'll also be doing a record with Tony MacAlpine and Virgil Donati, along with several other projects this summer – no rest for the wicked!
After working and talking with Billy, I can see why he's at the top of his field. He has a great attitude and is an absolute pleasure to work with. I think I speak for the guitar community when I say, "Thank you Billy for being such an inspiration throughout the years."
---
Brian Tarquin
Emmy Award Winning Guitarist Brian Tarquin scored a Top 20 hit in the 90's with "The Best of Acid Jazz, vol. 2" on Instinct Records and enjoyed several top 10 hits on the R&R charts. Founder of the rock/electronica band, Asphalt Jungle and has scored TV music for such shows as, CSI, Smallville, MTV, Alias, 24, All My Children and many others.
bohemianproductions.net
jungleroom@optonline.net
myspace.com/bohemianproductionsmusic