The surf-rock duo hams it up about "November Rain" and "snake charming," and pays tribute to the Wrecking Crew's First Lady of low end.
Maestro's smooth, stylish PS-1 inspires a simple and unique vintage-voiced analog phaser.
Great digital approximations of the Maestro PS-1's smooth, distinctive voice. Open, airy tonality. Nice combo of transparency and distinctive character.
No ramping between speeds.
4.5
4.5
5
4.5
Though enormous and limited by modern standards, the original Maestro PS-1 (created by Tom Oberheim in 1971) is the very picture of pedal design elegance. It's also one of the most swirlingly smooth phase circuits to ever exist.
Mojo Hand FX's digital, six-stage Mister-O is inspired by the silky voice of the PS-1. The company did away with the design limitations of the original—like speed presets and fixed depth and resonance—but Mister-O still speaks in a deep, enrapturing, and distinctive phase voice that sets it apart from more common phasers. It also retains the straight-ahead simplicity that makes vintage phasers so attractive.
Styled Out … Subtly
If you love vintage pedal style, the Mister-O is a snack-sized meal of visual treats. "Mister-O" is printed in an original font that evokes the old Maestro logo. The white-on-black pinstripe looks ace. And while I'd be ultra-stoked if Mojo Hand had used red, gold, and blue knobs, the tri-color branding at the bottom hints at Maestro's beautiful '70s color motifs. (Future versions of the Mister-O will be called Mr. O to avoid confusion with the Maestro brand.)
Where the original PS-1 used three rocker switches to select slow, medium, and fast phase rates, the Mister-O utilizes a variable speed knob as well as depth and color (resonance) knobs that enable deviations from the original's voice. It's a cool set of additional but traditional controls that enable experimentation without getting into the weeds.
Apart from lacking analog circuitry, Mojo Hand omitted one important facet of the original Phase Shifter's functionality: It doesn't share the capability for ramping between speeds—a function that enhanced the PS-1's Leslie-ness. Though it might have elevated the very appealing $149 street price considerably, an expression pedal that approximated that functionality would be a nice addition.
Elastic But Never Overbearing
In the humble, one-page manual that accompanies the Mister-O, Mojo Hand suggests a few voices based on original Maestro sounds. These settings—all of which utilize depth and color controls at noon—are tuned to match that of the PS-1. They are truly sweet spots that are a great place to start—and stay, as I often did.
Mister-O's clear low-end carves out room for other phasing nuances that make the output sound more complex and detailed.
Phasers are inherently non-transparent. They change your tone as they cycle through a waveform, and every phaser does this with a distinct voice. Mister-O's is a wide-frequency voice that seems to retain much of a guitar's natural color. Players that gripe about tone suck and volume loss in vintage modulators will love this facet of Mister-O's performance envelope. (I even sensed a slight bump in volume in phase mode.) But Mister-O also heaps on a lot of unique, vintage patina'd personality. The contoured clarity it lends to low frequencies, for instance, is beautiful. It's not quite as bubble-gum chewy as a good Phase 90, which is extra gooey, in part, because of the unique way it filters and "stretches" low end frequencies. The choice between chewiness and low-end articulation is down to personal preference. But I loved the way Mister-O's clear low-end carves out room for other phasing nuances that make the output sound more complex and detailed. It might be the first phaser I routinely use for fingerpicking.
Advanced color and depth controls emphasize mid-range resonant peaks, which can make Mister-O feel more pulsing than elastic. But the effect is no less weird or psychedelic. The color knob can add extra noise as you get into its weirdest zones. Though I'd venture that anyone exploring these more bizarro sounds will not be terribly offended by a little white noise wash. At lower depth and color settings—and particularly at fast speeds—the Mister-O offers a cool, wobbly alternative to low-intensity tremolo.
If you tend to use your phaser for Hendrix and Gilmour-style fuzz-and-phase sounds, Mister-O's open tonalities—particularly the airy, present top end—are well suited to the task. The enhanced control also gives you more power to tweak resonant peaks to suit your pickups and drive source. The original Maestro voicings are ideal for fuzzy fare, but you shouldn't be shy about ladling deep textures on top. Because Mister-O is so articulate, there's plenty of room to heap on gnarly buzz without obscuring nuance in the modulation.
The Verdict
The Mojo Hand FX Mister-O is more than a little evocative of the original Maestro PS-1. But above all, it has a flexible, unique, and warm vintage voice that manages the minor miracle of sounding authentically analog and colorful while enabling your guitar's tone to shine. There's something effortlessly classy about the sound of the Mister-O. And it's refreshing to be able to explore such distinctly vintage phase flavors without treading that same old path—especially at such a reasonable price.
The fingerstyle rock icon talks about the power of layering clean-toned guitars, direct recording, crafting arrangements, and the lessons of survival—all part of his first new solo album in a decade.
Lindsey Buckingham's career has seen the highest of highs and the lowest of lows. On one hand, it's full of classic albums, multiple Grammy awards, and his membership in one of the most legendary rock bands ever—and, thus, in the Rock & Roll Hall of Fame—as well as a successful solo career spanning four decades. Yet it's his breakups, firings, and Fleetwood Mac's inter-band turmoil that people often focus on. And, as you'll soon read, the drama continues.
Through it all, Buckingham proves himself a survivor with immense talent and an undying drive to create. As a guitarist, songwriter, and vocalist, he has never lost sight of his unique touch and sound. And those decades of perseverance offer him the confidence and wisdom that permeate his first solo album in 10 years, Lindsey Buckingham.
The album is a fiercely personal offering about the effects of commitment in relationships and music. And Buckingham knows a thing or two about time's effect on music. He's been obsessed with the guitar and crafting great rock 'n' almost roll since the genre first shook its hips.
Lindsey Buckingham - On The Wrong Side (Official Audio)
"There are certainly any number of people who ended up playing rock 'n' roll whose lives were changed forever when Elvis Presley showed up," says Buckingham. "One day, my older brother brought home all those records. This was 1956, when 'Heartbreak Hotel' blasted on the scene. That was just a life-changing moment for me. About a year later, I got a three-quarter-size acoustic guitar. I was always sitting in my brother's room, listening to his 45s, and learning to play and sing those songs."
But early rock 'n' roll wasn't Buckingham's only influence. The '60s had something new waiting in the wings. "When the first wave of rock 'n' roll fell off, folk music took over," he recounts. "That informed my musicianship differently, in that my fingerpicking became more pronounced. The whole orchestral style of playing was something that I grasped and took on for myself quite early. But whatever originality and vision that I have now are because I was completely self-taught and didn't ever take a lesson and still don't read music."
From the rockabilly vibes of the new album's "Blind Love" to his acoustic classic "Never Going Back Again" from Fleetwood Mac's Rumours, his marriage of folk and rock 'n' roll is readily apparent. These sounds beautifully coalesced during Buckingham's historic run with Fleetwood Mac. Joining the band in time for 1975's Fleetwood Mac album, Buckingham brought a new life and new sound to an already well-established organization. He also had a little help, demanding his then-girlfriend Stevie Nicks come with him. The band agreed and cemented the future of classic rock.
"Whatever originality and vision that I have now are because I was completely self-taught and didn't ever take a lesson and still don't read music."
If you wonder how a band known for blues-rock heroism was able to evolve so quickly into chart-topping hitmakers, according to Buckingham, it was all about his songwriting chemistry with Nicks. "If you take a song like 'Dreams,' for example, the way she presented it to me was playing it with two fingers on the piano. It's the same two chords over and over," Buckingham explains. "It's a beautiful song, and the vocal placement is brilliant. But it needed architecture around it to set the sections off. That was all done through me holding onto the vision with layered guitar work. Having the architecture fulfill the potential of the song is where a lot of that comes from."
That songwriting chemistry propelled Fleetwood Mac through eight albums and for over 40 years. It also spawned such mega-hits as "Go Your Own Way," "Rhiannon," "Little Lies," and many more. But it was Buckingham's second album with the band that, in many ways, defines his legacy. And not only for the music. That album was 1977's Rumours.
Despite nearly every song being a classic, history remembers it as the ultimate breakup album. Not only were Buckingham and Nicks drifting apart, but bassist John McVie and keys player Christine McVie divorced. And bandleader/drummer Mick Fleetwood was suffering a relationship crisis of his own. Yet Rumours persisted. And thank goodness it did. Those struggles created a rock 'n' roll masterpiece.
Lindsey Buckingham's Gear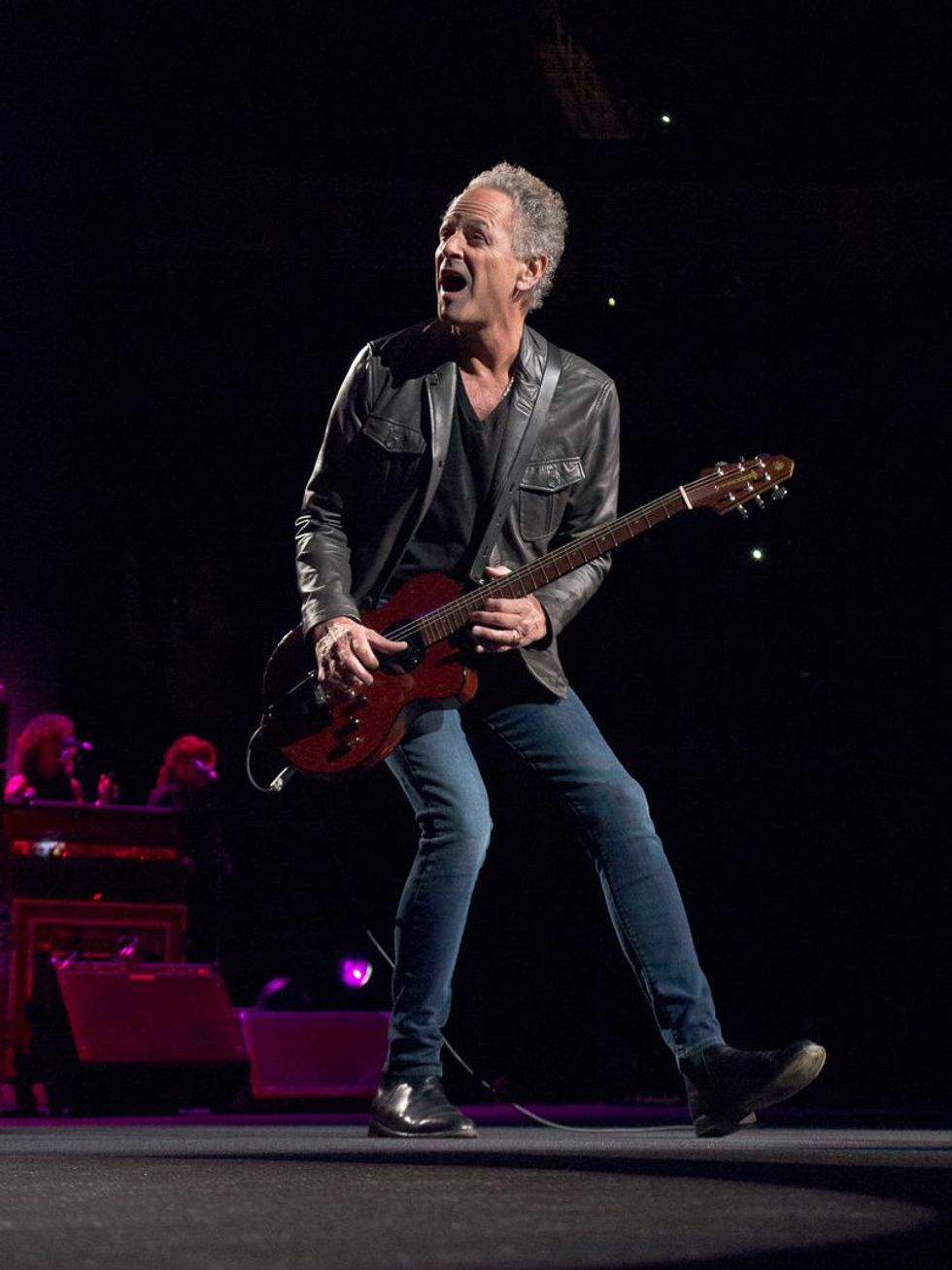 Rocking out with his Rick Turner—a guitar commissioned by Buckingham that's become an inseparable part of his musical personality. "I asked Rick if he would design me a guitar whose sound was a cross between a Les Paul's fullness and the crispness and percussiveness of a Stratocaster," he says.
Photo by Steve Kalinsky
Guitars
1964 Fender Stratocaster (studio only)
Taylor 814ce with Fishman preamp
Rick Turner Model 1
Rick Turner Renaissance baritones
Gibson Chet Atkins CE solidbody classical with MIDI pickup
Strings

D'Addario XLs (various gauges)
Amps & Cabinets
Two Mesa/Boogie Dual Rectifiers (electric)

Trace Elliot TA 200 (synth)
Fishman Loudbox (synth)
Two SWR California Blondes (acoustic)
2x12 cab with Electro-Voice speakers
1x12 cab for acoustic guitar
Effects
Boss SD-1 Super Overdrive
Boss DD-3 Digital Delay
Boss RC-30 Loop Station (live only)
Roland GR-50 Guitar Synthesizer
As if time is cyclical, 44 years later, Buckingham finds himself in what might be a similar creative and emotional spot as he did back then. He was released from Fleetwood Mac in 2018 under closely kept circumstances. And once again, the split is part of the story behind a great album. "Well, ironically, this new album was done even before all this stuff went down with Fleetwood Mac. It was my intention to put this current album out so that there would be a somewhat smaller-scale project squeezed in and preceding yet another Fleetwood Mac tour," he explains. "But the politics within the band were somewhat prohibitive of my doing that. I was only asking for three months to tour and to do some TV and some press, and but not everyone was comfortable with that."
So once again, the Buckingham/Fleetwood Mac story is one of heartbreak. Today, the band is soldiering on with Mike Campbell (of Tom Petty and the Heartbreakers) filling the guitar spot. But many fans are asking, "Is there a Fleetwood Mac without Lindsey?" Not one to dwell in the past, Buckingham is asking a very different question: "Who is Lindsey without Fleetwood Mac?" Unfortunately, the album that now answers that question had to wait … and wait, and wait.
"It got put on the shelf after all this stuff went down with Fleetwood Mac," says Buckingham. "Then I thought, well, rather than put this new album out right now, let's do the anthology [Solo Anthology: The Best of Lindsey Buckingham]. I did that, and that was very cathartic for me, because I'd always known that I'd done a lot of good solo work. But I hadn't really revisited it and lived with all of that work in quite a long time. It was a more visceral response to everything. That was really a nice feeling to have."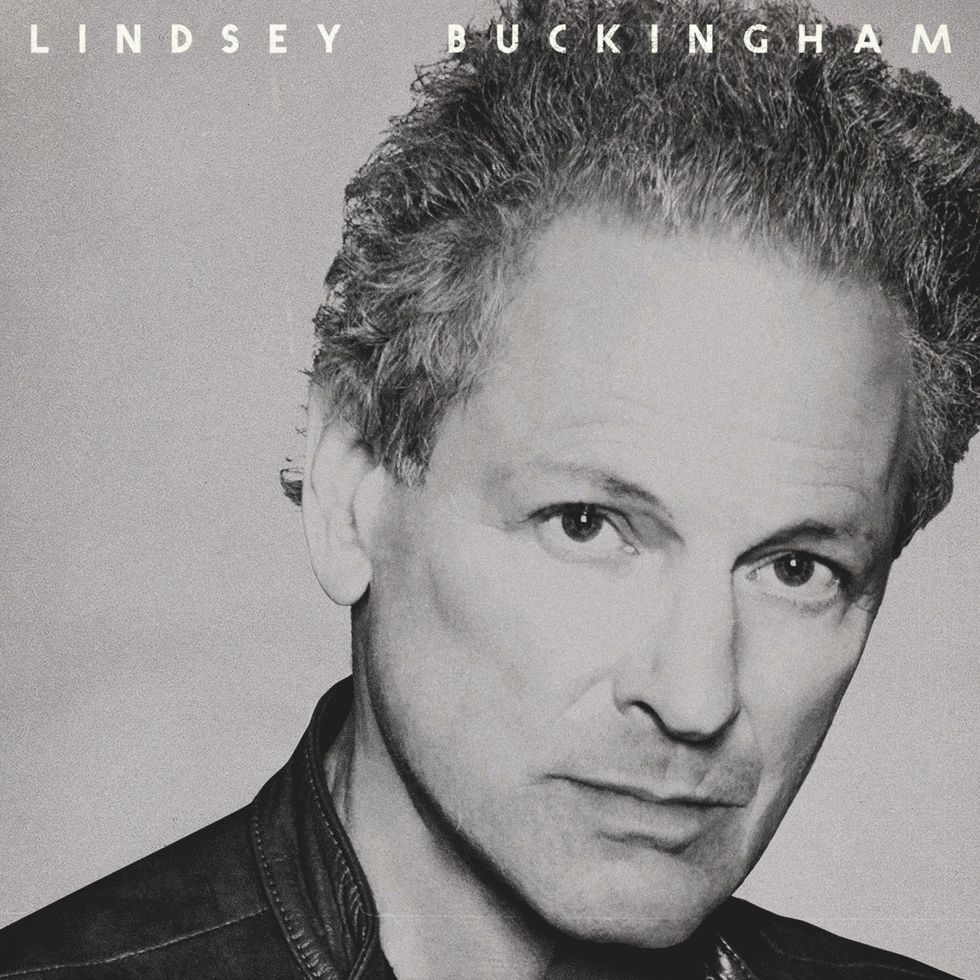 TIDBIT: Onstage, Buckingham and his Rick Turner Model 1 are inseparable, but in the studio this time, he employed a '64 Strat and Taylor 814ce.
Little did Buckingham know that the anthology wasn't the only hold-up coming his way. Invasive heart surgery and the pandemic would also play a role. "Literally right after that, in the very beginning of 2019, I had surgery. We were gearing up to tour and to put this current album out, and I had a multiple bypass operation that kicked it down the road," Buckingham says. "Then COVID hit, and we had to kick it down the road even further."
Although the delays were many, the most captivating thing about Lindsey Buckingham is how timely and relevant the songs are. Every word and every note seem to point to this exact moment in time. From lyrics about disintegrating long-term relationships to father time's effects on us all, it's like 2017 Buckingham already knew where 2021 Buckingham would be.
"The album has been done for over three years. So, it's not like the last three years had any influence on the subject matter or the style," Buckingham points out. "But I think all of the things that happened enriched the subject matter for me. They've come home to roost as much more tangible elements of my life. I think people, in a way, are picking up on that."
"When Fleetwood Mac asked me to join, they actually did try to get me to use a pick. But I was 25 then, and I'd been playing for about 19 years. My style was pretty much written in stone."
Regardless of when it was written, there's no question that the new album is intensely personal. And it's not just the subject matter. Put on a good set of headphones and you'll hear a presence and energy that only Buckingham can deliver. And I mean only Buckingham. Having written, recorded, performed, produced, and mixed almost every song by himself, the album is a beautiful self-portrait of who and where Buckingham is as a guitarist and songwriter today.
But aren't those clearly female vocals on songs like "I Don't Mind"? Nope. Those, too, are reflections of Buckingham's production and arrangement techniques. "I still have the old Neve console that I got in 1986. It's the same console that we cut [Fleetwood Mac's] Tango in the Night on. And I was using an old Sony 48-track reel-to-reel that you can slow the machine down to do a lot of work with your voice. It will then come up to speed, sounding more female or smaller. That's just something I've always loved to do, and I've been using it for years and years."
By taking this truly solo approach, Buckingham had time to sculpt each song to perfection. His 6-string orchestrations of layered guitars perfectly play off each other, as do his famous vocal harmonies.
Rig Rundown - Lindsey Buckingham
"If you are working on an album with Fleetwood Mac, you've got to bring in a more or less completed song to present to them. Then, to get from point A to point B to point C, it's all got to be verbalized. It's a much more conscious set of steps and perhaps even a more political process," Buckingham explains. "When I work alone, I'm in my studio by myself. I'm engineering. I'm also playing everything, so it becomes a bit like painting. You're having this one-on-one with the canvas. The production and the songwriting become much more intertwined. You don't necessarily have to even begin with a concrete idea.
"You're free to explore as you start to put things down, record them, and start to assemble some form to what you're doing. The work itself, or the canvas, if you will, starts to take on its own life. It leads you in directions that you might not otherwise go. And the process of discovery is greatly enhanced if you're someone who values being outside your comfort zone, wanting to take risks, and wanting to discover new things."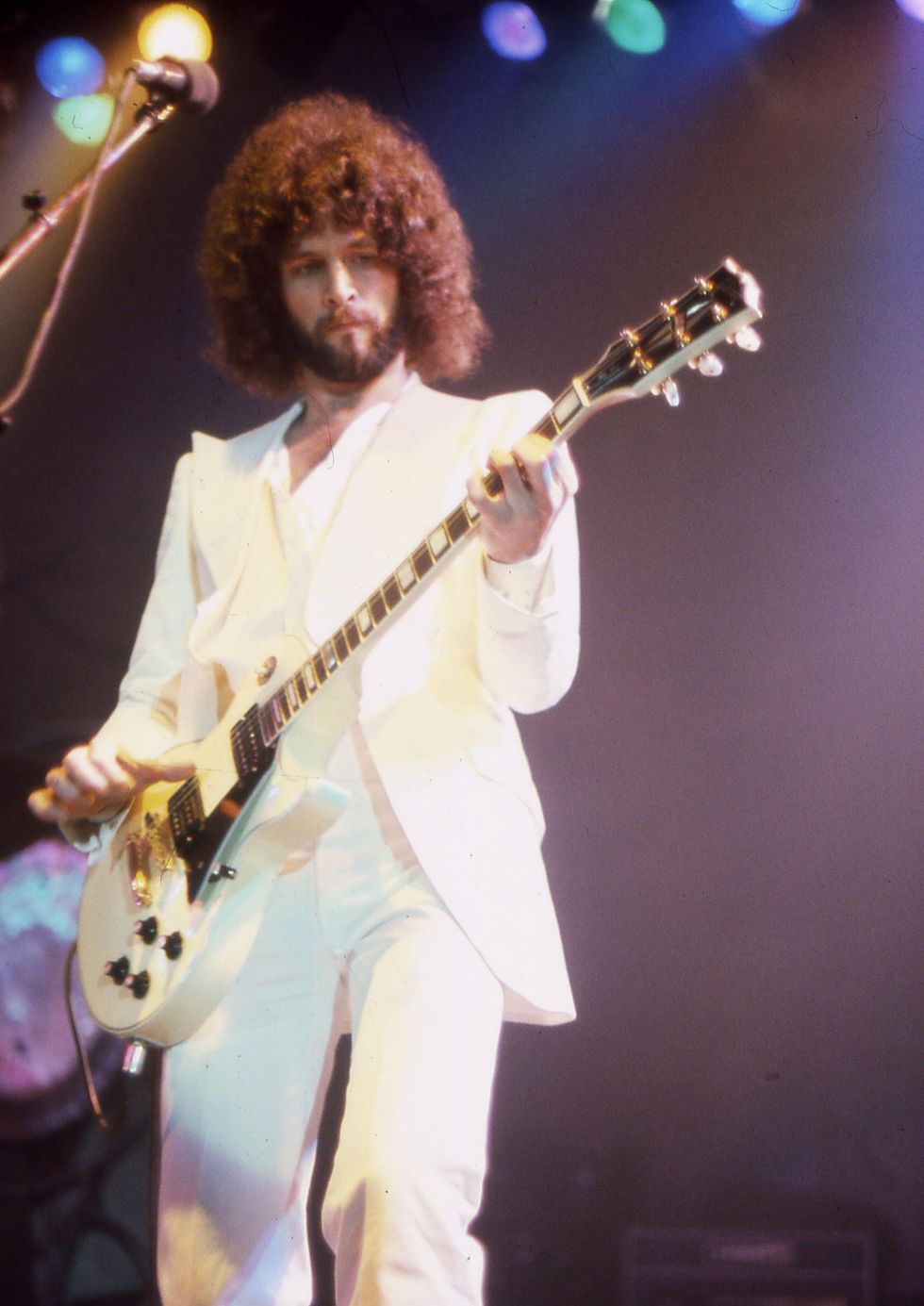 Dressed to match his Gibson Les Paul, Buckingham digs into the low strings on tour with Fleetwood Mac in 1975—the year of "Over My Head," "Say You Love Me," and "Rhiannon."
Photo by Laurens Van Houten/Frank White Photo Agency
That process worked. The album is pure ear candy in the best way, while also covering a lot of sonic ground. Songs like the opener "Scream" are classic Buckingham. And the album even offers a few tips of the hat to his old band. "Maybe I'm harkening back to some Fleetwood Mac references to some point. You could maybe connect the dots between the guitar-chiming 'On The Wrong Side' and 'Go Your Own Way.'"
But just when you fall into Buckingham's familiar trance, tracks like "Swan Song" and "Power Down" take an inspired and unexpected turn—full of electronic drum loops, chaotic vocal harmonies, hip-hop-approved guitar parts, and angular solos. "The foundation of both of those is actually the same. I had this multi-track of a drum loop, and it had many different tracks. It's the same drum loop on both songs," Buckingham points out. "So, they are definitely soulmates. They represent the cutting-edge aspect that moves further to the left from that pop sensibility. I thought it was important to have that represented."
Of course, Buckingham's guitar tone and playing permeate every minute of the album, displaying his elegant, high-energy fingerpicking style. "When Fleetwood Mac asked me to join, they actually did try to get me to use a pick. But I was 25 then, and I'd been playing for about 19 years. My style was pretty much written in stone. The fingerpicking just became part and parcel with my own style.
"Eddie Van Halen, for instance. He was a brilliant guitarist. But you could make the case that he's playing over the track and not into the track."
"Even if you go back before the folk influences that I had, Scotty Moore, who was Elvis's original guitar player, used his fingers. There was an orchestral style that he presented on those early records, as well," said Buckingham. "And I was listening to very folk-oriented stuff, like James Taylor and Cat Stevens. Even some rock stuff that had acoustic considerations, like Led Zeppelin. Jimmy Page was a super producer."
Another Buckingham trademark is his immaculate tone. Few others have carved out a signature style with clean sounds. Though not afraid to kick in his trusty Boss SD-1 for leads, it is layers of sparkling cleans that define his guitar's voice. "The cleanliness is helpful if you're trying to approach guitar work in service of a song," says Buckingham. "Eddie Van Halen, for instance. He was a brilliant guitarist. But you could make the case that he's playing over the track and not into the track. If you really want to follow in the footsteps of the Scotty Moores or the Chet Atkinses, who always are in service of making a better record out of a song, then I think cleanliness is helpful."
Axes & Artifacts: Rick Turner Model 1 Lindsey Buckingham Prototype
Another essential of Buckingham's approach to tone is his famed Rick Turner Model 1. "The Turner has been around so long because it was something that I specifically asked Rick Turner to make," states Buckingham. "Before I joined Fleetwood Mac, I'd been using a Stratocaster, which was very well suited to the finger style I had. But when I joined Fleetwood Mac, its sound was thin and a bit too percussive. So, I started using a Les Paul, which is not as well suited for fingerstyle. A few years in, I asked Rick if he would design me a guitar whose sound was a cross between a Les Paul's fullness and the crispness and percussiveness of a Stratocaster. The Model 1 was what he came up with. That really was the ticket and has been my guitar onstage ever since."
When guitarists picture Buckingham, it's typically with one of his Rick Turners. It may come as quite a shock that none of them made it onto the new album. In fact, not a lot of gear did. Instead, he relied on a couple of other trusty guitars, plugged straight in. "I don't use the Turners that much in the studio," he admits. "I tend to use the Strats or acoustics. Sometimes it's even just a Roland synth guitar if I want to get a certain preset sound. And I don't use a lot of amps in the studio. There are no amps at all [chuckles]. I do a lot of direct. So, what you're hearing is either an acoustic direct into the console or a Stratocaster. Those would be the two main go-to guitars for sure."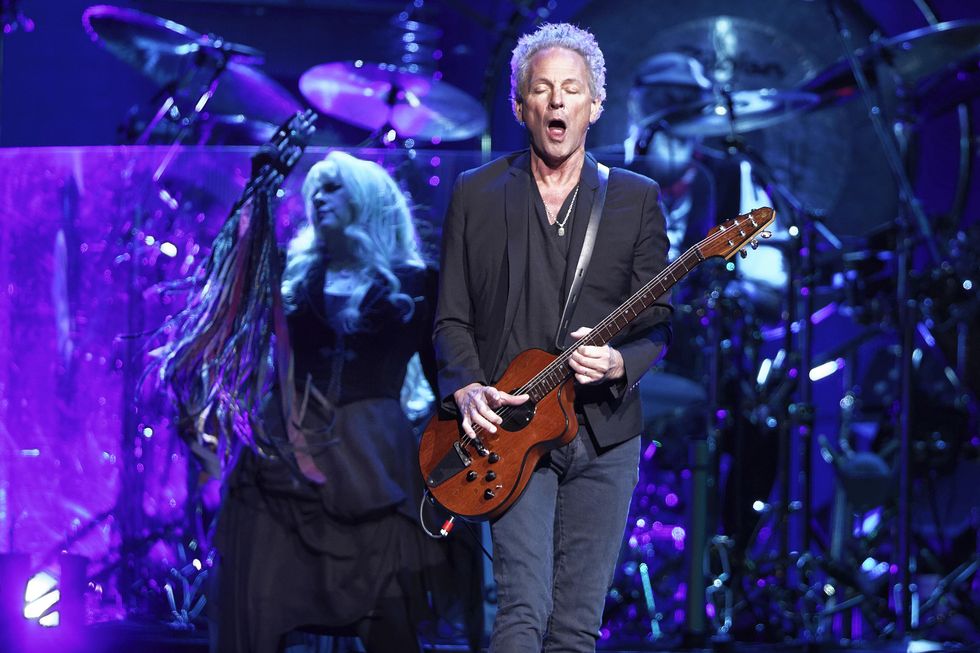 Buckingham bends a note while Stevie Nicks swirls behind him on a 2014 Fleetwood Mac tour. The guitarist says the band's mega-hits during the mid-'70s were the result of the pair's songwriting chemistry.
Photo by Ken Settle
Even for effects, Buckingham only keeps two trusty Boss pedals close by: an SD-1 Super Overdrive and a DD-3 Digital Delay. "I look around at most guitar players who have 10 or 12 pedals, and I don't know what to do with them. I just stick to the basics [laughs]."
The one outlier to the album's DIY, straight-in ethos is the closing song, "Dancing," which breathes with an ambiance all its own. Even still, those pad-like chords are just Buckingham and his Taylor. "I just used some plate reverbs off of some outboard gear. I can't tell you which actual settings. And I probably used some slap echo." Buckingham notes that engineer Mark Needham added some sonic colors to the track and says, "I'm not exactly sure what Mark put on there. I think he added his own element of atmosphere to it. I just thought the mix was cool, and we went from there."
So, with Lindsey Buckingham out and free of Fleetwood Mac's demands, Buckingham now has solo dates scheduled through the end of this year and into 2022. But with COVID continuing to threaten live music worldwide, Buckingham's taking whatever may come in stride. "The way this Delta variant is going, someone could call me up in a week and say, 'Hey, we're going to cancel it.' But I don't think so. I think we're just going for it at this point."
Big Love (Live At Saban Theatre In Beverly Hills, CA / 2011)
Deep functionality yields seemingly infinite phase colors.
Almost infinite phase-shaping power. Impressive build quality.
Controls can feel too sensitive and interactive at times. Steep learning curve.
5
4.5
3
4
One of the most satisfying developments of the boutique pedal age is the quality and attention to detail we see from the best small builders. Another benefit is the leeway for small-batch builders to play mad scientist and build for tastes and creative tendencies that fall outside the mainstream.
Thorpy delivers a tip-top quality phaser/vibrato that is both practical and experimentally aligned with the all-analog Pulse Doppler. Inspired in some measure by the UniVibe and David Gilmour's custom-built Doppola rotary speaker, it's a phase nerd's dream—with functions for inverting phase notches, high-pass filtering, and an interactive control set that is complex, but which yields seemingly infinite micro-shades of phase. The merits of this deep functionality may elude casual one-knob phaser fans. But it will open up whole planes of possibility for detail-oriented sound sculptors, engineers, and producers, and players that relish the hunt for lush and off-kilter modulation tones.
Thorpy Pulse Doppler Review by premierguitar
Control Freak
While there is appeal in a stupidly simple phaser, using one regularly tends to reveal the homogeneity in its modulation colors. The Pulse Doppler's control set, however, is most certainly conceived to avoid sameness. Apart from the vibrato switch—which removes the dry signal—and the wet/dry blend, rate, and depth knobs, the controls are somewhat unorthodox.
The enhance control, which emphasizes resonant peaks by feeding phased signal back into the circuit, will be familiar to phaser users that have evolved beyond the caveman stage. But other controls take more time and practice to sort. The manual knob is the trickiest of these. In simple terms, it enables you to shift notch filter frequency emphasis. In practice, it's much harder to pin down, and it can drastically affect output level and phase intensity, depending on where you situate the other controls. For most players, the noon position, which yields the fullest phase effects, will be the best place to start. But it's illuminating to turn down the depth entirely and sweep through the manual control's range to see how it shifts frequency emphasis. Once mastered, it can help sculpt unusual and mix-specific phase sounds.
Though the Thorpy can feel temperamental in the get-to-know-you stage, it's easy to find varied and harmonically complex conventional phase textures.
The dual/figure 8 toggle is another source of mystery at first. In the figure 8 position, it inverts filter notches so they move in opposition to each other instead of in sync. At many manual settings, this results in a smoother, clearer phase sound that seems to foreground the dry signal. But at manual settings that emphasize higher frequency notches, that relationship is inverted, and this position yields more intense throbs.
The 3-position invert/pulse/normal switch yields more predictable results. At modest depth, blend, and rate settings, the invert position produces more syrupy and elastic phase textures that are both cohesive and trippy, while the normal setting creates harder, almost percussive pulses from within a more natural, full-spectrum voice. Thorpy attributes these differences to the straight and phase-shifted waveforms being in phase in normal mode and out of phase in inverted mode. The pulse position, meanwhile, acts as a high-pass filter, yielding highly focused modulations that can be fashioned into intense tremolo-like textures—particularly at high depth and wet blend settings.
Though the Thorpy can feel temperamental in the get-to-know-you stage, it's still easy to find varied and harmonically complex conventional phase textures. But because the controls all have very wide range, it's important to start with conservative settings. And exploring the wet/dry blend, feedback, and depth controls within the lower half or lower third of their ranges reveals many deep, immersive, and familiar phase tones.
The Verdict
The Pulse Doppler is an extremely powerful phase tool. Once you master its highly interactive and sensitive controls and get a feel for its more unconventional functionality, the possible tones, musical applications, and creative prompts become myriad and thrilling. If you intend to use the Pulse Doppler in a live context, you'll want to put in the time to learn it backward and forward. Very small alterations to the highly sensitive controls can shift the phase texture drastically. And without preset capabilities, you'll need to mark your favorite settings very carefully or have a pretty precise and unfailing memory. The upside is that all this range means that you can readily move from deep, liquid variations of familiar phase tones to intense and weird modulation colors that can make a pedestrian riff unforgettable. Gigging players may want to seek simpler solutions, but as a creative studio tool, the Pulse Doppler is a phaser with few rivals.
Jackson announced the launch of The Jackson Pro Series Signature Chris Broderick Soloist, a collaboration between the brand and the renowned In Flames heavy metal guitarist Chris Broderick encapsulating his personal take on the classic Soloist model. Created for guitar players seeking an instrument loaded with premium features, these all-new pro series signature models are designed to keep up with even the most demanding styles of music.
When Broderick first came to Jackson to discuss designing his own signature model nearly 10 years ago, the USA Signature Chris Broderick Soloist, he had a clear vision on how to create his own take on the renowned Soloist™. Now with the Pro Series, when Broderick approached the collaboration with an upgraded twist on specific sets of specs and modifications, Jackson rose to the challenge of designing Brodericks' dream Signature Models. By the end of the creative process he coined the long standing high-performance guitar giant as the "company that could." The results of the collaboration are sophisticated riffing machines loaded with premium features to keep up with the hard rock styles of music. By putting a modern metal twist on a classic Jackson® favorite, Broderick and Jackson are able to create the perfect contemporary guitar series.
At the end of the day, Broderick hopes that aspiring players and professionals alike will see one of his Pro Series Soloists at a retailer and be inspired to test it out on their own. "I really want them to notice the playability, the features and the sound," Brockerick said. "You always want to play music from the standpoint of inspiration and not duty. Always remember why you play the instrument, that it was fun and how amazing it was to just get something like your first pinch harmonic."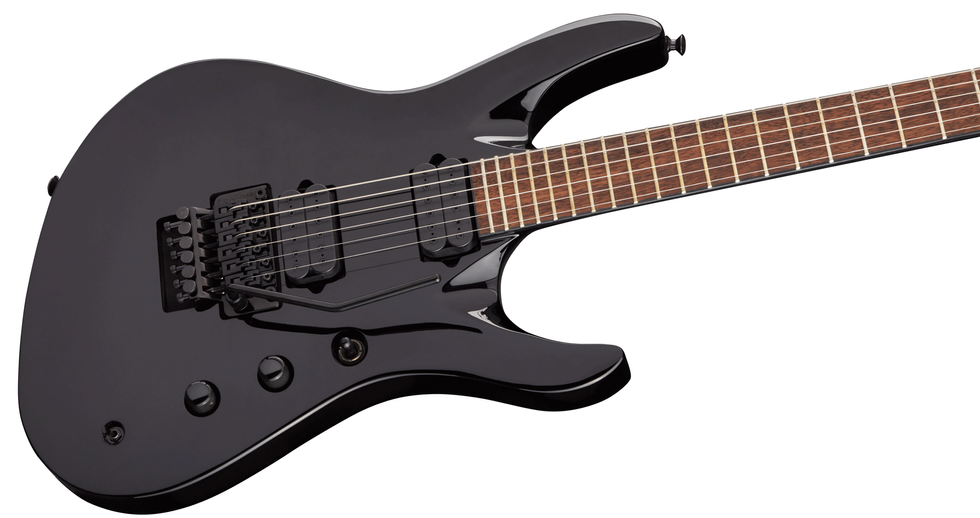 Chris Broderick is a Grammy-nominated guitarist and metal master who has cultivated his passion for all things guitar since he was eleven years old. Broderick served as the former lead and rhythm guitarist for Megadeth and previous to that, was the lead guitarist for Jag Panzer. Additionally, he was the touring guitarist with the band Nevermore for several years. In 2015, Broderick and his former Megadeth bandmate Shawn Drover formed the band Act of Defiance, where Broderick currently serves as lead and rhythm guitarist. Broderick's latest heavy metal venture is a true reflection of his passion for music and dedication to evolving the modern metal sound. He is also a sought-after instructor having completed his Bachelor's degree in classical guitar performance from the University of Colorado.
The Jackson Pro Series Signature Chris Broderick Soloist is offered in six-and seven-string guitar options and feature a 25.5" scale length, resonant mahogany body with arched poplar burl top on Trans finishes and through-body maple neck with scarf joint and graphite reinforcement for rock-solid stability and enhanced sustain. Its 12"-radius bound laurel fingerboard with 24 jumbo frets is ideal for all playing styles, comfortable for both low riffing and soaring leads.
"Chris Broderick is not only one of the most influential guitarists in the metal world but a solid partner for the Jackson brand," said Jon Romanowski, VP, Category Management-Jackson, Charvel and EVH Brands. "He is extremely hands-on and this new model showcases the evolution of the beloved Soloist. We designed these models with Chris to match his tonal versatility and style on stage incorporating new specs such a gorgeous poplar burl top and new output jack placement. We couldn't be more excited for this next chapter in our partnership together with the launch of the Jackson Pro Series Signature Chris Broderick Soloist."
Contemporary guitarists like Broderick require tonal versatility and punchy clarity to keep pace with the rapid twists and turns of today's metal. Direct mount DiMarzio Chris Broderick signature humbucking bridge and neck pickups deliver powerful clear harmonics with accentuated pick attack and tight lows for versatile tone, from heavy chording to searing solos. The volume control conceals a push/pull switch for coil-splitting, unlocking even more tonal options while the tone control's push/pull switch enables the tone circuit. Switch between pickup combinations with a three-way toggle, while a mini-toggle kill switch allows for the stuttering effects that have become integral in modern metal. All tremolo models feature a Floyd Rose Special double-locking bridge system, while hardtail models come equipped with a Jackson Single-String bridge. Offered in either Gloss Black or Transparent Blue with a color matched reverse Jackson AT-1 headstock and black hardware, these pedigreed 6 or 7-string metal machines are a force to be reckoned with.
Models Include:
The Pro Series Signature Chris Broderick Soloist 6, Gloss Black ($999.99 USD, £889.00, €999.00 XX, $2,299 AUD, ¥154,000 JPY)
The Pro Series Signature Chris Broderick Soloist 7, Gloss Black ($1,099.99 USD, £1,069.00, €1,199.00, $2,499 AUD, ¥ 170,500 JPY)
The Pro Series Signature Chris Broderick Soloist 6P, Transparent Blue ($1,199.99 USD, £1,159.00, €1,299.00, $2,699 AUD, ¥ 184,8000 JPY)
The Pro Series Signature Chris Broderick Soloist 7P, Transparent Blue ($1,299.99 USD, £1,249.00, €1,399.00, $2,899 AUD, ¥ 203,500 JPY)
The Pro Series Signature Chris Broderick Soloist HT6, Gloss Black ($899.99 USD, £889.00, €1,099.00, $2,099 AUD, ¥ 140,800 JPY)
The Pro Series Signature Chris Broderick Soloist HT6P, Transparent Blue ($1,099.99 USD, £1,069.00, €1,199.00 $2,499AUD, ¥ 170,500 JPY)
The Pro Series Signature Chris Broderick Soloist HT7, Gloss Black ($999.99 USD, £979.00, €1,099.00, $2,299 AUD, ¥ 154,000 JPY)
The Pro Series Signature Chris Broderick Soloist HT7P, Transparent Blue ($1,199.99 USD, £1,159.00, €1,299.00, $2,699 AUD, ¥ 184,800 JPY)
Chris Broderick Introduces His New Jackson Pro Series Soloist™ Models